Help desk software converts incoming support requests into tickets and makes it easier for your support staff to manage those request tickets and interface with requesters to find a resolution to their issues. In this way, it's a step beyond using basic email accounts (i.e., Gmail, Microsoft 365, Outlook) to handle support requests. Help desk software typically has advanced features like:
Central team inbox
Single-agent queues
Internal notes
Collision detection
Pre-approved email templates
Internal knowledge base & customer self-service portals
Reporting tools
Automation rules
Most help desk software also enables multi-brand support by allowing teams to connect multiple email addresses to one single help desk portal.
You should upgrade to help desk software if you relate to one or more of the statements below:
I have a messy inbox and waste time each day just making sense of what's what.
Support requests in that inbox are often missed or receive delayed replies because they're buried in clutter.
My support agents have trouble keeping track of who's working on which support request and sometimes accidentally send duplicate replies to customers.
Team collaboration suffers because we have to use multiple tools to communicate on support issues, including a CRM (to reference customer information), messenger app (to message back and forth about what's going on), and email account (to look at past email threads and send the reply to the requester).
Our team wastes time each week with repetitive tasks like ticket assignments and drafting out email replies to recurring requests.
I have no way of monitoring agent performance, customer satisfaction, or how my customer support team handles support requests.
I have no way of centralizing all of my support requests in one unified platform.
Most importantly, help desk software is for you if you're having trouble pinpointing areas to improve your customer support.
There are different types of help desk support software for different end-users, and finding the right software is tough when you consider:
The broad range in help desk software pricing
The many subtle differences in help desk features across the market
How big an investment onboarding new help desk software is for a company
Many of our customers told us they spent months researching and demoing different help desk tools before choosing HelpSpot. So we put together this page to help you find the best help desk software for your support team.
What are the different types of help desk software?
Help desk software is also sometimes referred to as email management software, IT ticketing system or service desk software, or customer service software, but all ticket management systems provide some version of organizing, assigning, and tracking.
Before choosing a help desk provider it is useful to know that all help desks fall into one of three categories:
Category #1: Email management help desk software provides service teams who have outgrown a shared inbox with a basic suite of tools to manage high volumes of emails.
Category #2: IT help desk software is designed for IT support teams that handle both internal and external service requests, deal with technical issues, and follow the ITIL (Information Technology Infrastructure Library) philosophy. Some IT teams also use IT service management (or ITSM software), instead.
Category #3: Customer service help desk software is designed for large support teams who interface mostly with external customers and need a flexible tool to provide omnichannel support.
It's also worth mentioning that help desk software is available in two versions: cloud-based and self-hosted.
Cloud-based help desk software is far more common than on-premise software solutions, but for teams who need to operate on their own servers, there are a few help desk options available (including our on-premise help desk).
You can also read more about on-premise help desk software and how it compares to cloud-based solutions in our self-hosted help desk guide.
While researching help desk software, also think about your team size. Some solutions are better tailored for small businesses while other software is suitable for larger organizations. We provide a few other shopping considerations below, but you can typically tell the difference between help desk for small businesses and enterprise help desk software by comparing the available features and pricing.
What are the features of help desk software?
HelpSpot provides the core features to manage support requests and keep teams on the same page. Although some help desk providers include extra features like chatbots, social media widgets, and built-in call centers, we've found that many teams that are upgrading from a shared inbox don't actually need those tools (so they have to work around them and spend money on features they don't need).
We skip those extras, and instead, make our help desk customizable via integrations. If you use multiple channels to field support requests, you can personalize the platform to suit your teams specific needs and unify all of your tickets. But if you don't use them, you don't have to work around them.
Let's talk about the core help desk features available in HelpSpot:
Central Inbox
HelpSpot organizes tickets in a centralized inbox, so your agents have a single unified view of all incoming requests. From here, support agents can assign themselves requests and pull them into their queue (called My Queue). Agents can also assign requests to other agents — the correct person can be assigned easily, whoever that is.
Agent Queue
Once assigned, tickets disappear from the central inbox and repopulate in the Agent Queue. This makes it extremely clear who is assigned to what. (And reassignment is easy if an agent needs to hand a ticket off to someone else.)

Collaboration Features: Internal Notes & Collision Detection
Private notes let agents communicate with each other within a ticket. All back and forth is saved in the ticket and can be accessed with a single click. This reduces the need for outside messaging apps like Slack, which can become difficult to manage when the requests run in the thousands. It also enables agents to jump in and assist on another agent's request without having to directly consult them.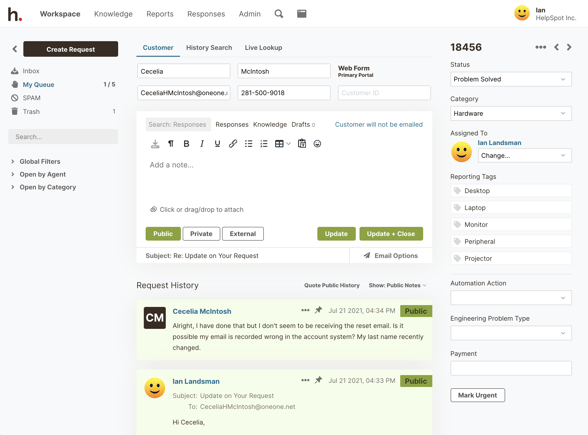 To further clarify team workflow, collision detection alerts agents in real-time if another agent is viewing or working on a request. This eliminates the wasted time of two agents responding to the same request.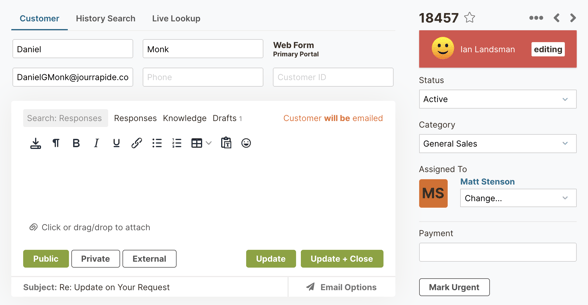 Saved Responses
Saved Responses drive consistency amongst customer communications, help agents reply more accurately and avoid typos, and allow agents to resolve a higher volume of email requests each day.
Knowledge Base & Self-Service Portal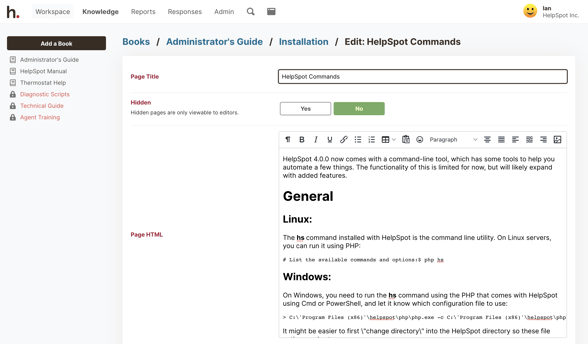 HelpSpot's knowledge base stores helpful troubleshooting and FAQ documentation in an accessible library. This improves team workflow by letting your agents share solutions with each other for more complex requests and even pull them directly into email replies.
All of these articles can be published in a searchable self-service portal (a.k.a. A public knowledge base for customers) on your website. Creating a customer portal lets end users find solutions to their issues: It gives requesters the resources to do independent troubleshooting without waiting around for info from your team, and as a result, it deflects requests and reduces the number of tickets your team has to resolve.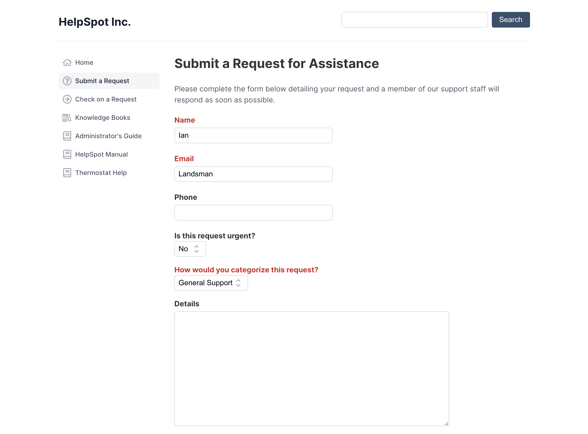 Creating a self-service portal also lets requesters start their own support tickets and check on the status of their support request without having to send emails to agents. This streamlines the entire support workflow and improves the experience for the end-user because it allows them to contact your team and receive updates on their own time.
Reporting Tools
HelpSpot has built-in help desk reporting tools that are fully customizable so you can isolate performance metrics to better understand and manage your support operations. All data can be filtered and grouped by different departments, teams, agents, or time frames.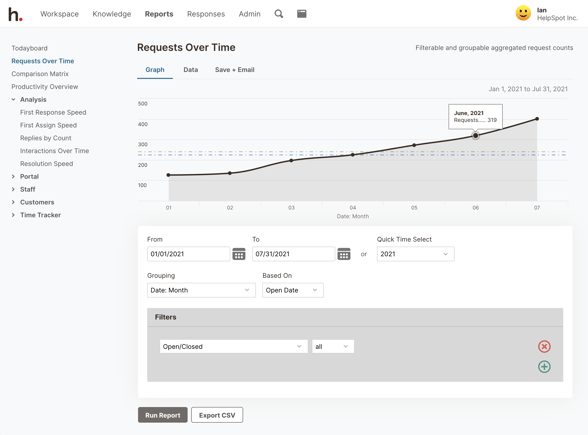 HelpSpot's reporting allows management to make data-driven decisions concerning:
How support teams are handling their workload: Are they overwhelmed? Do they need new tools, better scheduling for busy seasons, new hires, and so on?
How individual agents are performing: What tickets do they find difficult to resolve? Do your agents need better training? Do they need to be challenged?
How agents are addressing customer needs: What questions are your customers asking most? Are they satisfied with your support?
This is achieved by tracking metrics like:
The number of replies or internal notes each agent sends
The number of tickets each agent resolves
Average ticket response time or resolution time
Advanced Search
HelpSpot is highly searchable: You can type just about any term or phrase into the advanced search bar and our software will pull all relevant requests (even if you don't remember the exact keywords from the request you're searching). You can use filters to narrow down results by categories, custom fields, dates, agent assignment, and more.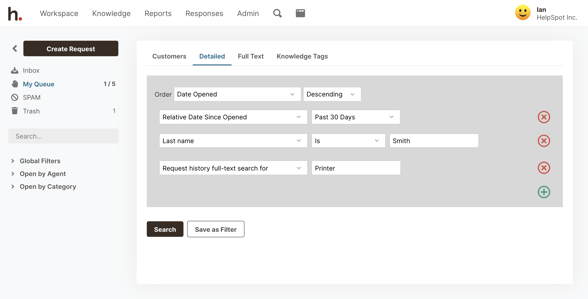 Automation Rules
HelpSpot can be trained to do repetitive tasks, like assign tickets or send canned replies, with automation rules and triggers.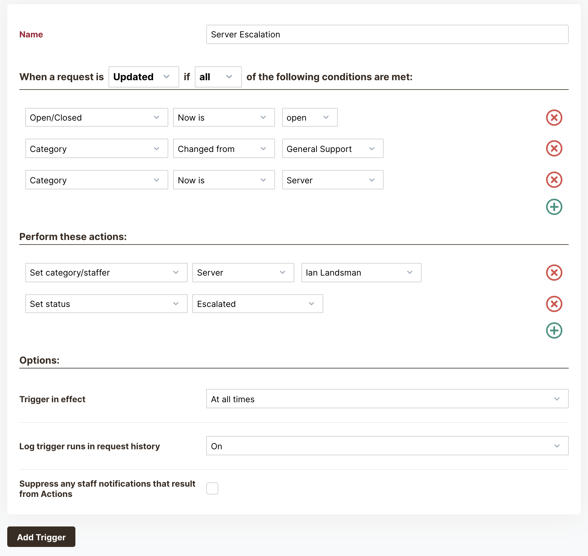 You can use triggers to identify similar requests by words/phrases and route them to the right team, manage service level agreements (SLAs), or escalate tickets when they haven't received a reply. This saves time and maintains a high standard in your customer support by ensuring the agent with the right expertise is always responding.
User Permissions
You can control exactly what each of your agents can access and how agents can engage with your team inbox via permission groups. This prevents users from going rogue and ensures all information that should be kept private stays that way.
Mobile Apps
HelpSpot is also available on the go with mobile apps for Android and iOS. Our mobile apps work for both our cloud-based and self-hosted help desk solutions, and you can access all of the same features that are on desktop from your mobile device.
You can also explore our other features, like multi-brand support capabilities, GDPR tools, and custom branding options, on the HelpSpot features page.
What are the benefits of help desk software?
Teams across all industries can benefit from software to better manage customer interactions, streamline support processes, and increase customer satisfaction.
Improve the customer support experience by ensuring timely, accurate, clear, and helpful responses as a result of improved support processes
Keeps all of your incoming requests neatly organized in one central spot
Lets agents assign requests to themselves so no tickets are missed
Improve team collaboration and make communication amongst agents smoother
It's to search back through support requests and find the relevant information you need to send an educated reply
Make agents lives easier by providing templates and troubleshooting documentation to send to requesters on the fly
Deflect support requests by giving end-users the resources to resolve common issues on their own
Have reporting capabilities to track agent performance and oversee support processes to make data-driven decisions
Save time by automating ticket routing and other repetitive tasks
Improve the customer support experience by ensuring timely, accurate, clear, and helpful responses as a result of improved support processes
And more
How much does help desk software cost?
A common complaint of help desk software products is that they're sold by bundling features in pricing tiers — with the most useful features in the most expensive tiers. As organizations outgrow the cheaper plans, they can find themselves in the tricky position of having to fully upgrade to add a single agent, inbox, or feature.
HelpSpot's pricing is simple and transparent: You only pay per agent. All features are included, and there are no hidden costs for customization or support from our team. Whether you use our cloud-based help desk or our on-premise solution, the price and feature sets are the same. As a result, you can grow your team at your own pace, and add agents to your team as you need.
Below is a breakdown of help desk software costs by brand:
How do you choose the right help desk software?
Understanding the different categories of help desk software can narrow your search quickly. Start by asking yourself if you need an email management system, a dedicated ITSM with asset management, or a robust help desk with an AI assistant — then you know where to start your search.
Then, to filter down the options and find the right tool for your team, consider these questions:
What frustration(s) is your support team trying to overcome? Missed requests? Varied requests? Time wasting? When to hire new agents? Your specific frustrations correlate to the help desk features you need.
Are you operating just over email or are you fielding support requests from multiple channels? How many inboxes or channels are you working with? Also, are you managing requests for more than one brand?
How big is your team? How many users or teams will be relying on this software? Do you expect a lot of growth?
What is your budget? In answering this question, you should consider pricing models because that will affect your budget in the future. For example, will you be penalized with a full software upgrade when it comes time to add another agent to your help desk?
Do you need cloud-based or self-hosted software? If you want (or require) better control over your data storage, backups, or updates, you need an on-premise help desk solution. This narrows your search considerably as most help desks are only cloud-based tools.
With just those 5 things in mind, you can find a help desk that has the right features, appropriate storage space, and adequate agent seats, and fits within your budgetary needs.
Don't forget: Most help desk brands offer free consultations or risk-free trials — if you're on the fence about a particular help desk, taking advantage of these options can help you make a final decision.
Other help desk FAQs
What is help desk software used for?
Help desk software is used to manage support requests by converting incoming emails, chats, calls, and so forth into trackable tickets. These tickets are organized in a team inbox and assigned to individual agents for fast and helpful support. In addition to its core functionality, help desk software has extra features to speed up agent workflow and monitor team performance.
What is the best ticketing software?
There is no single best help desk software since organizations across different industries have unique needs and need different types of help desk software to cater to those needs. You can find the best help desk software by considering the pains you're currently facing and what you are looking for in a help desk to improve your productivity and increase customer satisfaction.
Look at the features available to you, the ease of use of the software, scalability, and price, and be sure to read customer reviews to see what real users have to say about the software. Then, once you've settled on a few options, schedule some demos and start narrowing down from there.
What makes a good help desk?
A good help desk should have:
All of the core ticket management features — such as central inbox and single-agent assignment — available to you in the most basic package
Intuitive features and a straightforward onboarding process
Customization options to connect your help desk with other software (i.e., CRM, phone systems) and streamline agent workflow
Supporting mobile apps to accommodate teams who are out in the field
Flexible pricing that allows you to tweak your help desk without having to spend an arm and a leg
A dedicated customer support team to assist you with the transition and answer questions along the way
What's the difference between help desk and service desk?
The terms "help desk" and "service desk" are often used interchangeably, but they do differ:
Help desk software is typically used to refer to general email management or customer service software that's designed to help teams field support requests from multiple channels and improve customer support.
Service desk software is often used by IT professionals to refer to IT help desk software or ITSM software. This software is used to support IT teams who field requests from internal and external parties and need to manage their entire IT infrastructure.
What are all the different forms of help desk available?
First, there are cloud-based and self-hosted help desk versions available. Cloud-based help desk software is more common because it requires less upkeep for the end-user, but self-hosted software is available for teams who need to download and host their own applications (say you want to meet GDPR compliance requirements or operate on a private server).
Beyond that, there are different types of help desk software: email management software, IT help desk software, and customer service software. Email management software is for teams graduating from a shared inbox, IT help desk software is for IT teams who need more technical features to fuel their support, and customer service software is for teams who manage requests from customers over many channels and want to focus on improving customer satisfaction.
How do you get started with help desk software?
You can get started with most help desk software by requesting a free trial. Many teams will sit down with you to answer questions and discuss what you need in a help desk solution before getting you set up with a trial, and this is advantageous because it helps you learn more about the solution before spending too much time on it and prevents you from having to do trial after trial to find the right software. Teams who don't offer a free trial will usually offer a free demo, instead, so you can look at the platform and how the features work before switching.
We offer a risk-free 21-day trial for all HelpSpot users so you can get adjusted to our platform and have a couple of weeks to learn the features and see how you like them. We're available to answer questions beforehand and offer technical support throughout the entire onboarding and transition period to speed up adoption and guarantee your success.
Try HelpSpot for Free
We created our help desk, HelpSpot, to scale with your support needs. That's why we prioritized ease-of-use, customization, and transparent pricing. So, whether you're a startup with two agents and a limited budget, or an enterprise with hundreds of agents and specialized data needs, our versatile help desk has you covered.
To see if HelpSpot is the right help desk software for your teams, get in touch with us to kickstart your free 21-day trial!