Written by
Ian Landsman
, published on 01.25.2018
Talkdesk COO Gadi Shamia tells a personal story of a customer service interaction and what it made him realize about contact center channel strategy.
One of the unique benefits of working on a product made to benefit consumers is that there's no shortage of personal experience that we can apply to what we're building. As consumers, we operate in a world of self-service, mobile apps, retargeting, and other digital interactions, but despite all these tools, phone customer service delivered by a well-trained, empathetic representative is often still the best way to build brand loyalty that will last.
I recently had a less-than-perfect customer service experience that illustrates an important customer service principle – that the communication channel needs to match the urgency and emotion of the situation.
Here's What Happened
I planned a party to celebrate my wife's birthday and invited friends near and far to bring together all of the most important people in her life. To commemorate the occasion, I collected photos from the attendees and sent them to an online photobook service. I planned to present the book at the party so each of her friends could leave hand-written best wishes at the event and comment on those shared memories. It was a small gift, but for my wife, a keepsake like this is priceless.
I collected the photos, created the book online and placed my order with expedited delivery. Two days before the party, I realized the book had still not been shipped. While a delayed delivery on almost anything else would not have been so urgent and emotional, this one was. I wanted to talk to the company as soon as possible to find out what was going on.
Unfortunately, the only contact information available from the site was a generic support email address and a chat. My email didn't get a response, and the chat experience just made me angrier. The chat agent couldn't hear my voice and didn't know the urgency or the emotion of the situation. He just wanted to resolve the issue as fast as possible and move on.
Since the chat wasn't effective, I tweeted directly to the head of customer service (whom I was able to find thanks to a quick search on LinkedIn). On the morning of the party, I was surprised by a call from the vice president of customer service. While he could not get the book delivered in time, he apologized and sent my wife flowers with a note wishing her a happy birthday and explaining that he was sorry the book wasn't delivered on time.
That vice president refunded the entire order and took ownership of the issue. He spent time on his his personal weekend resolving the issue. While his actions were admirable, the experience begs the question of why the day needed saving in the first place.
Diagnosis and Takeaways
It doesn't take much diagnosis to realize that because the customer support team didn't have the right channels available for the case, they were unable to support my needs as a customer. At Talkdesk, we analyze customer interactions on two axes: urgency and emotion. The appropriate channel for an issue is determined by the degree of both.
Here's a graph to illustrate the best time for each channel: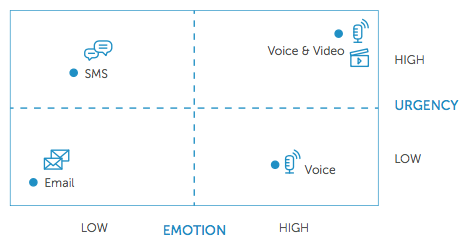 In my story, I had a high-emotion/urgency issue, but only had access to low-emotion/urgency communication channels (email and chat). I had an unsatisfactory experience; it wasn't because the company didn't care about me or want to help, it was because they didn't have the right channels in place to handle my situation.
The learning is clear: not every customer interaction is the same and for companies to support a range of unique customer issues, they need to offer a range of communication channels. Customers will experience all four quadrants of the Emotion/Urgency spectrum, and it's important to have a channel that addresses each.
Companies should invest more heavily in the channels that align with the most common customer issues, but when it comes to customer satisfaction, limiting access to certain channels won't get the job done. The best brands will be able to handle conversations that take place across the range of urgency and emotion and offer customer-centric channels that meet the needs of each situation and ensure customers will keep coming back.