Written by
Ian Landsman
, published on 04.14.2016
Making sure that nothing falls through the cracks while staff are out of the office can be complicated. HelpSpot includes tools that can make this task easier for you and clearer to your customers.
Out of Office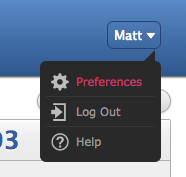 The first feature that you can use is the "Out of Office" feature, found in the HelpSpot staff profile area. Each staff member can access their profile by clicking on their name and then selecting "preferences." Admins can access these same settings for any staff member by navigating to Admin ➭ Staff and then then selecting the appropriate user.
The out of office settings allow you to select from three basic options. The first option is simply to be in the office. The next option is to forward all requests to the Inbox. What this setting will do is take any requests that are updated, or new requests that are assigned to you, and assign them back to the Inbox. This allows another staff member to "take" the request and continue to work on it.
The final option allows you to reassign any requests that are updated, or new requests that are assigned to you, to a specific staff member. This option is great if you have a named individual who is your backup while you are out. These settings stay in effect until they are turned off, so make sure to turn the out of office feature off once you are back!

Closing the Office
Of course, there are times when you need to close the entire office. These times can be set up in Admin ➭ Settings ➭ Business Hours. Business hours can be configured in a weekly pattern, as well as alternate holiday hours. Once configured, you can use business hours in conjunction with triggers to complete actions automatically while your offices are closed. Each trigger can be configured to run all the time, only during business hours, or only after business hours.
For instance, you could configure a trigger to email any customers that update or create new requests while your offices are closed. Here are instructions on how to build a basic customer notification trigger for a new request:
Navigate to Admin ➭ Triggers and Rules ➭ Triggers
Give the trigger a title.
Set the trigger to run when requests are created.
Add an action to "Email Customer."
Enter the email address that you want to send customers to while your offices are closed.
For the "Trigger in effect" setting, select "Outside of business hours only."
Save your trigger.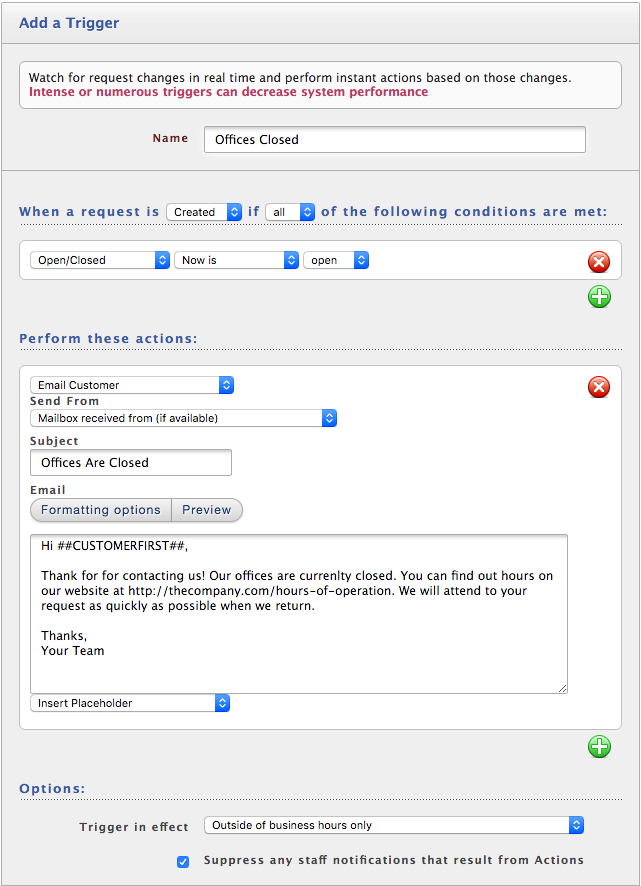 You can also create more complex rules, like sending an SMS message to on-call staff for certain VIP customer's after hours requests.
These HelpSpot tools are a great start toward building a comprehensive out of office strategy that serves your customers well.