Spiceworks is a great "entry level" software for IT teams who are transitioning from manually tracking assets, network connectivity, and support requests. Many IT teams like Spiceworks for two reasons: (1) it's a 3-in-1 software offering asset tracking, network monitoring, and a help desk tool, and (2) it's completely free.
However, many teams grow out of Spiceworks because:
The features are too basic: Spiceworks' software may be packed with a variety of different features, but all of its features are rather basic.

Take Spiceworks' help desk feature, for example: Spiceworks converts customer emails to tickets so they're clearly organized, but it doesn't automatically pull customer information or past customer emails for agents to reference.

That means agents have to spend extra time searching through the inbox and referencing a CRM for more context on the customer and their issue. As many reviewers say, Spiceworks is better than nothing, but there are plenty of paid alternatives that do more.
The interface is cluttered with advertisements: Spiceworks is free for users because it's supported by advertisers, meaning there are ads all throughout the software.

This is OK for a while, but many teams get tired of dealing with advertisements slowing down their workflow. Plus, there are always privacy and security concerns when you have ads interjected in your software.
Once your team has "graduated" from Spiceworks, take a moment to consider what type of Spiceworks alternative your team needs. Do you need more sophisticated asset tracking software? Advanced network monitoring? A robust help desk? Or a software that can do all three?
We put together this post with the best Spiceworks alternatives by category so you can find the right software to scale with your team. In it, we discuss:
That way, you can find all the tools to help you do everything you did on Spiceworks — and then some.
Looking for a more robust help desk solution than Spiceworks, but don't want to shell out for features you don't need? Try our risk-free, 21-day trial to see if HelpSpot is the best Spiceworks alternative for you.
HelpSpot: Our Help Desk Alternative to Spiceworks
HelpSpot offers both cloud-based and self-hosted help desk solutions. We give all of our users access to the same set of help desk features for both. We've also developed mobile apps for iOS and Android — for both our hosted and on-premise software options — so our users can access their help desk portal from any device. Pricing is based only on the number of seats you want.
Although we don't advertise ourselves as "IT help desk software," many of our customers are IT teams who find our software to be a great fit for managing and tracking support requests from customers and co-workers and many Spiceworks customers have moved to HelpSpot since Spiceworks sunset the on-premise version.
Here's a peek into what it's like to use HelpSpot.
Centralized Inbox & Agent Queues
With HelpSpot, you can connect multiple email accounts and field requests from different inboxes all in one place.
HelpSpot also integrates with other software through APIs so you can unify all of your teams' requests: from live chat, social media channels, messenger apps, and more.
HelpSpot automatically converts support requests from all connected channels (email, phone, live chat, SMS, etc.) into tickets and groups them in a central inbox so none of your customer conversations fall through the cracks.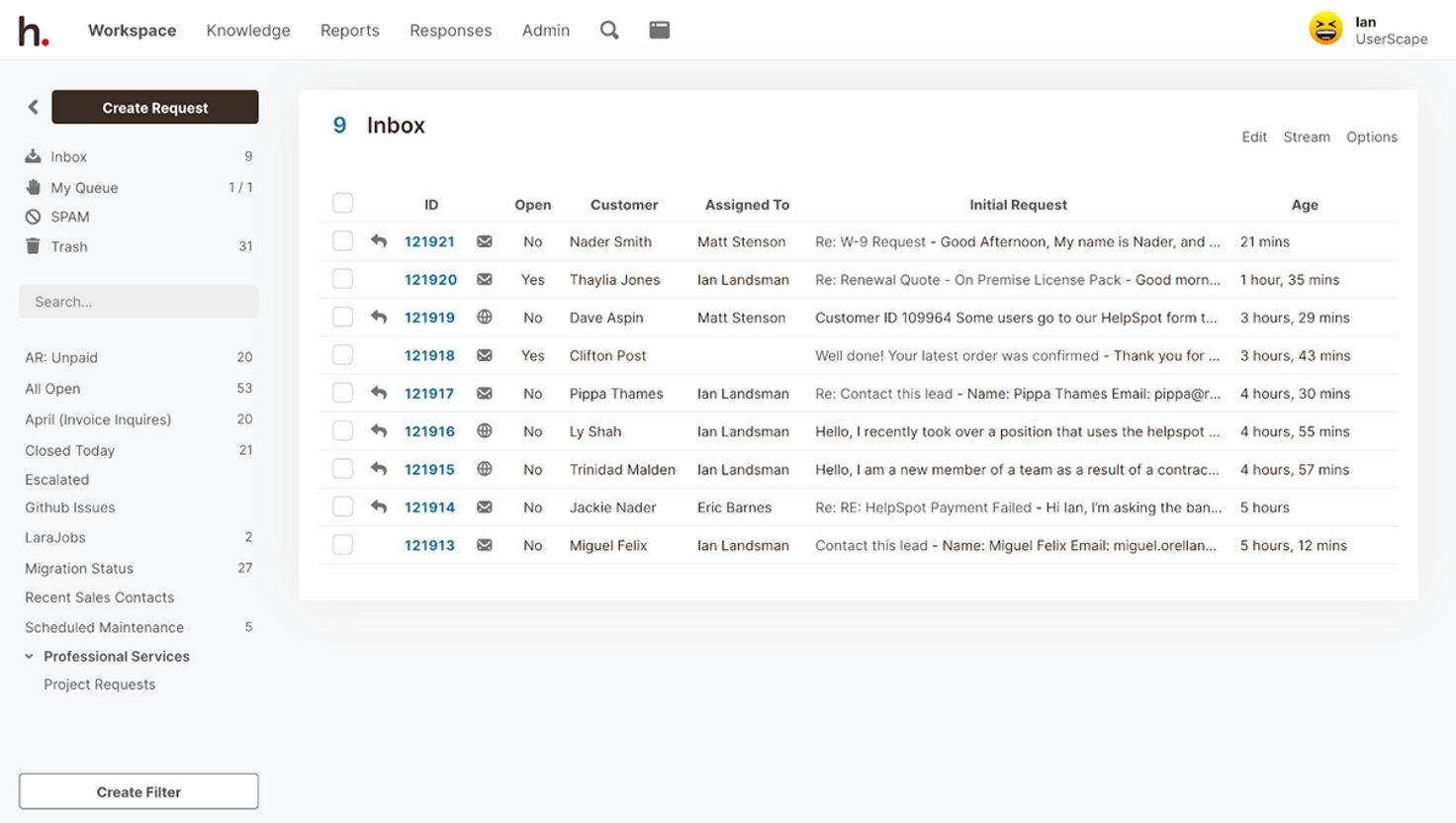 From the shared inbox, agents can assign themselves tickets so it's clear who's working on what. When a ticket is assigned to an agent, it disappears from the main inbox and repopulates in the agent's queue. This allows your agents to focus on working down their individual queues instead of sorting through ticket requests in one massive inbox.
Assigning emails not only makes agents' lives easier, but it also improves customer support: When agents can assign themselves to specific requests, it allows them to work with each customer through the entire resolution process and build better customer relationships.
Categories & Custom Fields
Your IT team can keep track of request types and other request information in our service desk using categories and custom fields.
Say you want to know how many requests you get for networking issues each month. You can create categories like "Networking Issues," "Software," "Hardware," "Server Issues," (the list goes on) and assign each request an appropriate category.
Then, when you want to understand more about your request types — in this case, networking issues — you can filter your tickets by category and identify common issues.
You can also set up custom fields for every category so you can keep track of more specific information about each request type.
Let's jump back to our example above: If your team fields a lot of "networking issues," you may want to keep track of how many of those networking issues are caused by a particular server and how many stem from user-specific problems like errors with a user's IP address.
You can create custom fields to include these details in each ticket; then, you can really hone in on exactly what type of "networking issues" your customers experience and why they may be experiencing them.
(And while we don't claim to be a full-blown IT asset management or inventory management software, IT teams can create and use custom fields to keep track of things like network devices and asset IDs.)
Not to mention, these categories allow agents to quickly skim through the central inbox and assign themselves tickets within their scope of expertise.
For example, if one agent handles all server issues, that agent can scroll through your HelpSpot inbox, identify all of the tickets categorized under "Server Issues," and assign those tickets to themselves.
Templates & Knowledge Base Articles
Most IT teams field a lot of similar requests — password resets, computer glitches, bugs with software — so to save your agents from having to sit and type out the same replies over and over again, we allow teams to create a library of templated responses and knowledge base articles right within HelpSpot.
Agents can easily pull templates and detailed troubleshooting articles into their email responses and personalize them for each customer, and this:
Speeds up reply times.
Improves the accuracy and helpfulness of replies.
Guarantees those replies are polished and typo-free.
Automation Rules & Triggers
On that same note, many IT teams can save themselves time by taking advantage of our help desk's automated workflow functionality — this feature allows teams to create automation rules that trigger our software to complete a certain task for them.
For example, if you have dedicated agents for different request types, you can create rules that trigger HelpSpot to assign tickets with certain terms or phrases to specific agents (i.e., All tickets that mention "network connection issues" can be automatically assigned to your network connectivity guru.)
When used strategically, automation rules can streamline repetitive or boring tasks and save teams a ton of time.
Conflict Detection
Apart from allowing agents to assign themselves tickets, we also designed our ticketing system with conflict detection to improve team collaboration and ticket management.
With conflict detection, agents can see when another user is viewing or responding to a ticket in real-time, which can prevent blunders like duplicate responses and keep agents from stepping on each others' toes.
Internal Notes
Internal notes also improve ticket management by allowing agents to discuss requests and solutions right within each ticket, instead of chatting over email or team messenger.
With this, anybody (excluding the requester) can pop into the ticket and view all of the comments between agents. This makes it a lot easier to loop other agents in for assistance when a request is out of your wheelhouse or re-assign tickets when another agent needs to chime in or take over.
Self-Service Knowledge Base
Having troubleshooting articles readily available gives customers the freedom to troubleshoot problems themselves and prevents them from needing to contact your team as often.
In HelpSpot, you can create a self-service knowledge base so customers can browse all of your FAQ and troubleshooting information right on your website and tackle support problems on their own.
Built-In Reporting
With our built-in reporting functionality, you can see how many requests your agents receive, how many requests each agent responds to, average response times, average resolution times, and so on over your chosen time period.
You and your teams can also create custom reports if you want to track different metrics or dig into specifics about the support requests you receive and how they're handled.
These performance reports help you track the number of support requests your team receives, monitor agent performance, and gauge your team's bandwidth (which helps you know when to hire more agents).
Integrations & Open Source API
As we mentioned earlier, HelpSpot integrates with a variety of customer support software, like phone systems and live chat bots, for teams who need software for omnichannel support.
However, customer service software isn't the only software HelpSpot syncs with; teams can customize HelpSpot so it works parallel with all of the software they use on a day-to-day basis, including asset management and network management software (including the options we mention later in the post).
Between our packaged integrations and our software's open source API, there's almost no limit to how our software can be personalized to suit different needs.
Other Help Desk Alternatives
If you're looking for dedicated help desk software, you might also want to consider these Spiceworks competitors.
Zendesk's help desk software is packed with all the bells and whistles. It comes with out-of-the-box connections with email, phone systems, live chat software, and social media networks so teams can centralize and field requests from every support channel. Zendesk also allows teams to set up AI-powered bots to field basic customer requests for them.
In addition to making it easy for teams to provide omnichannel support, Zendesk also comes with many of the same features found in other help desk software, such as collaboration tools, automated workflow functionalities, built-in reporting systems, and self-service knowledge management options. It also allows for some customization through integrations and open APIs.
Zendesk is one of the more robust customer service systems available, so if your IT team needs a lot of advanced help desk features, then Zendesk is a good option.
On the flip side, Zendesk can be a little too much for teams who don't need all the extras. If your team doesn't need to provide support over social media channels or isn't interested in having bots engage with customers, then you'll probably end up paying for features your IT support team doesn't use.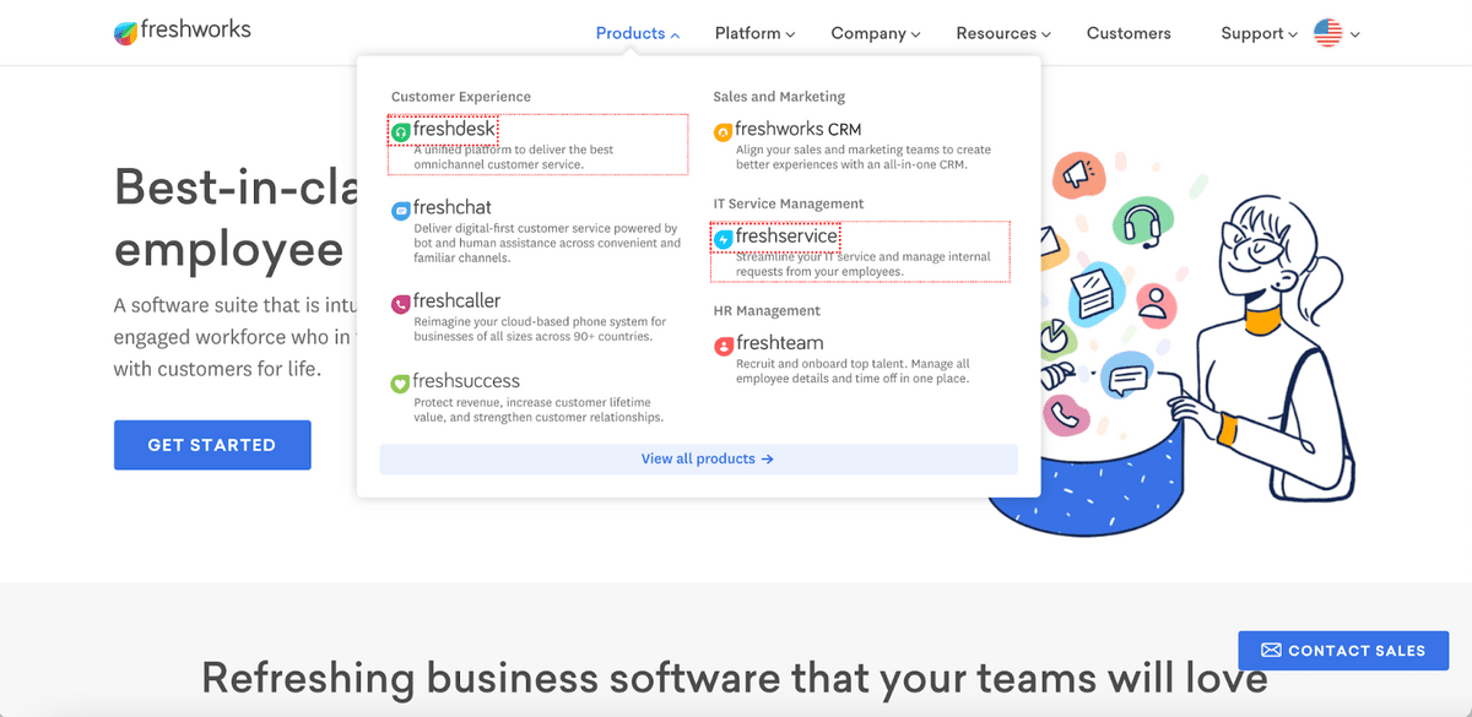 Freshdesk — powered by Freshworks — is another pretty advanced help desk software with a lot of features to improve request management, such as omnichannel support, AI-powered bots, self-service knowledge management tools, and robust integrations.
However, Freshdesk differs from many of the advanced help desk options available because it's built with a variety of field service management features, so it appeals to teams who have technicians making at-home visits (as well as HVAC companies, electricians, plumbers, and other businesses with field technicians).
But Freshdesk help desk is only one of many software offered by Freshworks. Freshworks also offers an IT service management solution called Freshservice.
In Freshservice, teams can easily manage internal IT requests and streamline support. Apart from offering users an ITSM help desk to manage internal support requests, Freshservice also has IT project management and IT asset management features to help teams monitor IT goals and network devices.
If your teams want a fully-loaded help desk and tools to manage internal IT processes, then Freshworks's suite of products is right up your alley. However, like Zendesk, these tools may offer a little too much if your teams just need the "help desk essentials."
Alternative IT Asset Management Software
IT asset management is defined as, "a set of business practices that incorporates IT assets across the business units within the organization. It joins the financial, inventory, contractual and risk management responsibilities to manage the overall life cycle of these assets including tactical and strategic decision making."
So although IT asset management software is often called inventory management software, the process of "managing" IT assets involves more than just keeping track of inventory; this is why many teams benefit from a dedicated IT asset management software with more advanced features and functionality than what Spiceworks provides.
Snipe-IT is a popular IT asset management software because they offer a totally free software option (like Spiceworks) but also have paid offerings for teams who need more than basic asset tracking.
With Snipe-IT's different packages, teams can choose the features they need and tailor their asset management tools to their needs. Plus, Snipe-IT easily integrates with other software and workflows so it can be customized to fulfill your team's unique needs.
Snipe-IT provides an easy way for teams to view all of their company's devices, see where they're located, track when they're checked in and checked out, and monitor maintenance (e.g., software installs, repairs).
With this information, teams can monitor the total number of devices they're managing and know when devices need to be "retired" and replaced. Snipe-IT also provides these same features for managing software licenses and warranties.
Snipe-IT is a good option for almost any team because it's so customizable: you can choose the features your team needs and use REST APIs to really personalize the software.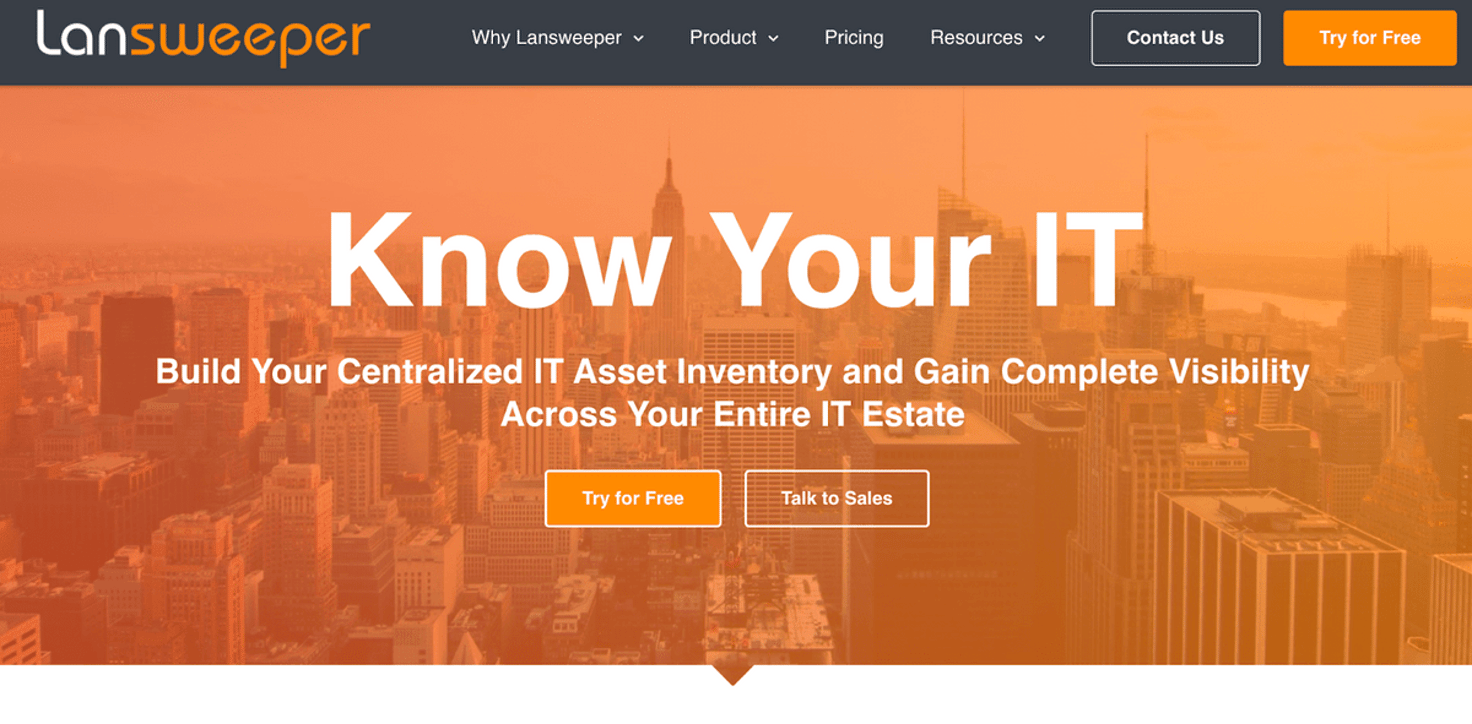 Lansweeper's IT asset management software is even more advanced than Snipe-IT and Spiceworks, so if you want an IT asset management solution that tracks and maps your entire asset library, automates software deployment, pinpoints security risks, has built-in reporting tools, and gives you a fuller view of your asset environment, then Lansweeper is right for you.
Lansweeper's product includes IT Discovery features, IT inventory features, and IT Analytics reports to cover all of your bases. Its many advanced tools are designed to not only help you effectively manage all of your IT assets and keep them running smoothly, but also discover ways you can cut costs and make better budgeting decisions.
Like Snipe-IT, Lansweeper also offers these same features to manage software licenses and device warranties.
Lansweeper offers a free version of their software that supports up to 100 assets, and their paid version is pretty affordable, costing only $1 per asset per year, making this software accessible to most teams.
Network monitoring software complements asset management software to give users a detailed look at their entire IT infrastructure.
A network monitoring system, as the name suggests, monitors all networking components — IT assets, servers, routers, firewalls, VMS, etc. — and network traffic flow to notify users of bottlenecks, disconnected devices, and other performance issues.
This software allows teams to be proactive in managing network problems and keep all of their computer systems running as they should.
Paessler's PRTG Network Monitor is a free network monitoring software with more advanced features than Spiceworks's built-in network monitoring tool.
Paessler offers both cloud-based and self-hosted versions of their software — which is rather uncommon as most software available today is strictly cloud-based — so it's a great option for those who have grown out of Spiceworks but still need an on-premise network monitor.
The PRTG Network Monitor keeps track of devices and applications within your IT infrastructure and monitors network traffic to offer real-time updates on device status and network performance.
With real-time monitoring, teams can analyze connectivity and quickly address outages, monitor device (and network) uptime and downtime, and identify security risks. It's main feature set includes: network monitoring, bandwidth monitoring, data publishing, alerts, and reporting.
Paessler's network monitor also syncs with other tools, so it can work with a help desk or asset management software.
Nagios Network Analyzer gives you an in-depth view of what's happening on (and with) your network. While it contains many of the same features that PRTG does to monitor your network health and all of your computer systems connected to it — albeit more advanced — it also has advanced features to help you identify network vulnerabilities and unwanted traffic to keep your network secure.
Nagios's software sends alerts when troubles are detected or bandwidth usage exceeds your specified limits so you can stay on top of every problem.
Nagios's Network Analyzer is a popular choice for its ease of use: it's extremely user-friendly and has a clean interface, so it's fairly easy for teams to download and adopt. It also has a variety of collaborative tools so IT teams can troubleshoot network problems with other agents right within Nagios.
However, Nagios is a bit pricey, given the number and complexity of its network monitoring features, so it's not a good choice for everyone.
"All-in-One" Spiceworks Competitors
There are also software options out there, like Spiceworks, who strive to do it all.
In this section, we'll talk about software options that offer help desk features, asset management, and network monitoring.
ManageEngine is, to be frank, a beast of an IT software: on their website, you can view their entire suite of products, all tailored to IT teams… and it's quite expansive.
Within their library of products, you'll see ManageEngine offers a dedicated help desk software (ServiceDesk Plus), asset management software (AssetExplorer), and network monitoring software (OpManager), so it provides everything you need to replace your Spiceworks system.
As you might be able to imagine, ManageEngine's IT tools are rather complex (and pricey), as ManageEngine provides users with numerous robust features to manage IT operations.
With that, though, ManageEngine may be too complex for certain teams — those graduating from Spiceworks may not need a tool that's this robust in its offerings or want to spend over a grand on their suite of products.
SolarWinds is another software designed specifically for IT teams with a service desk, asset management features, and network monitoring capabilities.
SolarWinds service desk and asset management tools are combined in one software, so like Spiceworks, those systems aren't super advanced. (That said, SolarWinds is still slightly more advanced and may be an appropriate next step for teams who need just a little more than Spiceworks.)
However, SolarWinds has a variety of different tools and features for network monitoring, so if replacing your network monitoring system is more of a priority for you than finding alternative asset tracking or help desk software, then SolarWinds may be what you need. SolarWinds' products are intuitive and easy to use, and because you can browse the entire suite of SolarWinds' network monitoring tools (10+ software options) on their website and choose the exact features your IT teams need, you're never stuck paying for extras.
The last option on our list, Jira, is one of the oldest IT software systems around. Jira started back in 2002 as a bug tracker, but has evolved to offer users other network management features. Now, they also offer a dedicated service desk — Jira Service Management — with built-in asset management features.
Jira, on its own, is a great network monitoring replacement because it has a variety of different features to track network quality and the different computer systems operating off of it. Jira's Service Management tool is separate from Jira's main offerings, but users can sync Jira systems to monitor their IT infrastructure and field support requests all in one software.
If you're also interested in a robust help desk software to replace your Spiceworks system, then Jira is a great option (as long as you only need cloud-hosted software), as it has tools to assist with change management, incident management, configuration management, and more, on top of request and asset management. Although Jira's asset management features aren't super advanced, they still work for the majority of teams.
If your primary focus is replacing your network monitoring and help desk software, Jira's suite of products is a good place to start.
Did You Find a Solution for Your Teams?
We recommend determining exactly what you need in a replacement software before getting too deep into the shopping process. Clarifying the features your IT team needs and comparing options based on your team's requirements is the easiest way to narrow down your options and find a software that'll work for your teams (for many years to come).
We also suggest reading customer reviews to see what other IT professionals have to say about different software options. Then, once you've created a short list of software to consider, you can take advantage of free trials and demos to see those features in action and make a final decision.
We offer all of our customers a 21-day risk-free trial so they can test drive all of our help desk's different features and see how HelpSpot integrates with other tools, like asset trackers and network monitoring software.
If you're interested in giving HelpSpot a try, get started with our free trial.