Written by
Ian Landsman
, published on 04.22.2019
Customer surveys are one of our most requested features in HelpSpot. HelpSpot now ships with
a tight integration to

Thermostat.io

. Thermostat NPS and CSAT surveys measure customer satisfaction using the Net Promoter Score or Customer
Satisfaction methodology.
Thermostat surveys are quick and easy for your customers to fill out. Customers are presented with one easy to answer question and a optional narrative feedback area. The survey can be customized to reflect your organizational branding.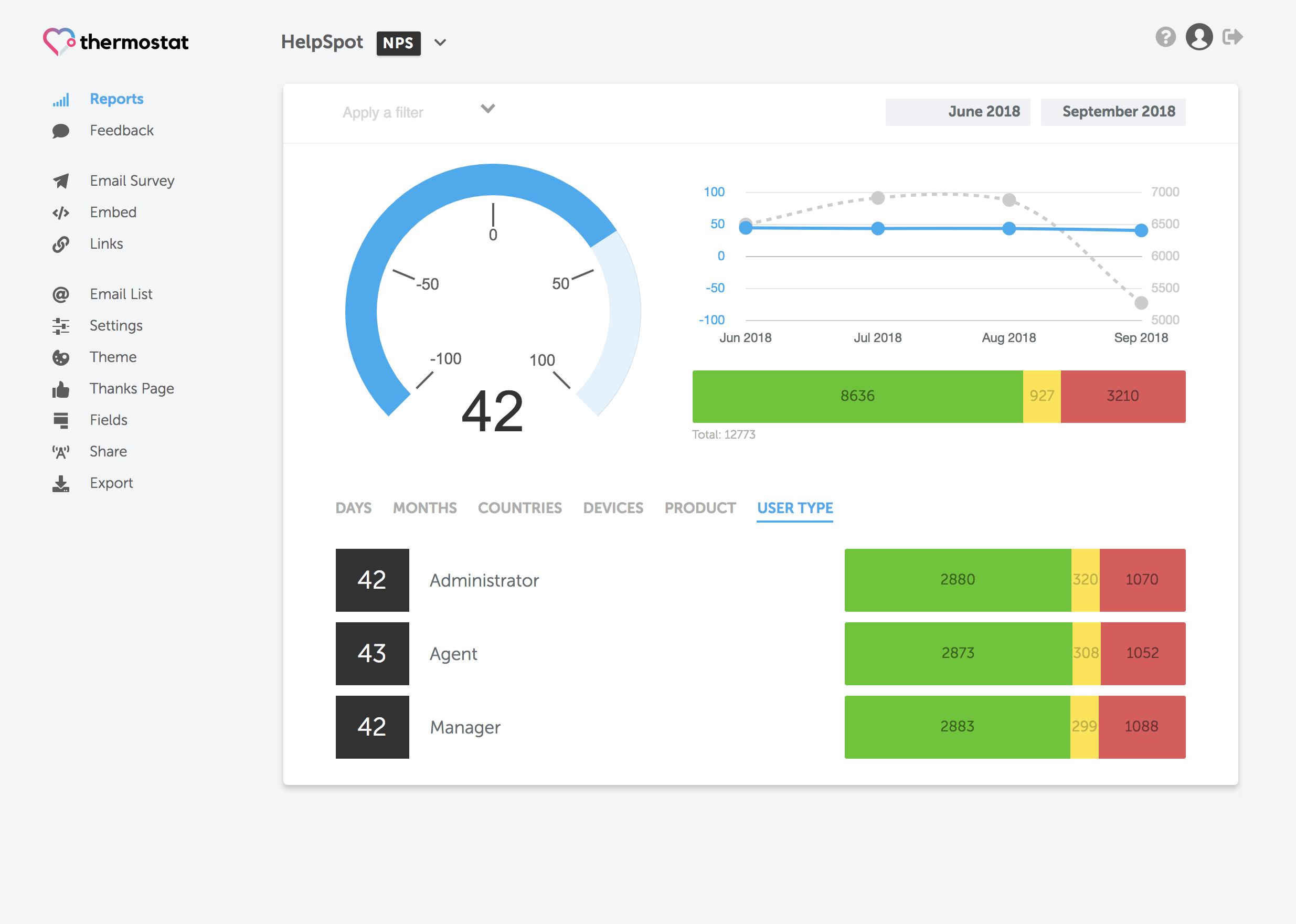 Signing Up For Thermostat
Thermostat.io is a cloud based service that runs alongside HelpSpot or can be used completely independently from HelpSpot. You can sign up for an account here. If you just want to try out the most basic features you can create a free account. To completely enable all of the features including HelpSpot integration, you will need to upgrade to one of the paid plans.

Choosing The Right Format
Both CSAT and NPS survey formats boil your customer support metrics down to one easy to track and report on number. Using a single question and optional narrative feedback, you can quickly gain valuable insights into your customers.

The CSAT format is versatile because it allows you to ask customers a variety of questions and develop a valuable score. The CSAT system is perfect for measuring customer support interactions. CSAT surveys use a 5 value scale that is then divided into two segments, satisfied and unsatisfied. The CSAT score is then caculated as the percentage of satisfied

NPS surveys (developed by Fred Reichheld) use a 11 point scale that is then divided into three sections.
(0–6) — Detractors
(7–8) — Passives
(9–10) — Promoters
The NPS score is then then calculated by subtracting the percentage of detractors from the percentage of promoters. The final score can range anywhere from -100 to 100 with the higher the number being better. The NPS survey format has become the gold standard for identifying trends in customer experience with your product.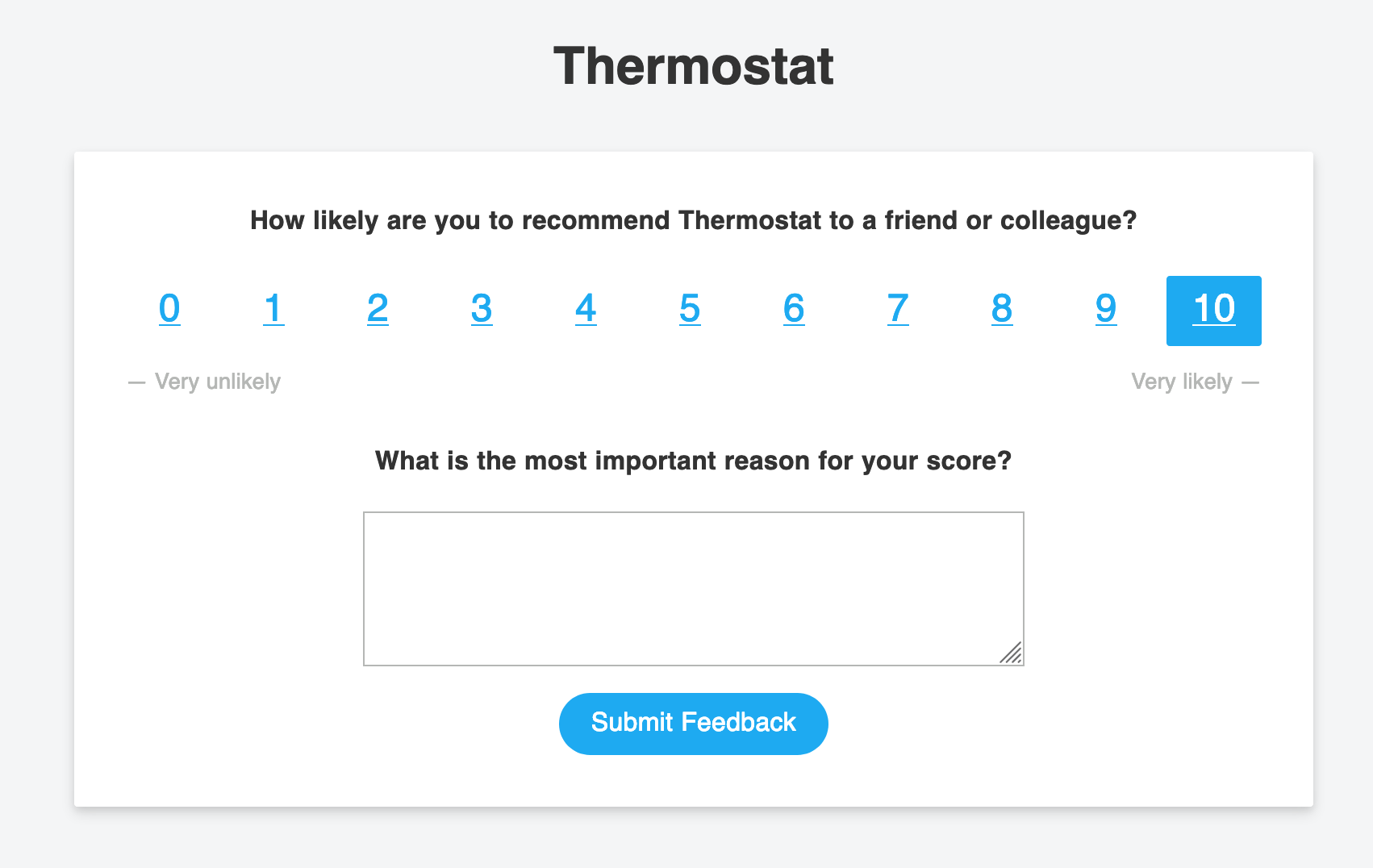 With HelpSpot's integration, you can now distribute Thermostat surveys automatically based on customer activity through HelpSpot triggers and
automations. You can also automatically add customers to Thermostat's ongoing campaigns that regularly survey your customer base to keep tabs on their satisfaction with your product. In addition, results from your customers are synced with HelpSpot and can be filtered and viewed inside of HelpSpot, alongside the rest of your request data.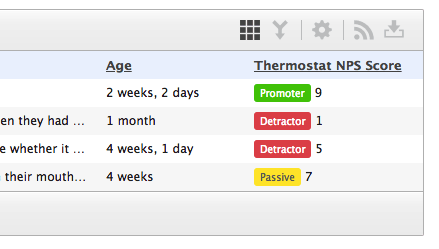 You can sign up today and start using Thermostat in your HelpSpot installation.

We have put together documentation that covers how to implement your HelpSpot and Thermostat integration. Note: you will need to be updated to the latest version of HelpSpot and be on a paid Thermostat.io plan to take advantage of this integration.