When you Google "best ticketing systems" or "IT ticketing systems," most of the articles are going to tell you that you need complex ITIL-ready, IT service management (ITSM) software. If you're looking to upgrade from your current processes, these advanced help desk options might seem right up your alley. But the truth is, not every IT team needs to spend the money on complicated ITSM software.
If you're upgrading from using a shared inbox and need a better way of managing requests, you can save yourself time and money by choosing a customizable help desk with intuitive features.
In this article, we'll talk more about choosing the right help desk for your IT team (or any other team that uses ticketing to handle requests) and review 5 popular customizable help desk options. At the end, we'll also discuss 3 ITSM help desk options so you can weigh the pros and cons.
Best Help Desk Ticketing Systems
HelpSpot is an intuitive, customizable help desk software that teams can start using in less than one hour. Get started with a 21-day free trial and see if we're the right help desk solution for your team.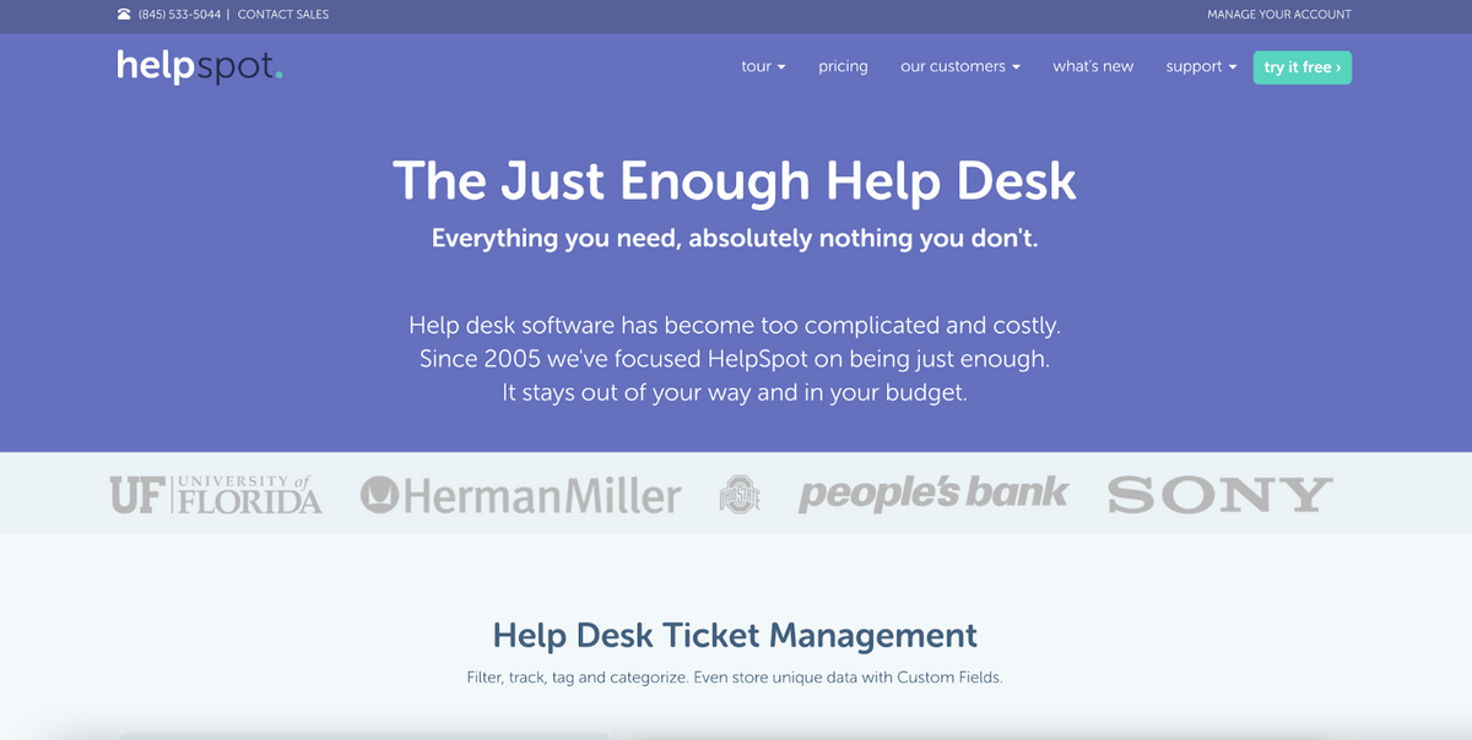 When we designed HelpSpot, our goal was to uncomplicate help desk software: Every user has access to the core features that help with ticket management and team collaboration, and HelpSpot is completely customizable via integrations and our open source API. With HelpSpot, you control how you set up your service desk and add the extras you want.
We also offer our users both cloud-based and on-premise versions of our software.
(And don't worry, unlike other help desk ticketing software brands that are switching to exclusively cloud-based options, HelpSpot's self-hosted help desk solution isn't going anywhere.)
Best of all? Our HelpSpot mobile app supports both versions of our software, so even IT teams who need to operate on a self-hosted system can take advantage of our iOS and Android apps while out in the field.
Since we started HelpSpot, we've helped a variety of IT support teams:
Consolidate IT requests from multiple inboxes or channels into one organized, workable inbox.
Improve team collaboration and prevent flubs like missed tickets and duplicate responses.
Make the support process faster and smoother for both end users and agents.
Save time assigning help desk tickets and knocking out other repetitive tasks.
Keep track of IT tickets and all of the documentation about how they're resolved.
Take advantage of performance metrics to make strategic management decisions.
Here's some more information about how HelpSpot gives teams a better way of managing support tickets and improving the customer experience:
Tools to Improve Organization
Many IT teams offer in-house and customer support, so they field IT requests from both co-workers and customers. In these cases, it's not uncommon for teams to have one email address for requests from co-workers and another email account to manage customer requests. Some teams may even offer support for different users across a variety of channels, like chat or social media.
In HelpSpot, you can link as many email accounts as you need, and all of your support tickets will appear in your team's central inbox. You can even use integrations to enable multi-channel support and organize all of your support requests in HelpSpot.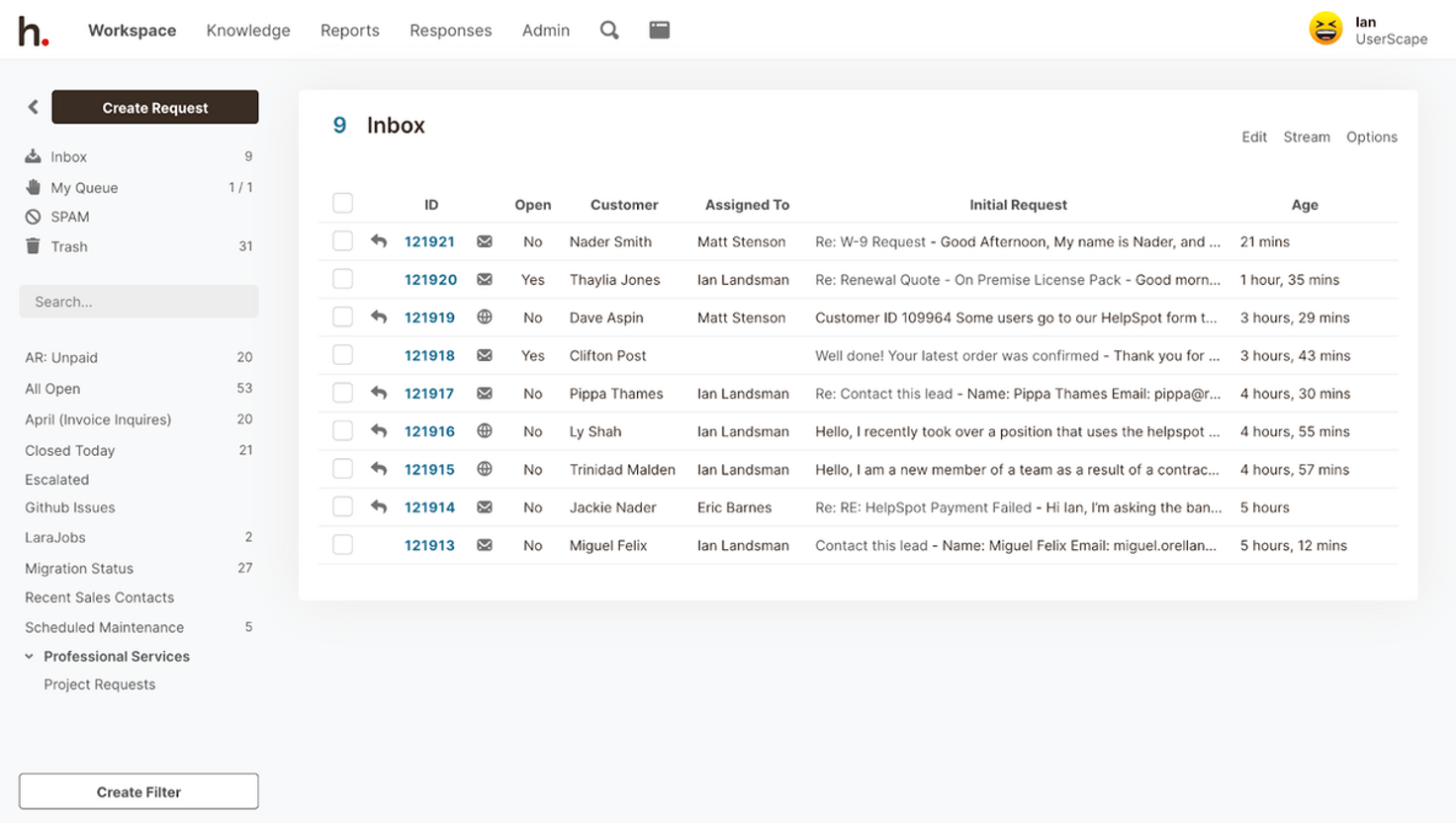 After requests populate in your central inbox, agents can sort through and assign tickets to themselves. All of the tickets they assign themselves will then disappear from the main inbox and re-populate in their agent queue.
Giving agents the freedom to assign tickets themselves prevents admins from having to manage ticket assignment and allows agents to choose the requests they can best handle.
Plus, setting up agent queues provides clarity for who's working on what and makes it far less likely that requests will fall through the cracks.
You can also set up self-service portals for users to speed up the support process. By creating online support portals:
Your users are able to instantly submit tickets right on your website, instead of having to find your contact information and draft out an email.
You can gather all the information you need by creating custom fields for your users to complete about their support issue.
You can automate ticket routing so HelpSpot will automatically assign tickets to specific agents based on the information users provide in their support request or the portal they use to submit their request. (You can also use automation rules to streamline ticket assignment for all of the requests in your central inbox.)
Once tickets are assigned, you can begin working through your queue and collaborating with other agents to address IT issues.
Tools to Improve Collaboration
IT agents often use Google Chat or Slack to message each other about IT support requests, and although these tools are fast and convenient, none of the conversations on these platforms transfer over to the ticket for others to see.
So if another agent is jumping into the ticket and needs to know what's already been done to troubleshoot the issue, they have to pop over to the messenger and spend 5 minutes catching up on the ticket's status.
And if management wants to review support tickets and see how their agents are handling requests, they have to ask all of their agents for more details and go off of anecdotal information.
So we designed HelpSpot with an internal notes feature and conflict detection functionality so agents can collaborate on support requests in real-time.
With internal notes, agents can comment back and forth within tickets right in HelpSpot. That way, all of the documentation about each support request is saved in the ticket and available for other agents to reference.
Conflict detection allows agents to see when another user is actively viewing or responding to the ticket they're working on, so agents can communicate more efficiently and don't accidentally send duplicate replies.
Tools to Save Teams (& Customers) Time
Your team's average email response time is crucial to maintaining customer satisfaction — the average email response time is about 12 hours, but when you're dealing with issues like network problems and password resets, customers typically expect to receive help much sooner than that.
We built HelpSpot with features to help your agents send faster replies.
Through integrations, we also sync with CRM systems to pull customer data in each ticket, so you have all of the information you need to provide helpful support and don't have to waste time jumping between software.
Templates: Create a library of templates in HelpSpot so agents can speed up response times and standardize their email replies. Agents can pull the template that best suits the support issue at hand, and then quickly personalize it or fill in any missing details before sending it off. Then there's no worries about typos, grammatical errors, or incorrect information.
Knowledge Base Articles: Store all of your help desk articles in HelpSpot so agents can quickly send in-depth troubleshooting information to customers (and avoid typing out the step-by-step method to solve every technical issue).
Self-Service Knowledge Base: House your help desk articles on your website, too. When you create a self-service knowledge base, your users can access all of your troubleshooting/FAQ documentation whenever they need and take steps to resolve their problem themselves. Then, if they still need support, they can get in touch with your team and explain the steps they already took.
Automation Rules: Automate a variety of workflows by creating "triggers." For example, you can use triggers to: (1) set reminders for service level agreements (SLAs), (2) escalate tickets if they haven't received a reply, and (3) automatically send canned responses when a support request is filed under a specific category or contains certain terms or phrases.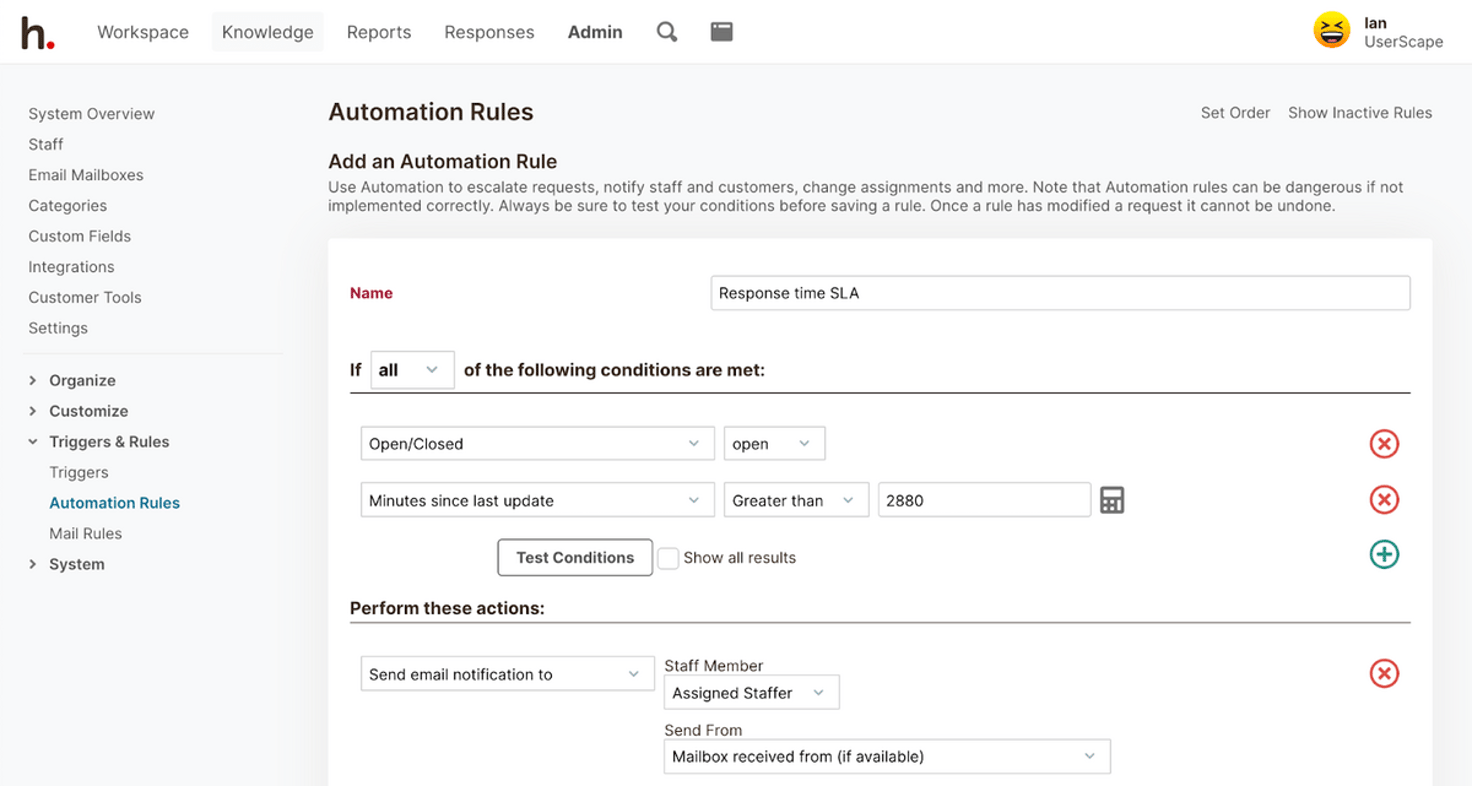 How We Help IT Managers
IT managers like HelpSpot because it has built-in reporting features, is easy to adopt, and is budget-friendly.
With built-in reporting features, management can see important metrics like:
How many requests their agents receive
How many responses are sent
How many replies individual agents send
Average response times
Average resolution times
Admins can also customize reports to track different metrics or view metrics over different time periods.
We also allow IT managers to create custom fields for different categories of support requests so they can track specific information about the issues their users are experiencing.
For example, you can track which devices need troubleshooting, their serial numbers and IP addresses, which server the device is connected to, the condition of the affected device(s), and more.
Since most IT managers don't have a ton of free time to train their team on a whole new email and ticket management software, HelpSpot is designed to be straightforward to learn and easy to use. All of the features are intuitive and the interface is modern and clear.
Typically, teams can learn the ins and outs of the software in a couple of hours, and we're always here to help when users have questions or need support.
We also keep pricing affordable so our software works for most teams' budgets. Every user has access to our core feature set, and we don't charge extra to customize our software. Instead, we base pricing solely on the number of seats you need.
Does HelpSpot sound like the right tool for your IT team? To learn more about HelpSpot's features, integrations, and pricing, get in touch with our team or start a free 21-day trial.
Pros: Zendesk is a very robust help desk — some of its many bells and whistles include out-of-the-box omni channel routing, social media widgets, and chatbots, so it's a good option if your IT team needs features to field requests from several online channels. Zendesk is also extremely customizable, it integrates with over 1000 other applications and is built with an open source API, so you can sync it with any software your team uses.
Cons: Zendesk can be difficult to adopt because there are so many different features to learn. Many reviewers say that training their teams to use Zendesk takes a lot of time, and Zendesk's team doesn't provide a ton of support during the adoption process. Plus, considering how robust Zendesk's feature set is, it's one of the more expensive ticket systems.
Recommended for: Enterprise teams who need a robust suite of tools to manage requests across a variety of channels (and have the budget to afford this advanced solution).
Pros: HappyFox is a help desk ticketing solution that also has features to support task management and asset management. Apart from that extra functionality, HappyFox doesn't overwhelm you with too many features — it offers the essentials for managing requests and setting up a self-service knowledge base, and that's about it. HappyFox is customizable, though.
Cons: HappyFox is somewhat new, it's only been around for ~5 years and hasn't received too many customer reviews. While most users have good things to say about HappyFox, many do mention that the software can be hard to learn because the features aren't very intuitive, and it's hard to get a response from the HappyFox team when you have questions or need help.
Recommended for: IT teams who want help desk software with built-in task management and asset management.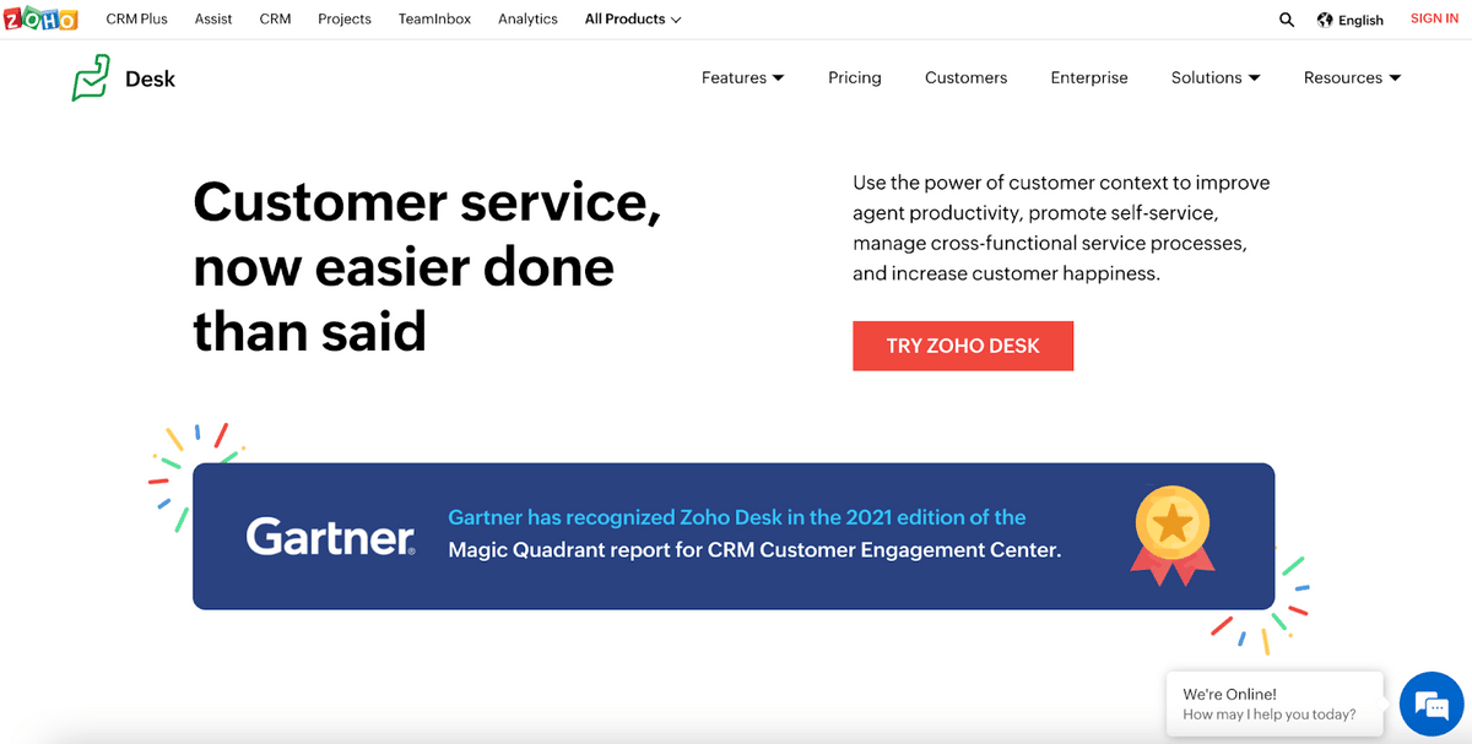 Pros: Zoho Desk is another robust help desk tool with everything from multi-channel support to built-in AI assistants. It's a great tool for enterprise IT teams and teams who want a software to scale with them because they offer a variety of packages for teams with different needs.
Cons: Zoho Desk works in the same way as most other help desks — it organizes tickets, improves team collaboration, offers reporting tools, etc. — but it contains a lot of different features to accomplish those tasks. So learning how to use all of those features and work efficiently can be challenging. Like Freshdesk, Zoho Desk's help desk is also available in tiered packages, and reviewers say that most users have to buy the more expensive packages to access the features they need.
Recommended for: Enterprise IT teams who want built-in live chat and an AI bot to assist users. Also a good option for teams who want to create dedicated help desks for each department of their business.
Pros: Freshdesk and Freshservice are two help desk solutions offered by Freshworks. Freshdesk is the more general help desk for teams across different industries, while Freshservice is their advanced ITSM help desk with built-in asset management and project management features. We like Freshdesk for field service teams because they have a whole feature-set to manage field operations and keep all of your agents in the loop. So if you need a help desk for field service management, or you want to dabble with an ITSM help desk, Freshdesk may have the right solution for you.
Cons: Freshdesk is customizable through integrations, but they offer their software in a bunch of tiered packages and disperse features across those packages. Users say you have to opt for the more expensive packages to access all of the help desk features you need, but then you're also working with (and paying for) a bunch of extras you don't. So it's not a great option for teams who don't have a big budget.
Recommended for: Enterprise teams who need a help desk that also helps them manage field service operations.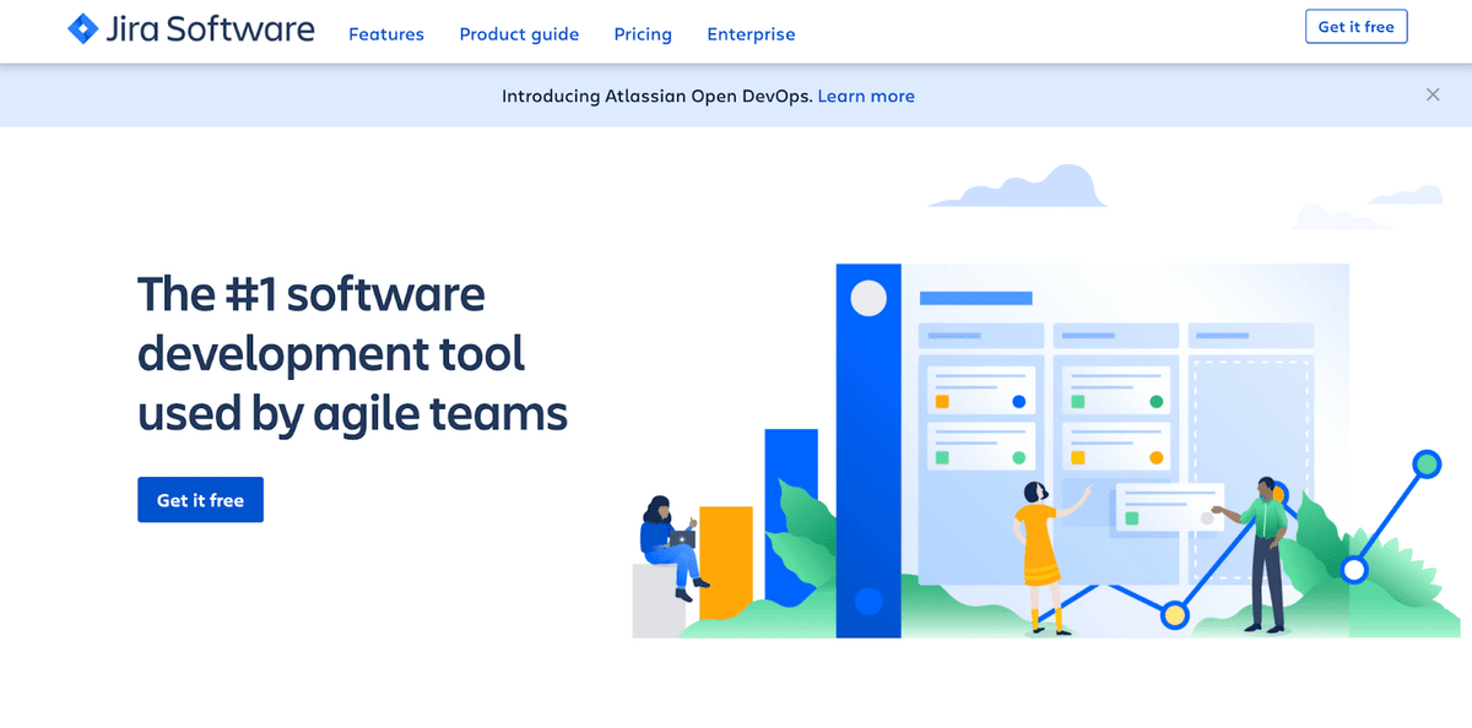 Pros: Jira Service Management is the next ITSM software on our list, and it's a popular option for teams who want the advanced IT help desk because it is chock full of features to support all of your IT processes, and it's designed to help IT agents, Ops, and developers work in sync. Apart from their Service Management software, Jira also offers other software for IT teams, such as bug trackers and incident management tools, so you can shop for all of your IT software on Jira's site and connect all of the solutions to work together.
Cons: Jira announced that they're discontinuing their on-premise help desk option and migrating to only cloud-based offerings, so this option doesn't work for teams who need the option of hosting Jira on their own servers. Many reviews of Jira also say that the software can be confusing to use because the features are complex and there are so many of them to learn. Jira's is also rather pricey, so it doesn't fit in everybody's budget.
Recommended for: IT teams who want a "high-velocity" ITSM solution to help them monitor their entire IT infrastructure, and teams who don't need a self-hosted solution.
Pros: Solarwinds is an all-in-one IT help desk, asset management software, and network monitoring solution. So if you need all three of those software, then Solarwinds is a good option for your team. Reviews of Solarwinds say the platform is easy to navigate (despite having many different features), and most teams can adjust to using the software within a week. Solarwinds also offers other software solutions geared for IT professionals, and you can add those solutions to your help desk package and pay by the extra. This way, you're not dishing out money on features and functionality your team won't need to use.
Cons: Reviewers say Solarwinds asset tracking and network monitoring features are a little basic, so they may not work for larger teams who need more advanced versions of these tools. Reviews also mention glitches with the software, problems with the reporting features, and say that Solarwinds could offer more for the price they charge.
Recommended for: Teams who want built-in asset tracking and network monitoring tools to complement their help desk features.
Get Started with a Free Trial of HelpSpot's Ticketing System
Choosing the right help desk option for your IT team isn't the easiest task because there are so many software options, and all of the available options have different features and functionality.
The best way to compare help desk ticketing systems is to note down the features your team needs, and then look for the ticketing system that meets your criteria.
If you're still on the fence, we suggest taking advantage of free trials and asking more questions with the brands you're considering. To see how HelpSpot can work for your IT teams, get in touch with us to discuss what you're looking for in a help desk or get started with a free 21-day trial.