If you're crystal clear on which features your team needs to thrive, you'll be able to narrow down your email help desk software options quickly.
Does your customer support team need an advanced help desk with features like social media widgets, omnichannel routing, and chatbots? If so, options like Zendesk, Zoho Desk, and Freshdesk might be your best fit.
Or, do you want something less complicated to organize your team inbox and manage your customer requests? If that's the case, HelpSpot may be right up your alley.
If you're not sure, keep reading — we've gone into detail on what kind of problems you can solve with good help desk software, so this article will help you clarify what you want while introducing you to these solutions:
Before we dive in, we'll answer a few common questions about email help desk solutions to add clarity during your search for the best help desk software. If you don't need the FAQs, click here to skip to the software reviews.
Want to try HelpSpot free for 21 days? Sign up for a free trial to see how our software solution makes email management easier, facilitates easy team collaboration, and provides valuable insights to improve customer satisfaction.
Email Help Desk Software FAQs
Before you invest in an email help desk software, you may be wondering if you truly need one… or if the investment is worth it. In these questions, we'll help you decide if an email help desk software is right for you.
Who needs email help desk software?
Customer experience teams who manage a shared inbox, communicate with customers through a variety of channels, or need to keep track of service-level agreements (SLAs) can all benefit from an intuitive help desk system. Help desk platforms make it possible for support agents to track, assign, and respond to customer requests in an efficient, organized way.
If your teams are spending extra time trying to make sense of a messy shared inbox or customer queries are consistently falling through the cracks, you can benefit from switching to an email help desk software.
What is an email ticketing system?
Email ticketing systems function in the same way as email help desk software — they convert customer emails into tickets, organize them in a central location, and allow agents to assign and respond to tickets with other team members.
Most of the time, email help desk software solutions are also advertised as email ticketing systems.
What are the common features of help desk software?
Any good help desk software should have:
An intuitive, easy-to-learn interface.
Centralized ticket management so all customer conversations and service requests are in the same place.
Individual agent queues.
Ticket tags to make search easy.
Collaborative tools like conflict detection and internal notes.
Response templates to shave down response times.
A self-service portal to house knowledge-base articles.
APIs and third-party integrations for software customization.
Automation rules and "triggers" to manage escalations, track SLAs, and consolidate support tickets.
Performance reports and analytics.
Security and compliance features.
Do I need a cloud-based or on-premise help desk?
This all depends on the level of control and privacy you want.
If you need to operate on a HIPAA-compliant server or meet GDPR compliance requirements, you should choose a self-hosted help desk option because it allows you to operate on your own server and manage data storage.
If you simply prefer to have better control over your help desk software (i.e., software updates, backups, reporting, data storage), and you have an IT team who can manage installation and maintenance, then self-hosted software is a better fit.
Cloud-based software is the easier option for most companies because the software is hosted on a third party server, the software brand is available to manage bugs and implement software updates, and there's no need for an internal IT team to intervene with set-up.
Note: Most help desk providers offer cloud-based hosting in the US, but some brands offer hosting options in the EU, India, Australia, and Canada and can accommodate international organizations. Make sure to ask about cloud-based hosting options when deciding whether to choose cloud or on-premise deployment.
If you want software that's ready to use right out of the box and managed by an external party, cloud-based help desk software is your best choice.
HelpSpot's Email Help Desk Software
HelpSpot is built with all of the right tools to manage email conversations efficiently.
Our software isn't packed with extra features and functionality like many of the "advanced" help desk options. That's because a lot of teams don't need those extra features and learning how to work around them can be confusing.
Best of all? We keep pricing competitive by nixing those "extras" and focusing on what's actually important for your team.
We designed our service desk software to look and feel like the email accounts most teams are already using so that it's easy to adopt.
If your team wants a tool to improve multi-channel support, we allow teams to customize our software to sync with other tools like chat bots, SMS messengers, and phone systems.
HelpSpot is available as a self-hosted or cloud-based SaaS solution, and we have data centers in both the US and EU to offer regional hosting options.
We've developed mobile apps for both iOS and Android (even for self-hosted!) so users can access our customer support software from anywhere.
Here's what the software itself is like.
Clean Interface
Our ticketing software organizes all new emails in a central inbox.
On this screen, you can view when a request was created and by whom.
When working in the main inbox, agents can assign customer conversations to themselves. Once assigned, they appear in an agent's queue and disappear from the inbox.
Agent Queues
Every agents' queue displays the tickets an agent is actively working on; this allows agents to scan through customer requests and prioritize them based on urgency. Assigning email conversations to individual agents improves the customer experience in two ways:
It ensures all emails are easy to find, making it less likely for customer queries to be ignored.
It allows one agent to provide support through the entire resolution process.
Within both the inbox and agent queues, agents can take bulk actions like merging, reassigning, or deleting tickets. Agents can even send batch responses when they have similar customer queries.
Searchable Inbox
Unlike a traditional email inbox, HelpSpot has advanced search capabilities that allow agents to find past customer emails with ease. Between request categories, email tags, and filters, agents can search customer or agent names, keywords, and request types to find the exact email conversation they need.
Internal Notes & Conflict Detection
Managing emails in HelpSpot also makes team collaboration easier. Instead of starting separate email threads or hopping on Slack to discuss tickets, agents can leave internal notes within each ticket for other users and reference those notes at any time.
With conflict detection, agents can also see when another user is viewing or responding to the ticket they're working on in real-time. That way, agents don't send duplicate responses or conflicting information.
Customer Information
In addition to collaborative features, we also display all relevant customer information within each ticket so agents can resolve issues without having to reference a CRM or go searching through past customer interactions.
Within each ticket, agents can see customer information displayed at the top.
In that same section, users can click to view past emails with the customer. This helps your agents determine if the current issue is ongoing or has been addressed previously.
With a combination of collaborative tools and additional customer information, agents are equipped to provide the best support for your customers.
Email Templates & Knowledge Articles
Customizable email templates and knowledge articles make it easier for agents to field a large number of requests each day.
Plus, templates standardize responses to improve consistency amongst communications.
In HelpSpot, agents can pull from a library of templated replies and fill in the custom fields to personalize their responses.
To supplement replies and provide more in-depth information, agents can also pull articles from their knowledge base; with these, customers can walk step-by-step through the directions and find a solution to their problem.
Automation & Triggers
Automation rules and triggers allow HelpSpot to ease some burden on your agents. By setting up triggers, HelpSpot can automate ticket assignments when it detects certain words or phrases within a request.
Automation rules escalate tickets when they haven't received a response and send reminders for SLAs, so nothing ever goes accidentally unaddressed.
Performance Reports
HelpSpot's built-in reporting tools pull valuable metrics and insights to track agent performance and help you better understand customers' needs.
In these reports, you can view:
Number of emails received.
Number of responses sent.
Number of resolved tickets.
Average response times.
Average resolution times.
You can also customize reports to track other metrics and gauge agent performance over different time periods.
Other Leading Help Desk Options
While HelpSpot emphasizes email management, is highly customizable, and comes at a good price point, we understand it's not everybody's absolute best fit.
If you're looking for a help desk with extra advanced features or different functionality, you may like some of the options below.
Zendesk
Zendesk is one of the most advanced help desk options available.
Zendesk's Support Suite unifies customer conversations from all channels — including email, live chat, messaging platforms like WhatsApp, and social media channels like Twitter and Facebook — in one place so agents can provide helpful, fast support.
Like other help desk software, Zendesk transforms incoming customer requests into tickets for better organization and management. Zendesk is also equipped with collaborative tools and a knowledge base to improve both the agent and customer experience.
Zendesk is entirely cloud-based and does not offer self-hosted software options. They do offer cloud-based hosting in the EU, but Zendesk only hosts some data in the EU, so they are not fully GDPR compliant. It's recommended for support, sales, and customer success teams, and has a variety of pre-built integrations, including integrations with Salesforce and Google Analytics, to provide a one-stop-shop tool for these teams.
Since Zendesk offers users all the bells and whistles, it's no surprise it's one of the most expensive help desk options.
Another note: Reviews of Zendesk mention glitches with the software and say the support team isn't overly-helpful with solving support requests.
Read more: Zendesk Alternatives: 6 of the Best Help Desk Competitors
Zoho Desk
Zoho Desk is another great multi-channel support software, and in its reviews, has been recommended for startups and small businesses.
That said, it's also great for larger teams because of its "light seat" feature that allows users to view and collaborate internally on tickets without racking up the seat count. This is beneficial if management or employees from other departments need to view or chime in on requests without actually responding to the customer. It's also a nice choice for global brands because they offer regional cloud hosting in the US, EU, IN, AU, and CN.
Zoho Desk operates like many other help desk software by organizing all customer queries in a central inbox and allowing agents to assign tickets to themselves for better support and quick ticket resolution.
On that same note, Zoho Desk also allows users to create a self-service knowledge base for customers, collaborate within tickets using internal notes, create automation rules, and view performance reports and insights.
When reading reviews of Zoho Desk, the most common complaint we see is difficulty with adoption, as the software isn't the easiest to learn.
Other reviews mention difficulty with changing settings, implementing new features, and troubles with linking email accounts with the software.  
Read more: Zoho Desk Alternatives | Top 8 Help Desks for Customer Service
Jira Service Desk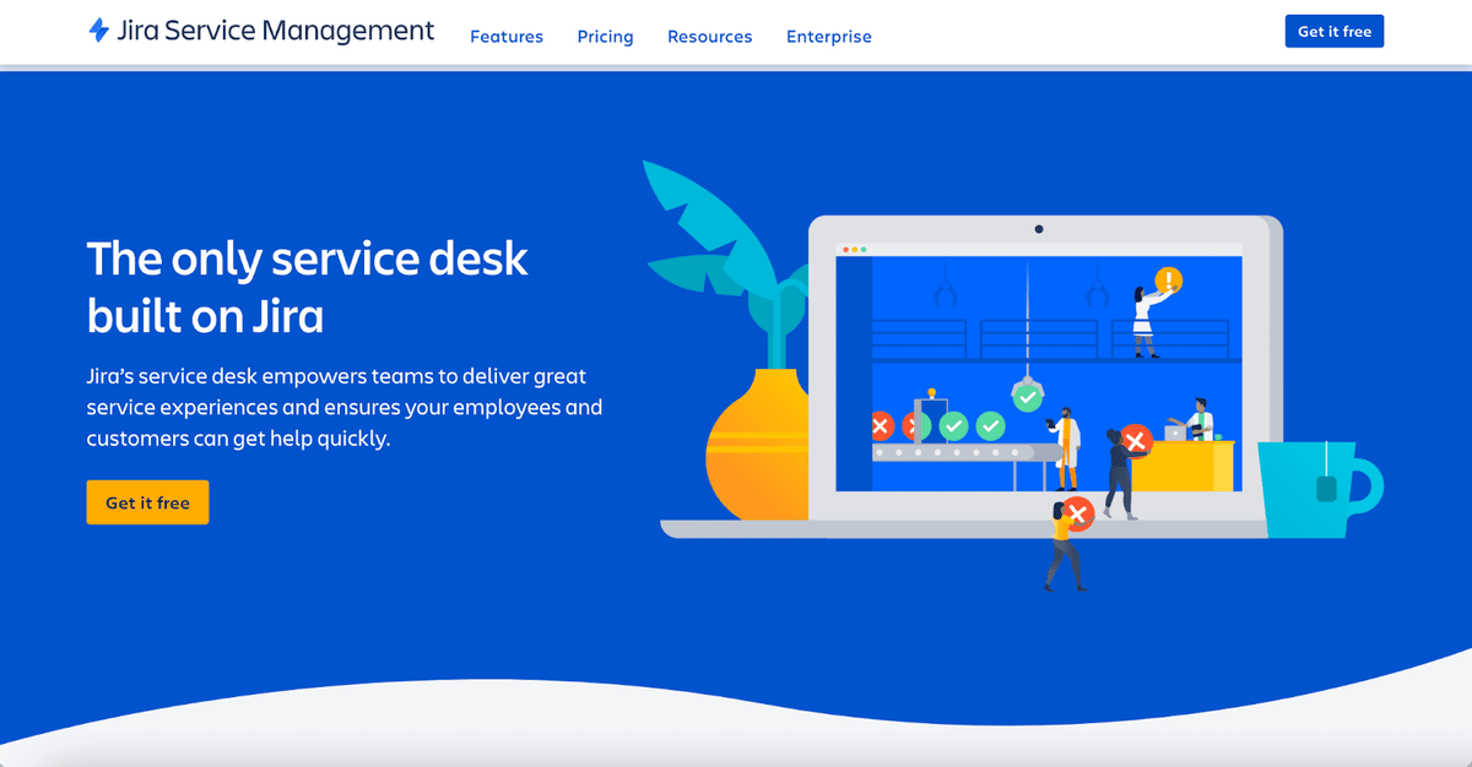 Jira initially debuted as a bug and issue tracking/service management/project management software designed for IT support teams.
Jira also functions as an asset management tool so IT teams can keep track of their devices.
Since its release, Jira has evolved quite a bit and now offers service desk functionality to field support requests from both employees and customers.
Still today, Jira is recommended for IT teams because of its robust ITSM capabilities.
Jira allows users to create multiple help desk platforms for their end users; this is beneficial if you have different departments fielding requests or if you own more than one brand.
It offers pretty basic help desk features: it organizes new requests (from all connected channels) in a central spot, allows agents to assign tickets to themselves, and provides reports to monitor agent performance.
Jira does not offer an on-premise solution, but they offer cloud-based hosting for US and EU-based businesses.
Read more: Jira Service Desk Alternatives for On-Premise Users (5 Tools to Try)
If you're looking for a less complicated help desk tool, Jira isn't the best solution because it's not super easy to use and is more geared for IT professionals.
However, if you need software to support your IT teams or you want to create multiple service desks for different end users, Jira is the tool to try.
LiveAgent
LiveAgent was one of the most popular live chat software when it first debuted. Now, it has evolved into a full-fledged help desk software, offering multi-channel capabilities and a built-in call center to field customer queries.
It is engineered with a variety of social media integrations, customer service reporting tools, and it even allows teams to create a customer portal to support customers around the clock.
LiveAgent is a good tool for teams of all sizes, from startups to enterprise companies, but some reviews mention it's best for small to midsize eCommerce brands.
All in all, LiveAgent has over 175 different help desk features and over 40 integrations to customize their software.
With that in mind, learning how to use the software can be tricky. Reviews of the software mention a learning curve and that the UI isn't very intuitive, but they also mention that LiveAgent's support agents are available to assist 24/7 and are quick to offer help.
LiveAgent is a good choice for teams that need to meet GDPR compliance requirements since they have optional EU hosting and data management features.
Read more: LiveAgent Alternatives: 6 Best Help Desks for Customer Support
Freshdesk
Last on our list is Freshdesk, a cloud-based service desk solution that offers multi-channel support.
Freshdesk is built with a range of tools to improve customer support, facilitate team collaboration, and boost agent productivity. We like Freshdesk for field service businesses, like HVAC and electrical companies, because it has a variety of features to manage SLAs and keep field agents in the loop.
Freshdesk is like many other help desk software in the fact that it allows users to create a self-service portal, is highly customizable, and generates performance reports to track agent metrics and types of customer requests.
Reviews of Freshdesk say it works well for teams of all sizes due to its tiered pricing packages.
For the most part, reviews of Freshdesk are positive, however some reviews mention glitches, clunky UI, slow responses from Freshdesk's customer service team, and difficulty with implementation.    
Read more: Freshdesk Alternatives: 9 Help Desk Software for Support Teams
Try HelpSpot's Free Help Desk Software for 21 Days
We offer a 21-day free trial for users who want to give our software a test drive before making the investment.
During your trial, you can try out our different features and see just how easy HelpSpot is to set up and adopt. Of course, we're available to assist with onboarding and answer questions when needed.
To learn more about HelpSpot and start your free 21-day trial, sign up here!