Freshdesk is a cloud-based help desk software with advanced features that include AI-powered chatbots, integrated knowledge base, and omnichannel reporting. At its core, it is a ticket management system that lets teams conduct customer support through live chat, email, social media, and much more.
Although Freshdesk is a robust help desk software with advanced functionality, it is not the right help desk for everyone — especially for companies that don't:
Need a ton of advanced features: If you don't need them, why pay for them? Plus, extra features can clutter the help desk's interface, making it more complicated to use.
Have the bandwidth to upskill and onboard: While Freshdesk can do many things, support agents have to continually upskill to use the software, and onboarding new agents can be time-consuming and costly.
Want to spend an arm and a leg on a help desk: Freshdesk sells its features in tiered pricing packages, but one of the common complaints of tiered pricing is that the useful features are in the higher tiers. Support teams are either forced to exceed their budget and upgrade to a more expensive plan or use another software solution.
So in this post, we'll review nine Freshdesk alternatives — with details from customer reviews and recommendations from our team — to help you find a suitable help desk solution. We'll start by walking through our help desk, HelpSpot, and how it was created to be affordable, customizable, and really easy to use. Let's get started!
Freshdesk alternatives covered in this post:
Looking for a help desk software to organize your customer requests while avoiding bloated ticketing systems with dozens of extra features? Try our risk-free, 21-day trial to see if HelpSpot is the best Freshdesk alternative for your support agents.
HelpSpot: Email Management Software That Can Be Easily Customized with Other Tools You Need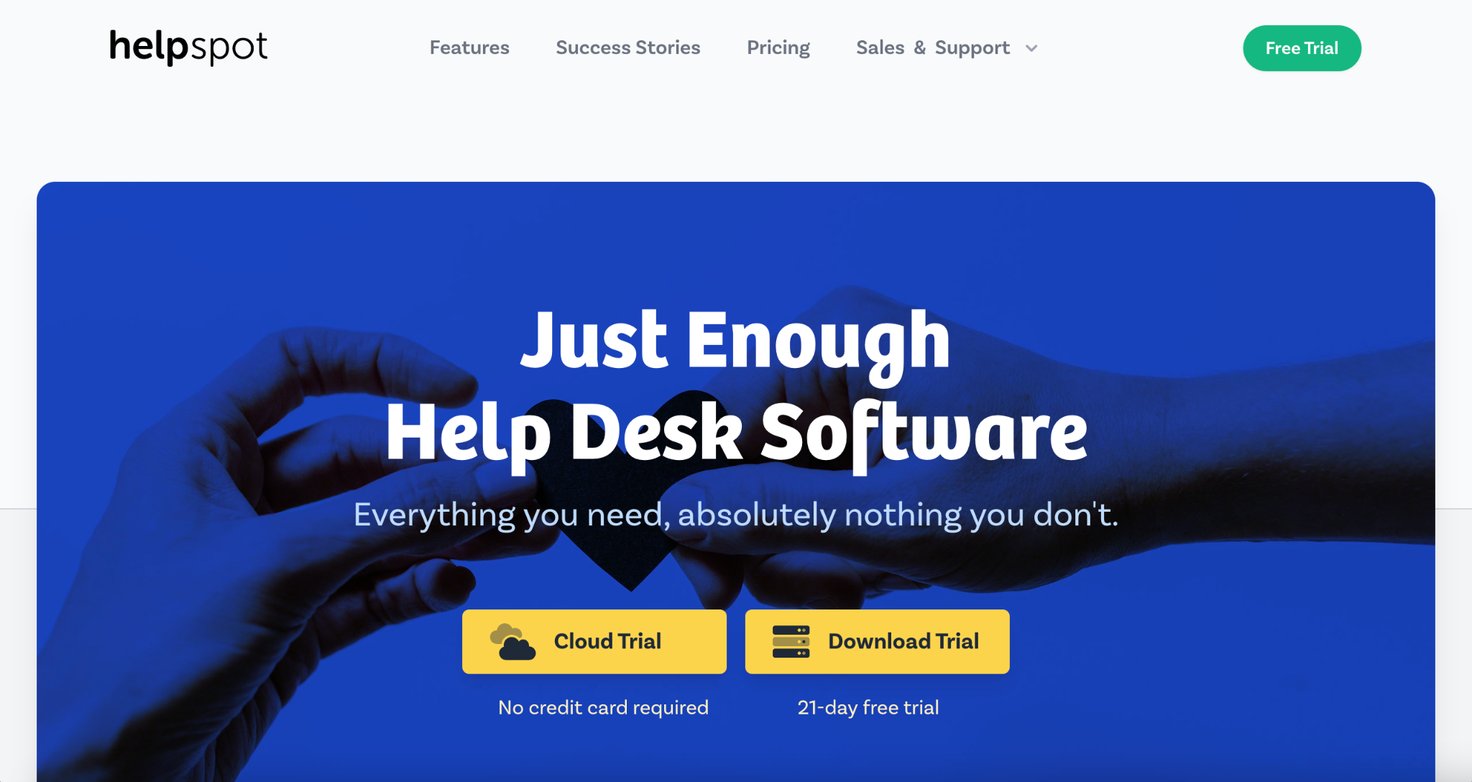 HelpSpot is our email management software, designed with only the necessary features your team needs to manage email requests. It operates a lot like the email platforms your teams are already familiar with (i.e., Gmail or Outlook) but it's built with more advanced functionality, such as agent queues, collision detection, reporting, and automation rules, to name a few.
Although our help desk is straightforward and affordable, we also designed HelpSpot to be fully customizable for teams who want a more robust solution. With a Zapier connection and our open-source API, support teams can connect HelpSpot with any other software they use in their daily operations, like CRM, chatbots, messaging apps, etc. This way, HelpSpot will keep track of all of your support requests in one place.
For example, if your sales team is using a CRM, you can easily integrate it with HelpSpot, and our help desk will pull all customer information from your CRM into each relevant customer support ticket. This gives an extra layer of context that will help your service agents provide more personalized support, without having to toggle between your help desk and CRM.
Let's take a closer look at how HelpSpot's core features help your agents see every single customer request — so nothing gets overlooked.
Tools to Organize All Incoming Requests
Centralized Inbox
HelpSpot converts all incoming requests into tickets and stores them in a centralized inbox. You can connect as many inboxes as you like, or even make individual help desk dashboards for each department in your organization. Having one central (organized) inbox keeps all incoming requests visible, even in the busiest of seasons when requests dramatically increase.
Agent Queues
From the centralized inbox, support agents can pick which tickets to assign themselves based on their expertise and bandwidth, so every agent can manage their own workload. Once assigned, these tickets disappear from the centralized inbox and are added to the agent's queue.
Being able to assign emails or tickets allows agents to:
Know exactly who is working on which requests at all times.
Quickly respond to a request without having to search the entire database.
Offer a consistent customer experience because once a request is placed in an agent's queue all follow-up with that customer remains with the same agent.
Tools for Smoother Team Collaboration
HelpSpot provides a number of collaborative features that allow agents to communicate within each support ticket and stay on the same page.
Conflict Detection
Conflict detection (also called collision detection) alerts agents if another team member is viewing or responding to their ticket in real-time. This lets team members avoid wasting time on the same request, but even better, it also prevents agents from sending duplicate (even conflicting) replies — a tell-tale sign of disorganization in a brand.
Internal Notes
Internal notes allow agents to communicate with each other in each ticket. HelpSpot stores all customer conversations as a reference for future communications with the customer. This reduces the need for outside threads like email or Slack but it also provides context for any agent jumping in to assist on a request. The agent can get up to speed quickly without having to ask a team member for a status update.
Tools to Improve Agent Productivity 
HelpSpot offers a number of features that can improve agent productivity and reduce the workload of your support team.
Email Templates
Instead of drafting a unique email response to every customer request, HelpSpot allows agents to organize a library of prepared responses, or email templates. This lets your agents send quick responses with a couple of clicks, eliminate typos or other grammatical errors, standardize responses, and streamline batch replies for similar support tickets.
Knowledge Base
HelpSpot also allows your support agents to build a library of troubleshooting documents (knowledge base) that can be easily referenced or inserted into customer replies.
Whenever agents need to provide customers with more technical or in-depth support, they have the documentation at their fingertips.
Customer Self-Service Portals
With HelpSpot, you can create a self-service portal on your website to publish helpful articles, tutorials, or FAQ information for customers to access whenever they need it. This helps your customers quickly find solutions to their own requests, instead of reaching out to an agent and waiting for a response. Plus, a well-resourced customer knowledge base can improve customer satisfaction and significantly reduce your support teams' workload by deflecting customer tickets.
In the case that your customers do need additional support from your agents, these portals also let users submit requests right on your site.
Automation Rules & Triggers
HelpSpot lets you create automation rules and triggers to train our help desk to do certain tasks for you, like ticket routing. Our help desk can be triggered to detect certain words and phrases in a customer request, then bundle similar requests and assign them to a specific agent. This way, if you have an agent with expertise in a certain product or field, all relevant requests can be routed to that agent to improve team productivity.
Many of our clients also use these rules to set reminders for SLAs or to escalate tickets that have been overlooked and need urgent attention.
Built-In Reporting for Data-Driven Decision Making
HelpSpot also has built-in reporting tools that provide data and analytics to help you:
Manage your team's workload.
Monitor each agent's performance.
Better understand your customers and the issues they are experiencing.
HelpSpot tracks metrics like number of replies per agent, resolutions per agent, average ticket response time, average ticket resolution time, etc. That said, our customer reporting tools are fully customizable, so you can track different metrics like agent productivity and view the data over different time frames.
Transparent Pricing
Most help desks in this post — Freshdesk included — sell their software by bundling features in tiered pricing plans. At first, this appears helpful for businesses with a limited budget. However, the downside with this pricing model is that the most helpful features are often reserved for the higher pricing plans. So, as companies grow their support, they are forced to upgrade to a whole new plan, sometimes just to access one feature.
In contrast, HelpSpot's pricing is transparent: Everyone gets the same set of features, and you only pay for the number of seats you need. If you need one more agent, you simply pay for the extra user.
There are no hidden charges to customize our software, and we offer free customer support.
Do you want to see how HelpSpot can be customized to meet the needs of your support team? Get in touch with us today to talk about what you need in a help desk and take advantage of our free 21-day trial.
Other Freshdesk Alternatives to Consider
We created HelpSpot to be intuitive, affordable, and easy to customize, so it works for a wide variety of support teams and organizations. However, if you want to shop for similar alternatives to Freshdesk, consider these eight tools.
Zendesk is a customer service help desk solution with advanced features like built-in CRM, AI chatbots and a suite of collaboration tools so agents can provide multi-channel support (SMS, email, chatbots, social media widgets etc.).
It works nicely for brands that need to offer multi-regional support because it supports 40 different languages. Zendesk's customer support software also has hundreds of native integrations with popular tools like Shopify, Intercom, and Slack, so you can tailor the platform to support your teams' workflows.
Zendesk is always adding new features to their already-sophisticated platform, and while new features are exciting, it also means that support agents need to regularly upskill to get the most out of the tool.
Considering how much training it takes to get transitioned to Zendesk — and how expensive it is — it's not the best for startups and small businesses with a limited budget. That said, for enterprise level teams with the budget and resources to manage a robust help desk, Zendesk is a popular option.
Zoho Desk is a robust customer support help desk that comes with features like AI assistants, chatbots, built-in CRM, and omnichannel ticketing. Plus, with its open source API, Zoho Desk can be further customized to connect with many popular tools (Slack, Jira, Wrike) on the market.
Reviews state that Zoho Desk can be a little difficult to navigate in the beginning, and some of the best features are only accessible in the most expensive plan. However, Zoho Desk comes with a lower price tag, compared with the other robust help desks in this post.
Although it is still too expensive and robust for small businesses that lack the budget and capacity, it is a more affordable option for mid-sized companies who need a help desk to manage multi-channel ticketing. For the most part, Zoho Desk works with big enterprise brands.
Jira Service Management is the help desk portion of Jira's software solution. It's an entirely cloud-based help desk solution with features like automation, built-in reporting, IT asset management and allows service agents to offer multi-channel support. So as you might suspect, Jira's service desk is popular for IT teams or teams who are already using/familiar with Jira's IT software.
Although Jira has traditionally been geared towards IT teams, their service desk lets you create individual help desks for every department in your business. Many teams also like that it has a robust project management feature that's built into the platform.
Reviews state that Jira's user interface is easy-to-use, especially if you have some knowledge of Jira's other tools. However, the amount of features can slow the system considerably, and make it difficult for new agents to get their heads around.
Salesforce Essentials is Salesforce's inexpensive service desk for small businesses. It's a cloud based tool that allows your agents to conduct omnichannel support, and it comes with other advanced features like built-in reporting and automation. As a bonus, it even has advanced functionality that lets you track customers through the sales cycle.
Teams who are on the go may like Salesforce Essentials because they offer mobile apps for iOS and Android — agents can log into their Salesforce portal from their mobile device anytime they need.
We typically recommend Salesforce Essentials to small businesses who are already using Salesforce's CRM because the two tools complement each other well. However, reviews state that when you integrate tools outside the Salesforce ecosystem, the API connection can be tricky (and even require technical support).
Salesforce's flat price of $25 per agent per month can be steep for startups, so this platform is mostly appealing to larger businesses. Nevertheless, we recommend this help desk for small to mid-sized businesses, especially those already familiar with other Salesforce products, because it's a "starter" help desk and only has a handful of available features.
Help Scout is a cloud-based, SaaS ticketing system that allows your service agents to offer support on two native channels: Email and live chat. It comes with reporting features, a built-in knowledge base, and they even offer a mobile app so service teams can access their HelpScout accounts on the go.
Many reviews state how easy the product is to learn, and reviewers say onboarding new agents takes close to no time at all. However, a common complaint is the product is not easily customized, which is seen as a barrier to growing support operations.
We recommend Help Scout for mid-sized companies because their budget-friendly plans have very limited features and their more advanced packages are better suited for larger organizations who have the need (and resources) to fully utilize them.

HappyFox is a cloud-based ticket management system that allows service agents to provide multi-channel support through email, chat, social media, and phone. It comes with many of the standard help desk features, like a central inbox and agent queues, customer service reporting, and automation rules, and it's decently easy to learn and use.
Customer reviews of HappyFox all praise the clean, intuitive interface. However, common complaints say the setup is time-consuming and users are capped in the lower price plans. If you need a robust help desk, you'll have to opt for one of HappyFox's premium plans, and those premium plans are rather expensive.
We recommend HappyFox for teams that have the bandwidth for onboarding and the budget to scale into higher pricing plans when needed.
HubSpot offers a help desk and ticketing software as one of the tools in its service management suite. It allows your agents to offer support on two native channels, email and chat, and then on any other channels you integrate with, thereafter.
Some notable tools are AI chatbots, automated routing, and feedback surveys.
HubSpot's help desk is a go-to option for people who are already using HubSpot's CRM. However, reviews state that setup can be tricky, the built-in reporting is limited, and there is no conflict detection in the shared inbox. All in all, the platform is pretty basic and most teams grow out of it after a year or so.
We recommend HubSpot as a starter help desk for small businesses who are already using HubSpot.

LiveAgent is a customer service software built to help teams offer multi-channel support. It comes with a built-in CRM and integrations to popular tools like Slack, Shopify and Viber.
We typically recommend LiveAgent for medium and enterprise companies because they have a lot of features.
LiveAgents' robust feature-set (170+ native tools) can be intimidating for smaller businesses that do not have the capacity to train new agents — and for teams who don't need these features, they just increase the cost and clutter the interface.
A common complaint in the reviews is that set-up can be labor intensive and require technical support, so LiveAgent is best for teams who have an IT department to assist with onboarding.
If you need a lot of features to support your customer service agents and have the technical support to get set-up efficiently, LiveAgent can be ideal for a mid-sized company.
Did You Find the Best Freshdesk Alternative for Your Customer Support Team?
When shopping for Freshdesk alternatives, think about exactly what you need in a help desk:
Do you need an email management system? An IT ticketing system? Or a super-robust customer service software? There are dozens of help desks on the market, but each one has different features and functionality to appeal to different end users (and their budgets).
Then, before making the investment in a help desk, look at how it can scale with your business and how much it costs to use the help desk as time passes and your business grows.
We suggest finding a help desk that:
Is customizable, so it can be modified to support your teams and workflows as you expand.
Is easy to learn, so onboarding new agents is easy and adoption is smoother.
Offers transparent pricing, so you're only paying per agent (and not for each and every feature).
Want to see how HelpSpot can be tailored to your teams? Contact our team to discuss the ins and outs of our software and get started with our free 21-day trial.