In this article, we tackle the two key questions you need to answer when shopping for self-hosted — otherwise known as on-premise — help desk software:
Should you choose a self-hosted help desk instead of cloud-hosted?

What should you look for in that software?
Choosing self-hosted help desk software is trickier than it should be. Many options haven't been updated since cloud-based solutions became the go-to (and we assume you'd prefer software that's had a user interface upgrade more recently than the 90's).
And some of the most popular help desk brands, like Zendesk and Freshdesk, don't even offer self-hosted options anymore.
Full disclosure: We're writing this because we're one of the few self-hosted tools that has an easy-to-use, modern interface and all of the core functionality support teams need to manage customer requests without getting lost in costly extra features.
To that end, we'll cover:
How to know if you need self-hosted or cloud-hosted help desk software.

How HelpSpot's self-hosted help desk works.

Where to look if HelpSpot isn't right for your team.
Want to test-drive the easiest self-hosted help desk option? Sign up for a free 21-day trial and we'll help you get set up with our software so you can see how our help desk solution works for your teams.
Should You Choose Self-Hosted Help Desk Software Over Cloud-Based?
Cloud-based ticketing software is simpler in terms of set-up and management because there's no need for your team to install the software or handle updates, crashes, or technical issues.
But self-hosted help desk tools give better control and privacy options. If your team needs to operate on an extra-secure server (say you work in healthcare and need to meet HIPAA compliance requirements) or you prefer to manage installation, backups, and data storage on your own, self-hosted software is a better fit.
Here are the main benefits of self-hosted software:
Self-hosted software allows you to store all data and backups on your own server; this is beneficial for international businesses who need GDPR compliance, for example.


Self-hosted software gives your team better control over when updates are deployed; this is beneficial if you want to skip updates, implement updates only for certain users, or stagger the rollout as you train your team on a new version.

Self-hosted, open source help desk software allows IT teams to customize the software with APIs to fit their specific use case; this is beneficial if you want to link your help desk tool to your CRM or an external reporting software.
Of course, with great power comes great responsibility (or so we've heard).
When you choose self-hosted solutions over cloud-based software, your team has to install and set-up the software.
Your IT team should also be prepared to manage ongoing maintenance; if your server crashes or glitches arise, your team will have to take the lead on troubleshooting.
Of course, you can always reach out to the help desk software brand for help, but ultimately, your team will have to do the heavy lifting in that department.
If you have an IT team who can manage these things, then great! If not, self-hosting may cause hiccups for you along the way. That's why we really only recommend self-hosted software for businesses with internal IT teams with enough bandwidth to install and maintain it.
If you've reached this point and believe a cloud-based solution is your better option, you can read more about our hosted help desk software here.
But if you're still on board with a self-hosted service desk, you can learn more about how our self-hosted solution works in the next section.
How HelpSpot's Self-Hosted Solution Works
Whether you're switching from another help desk solution, or you're making the transition from managing a shared inbox, getting started in our tool takes just a few minutes after your server is ready to go. You can check out our server requirements here.
Once the software is installed, set-up includes tasks like customizing your system settings, adding users, creating request categories, linking email accounts, and defining custom request fields.
You can link as many email accounts to HelpSpot as you want. Every user you add is given a unique username and password to prevent your email communications from being compromised.
Once you're up and running, you're equipped with all of the same features that are available on our cloud-based solution. Software updates are released periodically so you always have access to the most up-to-date version of HelpSpot.
Let's dive into what HelpSpot can do for your team.
Easy-to-Use Interface
HelpSpot organizes incoming support requests in a central inbox and allows agents to assign and move customer emails to their individual queues.
Using the search bar on the left-hand side, you can find emails using filters, tags, and categories. Within the ticket, you can view customer information and past customer conversations so you have all the information you need to draft a response.
Plus, HelpSpot's main email portal is completely customizable, so you can modify its appearance to fit your branding.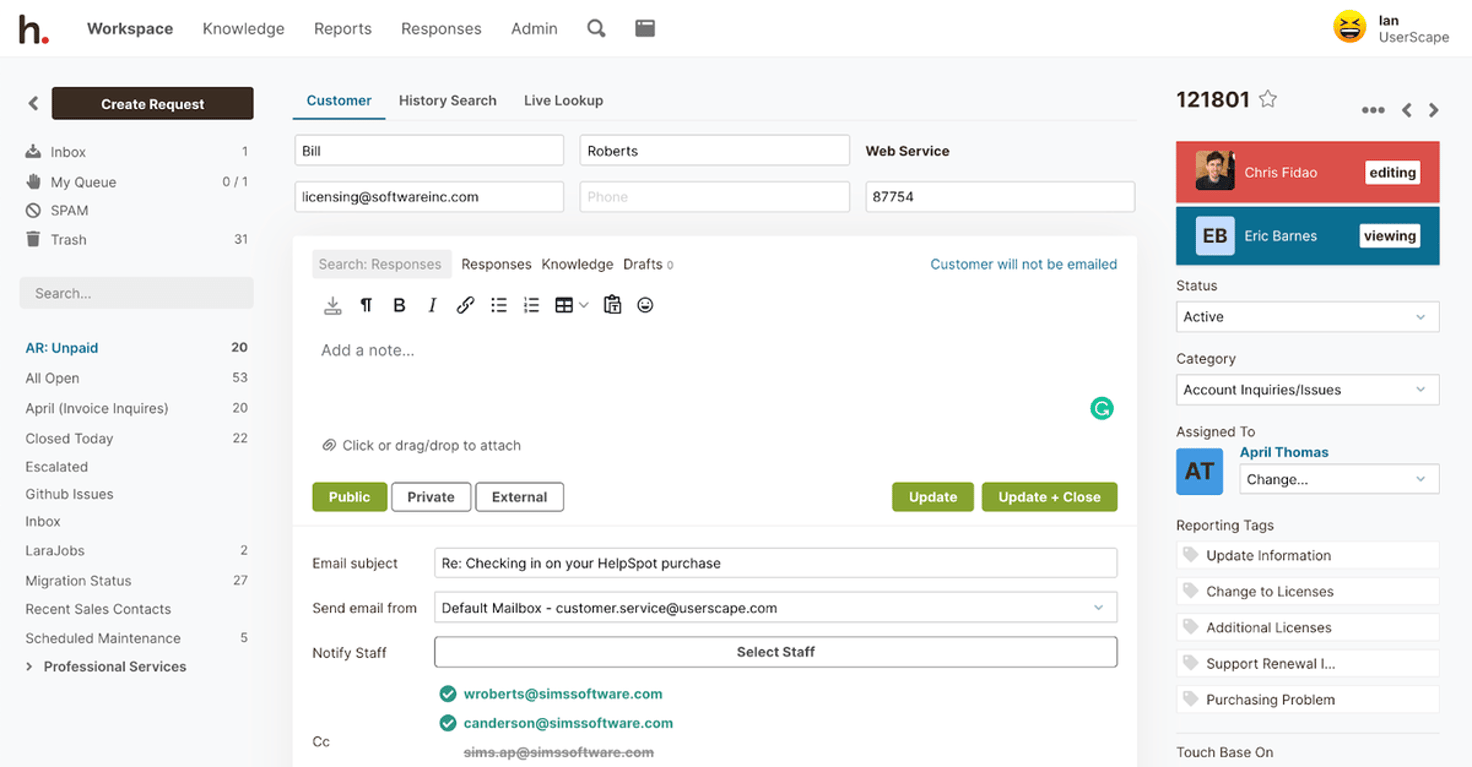 When working on a ticket, users can see when another user is viewing or responding to the request in real-time, so you can avoid duplicate responses.
Users can also communicate with other team members within the support ticket using internal notes.
Templates and Supplemental Resources
Within HelpSpot, your support team can access email templates and knowledge base articles to shave down the time they spend responding to each email.
(This also improves consistency between replies and cuts down on things like typos and incorrect grammar.)
You also have the ability to create a self-service knowledge base for your customers, so they can access troubleshooting and FAQ documentation on your website and find a solution independently.
Automated Workflow Features
With automation rules and triggers, HelpSpot can automate ticket assignments based on certain terms or phrases, send reminders or escalate tickets when emails haven't received a response, and help you better manage SLAs.
Convenient Integrations
Though we're an email help desk solution, both our self-hosted and cloud-based solutions can be customized to offer multi-channel support through open APIs and integrations.
You can sync HelpSpot with tools like CRM systems, phone systems, customer live chat tools, messaging applications, and more.
Database Access
When using our self-hosted software, you have full access to the HelpSpot SQL database. This means your IT team can write custom queries, triggers, and more.
You can also add custom fields to tickets for better data tracking.
Performance Reports
Within HelpSpot, users can access performance reports to keep tabs on agent metrics and review the types of requests agents receive.
Managers can monitor agent performance and glean insights on how to better support customers.
Mobile Apps
In addition to these helpful features, we also offer a mobile app, available on both iOS and Android devices, so you can access HelpSpot any time, any place.
Most help desk software does not offer mobile apps for self-hosted plans, so this benefit is pretty rare amongst self-hosted help desk solutions.
Alternative Self-Hosted Help Desk and Ticketing System Options
In addition to our help desk system, there are a few other SaaS help desk brands who still offer self-hosted solutions. Let's talk about some of the other options available.
ManageEngine
ManageEngine is a subset of Zoho Desk and is marketed as an IT help desk. It's ITIL-ready and equipped with advanced ITSM capabilities.
They describe themselves as a tool designed for IT service teams in the healthcare, education, government, and manufacturing industries.
ManageEngine is a pretty advanced help desk with a lot of functionality, so if you need a robust solution to manage your IT support requests and track IT assets, ManageEngine might be the way to go.
However, it's a little complex to set up and isn't cost-effective if you just need a simpler way to manage customer emails.
Spiceworks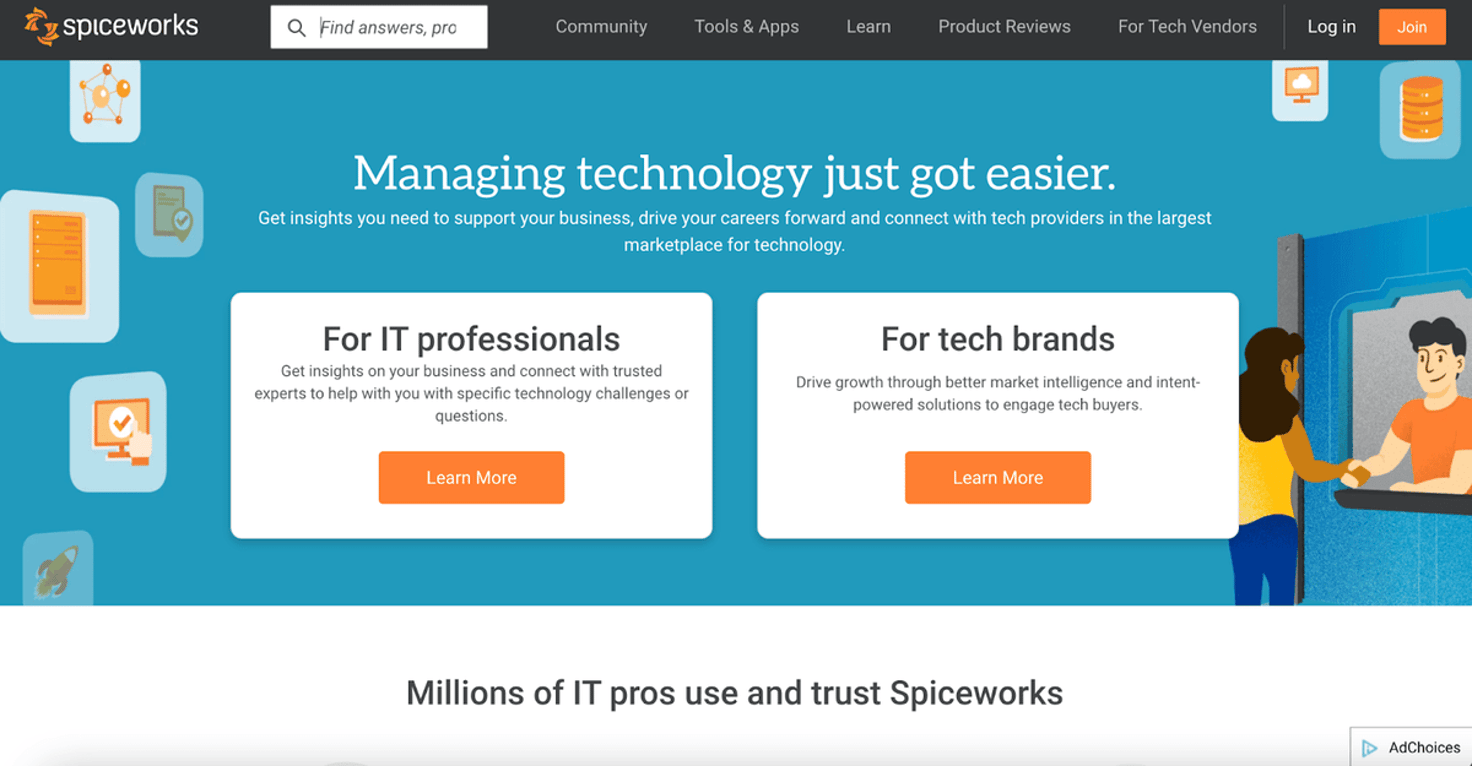 Spiceworks is another help desk geared towards IT professional and tech brands. It's integrated with inventory software and an IP scanner to serve as an IT asset management tool.
It has many of the same features available on HelpSpot, but it's interface is a bit outdated and some reviews mention bugs or glitches with ticket management.
On both their website and in customer reviews, Spiceworks is positioned as a great "starter" IT help desk tool.
It's not as advanced as ManageEngine, but serves the same use cases and is a bit more budget-friendly.
Kayako
Like HelpSpot, Kayako is a help desk software designed for customer service teams in all industries.
It's great for users who are transitioning from using a shared inbox, as it organizes email communications and is equipped with collaborative tools that enable your team to track the customer journey and provide better support.
Kayako offers multi-channel support as well as built-in live chat and social media integrations.
This is great for teams who need to centralize communications from many channels or want a more in-depth view of how their customers interact with their brand. However, some reviews say it lacks customization and reporting can be finicky.
We should note, though, Kayako's self-hosted help desk software is no longer supported by Kayako. They discontinued the self-hosted version of their software for a few years, but brought it back at the end of 2020, announcing that it's still available for use but will not be updated or supported by the Kayako team.
osTicket
osTicket's self-hosted help desk operates a lot like Kayako and HelpSpot in terms of email management features, but it's features aren't quite as advanced and its interface is a bit outdated and clunky. Nonetheless, it's a free help desk option for users who don't want to budget for a support ticket system.
We should note, though, osTicket's free version does not come with regular updates or assistance with maintenance, so the application won't evolve and troubleshooting will be 100% up to your internal IT department.
(osTicket's more advanced, paid packages are cloud-based only.)
Try HelpSpot's Self-Hosted Help Desk Ticketing System Free for 21 Days
HelpSpot is a help desk and ticketing system designed for customer experience teams in all industries. We forgo complicated features to focus on effective email management and team collaboration. We strive to make our help desk accessible and easy to use for everyone.
We offer a free 21-day trial of our software so you can get a feel for it yourself and determine if it's the best solution for your agents. Start your free 21-day trial today.