Customer support teams fielding a large volume of requests eventually reach a point where they need to upgrade to help desk software. This allows them to efficiently manage requests so no customer is missed and team members have the resources at hand to give the best customer support.
But, teams that upgrade to a service desk that also allows them to create a knowledge base save even more time and money because it (1) gives their customers the tools to be self-sufficient, and (2) reduces the number of requests their agents receive.
However, it can be difficult to find a help desk knowledge base software that is straightforward and user-friendly — most help desk ticketing systems have a lot of advanced features teams don't need, and can be pricey.
So we designed HelpSpot to make setting up a knowledge base and providing customer support as easy as possible:
We give you all of the features you need to manage customer support requests (without all of the extra bells and whistles).
We design every feature so that it's intuitive to learn and use.
We keep pricing transparent.
In this post, we'll talk about HelpSpot's features and the steps to set up a knowledge base in our help desk. At the end, we'll also review four other help desk solutions with built-in knowledge base software, so you can compare several different options.
5 Top Help Desk Knowledge Base Software Options
Want to learn more about our knowledge base tools? Start creating your team's knowledge base and try all of our ticket management tools with a free 21-day trial of HelpSpot.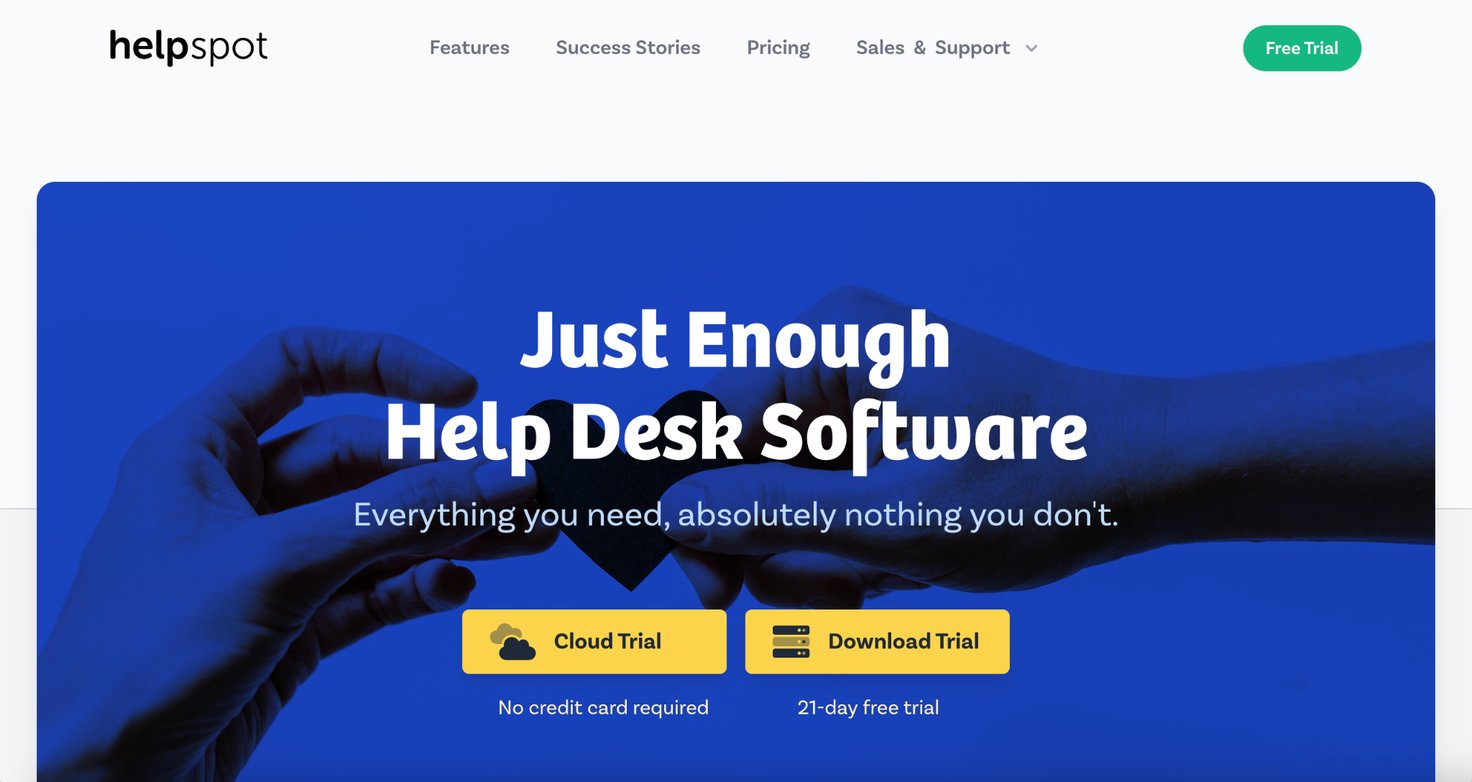 HelpSpot's knowledge base is easy to use because it is set up in a book format with a scannable table of contents and has a robust search feature, so customers can find the information they need quickly and easily.
When creating your knowledge base in HelpSpot, you also have the option of setting up a self-service portal for your customers to submit tickets directly on your website. That way, if a customer can't find the information they need in your knowledge base, they can reach out to your agents for more assistance.
Another benefit of using email help desk software to create a knowledge base? All of the articles you upload for your customers are also saved in an internal knowledge base system so your agents can easily pull them into email replies.
So not only does setting up a knowledge base let your customers be more self-sufficient and allow your agents to deflect requests, but it also makes responding to requests easier when customers do reach out.
Now, let's look at how easy it is to create a knowledge base in HelpSpot.
Creating and Structuring Your Knowledge Base
To create your knowledge base in HelpSpot click "Knowledge" in your navigation bar, then select "Add a Book".
You can give each book a title to reflect the chapters and information within.
For example, in the HelpSpot knowledge base, the book titled "Admin Manual" contains all of the documentation on installation, upgrading, configuration, and troubleshooting advanced issues.
Then, you can add pages — a.k.a. Informational articles, troubleshooting documentation, answers to FAQs, product tutorials, etc. — to your books and categorize all of your information by chapter.
To actually add information to the HelpSpot knowledge base, you can copy and paste from your original documentation or create new documentation in HelpSpot.
We have a built-in word editor and allow you to fully customize the page's HTML. You can also add tags to each article to categorize your information and improve its searchability.
You can rearrange pages and chapters as needed, and all chapter and page names are customizable. Those chapter and page names are reflected in the Table of Contents (as pictured below) for easier scrolling.
Once you're done adding chapters and pages, you can publish your support documentation so it's available for your customers to reference and agents to use in their email replies.
(You also have the option of keeping chapters and pages private so they can only be viewed by your internal team.)
Our features are straightforward, and updating your knowledge base post-set-up takes close to no time, so it's easy to keep your knowledge base current.
The more a knowledge base is utilized, the better the return will be in deflecting self-help customer requests, providing in-depth resources for your agents, and providing insights for management as to who your customers are and what they need (more on this below).
Searching Your Knowledge Base
Most knowledge management systems bundle articles together in a list of titles spanning a broad range of themes that are not properly categorized. Then, simply offer a search bar to navigate the database.
This is problematic because most troubleshooting/FAQ resources are written by experienced agents, and those agents often use jargon and technical language. When articles are filled with industry-specific terms, customers often have trouble finding the information they need — even with a search bar — because they don't know the exact terms to describe the issues they're facing.
In contrast, HelpSpot's Table of Contents search format lets customers narrow down troubleshooting information and find what they need, even without the right terminology.
Pro Tip: To improve the searchability of your knowledge base, limit industry-specific and technical jargon in your troubleshooting documentation and try to use as much common language as possible. This will make the content easier to understand and browse.
Adding tags is another simple way to categorize themes that span across different knowledge books. Then, when a tag is triggered in search, it will pull the relevant chapters from the different knowledge books into a scannable list, making it even quicker for agents and customers to locate the info they need.
Determining What Articles to Add to Your Knowledge Base & Pinpointing Opportunities to Improve Support
Most service teams setting up a knowledge base start building content based on the categories of support tickets they field most often and the common questions they receive from their customers. But once they've covered the basics, it can be difficult to know what articles to write next.
This is where HelpSpot's reporting tool can be really helpful because it provides the data to show the gaps in your self-service knowledge base. It does this by showing you what people are searching for, and of those searches, the terms that yield no results in your knowledge base.
For example, one SaaS client reported a spike in searches for a specific project management software integration on their site over the last month, highlighting the fact they didn't have an article on this topic.
Bonus Benefit: Using Your Knowledge Base to Generate New Business
When customers encounter a problem, often they start their search for a solution on Google (or another search engine like Bing). Creating a knowledge base gives you more opportunities to publish content on the pains your customers are experiencing — and more content means more opportunities for your articles to rank on Google and appear on the first page of the search.
If you're easily found in the search, you can get in front of new customers and attract more business from the people who need your solution.
Our clients have reported that by focusing their articles on specific search terms, their site traffic and sales have increased overall.
Pricing
HelpSpot's pricing is completely transparent: Every user has access to the same set of features (including the knowledge base and built-in reporting) and we don't charge extra to take advantage of integrations or customize the software, you only pay for the number of seats you need.
HelpSpot offers more than just knowledge base tools, our suite of ticket management and reporting features help you improve customer support and make the most of your knowledge base. To see how HelpSpot will benefit your teams and customers, start a free 21-day trial.
Other Help Desk Knowledge Base Software to Consider
Still want to compare some of the other best knowledge base software? In this section, we talk about four other help desks with built-in knowledge base tools to help you find the right option.
Zendesk is an advanced customer service help desk solution with built-in CRM software and features to help teams field support requests from different channels (SMS, email, chatbots, social media etc.).
Zendesk also offers knowledge base management that supports 40 languages. This lets you create multiple knowledge bases for different end-users and regions.
Zendesk claims their clients experience a 12 percent decrease in customer support requests after creating a knowledge base. However, their knowledge base features are only available in higher pricing tiers that can be unsustainable for small businesses and startups.
Freshdesk is a robust customer support software that offers a knowledge management feature to provide customers with the convenience of sourcing their own solutions.
Freshdesk's internal knowledge base promises to ease your support agents' workflow. It also comes with automated reporting that measures engagement and highlights gaps in content.
Freshdesk offers a free knowledge base option, but if you are needing other help desk features, be sure to know your budget, as Freshdesk's pricing tiers can become expensive.
ProProfs Help Desk offers a knowledge base functionality that requires only a few minutes to get started: Choose one of ProProfs customizable knowledge base templates, start uploading your documents, manuals, and FAQ resources and you're ready to go.
ProProfs lacks a reporting feature, so if you want to understand how customers engage with your knowledge base in real-time, you'll have to connect your help desk with a third party like Google Analytics or Wufoo. While this is made possible through their open API, toggling between software can add a step that can be time consuming as your customer base grows.
If you already have help desk software and just need a knowledge base to go with it, check out Helpjuice. Helpjuice is a knowledge base software that boasts an intuitive interface with an easy-to-use editor feature, so you can begin creating articles without any training in their software. They also offer dozens of themes to customize your content.
Helpjuice prioritizes their search function, which they claim is as thorough as Google, so customers can find the information they need quickly. They also provide reporting features so you can understand how your customers are engaging with your knowledge base and determine the type of troubleshooting documentation that needs to be added.
Did you find the help desk knowledge base software your team needs?
Many help desk brands offer knowledge base software to complement their core feature set, so finding a high-quality help desk knowledge base software isn't super challenging. While you shop options, think about each platform's ease of use: Will setting up the knowledge base be easy? Will you actually be able to keep your knowledge base current? Will your customers be able to find what they need?
HelpSpot differs from many other help desk software in its simplicity: All of our features are easy to set up and manage — knowledge base included — so you can get the most out of our product with as little training as possible.
If you're interested in giving HelpSpot a try to see if it is the right help desk for your support teams, get started with our 21-day risk-free trial.