Ticket Interface
A clean single page interface to manage and reply to your tickets. Optimized for agent efficiency.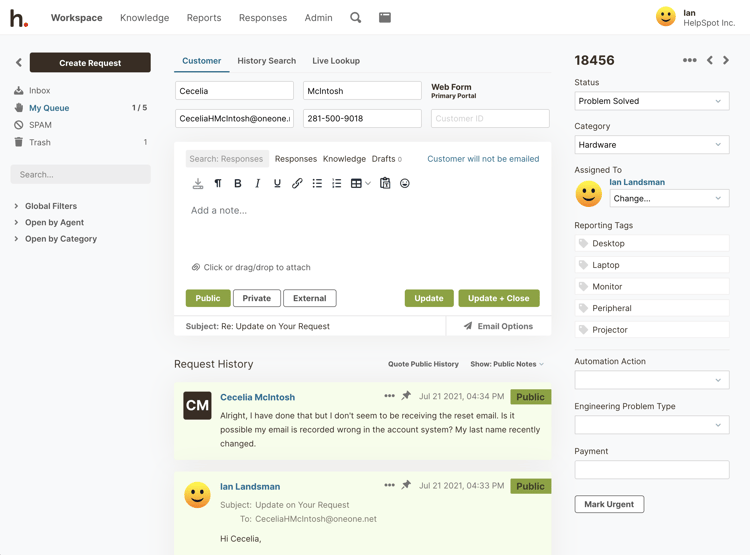 WYSIWYG
HelpSpot state of the art WYSIWYG editor lets you build detailed replies to your customers. Bold and highlight important points, create lists and tables, insert inline images with drag and drop, just like a regular email client.

Don't care for WYSIWYG editors? Markdown is available as a per-user preference.
Instant Responses with #
Leverage the powerful
response system
without your fingers ever leaving the keyboard. Autocompleting responses with # makes inserting pre-written replies instant and using multiple responses together to build up a full reply easy and intuitive.
Customer History & Live Lookup
Access everything you know about a customer right from the ticket page. See their entire history or search for them in your CRM, Active Directory, or other customer data system via our exclusive
Live Lookup
protocol.
Public, Private, or External
Clear note type indicators make sure agents never make an error. Public notes go to customers, private notes are logged for your internal use, and external notes give you a private way to contact 3rd parties like vendors.
Unified History
View the complete history on one page with every update and changed logged, creating a perfect record of events.
Pinned History
Pin a note to the top of the request history so that it can't be missed. Great for private notes with detailed instructions for other agents about the ticket or for quick access to an important note the customer sent in.