We recommend moving to an HR ticketing system from a traditional shared inbox if you relate to any of the statements below:
My team inbox is a mess, and we're constantly wasting time sorting through new emails and digging through old tickets when we need to reference past support requests, which is a massive time sink.
It's hard for my team to communicate on support requests without creating new email threads or moving to an external messenger like Slack.
Emails are sometimes overlooked by HR staff because it's not clear who is working on what.
My team wastes time on repetitive tasks, like responding to the same employee questions repeatedly.
I have no way to measure metrics like average email response time or see how my team handles support requests.
All of us share the same password for the shared inbox, and I worry that this can compromise critical employee information.
Help desk software is a worthwhile investment for HR teams because it solves the problems that stem from having a disorganized inbox. In addition, they allow teams to manage emails more efficiently and work more productively because they let everybody view incoming replies, assign requests to themselves, and pull templates and other resources to provide timely support.
Our email help desk software, HelpSpot, is perfect for HR teams that need to upgrade from a shared inbox and take better control over their support requests because we provide core features to, 1) unify incoming requests, 2) assign tickets to specific agents, and 3) collaborate on requests with team members. Plus, since all of our features are intuitive and we don't pack in a bunch of extras, the switch to HelpSpot is pretty seamless.
In this post, we'll walk through HelpSpot's HR help desk, and explain how you can leverage our features for HR teams to save time and improve your quality of support.
Want to try our HR ticketing system? You can learn more about HelpSpot and decide if it is the right solution for your HR department by signing up for our free 21-day trial.
1. View All of Your Incoming Emails in a Unified Dashboard
Our ticketing software organizes all new emails in an easy-to-use, centralized inbox to give you a unified view of all incoming requests. From here, your HR staff can assign requests to themselves and pull them into their personal ticket queue.
In the main dashboard, you can easily see when a request was created, by whom, and which team member the request is assigned to.
You can also organize emails by "type," — for example, emails from new applicants can be categorized as "recruitment emails." Then, custom fields let you store more detailed information about HR requests.
For example, when a manager is hiring a candidate, they have to collect personal information like email, phone number, address, etc. With custom fields, HR can create a form with fields like name, address, job title, and other credentials of the candidate and send this to the applicant instead of requesting all this information in the email.​
After creating categories and custom fields, it's easy to use filters and find any combination of emails.
Even though our help desk has more advanced functionality to keep incoming tickets organized, HelpSpot looks and feels like the regular email account your team is already used to, like Gmail or Outlook; this is why it doesn't require a ton of training to get started.
2. Assign Tickets to Yourself or Other Team Members
Once the tickets are assigned, they disappear from the central inbox and repopulate in the Agent Queue. Assigning tickets means the right team member is responsible for the relevant ticket and no emails go unnoticed.
Then, after new tickets are moved from the central inbox, all ticket replies come back to the designated agent's queue. You can also re-assign requests to other agents if another person on your team is more fitted to resolve the ticket.
For example, you can move incoming job applications from the central inbox to the hiring manager's personal queue. This makes the recruitment process more organized, as you can track applicants from the first point of contact through the onboarding process — every interaction is available on the ticket for review.
Assigning HR requests to specific employees also helps your staff (and new recruits) feel better supported since they aren't being bounced around the HR team.
3. Work with Other Team Members on Support Tickets
To streamline internal communications and avoid missteps, HelpSpot comes with collaborative features like internal notes and collision detection.
Private notes let you comment with other team members right on the ticket itself. All notes and replies are stored within tickets, so your HR staff doesn't have to switch between email threads or use messengers like Slack or Teams to get more background about requests.
Notes also let HR managers audit support tickets and track how they're handled: They can see the details of every ticket, including every past correspondence, and understand if issues are ongoing or resolved.
To further streamline the team's workflow, collision detection alerts users in real-time if anyone else is working on the same ticket so that no one responds to the same ticket twice.
4. Increase Team Productivity with Performance Features
Typing out responses to recurring email requests, following up on requests, and personalizing email replies can eat up a significant amount of your HR team's time.
To speed up this process, HelpSpot lets you create a library of templates and drop them into email replies. You can create templates that can quickly be personalized and sent, or canned responses that can be sent in bulk.
For example, you can set up HelpSpot to send an automatic canned reply when you receive a job application to let the candidate know the submission was successful and they'll hear back shortly. (More on triggers below.)
Help desk templates let HR staff:
Speed up response times. (No need to draft a unique email every single time.)
Maintain consistency in their responses.
Eliminate spelling and grammar mistakes.
Field a higher number of HR requests each day.
In addition, you can use HelpSpot's email templating tool to add custom branding to your templates. Email signatures can also be added to provide a more personalized sign-off.
HelpSpot's built-in knowledge base feature lets HR teams store all of their important troubleshooting resources and FAQ answers in one hub so they can quickly reference it or attach these documents in their email replies.
You can also publish articles from your help desk knowledge base to an employee-facing self-service portal so other teams can access these commonly-used resources without requesting them from HR (and quickly find resolutions to their problems).
For example, a new employee may have questions about leave policy, payroll, benefits, and other guidelines during onboarding — instead of relaying all of this via email, team members can just refer to the HR service portal.
Another benefit of creating employee-facing portals is improved resource management: You can track what employees are looking for in your portals and which searches yield zero results. This tells you what information is most valuable to your employees and what resources you still have to provide.
By better understanding what your business needs from the HR department, you can reduce the number of requests your HR staff receives over time and improve the employee experience.
5. Measure Performance Metrics with Customizable Reports
In addition to tracking employee engagement in self-service portals, HelpSpot provides real-time performance reports to track metrics like:
Number of replies each member of your HR team sends.
Number of internal notes per person.
Number of resolved tickets per person.
Average ticket response time.
Average ticket resolution time.
Number of emails sent and emails answered.
Type of support requests your team receives.
Without metrics, it's impossible to know how well your HR team is working through support requests, or what kind of issues your employees have.
Say, the average resolution time of tickets relating to insurance policies is high, you can use that data to decide if you need more of your HR team focusing on those requests. Or, you can add more information about insurance policies in your self-service portal to answer your employees' common queries.
Each metric can be customized for a different time period or focused on different departmental teams. For example, every team in the human resources department — such as the compensation & benefits team, training & onboarding team, leadership & development team, and recruitment team — can make their own reports, and modify them by timeframes, to understand how processes can be improved.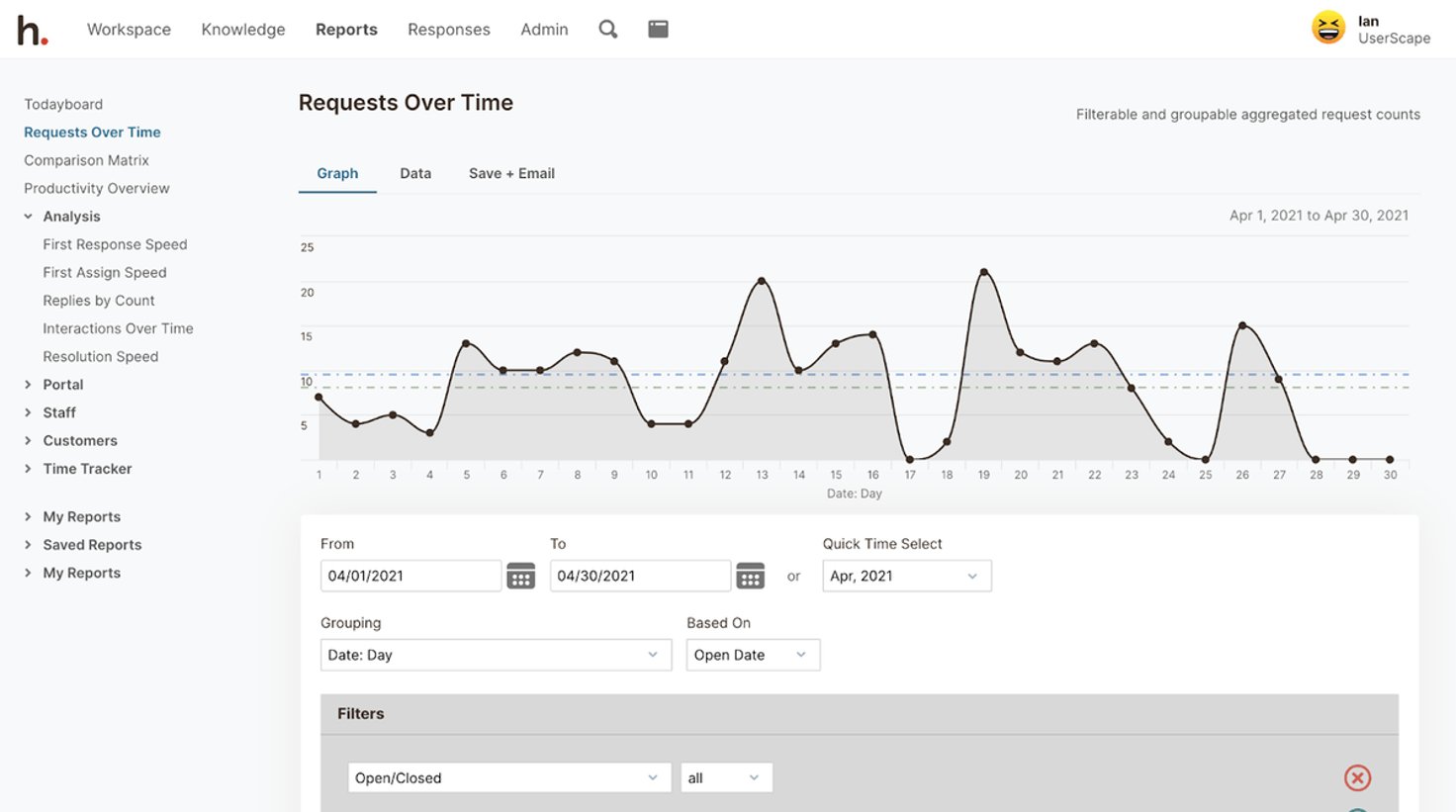 Read more about how to leverage reporting features in this post.
6. Save Your Team's Time by Automating Repetitive Tasks
HelpSpot's automation rules let you save time on repetitive tasks like ticket assignments and escalations, so requests always make it to the right person.
This can happen in three ways:
1. Automatic assignment directly assigns tickets to the right agent: For example, say you have one member of your HR team that handles 401(K) benefits. The automatic assignment feature will send all tickets related to 401K benefits to that agent so you don't have to sort through the central inbox and assign those tickets manually.
2. Recurring Tasks (or Saved Responses) are useful for process-oriented tasks or tasks that need to happen within a schedule, such as SLAs.
For example, say your company requires travel reimbursement receipts from employees every 25th of the month — you can create an automated template to send to employees on this day so that employees just have to fill in the info, attach their receipts, and send it back. Then, all of that information is received quickly and stored neatly.
3. With triggers, you can train HelpSpot to automate recurring activities your HR team needs to complete.
Say your organization sends new employees a personal computer to use; you can set a trigger that automatically alerts the purchasing department to order a laptop when new hires are onboarded.
Automation rules are highly customizable though, so you can automate many other administrative tasks and HR processes and our help desk ticketing system will do them for you.
7. Keep Your Information Secure
With multiple team members working out of the same inbox, sharing a password becomes mandatory, but isn't a wise option — all employee data becomes vulnerable if the email is hacked.
HelpSpot prioritizes security with its own built-in authentication. Every user has a unique username, password, and two-factor authentication for additional security. Plus, with permission groups, HR managers can control user access and prevent information from being visible to the wrong eyes.
For example, you can have an "insurance policy" group where you can assign the visibility of tickets, reports, and responses to that group. Only people with access can view these details, thus keeping the interface clean and simple for other users in different groups.
Tailor HelpSpot to Support Your HR Team's Workflows
HelpSpot is an email management help desk, so we focus on providing the essential features to organize and manage a team inbox.
However, since our service desk is also customizable via Zapier connection and open-source API, you can connect HelpSpot with any external, proprietary, or non-standard software that your team might be already using, and personalize it to suit the different needs of your team. Meaning, if you also receive HR requests via chatbot or social widget, you can sync these platforms and unify requests in one software.
In case you don't want to sync or integrate your data, Live Lookup helps you connect HelpSpot to your CRM with a small amount of coding. Connecting your systems this way leaves most customer data in your CRM, but you can still easily pull this info into custom fields and reports.
We should also mention: HelpSpot is available in both cloud-based and self-hosted help desk options — but most HR teams might want to opt for an on-premise solution for better control over data storage and backups.
Manage Your Team's Inbox with HR Ticketing System
When researching the best HR help desk software, look for a solution that helps you:
Manage incoming emails and improve ticket resolution times.
Bolster your HR team's workflows and save time on tedious tasks.
Improve employee satisfaction and provide better support.
Most help desk software is designed for customer service and IT teams that need to provide omnichannel support and manage technical requests, so they often have extra features that cause confusion and complicate HR processes without flexible pricing.
HelpSpot's pricing is transparent and simple: You get access to all of our help desk features, and only pay per agent. We don't charge any extra fees for any customization, and there are no hidden fees. Your teams can easily transition to HelpSpot with no training, but you can always reach out to our customer support team if you have any questions!
If you want to learn more about HelpSpot's features and learn more about how you can tailor HelpSpot to support your HR processes, sign up for a free 21-day trial.