When a customer experience team begins to notice an increase in missed requests, unhappy customers, and time wasting from digging through a shared inbox, it's time to consider a help desk solution.
A help desk is the natural next step for service teams who cannot keep up with the increase of incoming support requests. It helps by converting customer interactions into tickets and storing them in an organized central inbox, so no request is missed. And from here, agents have the tools to:
Assign themselves tickets so agents know exactly who is working on what request at all times, and no service request is overlooked.
Collaborate with each other, so all agents remain on the same page and can offer consistent support to all customers.
Track and monitor all team and agent performance metrics so they have the data to better manage their team workload, support their customers, and save time.
But not all help desk software is the same, so when shopping for a help desk, it's best to understand the different help desks available — email management systems, IT ticketing systems, and super robust customer service software — so you can find one that best suits your business and teams.
In this post, we look at ten of the best help desk systems on the market, their features and pricing, and who they're designed to suit.
We'll kick it off by reviewing our simple but powerful help desk, HelpSpot, and how it gives your agents the tools to deal with hundreds (or thousands) of customers and service requests regardless of your industry or niche.
We'll cover:
Ready to transition from a shared inbox to a more advanced help desk to improve team productivity and encourage better customer relationships? Learn about our "simple but not simplistic" approach to ticket management. Get started with a risk-free 21-day trial.
We designed our email management software to help you organize all incoming customer requests in one spot. You can link as many email accounts as you want, and even connect HelpSpot with other tools like phone systems and messaging apps via integrations and APIs. Our platform has everything you need to manage multiple inboxes (and all of the customer conversations within).
Although it is more advanced than basic email accounts like Gmail and Microsoft 365, it still looks and feels a lot like the email platforms we all use. It's really intuitive and most agents can start using HelpSpot with little to no training. While it feels familiar and requires very little time to learn, it is still scalable to grow with your team.  
HelpSpot help desk software comes in three versions: cloud-based (for US), EU-hosted (and fully GDPR compliant), and on-premise. 
Each version has all the same features and are supported by our mobile apps (for both iOS and Android). That way we can work for teams who operate in the EU or need a self-hosted help desk solution — businesses who need to meet GDPR compliance requirements, teams who want better control over backups or updates, teams who prefer to operate on their own server, etc. — as well as those who need a help desk they can access while on the go.
Let's talk about five other benefits of HelpSpot's help desk software.
1. It Organizes All Incoming Requests in One Spot
HelpSpot converts all incoming requests into tickets, and all new tickets are stored in a centralized inbox. You can link an unlimited number of email accounts to our system and even create separate help desk portals for different departments or divisions of your business.
For example, say you work at a SaaS company that sells a number of IT software, and each software solution is represented by its own brand. With HelpSpot, you can create a separate team inbox for each brand. You can also set up unique self-service portals and canned responses (i.e., templates, knowledge base articles — more on those below) for each brand within your help desk system.
Then, within each mailbox, you can use filters and tags to segment incoming requests based on your search criteria; this eliminates wasted time digging through disorganized inboxes.
One of our enterprise clients has 500 brands, with 500+ mailboxes and 50+ self-service portals, and all multi-brand support is managed from a single HelpSpot.
2. It Lets Agents Assign Tickets to Themselves So It's Clear Who's Working On What
From the centralized inbox, support agents can pick which tickets to assign themselves. These tickets then disappear from the central inbox and are added to the agent's queue. Agent queues improve response times and consistency of customer support because:
Each agent knows exactly what they are working on at all times.
The agent with the right expertise is responding to the relevant request.
All follow-ups are routed back to the same agent — this also gives the customer a more personalized support experience because they aren't bounced around several different agents.
Aside from agent queues, HelpSpot provides a number of collaboration tools that allow agents to communicate within each support ticket and stay on the same page, such as Internal Notes and Collision Detection.
Private Notes reduces the need for outside communication channels like email and Slack by allowing agents to chat with each other directly in the ticket. HelpSpot stores all comments for future reference so any agent jumping in to assist can get up to speed and offer personalized support without having to ask a team member for a status update.
Collision Detection alerts agents if another team member is viewing or responding to their ticket in real-time. This allows team members to avoid wasting time on the same request and prevents duplicate replies.
3. You Can Store Templates & Troubleshooting Information in HelpSpot to Save Agents Time
Instead of drafting a unique response to each customer query, HelpSpot allows agents to organize a library of prepared responses or email templates that can be accessed with a click. Templates help agents improve response times, so they can field a higher number of requests each week. They also standardize responses which eliminates inaccuracies.
Another way to resource your support agents and save time is by creating a knowledge base.
HelpSpot's integrated knowledge base is a great way to share helpful documentation and resources on common customer issues with your agents; that way, they can easily reference detailed troubleshooting information or pull these articles into their email replies.
A public knowledge base or self-service portal can help agents deflect requests — reducing the number of tickets they have to respond to — by allowing customers to find troubleshooting and FAQ documentation right on your website without having to contact your team.
Note: In order for your self-service portal to truly help your customers (and deflect requests), it has to have relevant, helpful documentation to help resolve customer issues. So you have to be strategic about what you publish within your portal. Aside from answering the most frequently asked questions, our built-in reporting tool keeps track of what end users search in the portal, so you can see what customers are most commonly looking for and what documentation you're missing. From there, you can determine what additional information you need to answer for customers.
Our customer service reporting feature is fully customizable, so you can track all kinds of metrics across different timeframes. This allows you to manage your team's workload and monitor each agent's performance.
4. HelpSpot Can Be Trained to Work with Your Teams
You can also create automation rules to train HelpSpot to do certain tasks for you.
One way you can leverage those rules to reduce your team's workload? By automating ticket routing. Our support software can be triggered to detect certain words and phrases in customer requests so it can bundle similar requests and assign them to specific agents. This way, all request types can be routed to the agent with the proper expertise to respond.
Nevertheless, triggers can also be used as reminders for important tickets like SLA (service level agreements) or to prioritize tickets that need urgent attention.
5. Pricing is Always Transparent and Affordable
As you will see from the help desks discussed below, most sell their software in feature packages in pricing tiers. The lower tiers typically limit the functionality of the tools and cap users. At first, this can help small businesses with limited budgets get started with a help desk. However, as these companies grow, they can be forced to upgrade to a higher priced plan just to add a single user or access a specific feature.
In contrast, HelpSpot's pricing is transparent and straightforward: Everybody gets the same set of features, and you only pay for the number of seats you need. There are no extra fees to customize HelpSpot, and we provide free customer support when you need it. No hidden fees, we promise!
Looking for an affordable help desk that handles all your email requests but requires little to no training to learn? Contact our team today and get started with our free 21-day trial.
Other Help Desk Software to Consider
HelpSpot's email help desk software was designed to be simple but versatile so it could be easily tailored for any size team or service. But, if you need a more feature-rich help desk from the get-go, we'll look at nine other support software to help you find the best solution for your team.
Zendesk is a super robust customer service email management software with features like omni-channel routing, social media widgets, CRM integrations, built-in reporting, and more.
It's a popular help desk option for large eCommerce brands, like Instacart and BoxyCharm, but it can work for mid-size businesses who have the budget and resources to manage Zendesk's advanced software solution.
Although Zendesk is convenient because it has several dozen help desk features to make agents' lives easier, those features also make the help desk hard to learn and use, and they hike up the help desk's price.
Plus, since Zendesk is always releasing new features and updates, agents have to regularly upskill to keep up with the software's continuous changes, and this can be a strain for companies that lack the bandwidth.
We recommend Zendesk for large customer service teams who need — and will actually use — the number of advanced features Zendesk offers.
Note: Zendesk offers a cloud-based help desk with hosting options in both the US and EU. However, they only offer partial EU hosting, so teams that need to meet GDPR compliance requirements need an alternative solution.
You can also learn more about popular Zendesk alternatives in our other guide.
Freshdesk is a cloud-based ticketing system that's known for its user-friendly interface and includes features like chat bots, omni-channel routing, SLA management, automation rules, and reporting.
They're a popular option for startups and small businesses because they offer a free plan, but most of the actually-useful features are only available in Freshdesk's paid packages.
Overall, Freshdesk is comparable in pricing to other robust help desks. Still, a common complaint in the reviews is you cannot add a new feature or agent without upgrading to a higher paid plan, and this can make Freshdesk a bit pricey for small businesses.
Freshdesk is a good help desk for small businesses who have the extra funds to afford this robust solution. However, we typically recommend this software for mid-sized to enterprise service teams that need a help desk with lots of features since they usually have a bigger budget for help desk software.
Note: If you are looking for a help desk ticketing system for your IT support team, Freshworks also offers an ITIL-ready, IT service management (ITSM) tool called Freshservice. 
Read more: Freshdesk Alternatives: 9 Help Desk Software for Support Teams
Zoho Desk is a web-based help desk ticketing system that provides your agents with many advanced features to conduct omnichannel support.
A popular feature is their AI chatbot called Ask Zia, which can be accessed anywhere on their site, pulling solutions directly from their knowledge base. It also alerts managers when solutions are reported as unhelpful, thereby providing data on what the knowledge base needs.
Although reviews state that Zoho Desk is easily customized with their open source API, a regular complaint is that the user interface can be a little difficult to navigate, especially for new agents.
Although Zoho Desk is slightly cheaper than some of the other robust service desks on this list, it's still too expensive for small businesses. However, it is an ideal help desk for mid-sized to large companies who need a lot of features to manage multi-channel support. It can also work well for global brands because they offer regional hosting options in several parts of the world, including the US, EU, IN, AU, and CN.
Read more: Zoho Desk Alternatives | Top 8 Help Desks for Customer Service
Jira Service Management is a cloud-based IT help desk solution from Atlassian. They use AWS to offer hosting options in both the US and EU. It comes with many standard help desk tools like reporting, automation, and asset management, so your agents have all they need to offer multi-channel support.
One noteworthy Jira tool to aid rapid response is "Incident Management". When an IT problem arises, this tool quickly alerts all the necessary teams and provides a dedicated thread to find a solution.
Although Jira has many loyal customers, a common complaint in the reviews is that the product is bloated by features that can cause the system to lag and make it a difficult software to learn. This makes it unsuitable for small businesses that do not have the time, budget, or need for such robust software solutions.
Nevertheless, Jira is a popular ITSM software for enterprise level service teams that need a help desk with lots of bells and whistles, and have the budget to pay for it.
Read more: Jira Service Desk Alternatives for On-Premise Users (5 Tools to Try)
For those already familiar with Salesforce's CRM, Salesforce Essentials is a complementary service desk geared toward small to mid-sized businesses. It's a cloud based solution with a few key help desk tools like built-in reporting and customer tracking through the sales cycle. (They now offer EU hosting options, as well.)
The API connection can be tricky (and even require technical support) when integrating tools outside of the Salesforce ecosystem. However, reviews praise the functionality of its mobile versions (iOS and Android) which allows support teams to provide omnichannel support on-the-go.
When you consider that Salesforce Essentials is billed at a flat rate of $25/agent per month, it is more affordable for small to mid-sized companies adopting help desk software for the first time.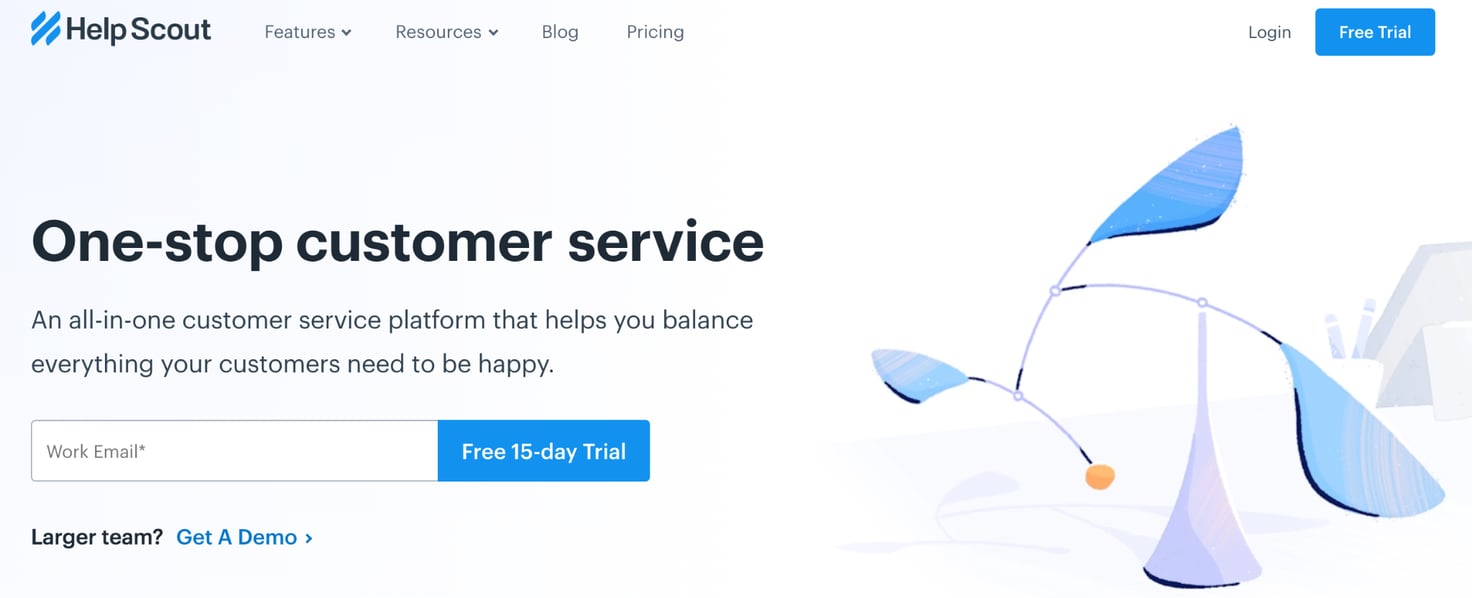 As a cloud-based product that supports two native channels (email and live chat), Help Scout is a simpler help desk solution than other products on this list.
Many reviews say how this simplicity is reflected in its user-friendly interface and functionality. That said, Help Scout has some advanced features like built-in reporting, automatic ticket escalation, and knowledge management.
Help Scout caps users in lower pricing plans. This can be problematic as it can force a company to upgrade to a more expensive plan just to add one agent to their help desk.  This makes Help Scout a little expensive and limiting for small businesses. For this reason, we recommend it for mid-sized companies that have the budget to pay for one of the unlimited plans.
Read more: Help Scout Alternatives: 6 Best Help Desks for Support Teams
HappyFox is a cloud-based help desk solution (with data centers in the US and EU) that has a robust feature set including automation, customer satisfaction surveys, social media integrations, and an intuitive interface.
Its built-in project management tool is also popular with IT teams that allow managers to monitor and escalate tasks for their team.
Reviews of HappyFox are mostly positive; however, some report that setup is time-consuming and users are capped in the lower price plans, so for small businesses it can be a strain on bandwidth, growth, and budget.
Having said that, HappyFox's many features and omnichannel ticketing system make it a good option for large companies that need to streamline multiple service teams, provided they have the capacity and the budget. 
Read more: HappyFox Alternatives & Competitors: Find the Best Help Desk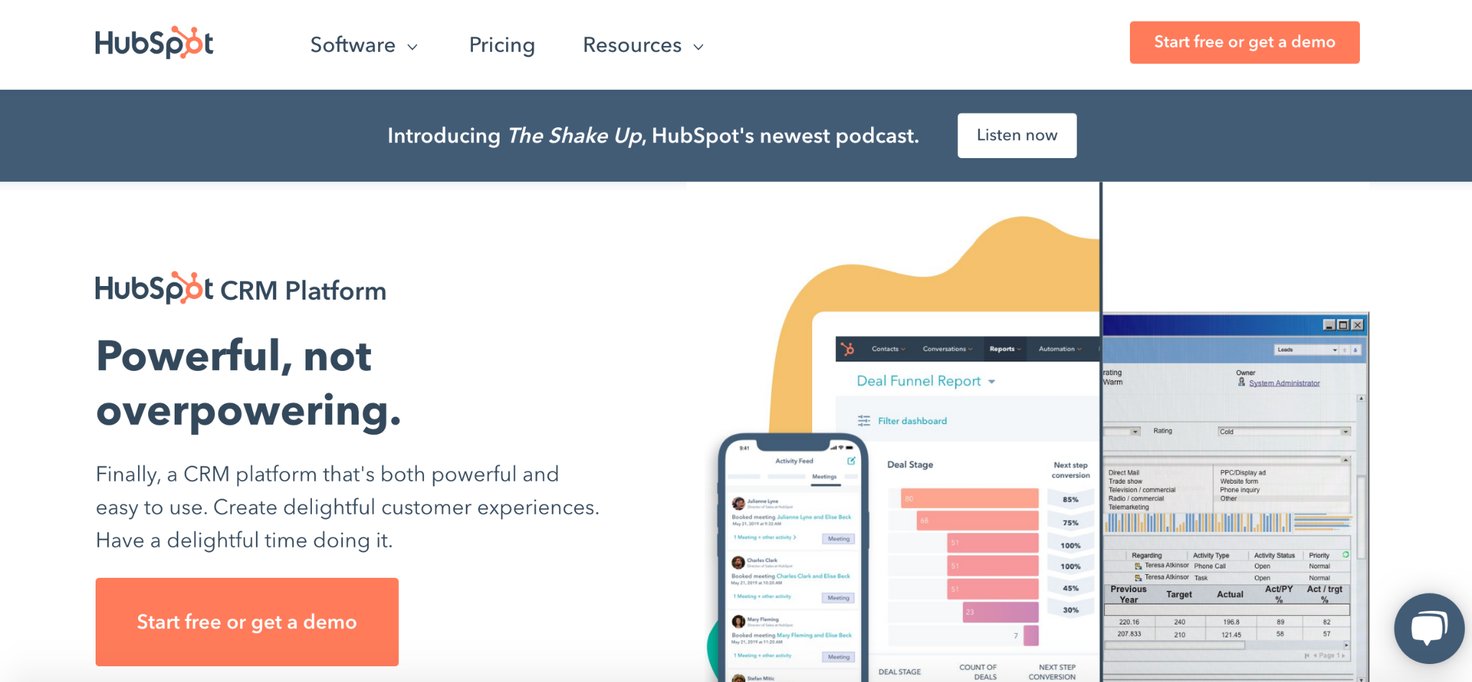 HubSpot's ticketing software is part of a suite of management tools that include automation, ticket escalation, and chatbots.
It comes with two native channels — email and chat — but with its open source API, you can integrate call centers, messaging apps, or any other channel you need.
Per reviews, setup can be tricky, and the system struggles with high volumes of requests — which is an obvious barrier to growing your support operations. Furthermore, the built-in reporting lacks depth.
As a stand-alone tool, it is more suitable for small businesses adopting a help desk for the first time. However, the prices are steep and more suited to a mid-to-large sized company.  It can also work for brands that need an EU-hosted help desk since they now offer regional EU hosting, too.  
LiveAgent is a customer service help desk designed to help enterprise teams offer multi-channel support. Features include a built-in CRM, automation rules, and hybrid ticket stream — which allows agents to track a ticket across multiple channels.
LiveAgents' robust feature-set (170+ native tools) can be overwhelming for small businesses and startups that do not have dedicated technical support nor the bandwidth to learn new software. A common complaint in reviews is the interface is bloated with features which can disrupt workflow.
That said, LiveAgent's lower price tag and excellent client support makes it an attractive option for mid-sized companies with plenty of scope to grow. They're also a good fit for EU-based brands because they're fully GDPR compliant with regional hosting options.
Read more: LiveAgent Alternatives: 6 Best Help Desks for Customer Support
What to Look for in High-Quality Help Desk Software
HelpSpot began in 2004, which makes it one of the longest standing help desk software on the market. Having helped brands like Thomson Reuter, Warner Music, and Epson provide great customer service, we think a scalable help desk solution should include:
Centralized inbox where tickets are organized and assigned.
Tools that help service agents collaborate and automate manual tasks.
Built-in reporting so all decision making is data-driven.
Unlimited customization — so agents can easily integrate tools with their help desk on a need-by-need basis.
Cloud based and self-hosted versions of the software. And if you operate in the EU or need to meet GDPR compliance requirements, look for brands that offer EU hosting or data management features.
All the help desks discussed in this post offer some version of the features outlined above. Still, it's important to note that more features in a help desk does not mean better customer support.
The more robust service desk solutions offer hundreds of features and bundle the features in increasing pricing tiers. And, even if you have the budget, there are many reasons outlined in reviews why a robust service desk might not be the tool for you, like:
Your team may not have the time to learn (or train new agents) on the software.
You don't want to pay for features you don't need or use.
You're already using a CRM or analytics tool you like and you don't want to migrate to new software, nor pay for both.
In contrast, a simple help desk that is not easily customizable may be more affordable in the beginning, but could become a barrier to growing your support operations in the future.
Did you find the best help desk for your support teams?
There is a great variety in pricing and feature-sets in the help desk market. To determine which help desk is the best for your team, a good starting point is to identify (1) what frustrations your team is trying to overcome and (2) how much you are wanting to pay for a solution.
HelpSpot differs from other help desks on this list because it's not only affordable and intuitive, it also supports unlimited customization. So, you can tailor your help desk for any level of customer service from startups to enterprise teams.
To find out how our help desk can be tailored to meet the needs of your customer support agents, contact our team today and start our free 21-day trial.