HappyFox is a help desk designed for medium to large organizations that offers three different software solutions: Customer support software, IT service desk, and a help desk for "operations"(i.e. HR, marketing, sales). The software is available entirely on the cloud and HappyFox offers advanced features in each of their packages, such as automation rules, asset management tools, and social media widgets.
Although HappyFox provides features to cover every aspect of support, it might not be the right help desk software for you if:
You only manage customer support requests over email and don't need a bunch of extra features.
Have a smaller team and don't want to spend a lot of time learning an advanced help desk and training your agents to use it.
Are working with a limited budget and don't want to dish out a ton of money on a new software solution.
Need on-premise software and are shopping for self-hosted help desk software.
Want a more general help desk software that you can customize with your existing tech stack.
We put together this buyer's guide, so you can learn about the most popular HappyFox competitors and compare the alternatives. We'll start by talking about our help desk, HelpSpot, and how it's designed for adaptability so it can be tailored to a variety of support teams.
Skip to the section you're most interested in below:
Looking for software to easily manage your team inboxes that won't be a burden to onboard? Contact our team today to talk through how HelpSpot can be modified to suit your team's needs. Get started with our free 21-day trial.
HelpSpot is a versatile HappyFox alternative because it is highly customizable and built to accommodate different team sizes with pay-per-agent pricing.
Teams also find HelpSpot to be a good help desk solution because it's so easy to use; it requires almost zero onboarding time and agents can learn the software with minimal training.
Let's talk about HelpSpot's help desk features and how they can support your teams.
Keep Teams Organized | Team Inboxes, Agent Queues, & Multi-Brand Support
All incoming requests are organized in a shared team inbox. Support tickets can be further segmented using categories and tags, and filters allow your agents to locate any request with just a couple of clicks.
From the team inbox, agents can quickly scan through and pull tickets into their personal queue (a.k.a My Queue). This creates a clean workflow as each agent is responsible for the tickets in their queue, and any follow-up support remains with the same agent.
With a single deployment of HelpSpot, you can organize support for as many brands as you need using our multi-brand feature. This allows you to create a separate mailbox for a brand or department, each with its own self-service portal and unique branding. As a result, customers can interact with each of your brands separately, while all your support is handled in a unified platform.
Read More: Multi-Brand Help Desk: Manage All of Your Brands with HelpSpot
Enhance Team Collaboration | Internal Notes & Collision Detection
As your team grows, it can be hard to manage hundreds of communication threads between agents, and information can easily get buried. HelpSpot has you covered with a couple of collaboration features: Internal notes and collision detection.
Internal notes allow agents to communicate within each ticket. All communication is recorded in the comment history. If an agent needs to assist on another agent's ticket, all the necessary information is saved in the ticket itself — no need to jump to outside messaging threads.
Collision detection alerts an agent if another agent is viewing or working on the same ticket. This keeps agents from stepping on each other's toes and prevents simple miscommunications, like two agents responding to the same ticket.
Read our post on team inbox management for more tips on smoother team collaboration.
Boost Team Productivity | Templates, Knowledge Base, & Automation
To keep your teams hitting their KPIs, HelpSpot provides a number of tools to save time, including reusable responses for rapid replies, a help desk knowledge base to store in-depth articles, a self-service portal to deflect customer requests, and automation rules to reduce repetitive tasks.
Customizable Email Templates
HelpSpot allows you to create a library of saved responses so agents can quickly insert them into email replies instead of writing out unique responses to each request. Plus, email designs can be easily customized for each brand using our templating feature.
To give each reply a personal touch, agents can quickly add custom signatures to their templates.
For example, let's say a server goes down and your IT team receives hundreds of similar requests: With HelpSpot, you can group these requests and create a single batch response from your template library. Then, you can customize the template with a few clicks and send it off to all of the recipients at once.
Knowledge Base & Self-Service Portal
HelpSpot lets your support teams store a collection of troubleshooting documentation and FAQs in a knowledge base. Agents can quickly reference these docs for more complex requests and even pull them into customer replies to send in-depth information with just a few clicks.
Furthermore, relevant articles can be published on a self-service customer portal. This enables your customers to find the solutions to their own issues, and as a result, reduces the amount of requests your team has to manage.
HelpSpot tracks search history — providing valuable insight into what your customers are looking for.
Automation Rules & Triggers
An easy way to increase team productivity is to use automation rules and triggers to train our platform to do time consuming tasks, like ticket routing.
Let's say an IT support team in a university has one technician that deals with Mac laptop issues for students. In HelpSpot, you can set up a trigger to detect certain words in a request like "laptop" "Apple" or "Mac," and automatically route these tickets to the right operative — saving the time it would take to dig through an inbox and find them.
Improve Oversight with Performance Metrics | Built-In Reporting
To improve decision-making and team management with real-time data, HelpSpot's built-in reporting allows you to track a number of performance metrics regarding your agents and customers. Among these are:
Average number of requests per day, week, or month.
Average number of requests per agent, team, or brand.
Average response, assignment, and resolution speed.
All metrics can be customized for different time frames, or you can dig into reports to isolate a single team or agent's performance. These customer service reporting capabilities let management easily identify what is working well and what needs to be improved.
Furthermore, to keep all key parties informed, HelpSpot lets you build out reports and schedule them for delivery at any frequency you like. If you decide everyone in your department needs a weekly performance report sent to their inbox on Monday mornings, HelpSpot has got you covered.
Update Your Help Desk As You Go | Customization & Pricing
We created HelpSpot to be fully customizable and with fair pricing, so your teams have the flexibility to add tools and agents when they need them.
With our open-source API and Zapier connection, you can integrate HelpSpot with any of the tools in your tech stack at no extra cost. This way, HelpSpot can scale with your business and support you as your teams grow and customer support needs become more specific.
Moreover, with HelpSpot, there are no add-ons or hidden costs: You get all of HelpSpot's features and only pay for the agents you need ($11/agent/month). This allows you to expand your help desk as you go and stay on budget — as opposed to paying for expensive help desk packages with seats you don't need.
Plus, both versions of our help desk software — cloud-based and on-premise — are supported by our team and priced the same. (You can learn more about our on-premise solution in our self-hosted help desk guide.)
Looking for versatile help desk software that can be tailored to the specific needs of your teams? To talk through the ins and outs of HelpSpot, contact our team today, and get started with our free 21-day trial.
Pros & Cons of HappyFox, and Other Alternatives to Consider
HelpSpot is a powerful email management software that can be easily customized for dedicated customer support, IT support, and operations teams. However, if you need to shop for a different type of help desk alternative, here are nine other providers to consider.
At the end, we'll also review some quick pros and cons of HappyFox (per user reviews).
Alternative Customer Support Software
Customer support software is typically designed for midsize to large teams that field customer queries over multiple channels (e.g., phone, email, live chat, social media, etc.). It often comes with tools like a built-in CRM to provide agents with more contextual customer data.
Zendesk is a leader in the customer support help desk market and advertised for teams that want to improve customer satisfaction. As a cloud-based tool, Zendesk comes with hundreds of pre-built integrations, and a suite of tools that include a CRM, SLA management, and process automation.
Users like its ability to track service team progress and audit customer trails, and its AI-driven knowledge base is easy to browse and update.
With hundreds of tools, it is no secret that Zendesk has a steep learning curve, and with continual updates, regular training sessions are often needed to get the most out of the software. It's essential you have the budget and the bandwidth to make Zendesk a sustainable support solution.
For more on Zendesk and its competitors, read: Zendesk Alternatives
Zoho Desk is a help desk software designed for larger teams that want to create personalized customer experiences across several support channels. It comes with an array of advanced tools including real-time reporting, automated ticket assignment, and a multilingual knowledge base.
With a slick interface and dedicated mobile apps (iOS & Android), reviews state that Zoho Desk is one of the easiest customer support software to integrate with your tech stack. That said, customizing the tools to the specific needs of a team is challenging and configuration requires tech support. This can be a strain for smaller teams without a dedicated IT department — which makes Zoho Desk better suited for enterprise support operations.
LiveAgent is an "all-in-one" customer service software that enables large teams to improve omnichannel support. As one of the more expensive help desks on the market, LiveAgent supplies teams with dozens of advanced ticket management features like process automation, CRM, and social media widgets. And although the tool does require some training and onboarding time, reviewers say LiveAgent is fairly easy to use.
Reviews state that team tickets are easy to organize with LiveAgent's tag and category system, and its custom form builder enables in-depth data storage. However, a lack of customizable templates limits your branding capabilities and social channels are reported to be glitchy.
If you have a big team, big budget, and need a bunch of tools to handle omnichannel support, LiveAgent is a competitive option.
For more on LiveAgent alternatives, read: 6 Best Help Desks for Customer Support

Alternative IT Ticketing Systems
IT help desk ticketing systems are for IT service teams handling support requests from both internal teams and external groups. They usually include add-ons like incident management features to help teams pinpoint patterns between support tickets, quickly find resolutions to issues, and loop in the right agents to respond.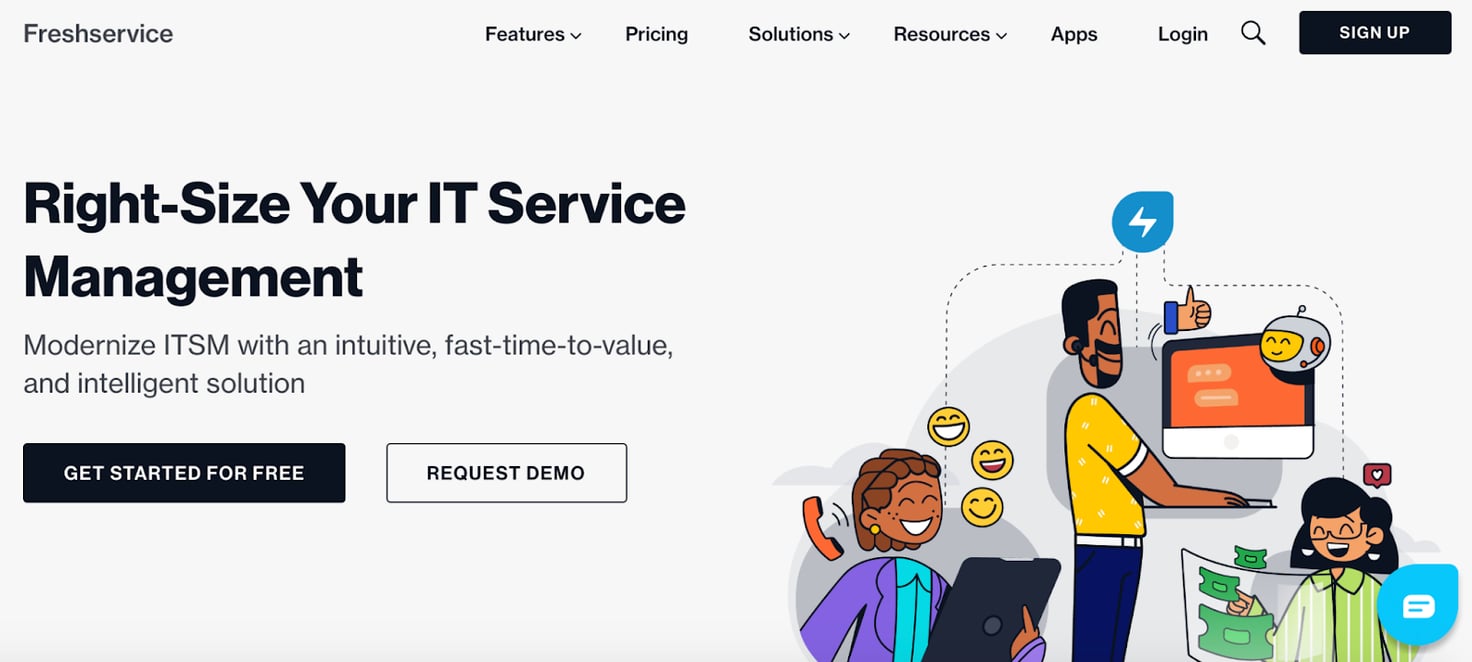 Freshservice is a cloud-based ticket management software with advanced features including change management, crisis management, and field service management (which makes it especially good for teams that need to track team members in the field and assign tasks based on agent location and expertise). It's known for its modern interface and reviews say it's one of the more user-friendly IT service management tools (ITSM) on the market.
Reviews of Freshservice state that its SLA management and real-time notifications are top-notch. Despite positive remarks, some reviewers say its built-in reporting lacks depth and its asset tracking tool could use more functionality.
That said, with its ease of adoption, Freshservice is a good entry-level and mid-tier choice for smaller teams that don't have the capacity to onboard complicated tools.
As part of Atlassian, Jira Service Management — Jira's service desk software — can seamlessly integrate with a number of tools in that ecosystem, including Trello and Jira.
So if you need more cross-team functionality and already use Jira, their help desk might be a good fit. However, even as a stand-alone solution, Jira Service Management offers robust ITSM functionalities and has extras like incident management, automation, and an integrated knowledge base.
Reviews rave about Jira's SLA Metrics Management, a tool that lets users quickly monitor response times, workaround, and resolution data. On the other hand, some Jira reviews say the search functionality across the site is lacking. Plus, in an effort to declutter the UI, Jira has made it difficult to locate certain tools, and this makes the help desk tricky to navigate and stifles team workflow.
Jira Service Management is a pricey ITSM software and is only suitable for enterprise-level teams with the budget to match.
For more on Jira's help desk and comparable tools, read: Jira Service Desk Alternatives Guide
ServiceDesk Plus by ManageEngine comes with advanced ITSM functionality including tools like asset management, active directory, and ticket analysis to let you manage your IT technicians' performance and how they respond to different requests.
Even though it comes with a lot of tools and pre-built integrations, it requires very little training to onboard. However, the main interface has been described as cluttered and reviewers say that it can be difficult to switch between features. Plus, the reporting dashboard lacks depth for a tool this size.
Although ServiceDesk Plus is pricey, it doesn't strain the bandwidth of smaller teams (like some of the other service desks), making it suitable for midsize operations with the budget.
To learn more about ManageEngine and other IT help desk options, read: ManageEngine Alternatives Guide
Alternative Help Desks for Operations
Help desks for operations (i.e. marketing, PR, HR) are simply ticketing systems with added task management functionality to oversee projects — ensuring all your agents are on the same page.
Freshdesk comes with a slightly cheaper price tag ($18/agent/month) than some of the other help desk software that lets you provide omnichannel support. Freshdesk is a cloud-based help desk with notable features like:
Built-in reporting to monitor team metrics.
Knowledge base and self-service portal to provide customers resources to resolve issues independently.
AI-powered chatbot named Freddy that can be trained to route and escalate important tickets.
Reviews highlight workflow features like field service tools (also available in Freshservice, see above) and collaborative ticketing, which allows you to split more complex tickets up into tasks or sub-tickets and reassign them to other agents. However, formatting email can be time-consuming and building reports is so complex it requires training.
While Freshdesk might be considered a little thin for enterprise level support, it does have a decent feature-set that's ideal for midsize teams.
Read More: Freshdesk Alternatives: 9 Help Desk Software for Support Teams
As one of the more affordable omnichannel help desks on the market, Kayako comes with 600+ pre-built integrations and a suite of tools that include reporting dashboards and SLA management. Reviews state how easy it is to customize, and onboarding requires very little training, so it won't strain smaller teams short on resources.
Plus, Kayako is one of the few help desks to offer a self-hosted version (called Kayako Classic) — although it has a limited feature-set, is no longer supported by Kayako's team, and comes with a higher price tag — so it may appeal to teams that need more control over data storage or require a GDPR help desk.
Although Kayako is typically marketed as a help desk software for small businesses, they provide different plans for different team sizes. Unfortunately, many of the advanced help desk features they provide, like automation, multi-brand support, and advanced filters, can only be accessed in higher price tiers; so it doesn't always work for smaller teams that want those tools.
Salesforce Service Cloud is the support tool for the CRM giant Salesforce, and it includes features like contact management, lead management, and dashboard reporting. As more of a sales and marketing tool, Service Cloud is rarely reviewed as a stand-alone platform; it is often paired with Salesforce or Salesforce Community.
Positive reviews of Salesforce's help desk say it is super easy to set up and it comes with loads of simple integrations. However, reviewers also say the omnichannel functionality is a little glitchy, and features are packaged in pricing tiers, so the only way to access certain tools is to upgrade your plan — which can get expensive.
While the lowest-priced plan ($25/agent/month) caps you at 10 users, it does provide an affordable option for midsize businesses who need help desk functionality to track customers through the sales process.
Pros & Cons of HappyFox
Reviews of HappyFox mention that the platform is easy to learn and customize because it has intuitive features and dozens of pre-configured integrations. Reviewers also like that HappyFox is supported by mobile apps and has a helpful customer support team to answer questions as you get adjusted to the software.
However, one of the biggest complaints with HappyFox is the price. They offer their help desk solution in tiered packages and divvy up features amongst the packages. This requires many teams to opt for more expensive plans to access the features they need. And since HappyFox isn't a cheap software, this pricing structure makes HappyFox impractical for small teams on a tighter budget.
In addition, some reviews mention that the software is difficult to set up, reporting tools are limited, performance metrics can be difficult to track, and some of the features require training to understand.
All in all, HappyFox can improve shared inbox management and help your teams work productively if you have the onboarding capacity and budget to afford the software, but there are less expensive, easier to use help desk software options available.
Did you find the best HappyFox alternative for your support team?
When shopping for the best help desk software, it is important to consider the specific challenges your team experiences working out of a shared inbox, determine the type of help desk software that suits you best, and think about your budget.
Identifying your support challenges and deciding the type of help desk you're interested in can help you narrow down your options and determine the features you'll want in your help desk.
For example, if you need omnichannel support, you might consider robust customer service software, or if you're fielding complex support requests from multiple departments, you may prefer ITSM software with multi-brand support.
Our email help desk software, HelpSpot, is popular for a vast number of teams because it's a versatile help desk software you can build upon: We give you all of the core email management tools you need to get your inboxes organized, and we allow for limitless customizations so you can further tailor the help desk to your specific needs. And we're here to help you every step of the way — getting your teams onboarded with ease.
Looking for affordable help desk software that allows your support teams to scale at their own pace? Contact our team today to talk through the ins and outs of our software and get started with a free 21-day trial.