Gorgias is a popular help desk for eCommerce customer service teams. It can be ideal for businesses with Shopify, Magento, and BigCommerce stores that manage customer support requests from several mediums and need a clear way to centralize and organize tickets. But Gorgias might not be the best help desk for your customer experience team if:
You only manage customer requests via email and don't need all the features Gorgias offers, such as Live Chat and social media widgets.
You want an eCommerce help desk that's scalable. Gorgias' remit is specific and focuses on small and medium-sized businesses.
You want an easy-to-use help desk software that doesn't drain time and resources training your team. Some agents find there's a steep learning curve with Gorgias.
You manage a high volume of support requests and find Gorgias's pay-per-ticket model too costly.
These are just some reasons you might want to consider alternatives to Gorgias. To help you further, we've researched 10 Gorgias competitors for eCommerce teams:
We'll start with HelpSpot, our customer service help desk software, and explain how it can streamline customer support for eCommerce teams.
Looking for an affordable help desk that lets your agents manage email requests for all your eCommerce brands in one place? Get in touch today to discuss if HelpSpot is the best help desk for your team, and get started with a free 21-day trial.
1. HelpSpot: The Best Help Desk for Growing eCommerce Teams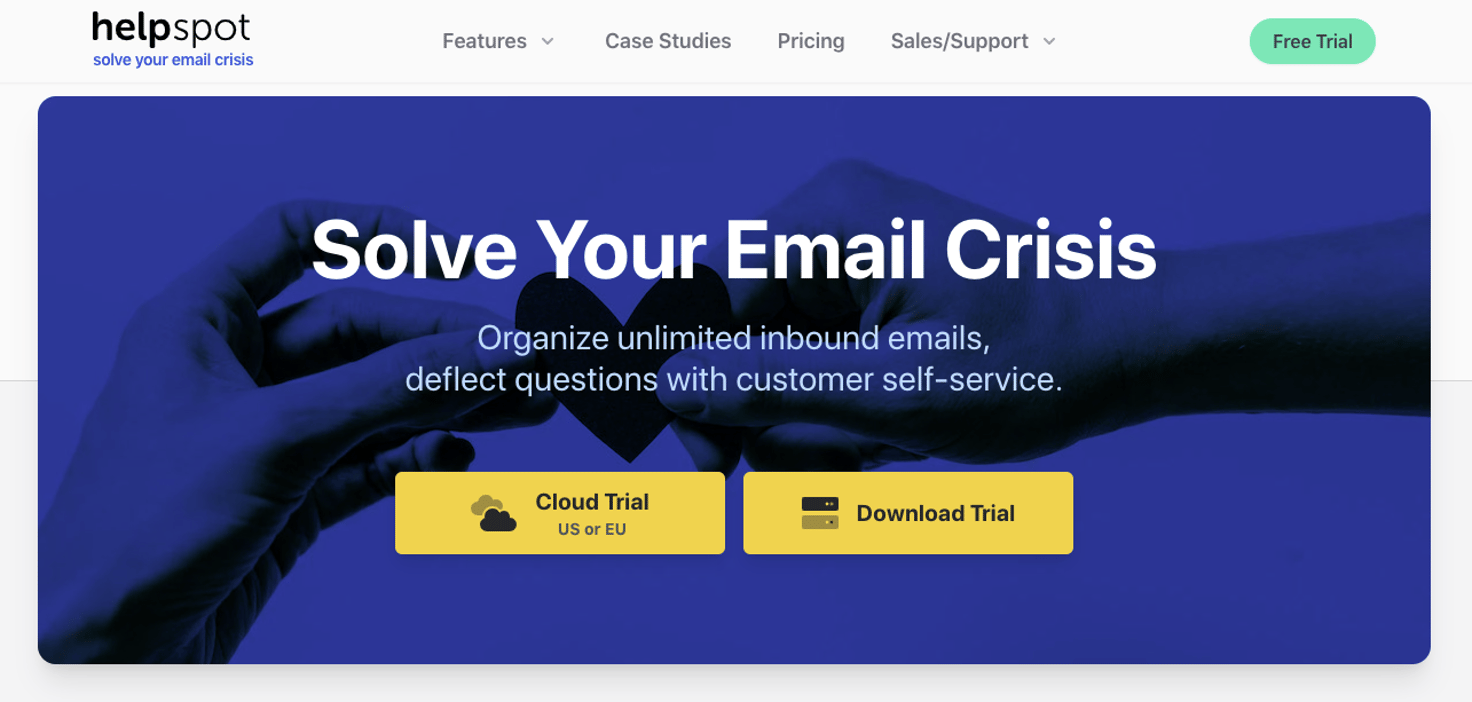 HelpSpot is ideal for eCommerce teams that want unified email management and productivity features that let you:
Easily onboard team members.
Manage inboxes and customer requests for multiple brands in one place.
Collaborate with team members within tickets to avoid mistakes and duplication.
Set up knowledge bases and self-service portals for each eCommerce brand.
Automate repetitive tasks such as ticket assignment.
Create reports on agent performance and customer satisfaction.
Integrate with other tools in your tech stack.
Let's take a closer look at these key features and the benefits for eCommerce support teams.
Quickly Onboard Team Members with HelpSpot's Intuitive Interface
Learning new software can be a time suck for busy customer service teams. HelpSpot is simple and intuitive to learn, with most agents needing little or no training to get started.
All incoming tickets are displayed in the user-friendly central inbox (more on this below). You can use the top and left-side menu bars to move tickets to your queue and access other help desk features.
HelpSpot's layout is appealing to eCommerce teams as there's no lengthy onboarding method for new agents — and since set-up and training are so easy, your team can spend more time responding to customer inquiries.
If your team does need extra help with set-up, our customer support team is available to guide you.
Aggregate and Manage Multi-Brand Requests in a Central Inbox
Many eCommerce businesses handle requests for multiple brands, so certain tickets may require different treatment and be best actioned by specific agents.
With HelpSpot, all support requests are converted into tickets and consolidated into one inbox — you can link unlimited email accounts and manage all requests from your central inbox to keep requests unified. Then, within each inbox, you can use filters and tabs to segment and view tickets by category or custom field. This saves time organizing requests manually.
Multi-Brand Support
HelpSpot also offers multi-brand features so you can clearly manage requests for more than one brand (without needing more than one help desk subscription). Our software lets you create brand-specific dashboards so you can clearly segment requests and manage different groups of agents and customers from separate team inboxes.
You can also set up email templates, self-service portals, and knowledge bases for each of your brand dashboards (more on these later).
And we don't cap our multi-brand features: One HelpSpot client manages customer support for 500 brands, with 500+ inboxes and 50+ self-service portals, all from a single help desk.
Read more: Multi-Brand Help Desk: Manage All of Your Brands with HelpSpot
Agent Assignment
Both managers and agents can assign tickets to themselves or other team members. Once a ticket is assigned, it is automatically added to that agent's queue and removed from the inbox. Single assignment eliminates any confusion over who is working on what. And all follow-ups are routed back to the agent who was originally assigned to the request, creating a consistent support experience for your customers.
Collaborate with Team Members
Clear communication between team members is vital for all customer interactions. To avoid mistakes and duplication, HelpSpot helps agents collaborate with two features:
Internal notes
Collision detection
Internal notes let agents communicate with one another directly within the support ticket. Agents can tag team members in comments or leave general notes on tickets so others can access more details about requests. All notes are automatically stored for future reference.
Having the ability to collaborate on tickets in the help desk saves time, prevents the need for external messaging software (e.g. Slack or Teams), and lets you easily track and dig into details about support requests from the time tickets are raised until they're resolved.
Collision detection is a feature that alerts agents if another team member is viewing or working on the same ticket. The real-time notifications prevent duplicate replies and confusion between staff. The software also notifies agents when notes or fields are changed.
Streamline Workflows with Time-Saving Tools
Having a library of information and templates for common queries is super-important for eCommerce businesses with multiple brands. It means that requests can be responded to swiftly, efficiently, and with the right information.
HelpSpot has three time-saving tools:
Email Templates
You can create a library of email templates so teams can send off quick replies to frequent requests. For example, say you receive a lot of emails about shipping costs — you can create a "shipping costs" template so agents can drop quick info in their replies.
Note: eCommerce teams can also build dedicated templates that include unique elements like logos, colors, and fonts for each of the different brands they manage.
Knowledge Base
HelpSpot's knowledge base lets you add and store important troubleshooting docs, FAQs, and other resources that agents can reference and use in their responses.
These are helpful for really complex requests, as agents can readily see all of the info they need to answer customer questions and resolve tickets — without asking another agent for help (or worse, sending the wrong information).
It's easy to add and publish documentation on your knowledge base, and knowledge base resources can be organized by topic and brand. Plus, we provide reporting data on knowledge base activity so you can see which resources are used most frequently, and whether or not your team votes your resources as helpful.
Read more: 5 Top Help Desk Knowledge Base Software: Buyer's Guide
Self-Service Portals
You can also create self-service portals on your website so customers can access knowledge base information directly. You can choose which resources you make available through these portals (for example, you can keep some documentation private to just your team and set other docs as public for customers) and modify them at any time. These portals also have features so users can submit tickets and check on request status, without emailing your team.
HelpSpot also monitors user activity in self-service portals so you can track which resources are referenced most often and which search queries generate zero answers for customers (so you know what you need to add to your portals).
Automate Repetitive Tasks
HelpSpot speeds up your team's workflow with automation rules that easily manage ticket assignments, escalations, and service level agreement (SLA) management.
For example, you can set up HelpSpot to automatically escalate a ticket if there is no response in 24 hours. Or, you can use triggers to detect words like "complaint" or "refund" and have these automatically routed to the appropriate agent or manager.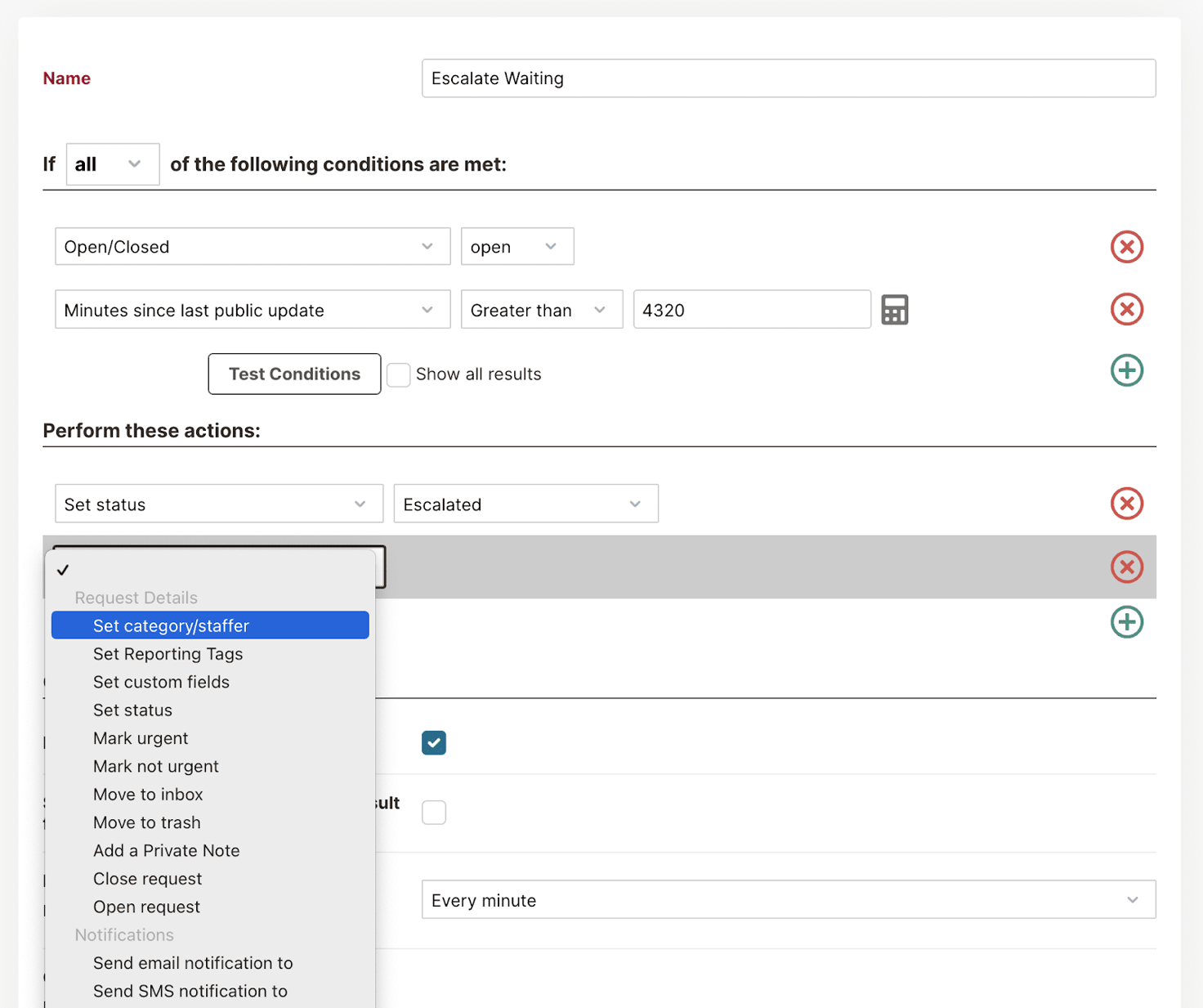 Create Productivity Reports
Monitoring customer issues and your support team's performance is essential for maintaining excellent customer relationships. For example, if a report shows an agent is completing half the number of tickets compared to the rest of the team, or sending very slow replies, you can address those issues with the particular agent and determine the best way to improve.
HelpSpot's built-in reporting automatically tracks important metrics, such as:
Average assignment time
Average response time
Average resolution time
Requests over time
Customer satisfaction surveys
Reports are completely customizable, so you can dig into data over different time frames or filter reports by date, category, agent, brand, etc. We display reporting metrics in clear graphs so you can easily visualize help desk data, too.
Help desk reporting helps you understand the customer experience and make adjustments to workflows to maximize efficiency.
Lastly, reports can be exported and shared with stakeholders automatically via email, so everybody has the information they need without having to request it.
Read more: The Complete Guide to Customer Service Reporting
Flexible Integration & Customization
HelpSpot is built with an open-source API via Zapier so you can easily connect to other software in your tech stack (like chatbots and social media widgets) to aggregate tickets and reporting data. You can track and report on all of your customer service requests from one place.
We also have Live Lookup so you can connect and pull customer data from your CRM while working on requests in HelpSpot.
Get Started with HelpSpot for Free
Some help desks, like Gorgias, only offer cloud-based solutions; however, HelpSpot offers the flexibility of fully supported cloud and on-premise software options — both built with the same features. We also offer iOS and Android mobile apps for both versions of our help desk so your team can work from any location or device.
HelpSpot is one of the most affordable eCommerce help desks because our pricing model is simply based on seats. Unlike Gorgias, which divvies up packages by number of tickets, HelpSpot packages are broken up by the number of seats — all users have access to the same features, and we don't charge extra for advanced features like multi-brand support, customizations, or support from our team.
HelpSpot can support any size of eCommerce business with our flexible, customizable help desk features. Start a free 21-day trial to see if we are the right option for your business.
2. Freshdesk: Popular with Start-Ups
Freshdesk is a cloud-based customer service software with a user-friendly interface. Useful features for eCommerce teams include chatbots, automation rules, and reporting. Freshdesk also offers omnichannel routing and SLA management.
Freshdesk's free plan is popular with start-ups and small businesses. However, its most useful features are only available in paid plans, and they divvy features up so you have to opt for a premium plan to access many core help desk tools.
Note: If you are looking for a help desk ticketing system for your IT support team, Freshworks also offers an ITIL-ready, IT service management (ITSM) tool called Freshservice.
Read more: Freshdesk Alternatives: 9 Help Desk Software for Support Teams
3. Help Scout: Simple Help Desk Software
Help Scout is a simple cloud-based help desk solution that supports two native channels — email and live chat — but offers advanced add-ons (like knowledge management) for teams that want to supplement the core help desk offerings. Reviews of the software mention it's pretty user-friendly and easy to learn, so you won't have to set aside time for training.
It's worth noting: Help Scout caps users on the lower pricing plans, so it can be a little more expensive for businesses where the number of seats goes just over the threshold.
Read more: Help Scout Alternatives: 6 Best Help Desks for Support Teams
4. Kustomer: Customer Service Platform
Kustomer is a customer service CRM platform offering several chat support channels. The most notable features include customizable shared inboxes, self-service options, and bulk email functionality — but they provide other features (like advanced automation) in more expensive plans. Kustomer also integrates with eCommerce platforms like Shopify, Magento and BigCommerce.
Kustomer's steep price tag makes it one of the more expensive help desk providers.
5. LiveAgent: Live Chat Messenger
LiveAgent is a customer service help desk for enterprise teams that offer multi-channel support, and it's especially popular for teams that want to employ live chat software in their support operations. Apart from built-in live chat, LiveAgent offers a native CRM and hybrid ticket stream so agents can track tickets across multiple channels.
Overall, LiveAgent has a robust feature set, with over 170 different features. This is nice for large teams that need all of these tools, but some small businesses may find this platform to be a little too much.
LiveAgent's pricing is a little high, so if you don't want or need everything LiveAgent provides, the cost isn't worth it.
Read more: LiveAgent Alternatives: 6 Best Help Desks for Customer Support
6. Re:amaze: Powerful Live Chat Function
Re:amaze is an integrated customer service and helpdesk platform packed with features, including live chat, video call, social media, mobile SMS, and VoIP.
This platform is popular amongst small to medium-sized eCommerce brands looking for a powerful live chat function. However, Re:amaze is on the more expensive side — prices start at $29 per agent/month (which doesn't include all features), so it's not for teams with a more restricted budget.
7. Richpanel: Scalable eCommerce Help Desk
Richpanel has been designed with scaling eCommerce brands in mind. The platform offers omnichannel support with unified customer profiles and self-service workflows. Its customer-facing portal has an "Amazon-like" view where customers can edit or cancel an order or even initiate a refund.
Richpanel supports 52 languages so is a great choice for global businesses needing multilingual customer support.
Richpanel is suitable for eCommerce businesses with more than 500 monthly tickets. Similar to Gorgias, Richpanel's pricing model is by "conversation" rather than by agent, so it could be a more costly option for eCommerce businesses that service a high volume of requests.
8. Tidio: eCommerce Workflow Automation
Tidio is an all-in-one customer service solution that includes a live chat feature and AI chatbots for eCommerce workflow automation. Tidio has 20 chatbot templates, plus, you can build your own chatbot flow to automate 40% of your customer communications.
Other features include real-time visitor message previews, canned responses, and natural language processing (NLP) — all of which are designed to streamline customer support.
There is a free plan available if you want the basic features for up to 100 users. The software becomes more expensive ($49 per agent/month) for the more advanced chatbot functions that can decrease your customer support workload.
9. Zendesk: Multi-Channel Help Desk
Zendesk is a powerful multi-channel ticket management software suited to larger customer service teams.
This software solution is popular for teams that manage customer requests through several channels (e.g. call center, email, and social media). Zendesk's robust feature set includes multi-channel routing, CRM software integrations, social media widgets and built-in reporting. AI knowledge management and self-service portals are available on higher price bands and require complete software upgrades.
Popular with e-Commerce brands, Zendesk's service desk is challenging to learn with teams needing regular training sessions to keep up with the frequent updates. It's also top budget, with prices starting at $49 per agent/month.
Read more: #1 Zendesk On-Premise Alternative: HelpSpot Self-Hosted
10. Zoho Desk: Omnichannel Customer Service Software
Zoho Desk is a web-based help desk ticketing system. It offers advanced features including omnichannel support. Its AI chatbot, "Ask Zia", pulls info from its knowledge base and alerts agents.
Zoho Desk's user interface can be difficult to navigate, but it's a good option for teams using other Zoho products (e.g. Zoho CRM) as these can be connected to gain further customer insight. That said, teams transitioning from a shared email inbox need plenty of time to get used to Zoho Desk's complex dashboard.
On the more expensive side for small businesses, Zoho Desk is best suited to medium/large companies who want a feature-rich solution. Prices start at $14 per agent/month for the limited standard package and go up to $40 per agent/month for the package that includes "Ask Zia."
Read more: Zoho Desk Alternatives | Top 8 Help Desks for Customer Service
Next Steps: Choose the Best Gorgias Alternative for Your eCommerce Team
There's a help desk software for every eCommerce business, but choosing the right software for your team depends on these key factors:
The size of your support team.
Whether you need flexibility to scale.
The features your support agents will actually need and use.
The software's ease of use.
Your budget.
HelpSpot provides the essentials busy eCommerce teams need to improve the user experience and boost productivity, and we integrate with other eCommerce software solutions (including CRMs like Salesforce) to provide a unified view of customer data.
Our affordable software lets your agents have instant access to all our features from the get-go, with little or no training.
Since HelpSpot is fully customizable, you can organize your customer support functions by brand and scale up as your eCommerce business grows.
See why HelpSpot is the best help desk for eCommerce businesses of any size by starting a free 21-day trial.