eCommerce customer service teams working with a standard email inbox — like Gmail or Outlook — face several disadvantages when trying to keep pace with requests. Mainly because you are unable to organize tickets in a standard email inbox, there is no way to track the progress of tickets or know who is working on what, and standard emails cannot support multiple brands.
These disadvantages can lead to overlooked requests, wasted time, and unsatisfied customers, and this is why eCommerce customer support teams are beginning to integrate help desk solutions into their operations.
Help desks simplify ticketing system management and improve team workflows by providing agents with tools to:
Assign tickets to themselves or other agents and know exactly who is working on what ticket at all times, so that no request is ever overlooked.
Collaborate with other agents to support one another and deter department silos.
Create internal (knowledge books) and customer-facing (self-service portals) libraries of FAQs and other important documents to speed resolution times.
Support as many brands as needed.
To help you find the best eCommerce help desk software to support your brands, we put together a list of ten popular help desk tools, starting with our multi-brand email management platform: HelpSpot.
Best eCommerce Help Desk Software
HelpSpot's email help desk is highly customizable so you can upgrade from your current shared inbox and set up HelpSpot to centralize all of your team's support requests and speed up workflows. Start a free trial of HelpSpot to see how our help desk solution works.
HelpSpot's Help Desk: The #1 Help Desk for eCommerce Support Teams
HelpSpot is a convenient help desk for eCommerce customer support because:
We prioritize email management, which is the most popular channel for consumers to communicate with support teams.
Our features let eCommerce teams get organized and improve ticket resolution speeds.
Our multi-brand support allows teams to manage and track data on as many brands as needed.
Our user-friendly design and easy installation make onboarding a breeze.
HelpSpot bases pricing on user seats — instead of divvying up packages by features — so it's affordable for any business size or budget.
We offer cloud-based hosting for the US and EU, as well as on-premise hosting options, so we can support global eCommerce brands and organizations that need to adhere to data compliance requirements (e.g., HIPAA, GDPR).
Note: HelpSpot is one of a few help desk vendors that offers complete cloud-based hosting for the EU, which allows us to work with eCommerce brands all around the world. In addition, HelpSpot is equipped with a suite of GDPR features to help you manage your customer's personal data.
Learn more: What to Look for in a GDPR Help Desk 
Below, we'll take a closer look at each of these features and benefits that make HelpSpot the #1 help desk for eCommerce support teams worldwide.
Centralized Inbox & Multi-Brand Support to Get You Organized
Multiple agents sifting through the same shared email inbox with a single password leads to disorganization, overlooked tickets, potential security hacks, and a waste of company time.
That's why HelpSpot's shared inboxes are so important because:
They provide each employee with their own dashboard and personalized password.
They let you connect all of your company's mailboxes on one platform — whether it's one or a hundred mailboxes — giving you a unified view of every request.
HelpSpot's multi-brand support allows you to create new portals for each mailbox you connect to our system.
Let's say you work for a SaaS company and sell a number of different software products, and each software solution has its own brand representation. With our help desk ticketing system, you can create a separate team inbox for each brand.
Then, you can create a unique knowledge base, self-service portal, and email template library (more on these below) for each one of your brands.
Within each mailbox, teams can create custom filters to better sort tickets, and custom fields can be used to categorize and quickly pull important data. So, an eCommerce fitness apparel retailer can use filters to segment tickets by department (i.e. footwear, fitness apparel, men's and women's clothing, etc.), then create custom fields to segment data by department, purchase dates, or even specific products.
Read More: Multi-Brand Help Desk: Manage All of Your Brands with HelpSpot
Agents can assign tickets to themselves (or others) directly on the dashboard. Anytime a ticket is assigned to an agent, it is automatically removed from the team inbox and appears in the assigned agent's "My Queue."
Tools that Facilitate Communication & Improve Team Workflow
HelpSpot provides a host of collaborative tools that simplify team communication.
Internal notes let agents communicate directly on a support ticket. Each note entered onto a ticket is automatically stored for future reference.
Let's say an agent needs to transfer a ticket to an agent in another department who can provide more insight on the request. All they have to do is tag them on the ticket using internal notes, and any notes made on the ticket will be readily available to that agent.
Commenting saves you time and eliminates the need to use third-party communication channels like email or Slack.
HelpSpot's collision detection tool provides real-time notifications whenever another agent is viewing/responding to the same ticket you have opened — helping you avoid wasting time and eliminating duplicate responses.
Email Templates & Knowledge Base to Streamline Responses and Reduce Workloads
With HelpSpot, agents can create a library of saved email templates. Rather than rewriting the same responses to common questions, teams can quickly respond by instantly pulling a template from the library.
eCommerce teams can customize templates to include branding for customer-facing emails. HelpSpot's email templating tool lets agents quickly adjust template design to align with their specific department.
eCommerce businesses greatly benefit from HelpSpot's knowledge base because it lets support agents create and store important articles and FAQs for other team members to reference. This feature allows agents to quickly locate solutions to customer queries without having to reach out to other agents or departments for assistance.
Read More: 5 Top Help Desk Knowledge Base Software: Buyer's Guide
Support teams can also create self-service portals, which are customer-facing knowledge books. These customer-facing libraries give your end-users the power to find solutions on their own by providing them with FAQs, relevant articles, and step-by-step videos. As a result, customers can find answers to questions without submitting tickets, and this reduces employees' workloads.
Automation for a Uniformed Customer Support
HelpSpot's automation rules and triggers automatically perform many of the tedious tasks support teams deal with daily — like ticketing assignments and prioritizing escalations — and let you effortlessly manage service-level agreements (SLAs).
For example, let's say your business guarantees a response time within 24 hours for any customer request. You can create automation rules that automatically escalate tickets that are approaching 24 hours without any response.
Then, you can set up triggers to detect words like "troubleshooting," "billing," or "customer support," to automatically route the ticket to the appropriate member of your team — maintaining customer satisfaction and ensuring prompt response times.
Built-In Reporting to Improve your Customer Experience
Our built-in reporting provides you with key metrics — like ticket speeds, volume reports, speed to first response, and more — that give insights into department workflows and customer relationships.
Metrics are delivered in real-time, so you have a constant overview of your operations, and you can easily monitor team workloads, performance, and better understand customer needs.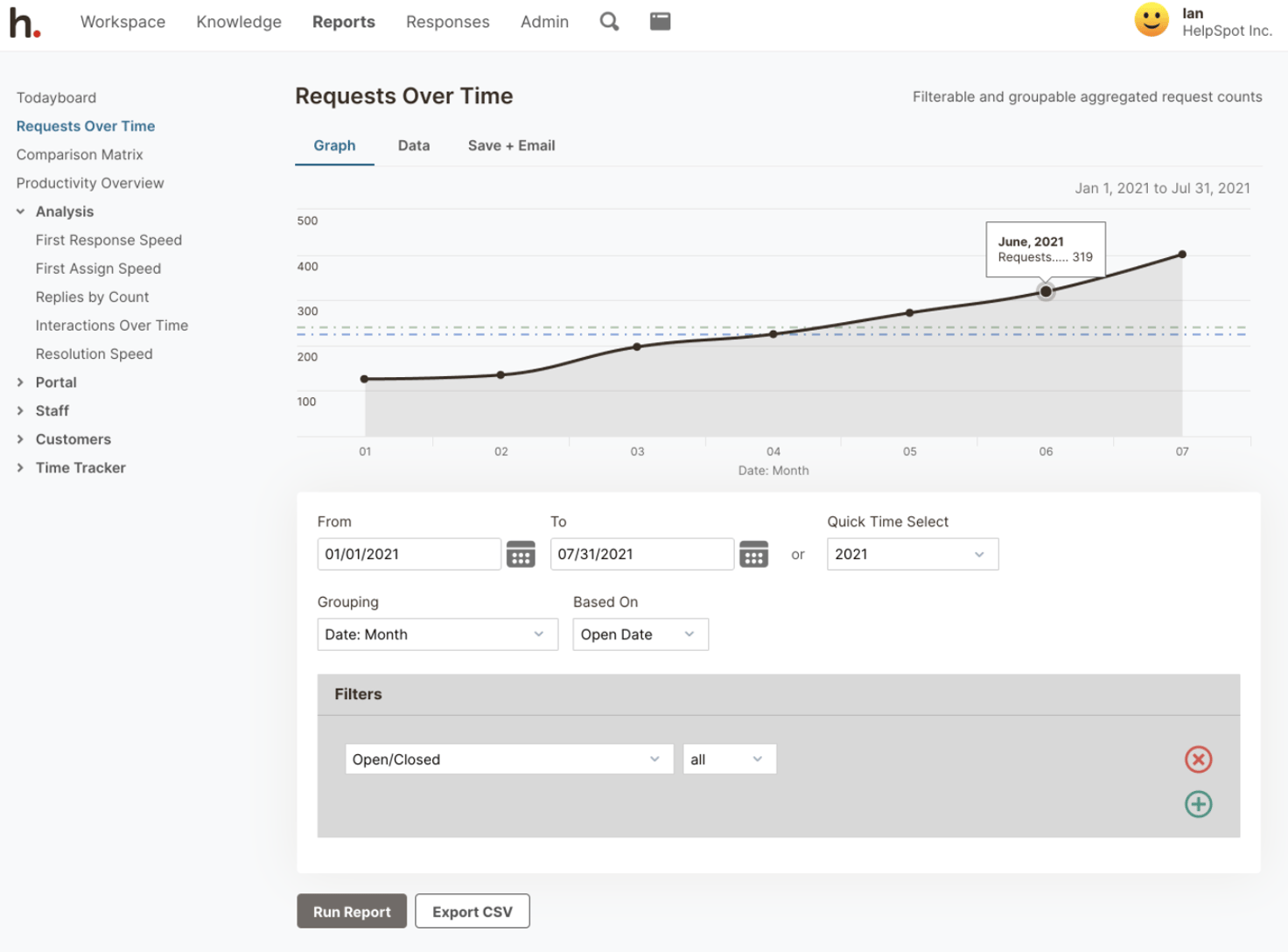 Our real-time metrics track:
Ticket volumes and trends
Response times and resolution speeds
Interactions over time
HelpSpot's reporting tool is also fully customizable, allowing you to track and segment data in any way you wish.
Read More: Help Desk Reporting: Key Support Metrics and How to Use Them
Suppose your company receives an unusual uptick in support requests each year during the holiday season. With our customer service reporting, not only can you track data in real-time, but HelpSpot lets you isolate key metrics from these months to track things like recurring customer issues and resolution speeds to help discover pain points or justify expanding staff during these months.
HelpSpot understands that analyzing data isn't part of the job description for many department managers. This is why we provide you with our Comparison Matrix that displays all of your metrics in an easy-to-read layout — making key insights jump off the page.
Easy Integration & Flexible Customization Options
Even with all of HelpSpot's advanced functionality, setting up integrations and onboarding team members is easy due to our simplistic design and vast connectivity. Rather than overwhelm you with unnecessary extras, HelpSpot provides eCommerce support teams with the tools they need to simplify and improve their ticketing system management — creating a clean and user-friendly dashboard that makes training and onboarding quick and easy.
Our help desk is fully customizable via an open-sourced API and Zapier connection. This means you can easily integrate our customer support software with popular eCommerce tools in your tech stack (like Shopify or BigCommerce) with ease.
We also offer Live Lookup that syncs with any CRM or external database (like Salesforce) relevant to your support team. A small amount of coding is required, but Live Lookup will give you complete control over your customer data and allow you to pull any information from other apps onto the help desk. For example, an agent working on a return request could pull a customer's purchase history from another system to view as they work on the request.
Get Started with HelpSpot for Free
HelpSpot offers a fully supported cloud-based help desk, EU-hosted help desk, and on-premise software that is scalable to grow with small teams and global brands. Our service desk is compatible with Windows and Linux, and installation is easy because we provide download links that guide you through each step of the process.
Be sure to visit the server requirements page to ensure you're ready to download and get started.
Note: You can download the HelpSpot mobile app(iOS or Android) to access your help desk dashboard from your mobile phone.
HelpSpot is affordable compared to other eCommerce help desks on the market. Most service desks offer tier pricing models, which, after a certain amount of agents, make you upgrade to a higher-priced software package that includes tools and features you don't always need.
HelpSpot, on the other hand, lets you pay per seat. We provide full support to our customers, and all of our features come standard with our help desk. So, you can easily add as many agents and features as you need at a flat rate ($11 per agent/month).
HelpSpot can support eCommerce businesses large and small because of our flexible set-up and customization options and affordable pricing. Start a free trial of HelpSpot to test our help desk and see if we're the right option for your business.
Other Customer Support & Help Desks Ranked
Outside of HelpSpot, we studied up on nine other eCommerce help desks and ranked each one based on customer reviews.
2. FreshDesk
Freshdesk offers its users two help desk offerings:
Service Desk that comes with the essential features to organize and assign ticket requests.
Multi-Channel Support that has all the functionality of Service Desk but with omnichannel capabilities for teams that need to connect to external support channels like SMS, chatbots, and social media.
The standard Service Desk package offers automated follow-ups and escalations and built-in reporting features. However, customers are also critical of Freshdesk's limited flexibility and customization options, making the standard service desk less ideal for teams looking to fully align a help desk with their brand or website.
Still, larger budget support teams that offer social media and phone support will benefit from FreshDesk's multi-channel support ($49 per agent/month) that provides tools like knowledge base, multi-brand support, and even Shopify connectivity.
Read More: 10 Best Service Desk Software (Based on Reviews)
3. Gorgias
Gorgias is a customer service help desk that provides several shared inbox and collaboration tools and support for social media like Facebook and WhatsApp. The solution offers Shopify, BigCommerce, and Magento integrations (although these are only available at higher-priced plans).
That said, customers have been critical of Gorgias' lack of self-service tools. Teams are unable to create an internal or customer-facing knowledge base on the solution.
Gorgias' pricing (starting at $50 per agent/month) can be a little too expensive for small teams.
4. HubSpot Service Hub
Introduced in 2018, HubSpot Service Hub was created as a customer support platform for teams using HubSpot's marketing, sales, and CRM software solutions.
Service Hub has extensive software functionality — though users have noted that its dashboard can get congested with additional unnecessary features for email management (A/B testing, ad optimization).
Service Hub only offers third-party integrations with popular eCommerce apps like Shopify and BigCommerce, which can get annoying for newer businesses in the trial-and-error stage.
Still, Service Hub's multi-channel capabilities and seamless integration with other HubSpot products (Marketing Hub, Sales Hub, CRM Hub) can make it the right help desk for eCommerce support teams using HubSpot's sales and marketing apps. It's also worth noting that HubSpot now offers regional data hosting for customers in the EU, so it could be a good option for teams that are looking for an EU-hosted help desk.
5. HappyFox
HappyFox is a multi-channel service desk that supports email, phone, and social media. They also have data centers in the EU to support European eCommerce brands.
HappyFox's standard package offers eCommerce teams features like ticket management and a built-in help desk knowledge base.
Users also enjoy HappyFox's live chat functionality that allows agents to speak directly to customers on the dashboard. However, users cannot delete chat histories, which can create storage issues and force agents to waste time scrolling through old chats for solutions.
HappyFox may not be the best choice for smaller businesses focusing on email management because it is one of the more expensive help desk software ($49 per agent/month for the "Fantastic Package"). HappyFox is better suited for established eCommerce enterprises with larger budgets that can benefit from its omnichannel support.
Read More: 8 Best Help Desk Software for Small Businesses
6. Help Scout
Help Scout is a robust help desk that offers popular eCommerce features like collision detection, internal messaging, and automated workflows that assign and notify agents of relevant tickets.
However, Help Scout's integration with commonly used tools like Outlook has been troublesome for many users and often requires technical support, which may be costly for businesses without in-house IT teams. Plus, its lack of customization options makes it difficult for users to align the help desk with their brand.
Help Scout can be an affordable choice for small businesses and support teams only managing one or two emails ($20 per agent/month for up to 25 agents — $10 per extra mailbox each month).
You can also read about Help Scout alternatives in our other guide.
7. LiveAgent
LiveAgent is another multi-channel ticketing system with great automation and customization options. It is reasonably priced ($15-49 per agent/month) and it allows users to set automated chat loads for particular agents and categorize tickets using custom fields. Brands that operate in the EU might also like LiveAgent since they are fully GDPR compliant (with optional EU hosting).
Reviews show that customers love how the service desk's Live Chat feature simplifies customer interactions by allowing users to speak directly to their customers on the LiveAgent dashboard. However, some customers felt the Live Chat dashboard was too cluttered and challenging to onboard new employees.
Still, LiveAgent, with its Live Chat messenger, would be an ample help desk for customer support teams that primarily provide chat support.
8. Zoho Desk
Zoho Desk is best for teams using other Zoho products, like Zoho CRM, because you can easily connect things like customer profiles to your help desk, providing additional insight for customer conversations. eCommerce teams can also connect to Shopify and other online marketplaces through third-party integrations. It can also work for international brands because they have data centers in the US, EU, IN, AU and CN and can support regional cloud hosting.
The omnichannel support desk offers advanced features like chatbots and other widgets to improve customer support. However, these features are only offered on their higher-tiered cost plans.
We should note: Zoho Desk's standard package ($14 per agent/month) only gives users limited access to many vital tools and benefits, including:
Collision detection
Automated features
Zoho's support team
You will need to set time aside to set up the software and onboard employees, as Zoho Desk's data-dense dashboard can be overwhelming for teams transitioning from a shared email inbox.
9. Zendesk
Zendesk is another robust help desk platform typically recommended for large customer service support teams that manage support through several channels (social media, call center support, email, etc.) and can benefit from its advanced functionality.
Note: Zendesk is another help desk brand that has data centers in Europe and is able to offer cloud hosting for businesses that operate in the EU. But it's important to note that they only offer partial EU hosting, so teams that need to comply with GDPR requirements should choose a different help desk vendor to avoid breaching data protection laws.
Generally, reviews highlight Zendesk's search functionality, saying it's quick and precise, and more technically-advanced users appreciate its hundreds of tools and pre-populated features.
Keep in mind that many of Zendesk's most popular features like AI-powered knowledge management and self-service portal are only available at higher-priced plans that require complete software upgrades.
Like Zoho Desk, transitioning to Zendesk from a shared inbox will take substantial time, with support teams needing recurring training sessions on Zendesk's constant updates.
To learn more about Zendesk's customer service software and popular competitors, read our other guide: Zendesk Alternatives: 6 of the Best Help Desk Competitors
10. Kustomer
Kustomer labels itself as a customer service CRM platform and offers several chat tools for customer support. The multi-channel help desk system provides customizable shared inboxes, self-service options, and bulk email functionality. Like HelpSpot, they also offer cloud hosting options for the US and EU.
The solution integrates with popular eCommerce platforms like Shopify, Magento, and BigCommerce, and offers advanced automated functionality to users — but only with their higher-priced plans.
Although Kustomer is an impressive eCommerce help desk, its steep price tag makes it a less favorable choice among customers ($89 per agent/month).
Try HelpSpot's Help Desk for eCommerce for Free
Choosing the right help desk software depends on the size of your support team and the features your business needs. Some help desks are cluttered with extras, but others, like HelpSpot, provide the essentials and let you build upon the software to support your needs.
HelpSpot is the perfect fit for your team because:
We offer software solutions to support businesses with unique requirements — you can use our cloud-based help desk, the EU-hosted help desk, download HelpSpot on-premise, or use HelpSpot's mobile apps. This allows us to work with virtually any organization, regardless of where they operate or how they want to set up and access their help desk.
No matter your team size, you can easily get started with HelpSpot without a lot of training and onboarding.
HelpSpot is fully customizable and integrates easily with any eCommerce app your team uses.
We have a fair pricing structure where you only pay for the agents you need.
Plus, with HelpSpot, you instantly get access to the best eCommerce help desk features, like:
A customer service tracker where you can easily gather tickets, spot trends, and understand what your customers need from your service agents.
Triggers and automation rules that let you notify agents when something needs their attention.
Team collaboration tools like internal notes and collision detection.
HelpSpot is simple, straightforward, and affordable yet built to scale with any size eCommerce company.
HelpSpot's advanced features and collaboration tools get you organized and improve team workflows so you can provide fast, exceptional service to your customers. See why HelpSpot is the best Commerce eCommerce help desk software by starting your free 21-day trial.