If your support team working out of a shared Gmail account has seen an increase in missed requests, lost email threads, and unhappy customers, you might be tempted to onboard a Gmail-based help desk extension like Hiver to regain some organization. After all, your team is already familiar with Google Workspace, and Hiver is simply a Google Chrome extension.
Although Hiver is easy to adopt and comes with features to assign emails and automate simple processes, it can't solve many of the issues support teams face with shared inboxes, and it has a lot of limitations when compared to a genuine help desk tool. For example, with Hiver, you can't:
Set up an internal knowledge base with troubleshooting information and FAQs documentation for your teams.
Create self service portals for customers to pull information, submit tickets, and check their request status.
Support multiple brands, each in separate portals, and allow customers to connect with each of your brands as a separate entity.
More importantly, Hiver is limited to Google Workspace, so it is only convenient for teams that are already using Google. And, considering its price tag ($12 – $57 per agent, per month), Hiver is more expensive than dedicated help desks with comparable ease-of-use, more advanced functionality, and better integrations.
We designed our help desk solution, HelpSpot, to provide both simplicity and advanced help desk functionality: It comes with all the core features to organize, assign, and track support tickets, but also has extra tools like a knowledge base, customizable templates, and multi-brand support. Plus, since our email management software is customizable, affordable, and super easy to use, it works well for a majority of support teams.
In this post, we'll begin with an in-depth look at our help desk, HelpSpot. Then we'll review seven other Hiver alternatives, including two "integrated help desks" for teams who want to compare simpler solutions. Then, we'll end with a Hiver pros and cons list, based on customer reviews.
Skip to the solution you're most interested in:
Looking for a powerful help desk that's simple to use but doesn't cost an arm and leg? Get in touch with us today to talk through how HelpSpot can be customized to the needs of your team, and get started with our free 21-day trial.
1. HelpSpot | The Next Step Beyond a Shared Inbox
We strive to keep HelpSpot easy to adopt — even for small businesses with limited bandwidth — so we created it with a clean dashboard and intuitive features, and we eliminated a lot of the extra add-ons other help desks pack into their interface that create clutter and confusion.
However, HelpSpot is still a step up from the integrated help desk options because it comes with advanced tools like a knowledge base, multi-brand support, and custom fields. It's also fully customizable, so you can connect your help desk with the rest of your tech stack for smoother operations.
Let's begin by looking at some of the core email management features before explaining how HelpSpot lets you take your support processes a step further.
Core Features to Organize, Filter & Assign Requests
HelpSpot comes with a number of standard features like team inboxes, agent queues, and filters to streamline team workflow and ensure no request is missed or buried.
Centralized Inbox
In HelpSpot, all of your incoming requests are organized in one location. This gives your team a single unified view of what requests still need to be assigned, and in what order they were received. You can connect as many email accounts as you want to this central inbox and segment requests by brand, department, category, and more.
Agent Queues
Agents can quickly scan through the team inbox and assign themselves (or others) tickets — HelpSpot automatically moves assigned tickets into the appropriate agent's queue (a.k.a. My Queue).
To keep the customer experience consistent, all follow-up support remains with the same agent.
Filters
Filters let you sort and view different types of tickets within your inbox.
Say your team leader wants to isolate unassigned requests pertaining to payment or credit card issues; this can be done by simply completing a couple fields.
HelpSpot is one of a few help desks that offers multi-brand support — allowing you to support as many brands as you need from our single platform. For more on that, check out our multi-brand help desk guide.
Advanced Features to Increase Agent Productivity & Save Time
For teams that want to boost agent output, HelpSpot comes with a number of time-saving features. These include collaboration tools for clear communication, self-service portals to reduce team workload, and automation to cut out repetitive tasks.
Plus, HelpSpot is supported by mobile apps (for both iOS and Android), so service teams that are on-the-go can access their help desk from any device.
Collaboration Tools
Internal Notes
HelpSpot allows your agents to communicate with each other within the customer ticket using internal notes. All notes are saved in the ticket history, so everything is auditable, and this allows other agents to jump into requests and get up to speed without asking other agents for updates.
Plus, internal notes reduce the use of outside messaging apps that silo information and make it harder for teams to all stay on the same page.
Conflict Detection
Collision detection improves team collaboration by providing real-time notifications when another agent is viewing or editing the ticket you are working on.
This eliminates many of the common mishaps teams experience with shared inboxes, such as duplicate replies, or two agents responding to the same request.
Customizable Templates
HelpSpot allows your agents to build a library of email templates that can be quickly inserted into email replies. This eliminates the tedious task of writing out the same response again and again, and is especially useful for teams that field a lot of repeat requests.
For example, your agents can save a bunch of time by grouping similar requests, pulling the appropriate template, and sending a batch reply.
Although batch replies can sometimes be thought of as generic or impersonal, HelpSpot also makes it easy to give your replies an extra touch. Using HelpSpot's email templating tool, agents can adapt every design aspect to their brand, and also include a personal custom signature.
So while HelpSpot lets you send out hundreds of responses at a time, each reply will be personalized and on-brand.
Knowledge Base & Self-Service Portals
One way to improve productivity across your entire support team is to create a knowledge base — an internal library of approved troubleshooting documents and FAQs.
This serves as a quick reference for complex support issues. Furthermore, agents can pull them directly into replies, if need be, to provide quick, in-depth support. And, since the articles are vetted, agents can be assured the information is up-to-date and simple grammatical errors have been eliminated.
Read More: Top Help Desk Knowledge Base Software: Buyer's Guide
You can also publish knowledge base articles on a self-service customer portal for customers; this lets customers find answers to their questions independently and reduces the number of requests your team members receive.
Plus, when you publish knowledge base articles for customers, you can track the type of information your users are looking for with reporting tools. In the reporting dashboard (more on this below), you can see what your users are searching for in the portal, and what searches yield no results. This way, you know what content you're missing information on that users could utilize to solve their problems.
Automation & Triggers
HelpSpot has a variety of pre-configured modes to automatically assign tickets, such as
round-robin, agent with the fewest tickets, or random (to name a few).
However, using automation rules and triggers, HelpSpot can be trained to escalate and route tickets in any way you choose. This reduces many of the menial tasks that can be so time-consuming like trawling through the team inbox to find all the tickets relating to a specific issue.
For example, if you have an agent that looks after time-sensitive requests, like service level agreements (SLAs), you can set up a trigger in HelpSpot to track changes to SLAs and alert the right agent. Automation rules can be created to escalate these tickets if they are left unattended, ensuring no SLA is breached because it's overlooked or buried.
Monitor Team Performance & Drive Data-Based Decision Making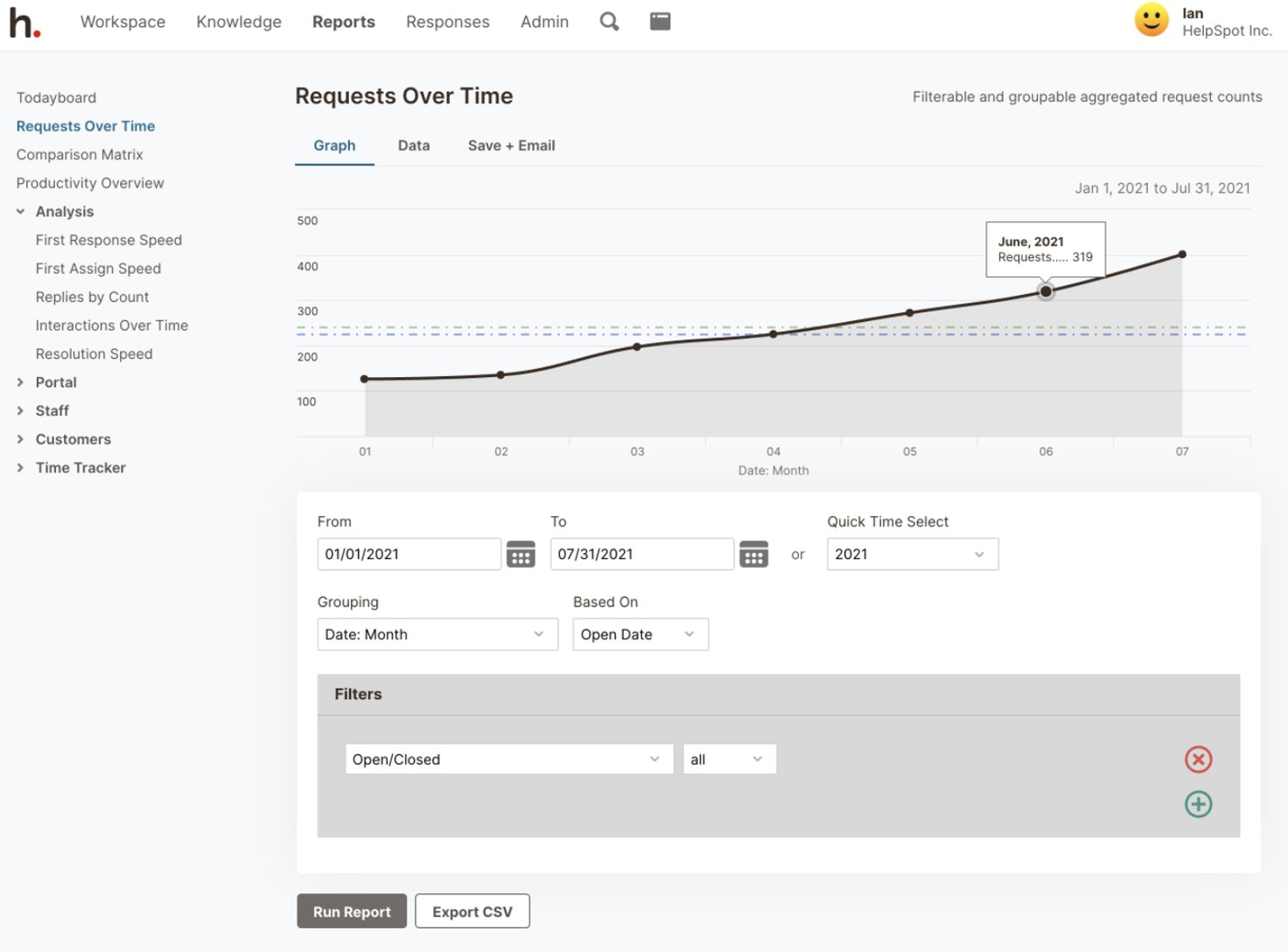 HelpSpot's built-in reporting allows you to manage your support operation using real-time data to address team workload, agent performance, and customer needs.
HelpSpot tracks metrics like:
Replies by count.
Interactions over time.
Response, assignment, and resolution speed.
Reporting can be fully customized; you can group and filter the data over different time frames to focus on specific issues, products, agents, or teams.
Furthermore, to keep all decision-makers in the loop, HelpSpot allows you to visualize data using custom tables and graphs, export the data in CSV, and automate delivery for any frequency you need. So, if you need to create a weekly email report for your team, to be delivered straight to their inbox every Friday at lunchtime, it can be done with ease.
Read More:The Complete Guide to Customer Service Reporting
Add Agents & Customize HelpSpot as You Go
HelpSpot was created to grow with your team's needs. Although it comes with the bandwidth to support as many brands as you need from a single deployment, we adopted a flat pricing structure and made the software fully customizable to keep it affordable for startups and small businesses.
Most help desks (including integrated help desks like Hiver) sell their software by packaging features in pricing tiers — with the lower tiers having a limited feature-set. While this appeals to smaller support operations, it can limit how a team scales and force companies to upgrade to a new package just to add an agent or feature.
In contrast, all of HelpSpot's features are available to all of our users: You only pay for the agents you need ($11/agent/month). There are no hidden costs, and support from our team is free. Furthermore, with our open-source API and Zapier connection, our email help desk can connect with the other software your teams use and accommodate difficult-to-set-up integrations.
Looking to level up your customer support with a dedicated help desk that doesn't strain your budget? Talk to our team today to find out how HelpSpot can be adapted to the needs of your support teams. Get started with our free 21-day trial.
Other Hiver Alternatives for Support Teams
We created HelpSpot to be affordable and easy-to-adopt, with advanced features to handle enterprise-level support. However, if you want to browse some of the other help desks on the market, including two similar Hiver alternatives, take a look at these seven tools below.
Zendesk is a robust help desk software, so it's not everybody's first choice when transitioning from a shared inbox. That said, it's a popular help desk for customer service teams that handle requests over multiple channels because it has social media widgets for omnichannel support, a built-in CRM, and dozens of pre-built integrations.
Many user reviews compliment Zendesk's seamless integration with hundreds of popular tools like Jira and Zendesk Chat (formerly Zopim live chat). Plus, the search functionality across the software is precise and super quick. However, setup time can be extensive and useful features like CSAT surveys are only available in higher-priced plans, requiring a full software upgrade just to access them. This can be a strain on smaller operations with a limited budget.
Making the switch to Zendesk from a shared inbox or an integrated help desk can be quite the learning curve, and will require regular upskilling sessions, because Zendesk is packed with hundreds of features and is frequently updated.
For teams that need robust software and have the resources to support onboarding and training, Zendesk can be worth the investment. However, it's not a realistic option for everybody.
Help Scout is advertised as a customer service help desk, and it comes with notable features such as dashboard reporting, automation, and a knowledge base.
Although Help Scout prioritizes ticket management from email and live chat, the platform can be integrated for omnichannel support. However, reviews state this process can be tricky.
When looking at reviews of Help Scout, we noticed a number of positive comments emphasizing Help Scout's saved response feature, which reviewers say allows agents to save time by recycling replies. Help Scout's Traffic Cop feature is also a big hit with users, as it alerts agents in real-time when other team members are viewing their tickets.
Despite the positive comments, some negative reviews of Help Scout said setup can be time consuming and configuring the platform can require IT support, and this can be a hassle for small businesses that do not have an in-house IT team.
Although Help Scout's starting price is a little steep, it is affordable for midsize teams that need a dedicated help desk and a boost in functionality.
Freshdesk is a customer support software that is sold in two help desk offerings: Service Desk and Multi-channel Support.
Service Desk comes with the essential features to organize and assign incoming requests.
Multi-channel Support has all the functionality of a service desk with additional omni channel functionality, so it connects with other channels like live chat, SMS, and social media.
In addition, Freshdesk comes with advanced extras like built-in CRM, project management, and incident management. Many IT teams like Freshdesk (and its ITSM service desk counterpart, Freshservice) because of it's built-in incident management: When something unexpected happens (i.e. server goes down), agents have the tools to loop in relevant experts and divide up tasks to resolve the problem quickly.
Reviews praise the user-friendly interface and its dashboard reporting feature, which is easily automated. That said, some of the social media integrations can be glitchy and many of the useful features are locked in higher-priced tiers.
As a result, Freshdesk is most suited for larger teams with a bigger budget.
In addition to its CRM, Salesforce now offers a complementary help desk ticketing system, called Salesforce Service Cloud. It's a popular help desk option for teams that are already using Salesforce software, but it's not commonly sought out as a true help desk brand. That said, it offers a lot of out-of-the-box customer support functionality including contact management, ticket collaboration, and social media integrations.
Users love the seamless integration between Service Cloud and Salesforce CRM, and automation features make it easy to assign tasks and manage important requests between the software, like SLAs. However, setup for this help desk can be taxing and put a strain on teams with limited resources. Plus, many features come pre-configured and require IT support to customize.
Although advertised for small businesses, Salesforce Service Cloud comes with an enterprise level price tag (ranging from $25 to $300 per agent, per month), so it's not always a suitable option for smaller organizations.
HubSpot Service Hub is the help desk that's connected with HubSpot's CRM platform. It comes with advanced tools like AI chatbots, a knowledge base, a call center, and built-in reporting that provides real-time ticket status notifications.
When looking at customer reviews of HubSpot's help desk, many highlight features like Templates and Snippets that lets agents quickly recycle customer responses into new requests — which is a great way to increase team productivity. However, some reviewers note limitations with the reporting feature, saying it lacks tools to customize reports and isolate specific metrics. In addition, reviewers also mention HubSpot's UI is a little cluttered, which can slow user navigation.
HubSpot's price tag is a little steep for the lack of functionality, so we only recommend this solution for midsize teams — as your team scales, you will most likely outgrow this product.
7. Gmelius: An Integrated Help Desk Hiver Alternative
Gmelius is an integrated help desk that comes with a slightly cheaper price tag than Hiver ($8 to $49 per agent, per month), but comes with a similar feature-set to organize, assign, and tag tickets.
As a simple Chrome extension, Gmelius is super easy to integrate and begin using. Users like its built-in reporting, automation rules for simple tasks, and ticket routing.
One of the key differences between Hiver and Gmelius is that Hiver only allows agents to share entire mailboxes with each other. Whereas with Gmelius, you can break up inboxes and share individual email requests, labeled tickets, and even unique comment threads.
So, if you want to stick with an integrated help desk and need a little more granular ticket management — at a cheaper price — Gmelius is a good option.
8. Drag: An Integrated Help Desk Hiver Alternative
Although Drag is considered the budget option for integrated help desks (the Pro version only costs $12 per agent, per month), it does come with some unique functionality.
Advertised as more of a workflow management tool, Drag adopts a Kanban board layout, so you can see when tickets are received, opened, edited — right through to resolution. It also allows agents to collaborate easier by merging tickets.
That said, there are still the obvious limitations of using a simple Chrome extension like Drag, notably being subject to Google updates, as reviews state that Drag glitches when Google updates a rollout. Furthermore, their customer support is reported as subpar. However, at this price, it is a suitable "starter" option for small (or even one-agent) operations.
Pros & Cons of Hiver (From Customer Reviews)
Reviews of Hiver consistently mention how easy the software is to set up and begin using — especially for teams that were already using Google Workspace (formerly G Suite) as a shared mailbox. Plus, reviewers also say that Hiver's customer support team is available and helpful if any issues arise.
Users particularly like how Hiver is a collaborative platform — allowing agents to easily share mailboxes and assign tickets. Plus, the workflow is transparent, thanks to Hiver's ticket labeling features and internal chat options — so responsibility for resolving requests is shared across teams.
However, some reviewers dislike that email requests can be easily buried, and say that retrieving them takes too much time. Other negative reviews state the mobile app is pretty limited and requests can be missed when providing support from your mobile device.
Furthermore, Hiver is expensive (full feature access is $57 per agent, per month) — more expensive than many dedicated help desks with far more functionality, scalability, and better integrations.
That said, for teams that have the budget, like the ease of integration, the Google ecosystem, and don't have a need for a more robust help desk, Hiver is a popular shared inbox software.
Did you find the best Hiver alternative for your team?
If you are transitioning to a dedicated help desk software, an important question to ask is: How does this software scale?
Or, to put it another way: How does this software allow us to grow our team and customize the platform to our needs?
Although "integrated help desk" options can be simple to set up and connect with tools outside the Google ecosystem (i.e. Trello, Asana, and Slack); they're not a good long-term solution because they only provide the basics for ticket management. Plus, integrated help desks can go haywire when Google updates rollout, and the lack of stability with integrated help desks can pose problems as your operation grows and things become more complicated.
On the other hand, most full-fledged help desk solutions have extensive feature-sets, but disperse tools in different packages and cap agent seats in lower priced plans. So as your support operation grows, you can find yourself in the tricky situation of having to upgrade your entire software just to add an agent or a feature. This can quickly get expensive.
In contrast, HelpSpot is one of the best help desk systems because it scales with your budget and the needs of your team. We achieve this by prioritizing:
Ease-of-use: Any size team can adopt our help desk with little to no training.
Customization: Teams can easily modify our platform to their specific needs.
Transparent pricing: You only pay for the agents you need and can add them one at a time.
Ready to step up your support operation with a dedicated help desk? Contact our team today to talk about how HelpSpot can be adapted to your current needs and scale with your business as your teams evolve. Get started with our free 21-day trial.