There are three telltale signs that you need a help desk ticketing system to manage customer requests:
You have multiple agents working out of a single inbox and customer emails are often missed or overlooked.
Customer support agents can't tell who's working on what or clearly see when tickets are fully resolved.
There's no way of tracking agent and team performance or customer satisfaction.
These problems (and more) result in wasted time and unhappy customers.
A customer ticket management system (also known as help desk software) is the natural solution for teams juggling a high volume of support requests in a shared inbox. Help desk software solves these problems by organizing all your customer requests into a central inbox so nothing is missed.
But what other features should a good help desk software offer that specifically benefit customer service teams? We've identified the following:
Ticket assignment so you always know who's working on what.
Collaboration tools that prevent duplication and mistakes.
A knowledge base that supports on-brand efficiency.
Self-serve customer portals that reduce the number of ticket requests.
Automation functions that speed up agents' workflow.
Integrations that connect to other customer software (e.g. CRM).
Reporting features that track the service team's performance as well as the customer experience.
Our customer ticket management system, HelpSpot, offers all of the above.
It's worth noting that there are two levels of software that customer service teams might consider — email management systems (like ours, HelpSpot), and more built-out customer service software (like Zendesk).
You should choose email management if you primarily work in email, or a more built-out software if you need multi-channel support. And, there is ITSM (IT service management) software if you run an IT help desk and need features like incident management.
In this post, we review HelpSpot's customer ticketing system plus seven alternatives for customer service teams:
Ready to try a customer ticket management system that lets you easily manage a high volume of support tickets and collaborate with your team? Sign up for HelpSpot's free 21-day trial.
HelpSpot Streamlines All of Your Customer Support Requests via Email Management
HelpSpot suits customer service teams that want the look and ease of a traditional email account like Outlook or Gmail and the powerful functions of a ticketing solution with team collaboration and reporting features. With HelpSpot, you can connect as many email accounts as you wish and respond to requests all from one place.
While our software is more advanced than basic email accounts, it is simple and intuitive to use. Most agents need little to no training to get started.
HelpSpot help desk software comes in two versions: cloud-based and on-premise, both built with the same feature sets. We also offer iOS and Android mobile apps for both versions so customer support team members can work remotely from any location or device.
Our pricing structure is straightforward — you choose a package based on the number of seats you need. All agents have access to every feature and our support team without extra fees.
HelpSpot's simplicity doesn't mean that it skimps on features. In addition to our core email management features, HelpSpot's API lets you connect to and centralize data from other software, such as phone systems and messaging apps, to report on all customer service processes from one help desk ticketing system.
Let's take a detailed look at the features next.
Unify Multi-Brand Requests in a Central Inbox
Managing requests in general email accounts can pose problems for busy customer experience teams. And, when agents are jumping around multiple inboxes, things quickly become messy.
HelpSpot converts all incoming support requests into tickets and stores them in a central shared inbox. You can link unlimited email accounts to HelpSpot and manage all incoming emails from one dashboard. Within each inbox, you can categorize service requests and use filters or tags to segment requests further.
We also provide multi-brand support if you manage requests for more than one business or you want to create dedicated support dashboards for different departments in your organization. These separate incoming requests based on rules you set so tickets are routed to the right service agents. Simply set up dashboards for each group and have the associated email accounts flow into there.
One of our clients manages customer support for 500 brands, with 500+ inboxes and 50+ self-service portals, all from HelpSpot's multi-brand help desk.
Note: You can also set up individual self-service portals, knowledge bases, and templates (canned responses) for each brand within HelpSpot — more on these later.
HelpSpot's customer, The Silent Partner, was using a standard, shared email account to manage customer support in the higher education, IT, and eCommerce sectors. Customer Service Manager, Teagan West explains:
It was so hard to have transparency: we'd have an inbox full of messages, but it was difficult to figure out what was being dealt with and who was working on what query at a particular point in time.
HelpSpot seamlessly aggregated all emails into an easy-to-use workspace and Teagan created buckets for each category of work.
Suddenly, I had total visibility into what's in my inbox, what's been assigned, and what still needs to be picked up.
Read more: The Silent Partner Saves 100 Hours a Month with Helpspot
Be Clear about Who's Working on What with Ticket Assignment
From the centralized inbox, tickets can be assigned to agents by adding them to the agent queue. There's no confusion about who's handling each request because it's clear from the outset.
Once a ticket has been assigned, all replies are redirected to the same agent queue. This ticket routing lets the same agent deal with the request so the customer doesn't bounce between different people.
Tickets can be assigned by managers or agents, and agents can reassign tickets to other team members if they need help with a request. You can even set automation rules so that new tickets are organized and prioritized so they are actioned quickly and appropriately. And, for multi-brand businesses, you can set rules so tickets are assigned to agents working on specific brands. This way, everybody is working on the right requests and tickets are never missed or overlooked.
The Silent Partner's Teagan West has found this feature a game-changer. She says:
HelpSpot made it so easy to prioritize and assign queries, tasks, and tickets to whoever's best-placed to tackle them. All requests are assigned to one person, so it's crystal clear who's responsible for each one.
Prevent Duplication and Mistakes with Collaboration Tools
Using HelpSpot's collaboration tools, customer service agents can communicate with one another via the support ticket in two ways:
Collision detection alerts team members if another agent is working on the same ticket. This prevents duplication for agents and customers alike and means remote teams can collaborate on requests with minimal confusion.
Agents can leave private notes within tickets so they don't have to rely on external messaging systems (e.g. Slack and Teams). HelpSpot saves all notes in the ticket history so other agents can access them and get up to speed.
Teagan West explains that The Silent Partner's agents now log notes on every customer interaction so they have complete visibility of every issue. She describes this feature as "life-changing". Not only does it mean each request is handled seamlessly, they can also pinpoint where agents need additional training. And the benefits extend beyond the customer support team. When making sales calls, the sales team has all the relevant client history from the get-go too.
Maximize Efficiency with Knowledge Bases
HelpSpot also provides email templates which you can use for common queries. You can create and store email templates that are correct, consistent, and on-brand. These can be easily accessed by any agent and used over and over, saving a lot of time.
You can also set up a help desk knowledge base with resources for agents to reference while answering customer questions or attach in their email replies. This saves time and can also be segmented by brand.
Teagan West explains that before HelpSpot, key resources were stored on local computers at The Silent Partner.
This raised the possibility that different versions existed on different machines and in the worst scenario if somebody's machine was out of action, we could lose access to valuable resources.
With HelpSpot, most inquiries are now dealt with within 30 minutes. Teagan attributes this to agents having instant access to high-quality templates, as well as HelpSpot's other features.
Read more: 5 Top Help Desk Knowledge Base Software: 2022 Buyer's Guide
Save Time and Reduce Requests with Self-Serve Customer Portals
In addition to the knowledge base, you can create self-serve customer portals on your website so customers can access knowledge base documents, submit tickets and check on request status.
Customers can find answers for common queries (e.g. FAQs and troubleshooting) directly, saving them and your business time.
HelpSpot tracks search traffic in customer portals so you can see which documents are popular and which searches pull no results. Then you can use this data to see which resources you need to add for customers.
If the customer can't find answers to their questions, they can submit a support ticket to get in touch with your team straight from the portal. We even have a feature so end-users can check on the status of their support requests without emailing your team for an update.
Speed Up Agents' Workflow Using Automation Rules
As we briefly mentioned earlier, HelpSpot lets you set up automation rules for certain tasks (like ticket assignment) to further increase your team's efficiency and productivity.
You can automate ticket assignment with trigger words — so when tickets contain a specific word or phrase, or fall under a certain category, they're automatically routed to certain agents.
Teams also use triggers to set reminders for service level agreements (SLA), manage and prioritize escalations, and bundle related requests for specific agents who have the expertise to respond.
Teagan West: "The less you have to think about and the more automated you can make your processes, the better you can focus on the actual customer service you're delivering. That's really what we strive for here and it's one of the things I find HelpSpot is really great at."
Connect to Customer Software with Integrations
Another downside of handling support emails without a dedicated ticket management system is lack of integrations. You can't connect support systems and see the full picture on incoming tickets, customer issues, and agent performance. Instead, you have to jump from one software to another to check tickets and reporting metrics from different systems.
While HelpSpot doesn't allow you to respond to tickets from other systems (like live chat or social media) from within HelpSpot, it does integrate with other software applications so you can access real-time requests and customer data from those communication channels.
You can connect your team's daily tools to HelpSpot ticket management software in three ways:
Live Look-up creates a powerful real-time connection so you can populate HelpSpot fields with customer data from your CRM.
Direct integration with HelpSpot's sister product, Thermostat . This allows you to fully manage surveys and customer satisfaction reporting.
Using Zapier lets you build point and click integrations with the tools your organization already uses.This includes bug trackers, phone systems, web forms, and thousands of other applications.
These features are invaluable to customer service teams wanting to streamline their workflow and get a big-picture look at customer issues and performance metrics.
Real-Time Performance Reporting
Monitoring customer feedback and keeping track of your team's performance is essential for providing excellent customer service. That's why HelpSpot offers a fully customizable reporting dashboard.
We provide at a glance reports so you can see key metrics like ticket response times and resolution times. But you can also create new reports from pre-defined templates and metrics. These track agents' performance and let you get a better look at the types of issues customers have (and ultimately improve customer retention). For example, if you notice longer response times for a particular agent or brand, you can explore further and take the necessary action.
HelpSpot automatically monitors agent and ticket-based performance metrics such as:
Ticket assignment time
Ticket response time
Ticket resolution time
Requests over time
Customer experiences
Customer satisfaction surveys
And more
Filtering the raw data by date, category, agent, etc. lets you analyze different data sets and view results in graphs and charts. You can save reports to your dashboard for future reference and reference old reports as needed.
Then, you can schedule reports to automatically send to agents, stakeholders, and anybody else you want to keep in the loop. You can set reports to send weekly, monthly, etc. and know that everybody has up-to-date reporting data.
Teagan West at The Silent Partner tracks what requests are assigned, how many tickets they have open at any one time, and what stage each ticket is at.
As I go through, I always like to jump in and see if there's something that's maybe been neglected or hasn't been picked up in a timely enough manner. I'll then go in and see if there's anything I can do to lift some of the work off their plate and move things along.
Read more: The Complete Guide to Customer Service Reporting
Straightforward, Affordable Pricing
Many help desk systems are priced in complicated feature packages and tier systems. The lower tiers can be useful for small businesses with limited budgets. But, as they start to grow, upgrading to a "pro" version can be an expensive way to add a single user.
In contrast, HelpSpot's pricing plan is straightforward and affordable — choose the number of seats you need, we don't charge by feature or extra for integrations, multi-brand set-up, or support from our team. Then, when you want to upgrade, you simply add the seats you need and everybody has access to our full feature set.
The Silent Partner signed up for a 21-day free trial and found immediate value in HelpSpot. Teagan West estimates the team saves several hours per day (or +100hrs a month). This is thanks to the visibility, improved communication, and functions that HelpSpot provides. This means improved business efficiency and more time for Teagan to train colleagues and help scale the business.
Sign up for a 21-day trial of HelpSpot to try our help desk and ticket management features risk-free.
7 Alternative Help Desks for Customer Service Teams
HelpSpot's ticketing software was designed for customer service teams that want a system that's simple, powerful and scalable. But, if you want to consider other options, including software with all the bells and whistles, here are seven help desk ticketing system alternatives.
1. Freshdesk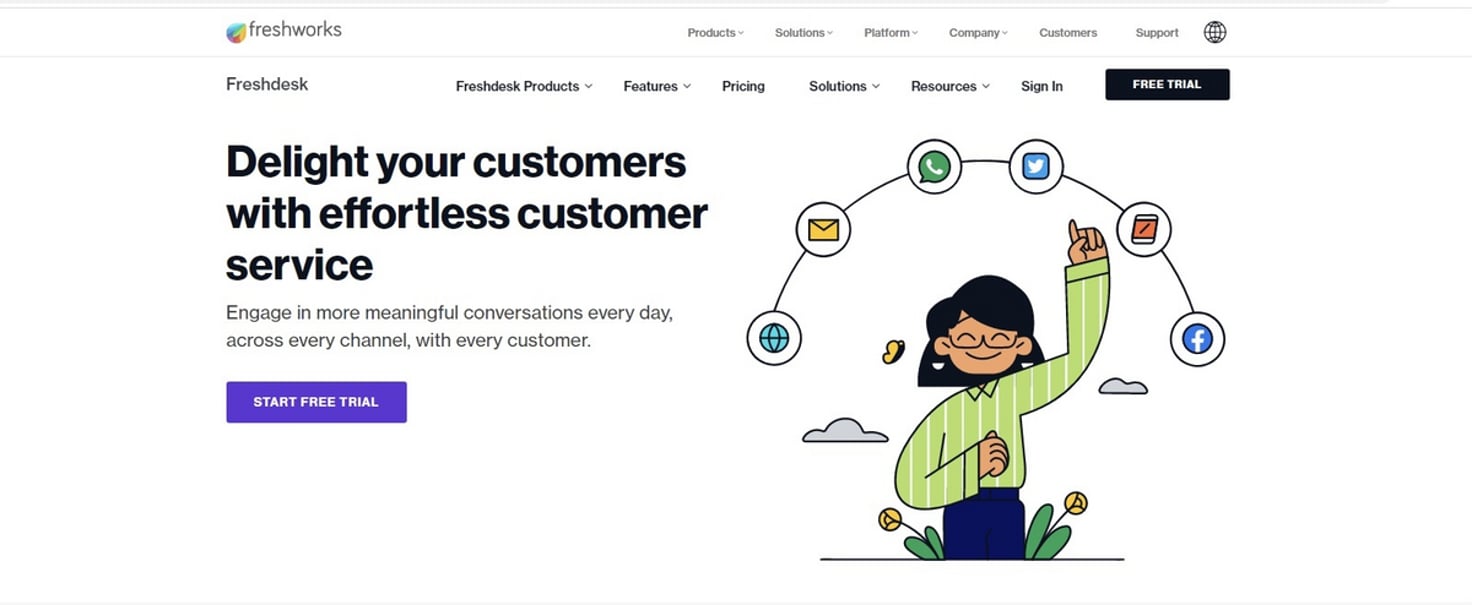 Freshdesk is a cloud-based ticketing system with a user-friendly interface. Features include chatbots, omni-channel routing, SLA (service level agreement) management, automation rules, and reporting.
Freshdesk's free plan is popular with start-ups and small businesses. However, the more useful features are divided up amongst paid plans, so most teams are required to update soon after launch. Given some of the expensive pricing, it's safe to say that Freshdesk is largely suited for enterprise-sized companies. The pricing plan is complicated and some of the features are advanced, so teams can experience a long onboarding period.
Note: If you are looking for a help desk ticketing system for your IT support team, Freshworks also offers an ITIL-ready, IT service management (ITSM) tool called Freshservice.
Read more: Freshdesk Alternatives: 9 Help Desk Software for Support Teams
2. HappyFox
HappyFox is a cloud-based help desk solution with a robust feature set, including customer satisfaction surveys, chatbots, and social media connections. HappyFox also offers a built in project management tool so is popular with businesses that need help desk software for multiple departments or teams that regularly manage complex requests.
Set-up can be time-consuming and users are capped in lower price packages. So, HappyFox is better suited to medium and large companies that want to streamline multiple service teams.
Read more: HappyFox Alternatives & Competitors: Find the Best Help Desk
3. Help Scout
Help Scout is a simpler cloud-based help desk solution that supports two native channels — email and live chat.
It's a user-friendly software with some advanced features, including knowledge management (via its chatbot widget) and automatic ticket escalation. Help Scout also offers 90+ pre-built integrations so you can connect the help desk with dozens of other software.
Help Scout caps user seats in its starter plans, so the software can become quite expensive for teams that have a lot of agents.
Read more: Help Scout Alternatives: 6 Best Help Desks for Support Teams
4. Jira Service Management
Jira is a feature-rich ITSM (IT service management) software solution that's entirely cloud-based. Advanced features include incident and change management, an IT ticketing system, and self-serve portals.
Jira's thousands of integrations enable IT support agents to connect to any external software. For example, Jira's 'Halp' tool automatically converts messages from Slack and Microsoft Teams into support tickets.
IT teams wanting a robust support ticket system with advanced features to support IT workflows may prefer Jira. However, it has a high price ticket and isn't the most simple to learn.
Read more: Jira Service Desk Alternatives for On-Premise Users (5 Tools to Try)
5. LiveAgent
LiveAgent is a customer service help desk offering multi-channel support to enterprise teams. Features include a built-in CRM and hybrid ticket stream where agents can track tickets across multiple channels.
LiveAgent has a wide feature set, consisting of 170+ native tools — and this is why we recommend LiveAgent for enterprise teams, as this help desk can feel excessive for smaller businesses that don't have the need for all of what LiveAgent offers.
That said, LiveAgent is an affordable option and its excellent client support is appealing to mid-sized companies who want to scale.
Read more: LiveAgent Alternatives: 6 Best Help Desks for Customer Support
6. Zendesk
Zendesk is one of the most popular multi-channel customer support software for growing eCommerce brands because it has dozens of "bells and whistles" beyond ticket management, like social media widgets, chat, CRM integrations, built-in reporting, and more. Plus, Zendesk regularly updates their software and features to better support your teams.
Now, all of that complexity can be seen as a pro or a con. Large teams with the budget and bandwidth for Zendesk's solution typically appreciate the built-out feature set and regular updates. But teams that just need ticket management and don't want to constantly re-train on software can find the help desk challenging to use.
Zendesk is a good option for large customer service teams who need and will use the features offered and have the budget to match.
Read more: #1 Zendesk On-Premise Alternative: HelpSpot Self-Hosted
7. Zoho Desk
Zoho Desk is a web-based help desk ticketing system that's packed with advanced features for omnichannel support. For example, a popular feature is Zoho Desk's AI chatbot called Ask Zia, which can be accessed from anywhere on their site. This bot pulls information from the knowledge base for customers chatting in, and then alerts managers when solutions are voted "unhelpful."
The biggest downside reported in reviews of Zoho Desk is that features can be hard to learn and the interface is difficult to navigate. With that, Zoho Desk may be easier for larger teams to adopt (and might not be the best option for smaller teams that don't have the resources to set aside for training).
While Zoho Desk isn't as expensive as some of the other robust help desk software on this list, pricing can still seem steep for small businesses.
Read more: Zoho Desk Alternatives | Top 8 Help Desks for Customer Service

Ready to Try HelpSpot's Customer Ticket Management System?
HelpSpot is ideal for customer service teams who want to easily manage a high volume of support tickets. You can tailor HelpSpot to suit any level of customer support and scale up to service as many brands as you wish.
Final word from The Silent Partner's Teagan West:
HelpSpot is super easy to use. It's useful for everything from customer service, to sales teams, to project management. We trust HelpSpot with our most important business communications. They're reliable, provide great service whenever we need it, and help us achieve our business objectives.
Sign up for HelpSpot's free 21-day trial to test our ticket management features and see how they support your customer service team.