When you and your team use a shared email (like Gmail or Outlook) to field customer inquiries, you end up with a disorganized inbox and a lack of clarity about who's working on what.
Email-based help desk software simplifies email support by solving the following problems:
Agents checking multiple email inboxes to respond to customer inquiries, which results in missed emails.
Agents not knowing who (if anyone) is working on a ticket, so tickets end up going unaddressed or having two or more agents responding.
Managers don't have accessible data about support inquiries, so they have to make educated guesses about your business and the customer experience.
All of these issues lead to a lot of wasted time and frustration for your team.
In this post, we discuss how an email ticketing solution can solve these problems by reviewing HelpSpot's core help desk features. We also discuss a few other popular help desk software you might have seen in your search.
We'll cover:
HelpSpot consolidates all your incoming email requests into support tickets and organizes them in a central inbox for easy response and agent management. Start a free 21-day trial.
1. HelpSpot: Simple Email Management, Support for Multiple Brands
HelpSpot's centralized inbox, individual agent queues, and customer portals empower teams to provide timely and well-organized feedback to customer support requests.
Let's take an in-depth look at HelpSpot's email management features:
One Inbox, Unlimited Email Accounts
You can connect an unlimited number of email accounts to HelpSpot's central inbox, so all your support emails are organized in one dashboard.
Once connected, you and your team can see custom views of the centralized inbox using filters. For example, you can see all your ticket escalations, making it easy to respond to the highest priority customer issues. Or you can use multi-brand support to organize your inbox by each department and company brand, and customize team inboxes with unique branding elements.
Agent Workspaces & Single Assignments
All your support tickets are found in the central inbox until they're assigned to a specific agent, then it's routed to the agent's queue.
Only one agent is assigned to a ticket at a time, or the ticket will be marked as unassigned. This makes it easy for staff to see all the new tickets and eliminates confusion about who's working on what.
You can also use automation rules to instantly assign tickets to support agents upon creation. For example, you can assign all new tickets in one category, like a feature request ticket, to a specific agent, such as your product manager. Or you can use round-robin ticket routing so email requests are equally distributed to team members over time.
As you add more users to your HelpSpot instance, collision detection prevents your team from doing duplicate work by showing you if other team members are currently viewing the same ticket.
Ticket Interface with Saved Replies and Email Templates
From HelpSpot's ticket interface, your team has everything they need to:
View customer information from previous tickets or find them in your other company software, like your CRM, using Live Lookup.
Pin relevant information at the top of the ticket, like detailed instructions for other agents.
Merge two (or more) tickets into one.
Knowledge Base & Customer Portals
A knowledge base is an internal book of important company procedures. Building out a knowledge base with troubleshooting docs for your team lowers response times since agents can quickly find answers to customer questions. HelpSpot's help desk knowledge base offers a simple way for your team to create articles and store them in an intuitive book format so they're easy to find.
You can also make your articles customer-facing and let them solve their issues on their own, by adding them to your customer portal. It takes a matter of minutes for you to launch a self-service portal in HelpSpot, where end-users can:
Read FAQs and help articles to common questions, reducing your overall ticket volume.
Submit a new ticket with the necessary information upfront, simplifying your agents' workflow. 
Check the status of a ticket and get an update without having to contact you, increasing customer satisfaction.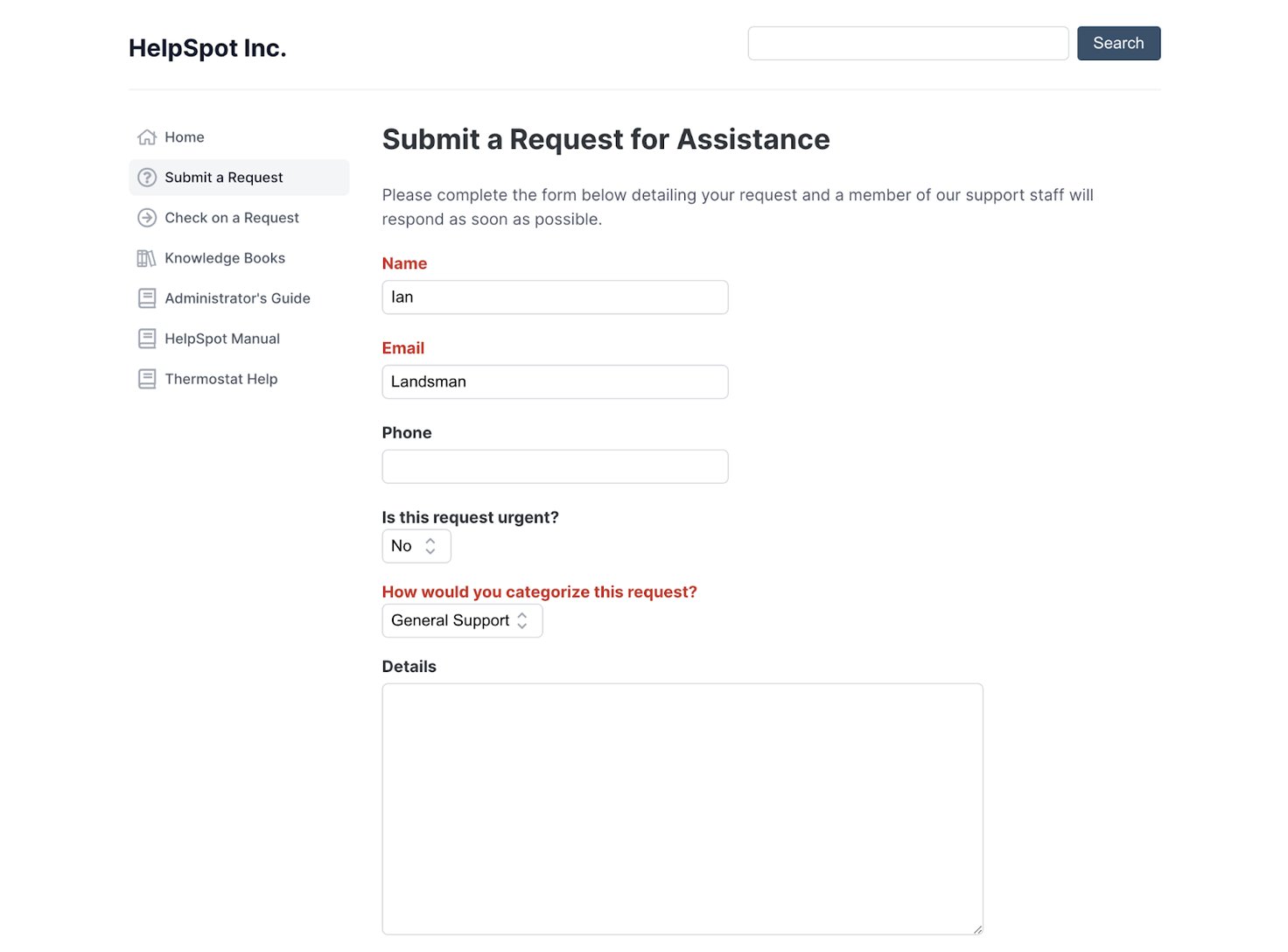 Multi-Brand Support
Multi-brand support gives each brand or department in your company its own support inbox, customer portal, and knowledge base, with custom branding.
This feature lets enterprise companies provide a unique customer experience for each brand and department, without cluttering the centralized inbox. Some teams using HelpSpot support over 500 different brands with multi-brand support.
One way teams use multi-brand support is to create a brand for your IT support team (to handle technical service requests) and one channel for your customer support team (to handle product questions).
Read more: Multi-Brand Help Desk: Manage All of Your Brands with HelpSpot
Help Desk Reporting
HelpSpot has an intuitive reporting dashboard so you can easily see the number of new support requests. Our customer service reports are completely customizable, so you can dig into data any which way using filters. We also provide preset reports for key KPIs, so you can quickly see metrics like time to close and time to first response.
We believe easily accessible data is fundamental to business, so our reporting is in clear graphs that all agents can dig into. We also have an open-source API, so you can connect HelpSpot with other reporting or data visualization tools you use to consolidate information.
See how HelpSpot's real-time reporting and streamlined email ticket management system simplify your shared inbox with a free 21-day trial.
2. Zoho Desk
Zoho Desk offers a cloud-based email ticketing system alongside a marketing and sales platform. Zoho Desk customers positively reviewed the system's intuitive design and quick setup but also mentioned a long learning curve.
Their email help desk tool comes with reporting, team collaboration tools, sentiment analysis of your tickets, a chatbot to have customer conversations on your website, and iOS and Android apps so you can receive notifications out of the office.
Due to its advanced functionality, Zoho Desk is a better option for teams that are looking for a little more than just email management.
Read more: Zoho Desk Alternatives | Top 8 Help Desks for Customer Service
3. Freshdesk
Freshdesk is the dedicated email help desk inside the Freshworks software suite. It's a cloud-based email ticketing software and comes with omnichannel support and customer call center tracking.
Freshdesk offers ticketing, collaboration, and automation tools to do things like respond to customer emails, create agent assignments, set SLA deadlines, and engage customers with a chatbot.
Freshdesk is a lot more than an email help desk, their software ecosystem also comes with an HR platform, sales funnel, and marketing tool. This makes Freshdesk a solid option for enterprise companies looking for more than a help desk — but also demands companies have the resources to set up a large platform and afford extra add-ons.
Read more: Freshdesk Alternatives: 9 Help Desk Software for Support Teams
4. Zendesk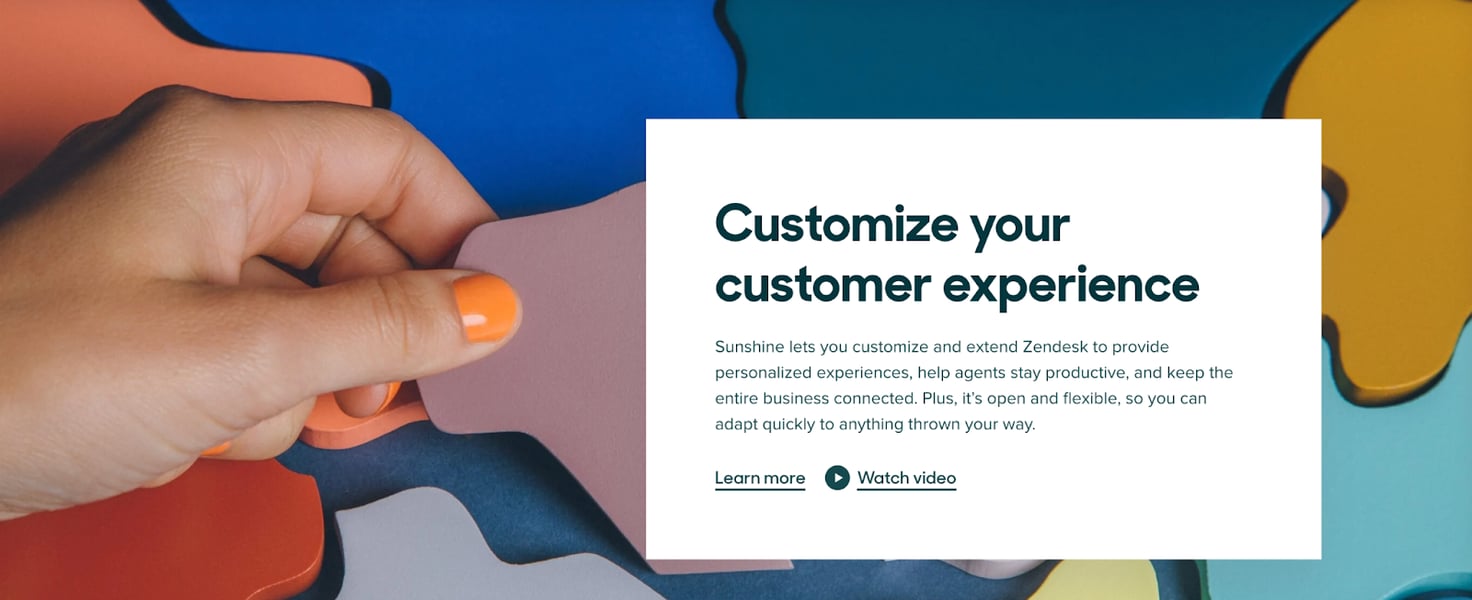 Zendesk is a robust customer support software; they provide a cloud-based help desk with email integration, IT help desk features, mobile apps, and a CRM to track sales leads.
Their help desk solution comes with multi-channel support (email, social media, phone support, and chat messaging), a help center, a community forum, and an AI-powered chatbot. With so many features, Zendesk users will get a lot of freedom to customize the platform during setup.
Zendesk is the largest help desk ticketing system on the market, and may not be the best help desk for small customer service teams, but will benefit a large enterprise that can take advantage of its advanced features and integrations.
Read more: Zendesk Alternatives: 6 of the Best Help Desk Competitors
5. Jira Service Desk

Initially built for software development teams to track bugs, Jira Service Desk now offers an IT service management (ITSM) help desk software. Jira comes with customer request support for email, bug tracking, IT asset management, project management, and a knowledge base platform.
Overall, Jira is recommended for companies that need all of the extra software available in the ITSM ecosystem, or for teams who want to sync their help desk with other IT tools in their tech stack. However, this also means it may not be the best for small businesses looking specifically for email help desk features.
Read more: Jira Service Desk Alternatives for On-Premise Users (5 Tools to Try)
Try HelpSpot's Email-Based Help Desk Software for Free
HelpSpot is notably different from most help desk vendors because our platform is designed with a focus on solving the problems of using a shared inbox: missed emails, disorganization, and confusion about who's working on what.
HelpSpot only charges a single fixed price based on the number of seats you need, so you don't have to worry about working around other tools or being pigeonholed into upgrading your platform. (Then, if you want to build out HelpSpot by connecting it with other tools, we'll help you set up integrations and tailor your help desk to your team workflows.)
Try HelpSpot's free 21-day trial to add your email accounts and streamline all your customer queries into one easy-to-use email ticketing system.