There are two types of IT help desk solutions:
Email help desk software that comes with a shared inbox to organize, assign, and respond to tickets.

IT service management software (ITSM) that offers email management features but also comes with network monitoring solutions or change management systems to manage the entire IT infrastructure.
To decide between the two, think about the pains you're trying to solve and what features you want in a help desk system. ITSM software appeals to teams that need a more robust help desk with advanced functionalities (like network monitoring, change management, or incident management). However, if you just want an email management solution and don't need any of the extra features in an ITSM system, then you should choose an email-based help desk like HelpSpot.
HelpSpot is our help desk software that's completely customizable via API and Zapier integrations. This way, you can use help desk tools like central inbox and agent queues to manage IT support tickets, then connect HelpSpot to other tools in your workflows, like asset management software or network monitoring tools, and push data between systems.
In this article, we'll share how IT teams can use HelpSpot's email and team management features to organize and track support requests. Finally, we'll also review three ITSM options if you want a solution with features beyond ticket management.
With HelpSpot's ticketing system, IT teams can easily connect to any tools in their tech stack and work together to resolve tickets smoothly. Sign up for a free 21-day trial and test our email to ticket system.
HelpSpot: Our Help Desk Features to Manage IT Service Requests
Our help desk software, HelpSpot, is the best fit for IT teams who manage technical support via email because we provide core inbox management and productivity features that let you:
Consolidate and organize IT requests from multiple inboxes.
Quickly refer to knowledge docs while resolving complex queries (and also attach them in email replies).
Work together within the ticket and avoid duplicate responses.
Automate ticket assignments and other repetitive tasks.
Monitor agent performance and check whether customers are satisfied with your support service.
Integrate HelpSpot with incident management systems, project management tools, change management solutions, etc., so you can exchange data between systems and track data for reporting.
At HelpSpot, we're constantly updating our software, and we have more features for IT teams slated for release. (Stay tuned!)
Our software comes in two versions: cloud and self-hosted. Both versions are built with the same feature sets. We also offer iOS and Android mobile apps for both versions, so field and remote teams can track tickets from any location or device.
HelpSpot's pricing is simple: Select a package by choosing how many seats you need. Every agent has full feature access, and access to our support team without extra fees. Plus, help desk's can be easily customized.
Let's take a detailed look at how HelpSpot lets you manage tickets, speeds up workflows, and enables collaboration.
Team Inbox with Multi-Brand Support & Custom Fields
Most IT teams have requests coming in from both internal staff and customers. This is why it's common for many IT teams to field support requests from multiple email accounts. Managing several different inboxes can be messy — requiring service agents go from one account to another to resolve queries.
HelpSpot lets you connect to multiple email accounts and handle requests from different inboxes in one place. Further, with our APIs, you can integrate HelpSpot with other software (like chatbots, call center systems, or social media widgets) to get a unified view of all support requests.
Our ticketing software converts all IT requests from connected channels (emails, phone calls, SMS, etc.) into tickets. These tickets are then put into a central inbox, so there's a clear view of all incoming emails — and no conversations fall through the cracks.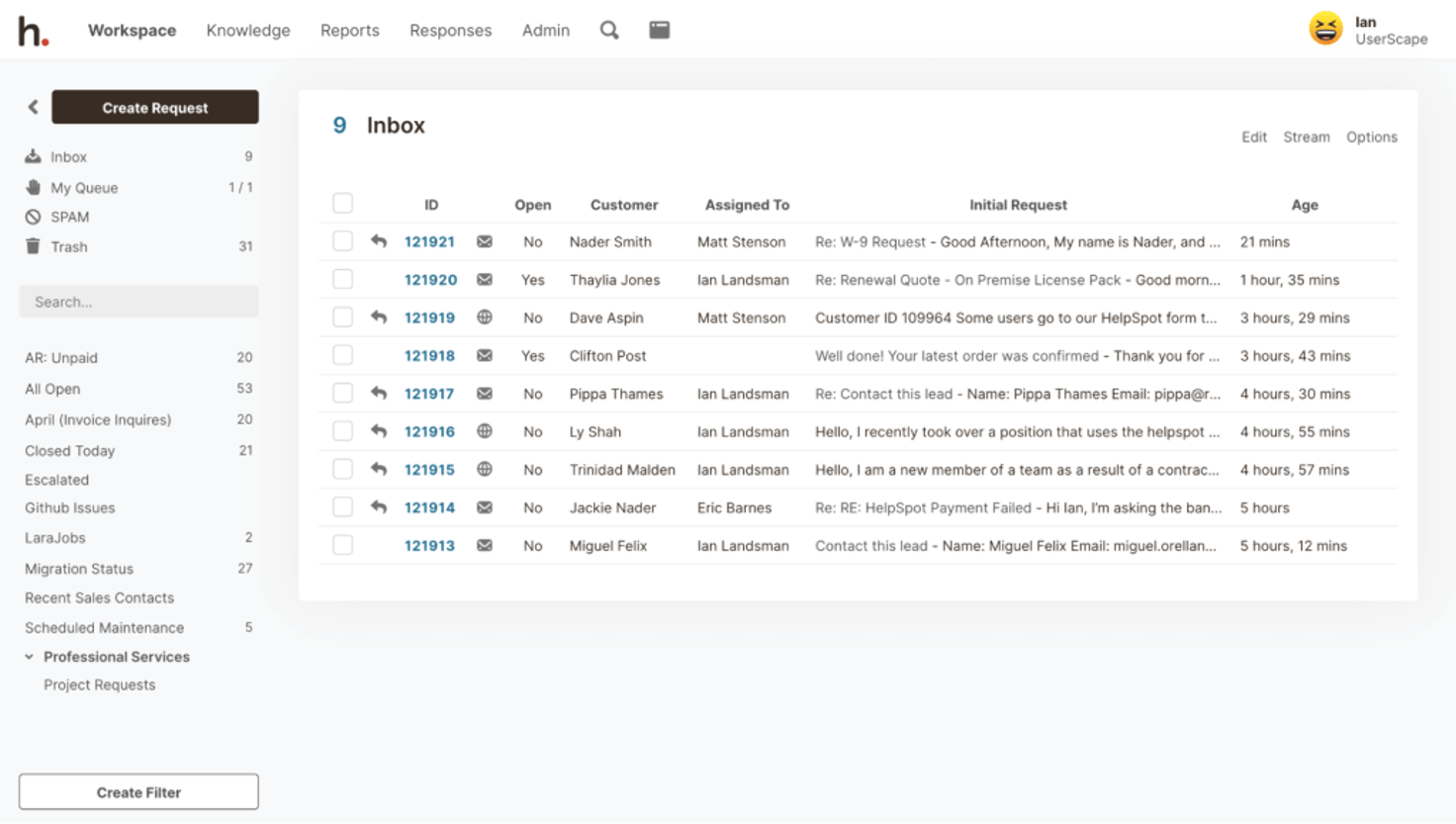 You can also use HelpSpot's multi-brand support feature to create dedicated team inboxes, knowledge bases, and customer portals for each department or brand you manage. For example, an IT organization can create unique dashboards to separate requests from co-workers and customers.
Explore more about our multi-brand help desk in this post: Multi-Brand Help Desk: Manage All of Your Brands with HelpSpot
Custom Fields
Our help desk platform lets you create custom fields to collect ticket-specific info from the requester. You can choose from many custom field options (e.g., date and time, number, decimal, drill-down, or check-box).
For example, a hardware request type can have custom fields like "estimated cost" or "model number." Or, a monthly printer ink request type can have custom fields like:
No. of cartridges required.
Device number.
Colors required, etc.
Custom fields not only allow you to store additional data on each request but also lets you track and use all of this data in help desk reports.
Read more: The #1 Best Way to Manage a Shared Inbox
Agent Queues & Staff Collaboration Tools
From the central inbox, team members can scan emails and assign tickets to themselves.
From there, our help desk ticketing software moves the tickets from the team inbox to the agent's personal queue. This removes confusion by clarifying who is working on which ticket and which tickets are still unassigned. Plus, every agent can see tickets they are currently working on and quickly respond to new tickets from their queues, so no tickets are missed.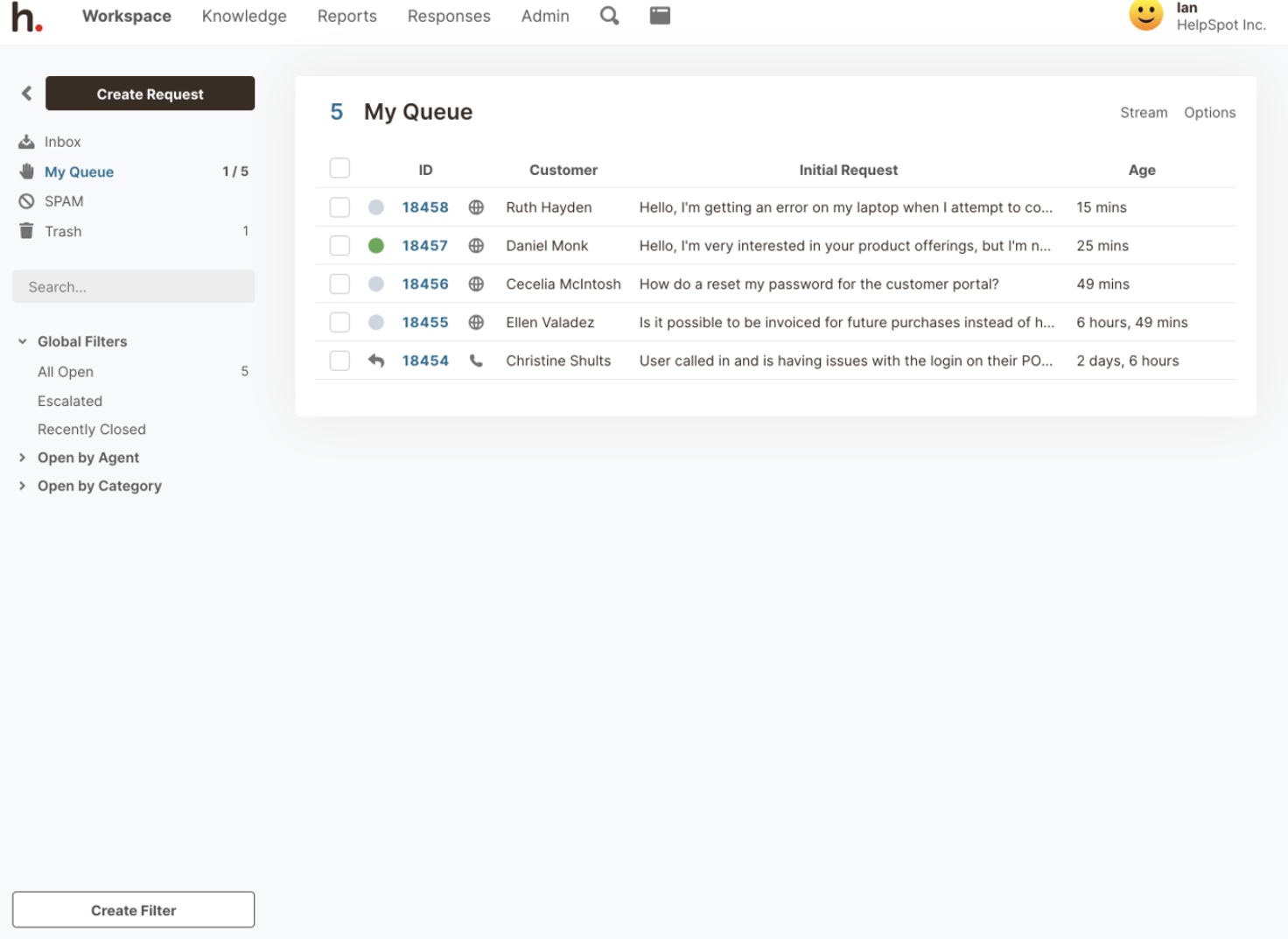 Agent queues also let agents take several actions that help in faster response times. For example, they can send batch replies to common IT requests, merge similar tickets, or reassign tickets to another staff member.
Private Notes & Agent Collision Alerts
To streamline collaboration within the ticket and avoid miscommunications, we offer internal notes and collision detection.
Internal notes let agents exchange troubleshooting notes within the ticket. This saves time because agents don't have to leave the ticket interface and jump on external messaging apps or email threads to discuss issues.
All conversation history is saved on the ticket. So, if another agent takes up the ticket, they can go through the notes and quickly see what was previously done to attempt to resolve the issue. Help desk managers can also access the comment history and get insights into how agents respond to queries.
Within the notes, we also allow teams to tag other members or departments so they can ask for help and solve requests together. For example, an IT agent solving a laptop issue can tag the purchasing department to get more info on the laptop's date of purchase, model number, etc.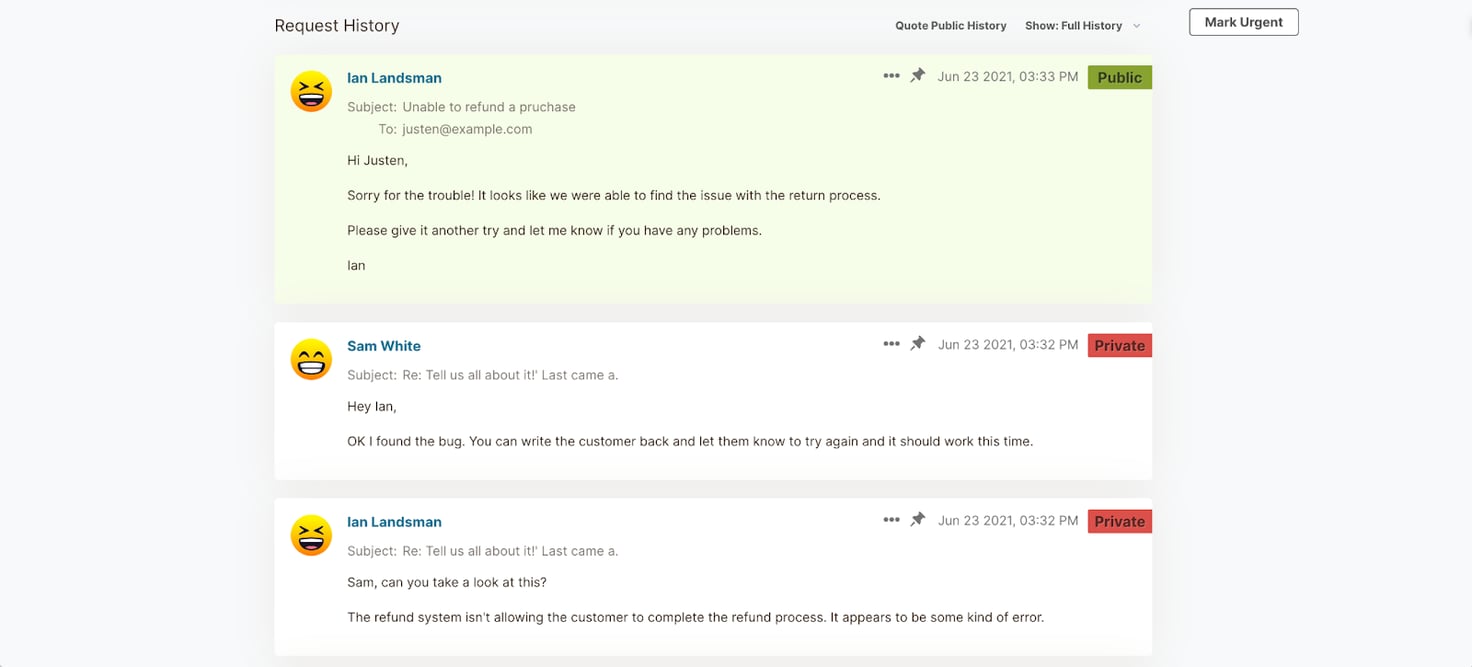 Conflict detection prevents multiple agents from replying to the same ticket with a real-time notification (shown below as a red-colored bar on the top right corner of the ticket). This helps avoid duplicate replies and makes collaboration easy even when you're not in the same office.
Internal Knowledge Base, Customer Portals, & Other Time-Saving Tools
With HelpSpot's help desk tool, you can create a native knowledge base, self-service portals, saved replies, and automated triggers that ease the support load of your agents and let them get back to customers faster.

Knowledge Management
With HelpSpot's knowledge base, you can store helpful FAQs and troubleshooting docs (e.g. 'How to restore network connection?') in an accessible library. Agents can refer to these articles on their own without having to loop in another co-worker.
Read more: 5 Top Help Desk Knowledge Base Software: Buyer's Guide
Self-Service Options
You can also publish knowledge base articles on a self-service portal for customers. For example, a SaaS product company can publish solution docs for common user issues like debugging or app crashes. This way, end-users can troubleshoot problems independently, reducing the number of tickets your team receives.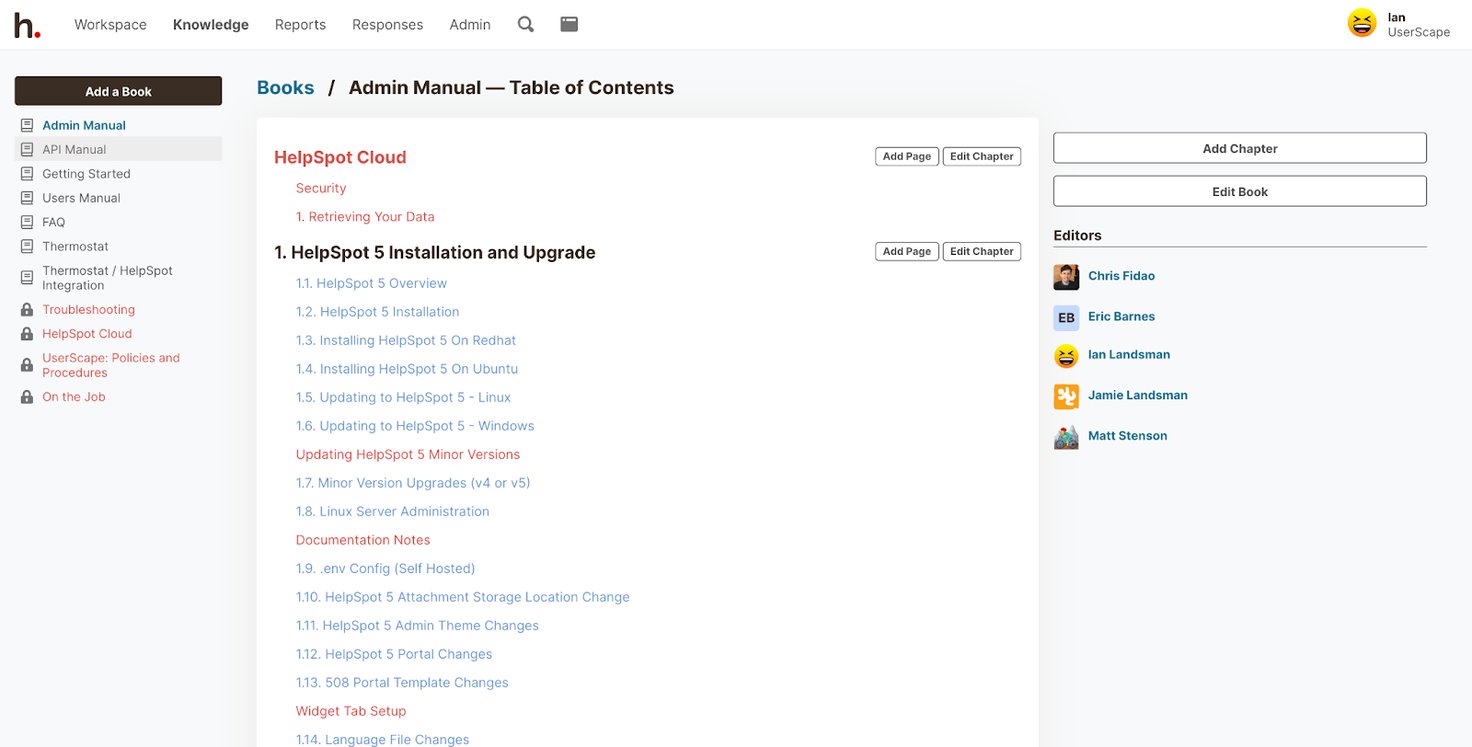 Customer portals also let requesters raise a support ticket and check on the status of their request via contact forms. End-users can then receive updates on their own without having to send follow-up emails to your agents.
In addition, HelpSpot tracks the topics your users are searching for and which ones provide zero results. This data lets you gauge which articles your users find most useful and what additional content you need to add to the portal.
Email Templates & Canned Replies
HelpSpot lets agents store pre-written answers to common questions; this saves a lot of time because it prevents agents from drafting the same replies again and again for frequently occurring issues.
For example, agents can create email templates on password resets, hardware problems (laptop shutting down often), or login issues, and quickly pull these into their email replies.
Email templates also allow agents to improve their response time, field more requests, and ensure all replies are consistent and error-free. Then, to make emails look more personal and unique, agents can sign off the emails with their customized signatures.
Automation Rules & Triggers
IT teams can use HelpSpot's automation and triggers to complete repetitive tasks with if/then rules. You can automate tasks like ticket routing, SLA management, and ticket escalation.
For example, you can set a trigger that all emails related to server crashes are automatically routed to the server expert on the team.
You can also train HelpSpot to set reminders for tasks like weekly router checks or renewal of software licenses.
Many IT teams also use HelpSpot's rules to manage SLAs and escalations. For example, suppose you have a policy that every ticket should get a response within 12 hours. HelpSpot's automation can escalate tickets and notify you of all the tickets that have gone 8 hours without a reply.
Real-Time Reports & Analytics
With Helpspot's reporting feature, you can track ticket and agent-based metrics like average response time, average resolution time, and requests over time. You can also get data on customer experiences with customer satisfaction surveys, a.k.a CSATs.
HelpSpot creates reports in pre-defined templates, but our reports are completely customizable, so you can filter data by different teams, departments, agents, and time frames.
With help desk reporting data, you can understand your support operations and take data-backed decisions to improve metrics. For example, if the average resolution time for bug-related issues is high, you can decide to create more email templates or knowledge base articles, or offer extra staff training.
You can download these reports in CSV format and manipulate the data further in Excel. HelpSpot also comes with unlimited report sharing. Just schedule the frequency of the report (e.g., weekly or monthly), and HelpSpot will automatically email it to key team members like IT managers or admins, ensuring everyone is looking at the same metrics.
Read more: The Complete Guide to Customer Service Reporting
Security & Pricing
We prioritize security with our built-in authentication, where every agent gets their own username, password, and two-factor authentication. This keeps customer and employee data safe against any external threats. However, if you want to skip the built-in authentication, you can choose single sign-on or Black Box to authenticate against any source.
HelpSpot also lets you create permission groups where you can decide which feature each user can access. For example, you can allow an IT manager to create, edit, or delete knowledge books but let an agent only view the books.
Our pricing plan is based on the number of seats you want to book, where every agent gets access to all of HelpSpot's features. We skip the extra bells and whistles, so there are no extra charges, and we don't charge for customization or support, either. This makes it easy to upgrade when you want to add more users to the team without worrying about paying for features you don't need.
To explore HelpSpot's central inbox, reporting tools, and integrations, sign up for a free 21-day trial.
3 Alternative Help Desks for IT
In the next section, we review three other service desk options for IT teams. In addition to helping teams organize support tickets, these software solutions also offer asset management, project management, change management, and other advanced ITSM features for teams who want to manage their complete behind-the-scenes IT operations.
Jira Service Management
Jira Service Management started as a bug and issue tracker by Atlassian and later got relaunched as a full-fledged ITSM solution. Jira had an on-premise version which they rolled back, and now it's entirely cloud-based with help desk features like request queues, self-service portals, an internal knowledge base, and reporting dashboard. It also has advanced functionalities like incident management, change management, and problem management, so teams who want email management features plus the extras can benefit from these.
With thousands of integrations, you can connect Jira to any external tool to simplify your workflows. For example, IT support agents receiving help requests from employees on Slack and MS Teams can use Jira's tool 'Halp', which automatically converts these messages into tickets.
Though Jira is a preferred option amongst enterprises because of all the additional IT management functionalities, Jira's robustness makes the learning curve too steep for many small organizations. In fact, one reviewer shared that their team took hundreds of hours of preparation and troubleshooting to get started with Jira. Also, many users find Jira's service desk software expensive compared to other competitors.
ManageEngine ServiceDesk Plus
ManageEngine ServiceDesk Plus is an IT help desk by Zoho with both on-premise and cloud offerings. The standard plan offers help desk features like a knowledge base, customer portals, reports, and SLA management.
However, most ITSM-specific features like asset management, change management, and project management are available only in Pro and Enterprise plans. So, only enterprise IT teams with large budgets can opt for ManageEngine's service desk.
Plus, ManageEngine is based on ITIL principles. Users suggest that only teams who are adept and have previous knowledge of ITIL can work well with ManageEngine. Reviewers also comment that their help desk system is glitchy, the interface is confusing, and the help desk support team can be hard to get a hold of.
Read more: 7 Best ManageEngine ServiceDesk Plus Alternatives & Competitors
Freshservice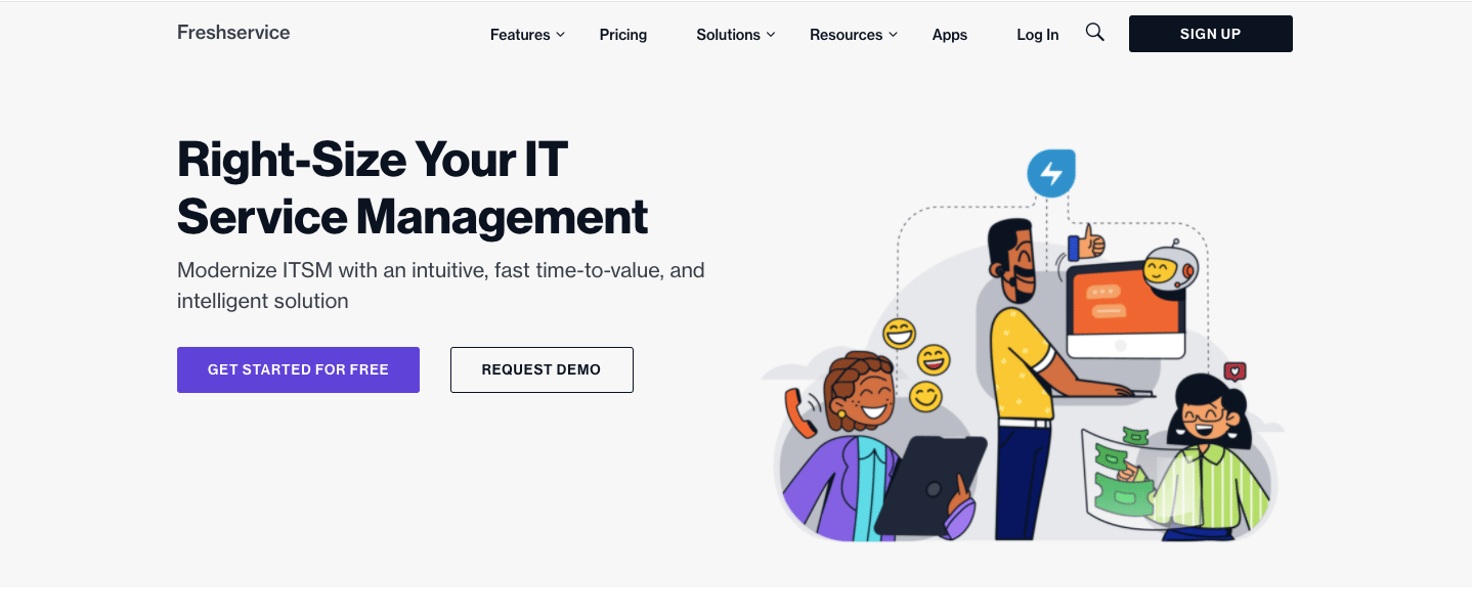 Freshservice is a help desk solution by Freshworks that comes with service management features like agent assignment, chatbots, SLA management, automation, knowledge management, reporting tools, and canned responses. It also has built-in incident management, problem management, and change management functionalities.
Freshservice offers a free plan with basic email management features, which can be beneficial for small IT teams who just want to organize and manage tickets. Besides this, they have four different pricing plans with IT-specific features, so IT teams who want ITSM features can choose the plan that suits their workflows.
Though Freshservice is populated with many features, reviewers share that Freshservice is easy-to-use, and its UI is modern. However, some users complain that there's not sufficient documentation to train new agents in the workings of the service desk. Plus, some reviewers also share that their search feature makes it difficult to find info from older tickets.
Note: Freshworks also offers another help desk option, Freshdesk, geared more towards customer service teams who provide omnichannel support.
Read more: Freshdesk Alternatives: 9 Help Desk Software for Support Teams
Try HelpSpot's IT Service Desk Free for 21-Days
HelpSpot can be a great fit for IT teams who want a help desk to organize and track support tickets. That's because we prioritize only the core ticket management features like central inbox, agent queues, private notes, and automation. However, teams can use our integrations to customize the help desk set up the way they want without paying for or learning complex ITSM features. This lets agents get up and running in an afternoon, with zero to minimal training.
Sign up for a free 21-day trial to test our ticket and team management features and see how they support your workflows.