Healthcare companies benefit from help desk software because it solves many of the pains of working in a basic email platform — like Gmail or Microsoft Outlook — including security risks, disorganization, missed tickets, and wasted time.
However, it can be difficult for healthcare teams to find the best help desk software because most help desks are typically cloud-based and include tools built for IT support or customer service. These can lead to two potential drawbacks for healthcare teams:
Added security risks. Many help desk tools don't offer on-premise software. And integrating cloud-based software is a major concern for healthcare facilities that need to maintain HIPAA (i.e. be in control of their data at all times).
Costly & unnecessary services. Most service desks come with expensive add-ons — like social media integration or built-in CMS — that are not useful and can make it more difficult for your team to learn how to use the software.
Although these potential drawbacks could be a deterrent for healthcare teams, there are help desk solutions that help your team manage shared inboxes and keep your data completely secure, without bombarding you with unnecessary and costly features.
In this article, we cover the 7 most beneficial help desk tools for healthcare companies. Then, we take a detailed look at how our email management system, HelpSpot, provides the right features and security options for your healthcare facility to improve support operations and maintain compliance.
Want to simplify email management without breaking the bank or jeopardizing your healthcare company's security? Reach out to our team and see how HelpSpot can help you manage team emails and work with other tools in your tech stack. Get started with our free 21-day trial.
7 Must-Have Help Desk Features for Healthcare
#1. On-premise software: The most important feature for healthcare facilities looking to connect a help desk to their tech stack is security. Unfortunately, many help desk solutions only offer cloud-based solutions that both pose additional security risks and make it impossible for clients to have complete control of their data. That is why on-premise options are highly desired and, in most cases, mandatory with healthcare teams' help desks. Self-hosted help desk software gives healthcare companies the option to run their help desk on private servers behind their own firewall, both online or offline.
#2. Open-source API: This lets you easily connect HelpSpot to any operational/compliance management software, like MedTrainer and Relias, billing software like PracticeSuite and Kareo, or any other external apps in your team's tech stack.
#3. Multi-brand support: With multi-brand support, you can connect as many emails as you need (such as a customer support email and an IT email). You can also organize and segment tickets by department — or separate internal and external emails — to ensure each request is being received by the appropriate agent.
#4. Custom fields: Healthcare teams can use custom fields to segment important data — like patient file information or yearly check-up reminders. For example, a mental health facility with locations in both Boston and New York can use custom fields to separate data by physical location so that each facility is only getting requests for their facility.
#5. Internal notes: An internal note feature lets agents communicate with each other within a ticket to create a breadcrumb of important information and store it directly on the request.

Read more: The Best Team Inbox Management Solution
#6. Automation rules and triggers: This lets you perform many of the tedious tasks performed regularly in a healthcare setting — like notifying the appropriate department/staff member when a request has been received or requires attention.
#7. Pay per agent pricing: Most help desks sell their product in tiered pricing plans that force you to upgrade entire software packages just for adding a new agent. Pay per agent pricing allows you to add and pay for agents one at a time as needed, saving you a lot of money.
HelpSpot: The Best Help Desk for Healthcare Organizations
What makes HelpSpot the perfect help desk for healthcare teams is that it gives you the ability to easily track and manage all of your emails through an easy-to-use portal without breaking your bank. And, more importantly, it gives you complete control over the storage of your data.
With HelpSpot, you get:
On-premise software options so you can run HelpSpot on private servers, maintain HIPAA compliance, and keep your data safe.
A built-in authentication system to further strengthen portal security.
Open-sourced APIs & Zapier connections to integrate with any application in your tech stack.
Multi-brand support to separate your emails by branch or department.
Below, we'll take a closer look at each of these features and their benefits.
On-Premise Software
Our on-premise software — a feature not available with most help desk solutions — does what other help desks can't by giving you complete control over the installation and security of your software.
Our on-premise software gives you the option to:
Use your own servers or private cloud.
Connect to internal systems not exposed over the internet.
Have full access to your database and reporting systems.
Control when updates are applied.
Healthcare facilities can customize their self-hosted solution to meet any regulatory bodies' standards, and teams that can't store data with outside parties can still run HelpSpot securely offline and behind their firewalls.
Our on-premise software comes standard and at no extra cost to you. What's more, HelpSpot provides preset installers for Microsoft Windows and Linux. So, deploying the on-premise software is simple and, in most cases, takes less than an hour.
Click here to read about our server requirements.
Built-In Authentication System
For added data security, HelpSpot offers a built-in authentication system that is actively tested with Office365/Azure and Google Suites. However, if you need single sign-on (SSO) support, HelpSpot can connect to any SAML-based authentication system.
Open-Source APIs & Zapier Connection
Speaking of integration, HelpSpot works through open-source APIs or a Zapier connection. This allows healthcare teams to connect our software with patient data systems, project management tools, employee training and certification software, or any other applications currently in their tech stack.
Multi-Brand Support
With HelpSpot, you can segment all of your connected email inboxes to create dedicated portals for each department in your company. Our multi-brand help desk features keep you organized and ensure that each ticket is being received by the right department.
So, any emails regarding a patient's bill can be directly delivered to the accounts receivable department portal, or an internal email dealing with employee conduct will be sent to your human resources team portal.
Using HelpSpot's fully customizable portal, you can also categorize emails by importance or urgency. By creating multi-level escalation fields, you can prioritize emails and ensure the right agents are receiving and addressing high-priority tickets in a timely manner.
Since HelpSpot doesn't flood its dashboard with extra add-ons (like many of its competitors), adoption of the software is quick, and its intuitive features make onboarding our solution into your team operations a breeze.
Let's take a closer look at some other HelpSpot features that will increase team collaboration and productivity as well as improve the overall operations of your healthcare facility, including:
Centralized Inbox & Agent Queues to Improve Ticket Management
As we discussed earlier, using multiple standard email inboxes creates disorganization, and with multiple staff members sharing a password, it becomes a huge security liability.
That is why HelpSpot's Shared Inbox is so important, because:
It provides each employee with their own dashboard and personalized password to use.
It lets you connect all your facility's mailboxes on one platform — whether it's one or a hundred mailboxes — giving you a unified view of every request.
Outside of security, another critical need for your data storage is keeping it organized.
Healthcare organizations with multiple locations cannot separate a patient's data by the facility they visit using standard email inboxes. HelpSpot solves this pain point with custom fields that categorize and store all your important information by location, department, agent, patient contact information, or any other criteria you wish.
Custom filters let you organize and segment tickets by email inbox, department, team member, or any other desired criteria. So, an incoming email regarding a patient's bill will be stored in your "billing" inbox, or an internal email about employee conduct can be siphoned to your "HR" inbox.
Staff can quickly scan the customized inboxes and assign themselves (or others) tickets.
HelpSpot automatically transfers assigned tickets into the "My Queue" for each agent, so they can easily see what they are working on or what requests still need attention.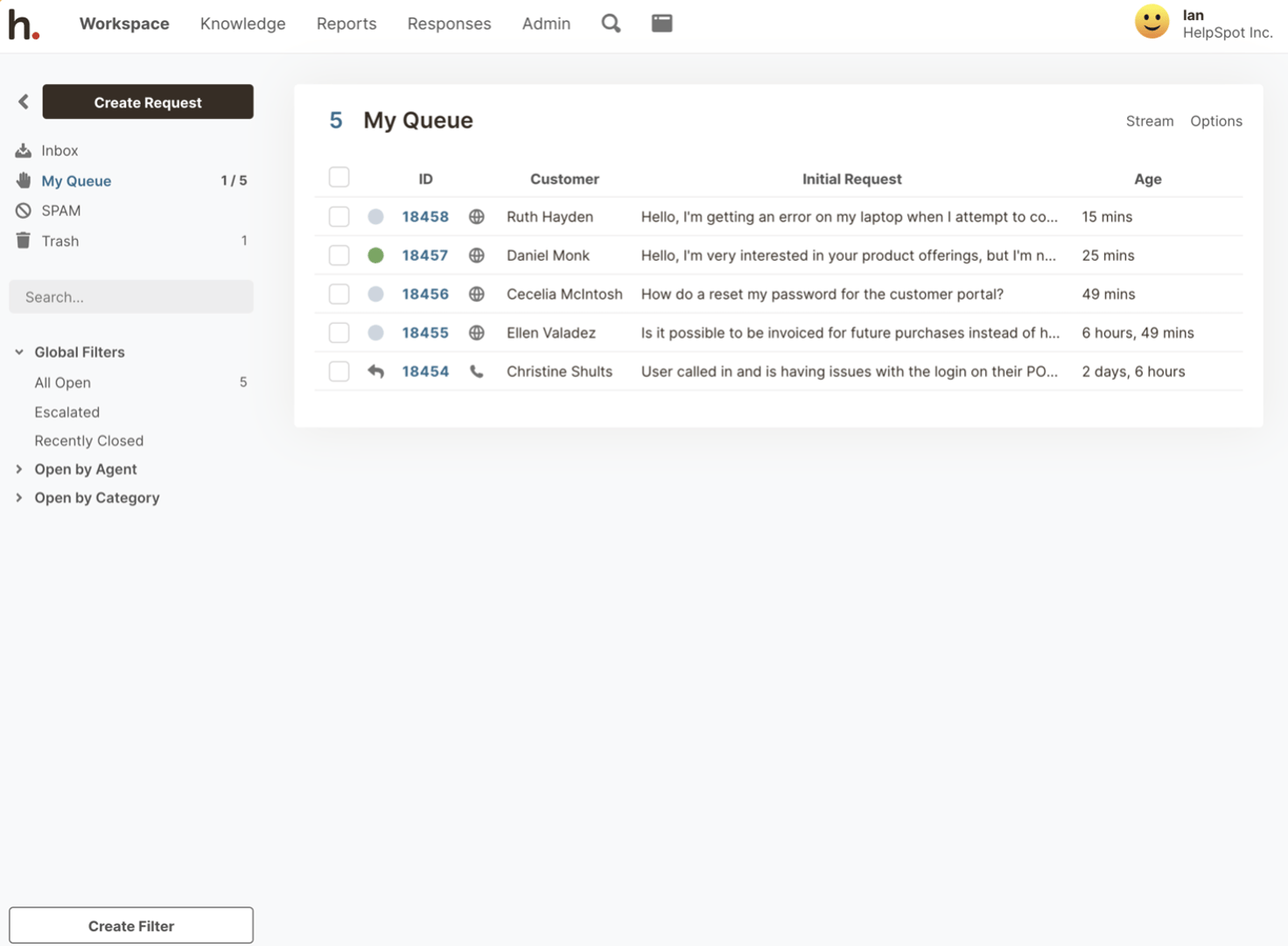 HelpSpot's email help desk software also provides multiple collaborative tools to simplify ticket management and promote better team communication:
Our internal notes allow agents to communicate with one another within a ticket and improve shared inbox management. All notes are saved in the ticket history, creating documented breadcrumbs of all the information being shared.

This feature is crucial for HR managers in healthcare facilities that email various documents daily that need to be filled out and returned by employees. The HR manager can provide further instructions to any paperwork or field any questions by an employee directly on the ticket.

As a bonus, HelpSpot's internal notes organically hinder departmental/agent silos and lessen security risks by reducing the need to use external communication applications.

Click here to learn more about help desk software for HR.
Save time and avoid duplicate responses with our collision detection tool that alerts agents when there is more than one of them viewing a ticket at any time. Each employee in the ticket is also notified of any edits, notes, or changes made in any of the ticket's fields.
Save time by creating a library of saved email templates. Your team can instantly pull a template and use it to quickly respond to tickets. Each template can be customized to fit different recipients — including custom branding for patient-facing emails — and HelpSpot's email templating tool lets agents quickly modify template designs to coincide with any corresponding department.    
Knowledge Base to Increase Productivity & Provide Better Support for Patients
HelpSpot takes your team's productivity and patient care to the next level with several advanced features that come standard with our help desk ticketing system.
HelpSpot's knowledge base lets you store articles and FAQs on your portal and can be created for each department's portal. Our help desk knowledge base software saves your teams' time by not having to reach out to members of their team or employees in other departments for guidance.
For example, a health facility's IT support team's knowledge base can store articles for other departments on how to troubleshoot different applications in their tech stack before reaching out to IT. In contrast, an HR's knowledge base can include FAQs to help their own team members with issues like how to perform employee assessments or handle exit interviews.
You can also publish articles from your knowledge base to a patient-facing self-service portal to provide relevant articles and FAQs to your end-users.
Patients can search for solutions on how to pay a bill or which health insurances are accepted at your facility — significantly reducing the workload of your departments' support teams.
Automation Rules to Improve Support Operations
Automation rules and triggers save you time by automatically performing many of the repetitive tasks that healthcare teams deal with daily/weekly/monthly.
For example, all healthcare providers want to ensure they comply with constantly changing regulatory standards. You can make sure all of your departments are up-to-speed with compliance changes by creating triggers that detect certain words or phrases like "compliance, "regulatory standards," or "HIPAA" in emails, and then escalate and assign those tickets to the appropriate member of your staff.
Performance Metrics to Understand Staff & Patient Needs
Not only does HelpSpot provide features that instantly increase work efficiency and simplify email management, but it also gives you tools — like built-in reporting and CSAT surveys — to monitor and improve both your operations and patients' experience.
HelpSpot's built-in reporting functionality tracks numerous performance metrics to better manage team workload, agent productivity, and other staff/patient issues. Each metric can be customized for any timeframe or department in your facility.
Suppose there was an uptick in staff requests (i.e. employee sick leave requests, HR documentation approval, IT support) during the early stages of the pandemic. In that case, you can not only track any of that data in real-time, but HelpSpot also lets you isolate the data to track things like requests per person and resolution speeds specific to that timeframe.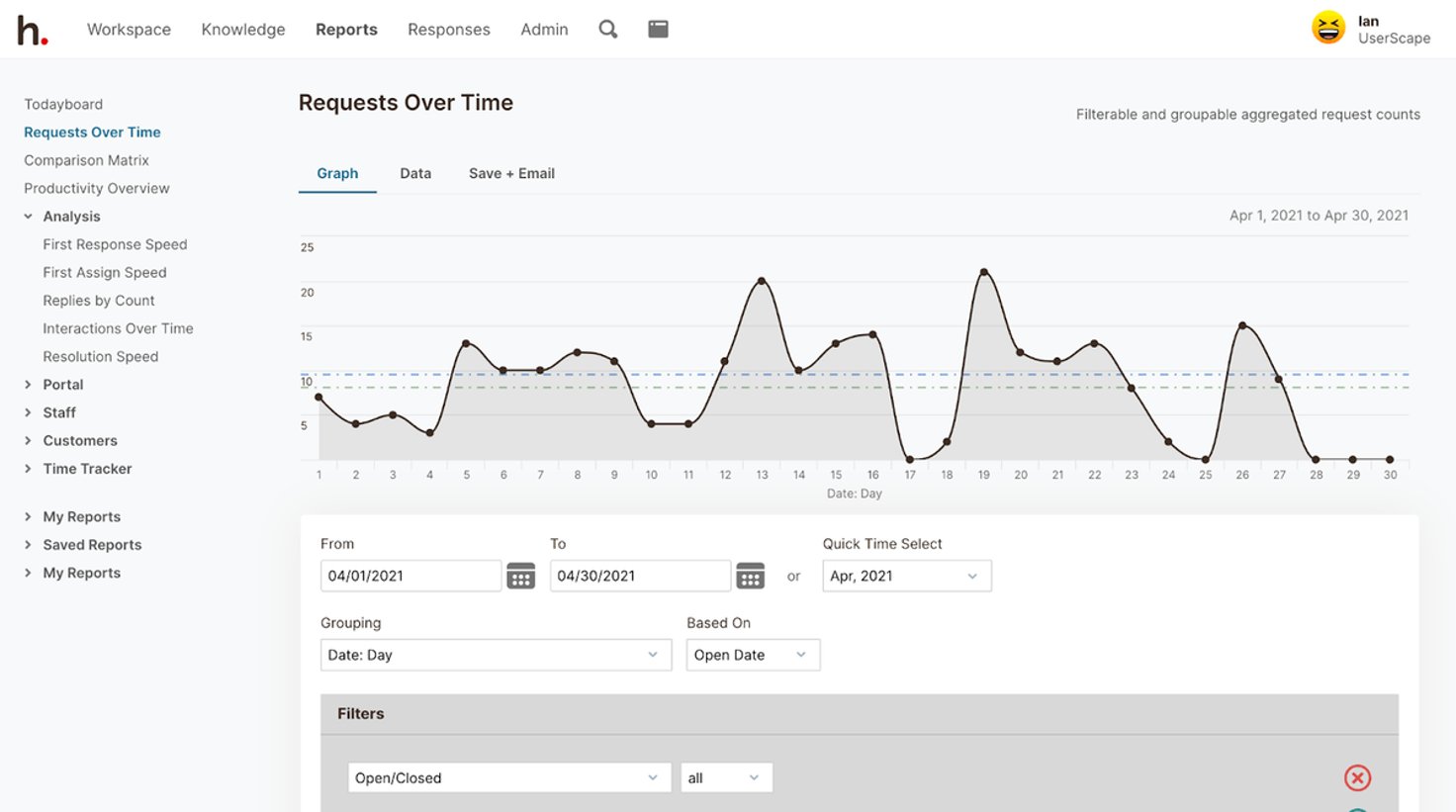 Analyzing data isn't part of the job description for many healthcare professionals. That is why HelpSpot created our Comparison Matrix to display all of your metrics in an easy-to-read layout. This tool will make important insights jump off the page.
Along with tracking operational trends and volume, HelpSpot provides CSAT Surveys to gather further insights from your patients based on their experience and overall satisfaction with your facility. These built-in surveys are fully customizable, allowing you to track any metrics regarding your patients' experience you want.
HelpSpot's built-in reporting and CSAT Surveys help you make educated decisions about your facility based on quantifiable metrics, allowing you and your staff to improve operational efficiency and focus more on creating the best patient experience.
Try HelpSpot's Help Desk Solution for Healthcare for Free
When it comes to healthcare organizations, it is critical to not only find a help desk with multi-brand support — as most facilities have multiple departments and lots of employees — but to also find a help desk that offers flexible pricing.
Most help desk providers offer tier pricing packages that only support a certain number of agents. So, medical centers that manage tens or hundreds of employees, more often than not, must subscribe to a higher-priced package with a lot of unnecessary add-ons. Further, many help desks also charge extra for unlimited mailboxes, limiting the number of departments an organization can support with a single help desk solution.
HelpSpot, on the other hand, offers a pay-per-agent pricing model, giving you the flexibility to add on as many agents as you need, at any time, at a low fixed rate. And, we support multi-brand clients of any and all sizes, with our largest client operating 500+ departments, with 500+ mailboxes — at no additional cost.
Get in touch with our customer experience team today to see how HelpSpot can improve your email management and better protect your patients' data. Get started today with a free 21-day trial.