Within HelpSpot, you can create a library of knowledge base articles that store detailed troubleshooting information which help agents to link out to relevant articles in their email responses. These articles are in-depth and usually answer customer questions and help reduce follow-up inquiries.
Help Customers Find Their Own Answers
Self-service portals let you publish resources on your help desk for customers. This enables customers to find answers to their own problems (instead of waiting for an answer from your team) and reduces the number of emails your team members receive.
Increase Agent Productivity and Save Time with Automated Tasks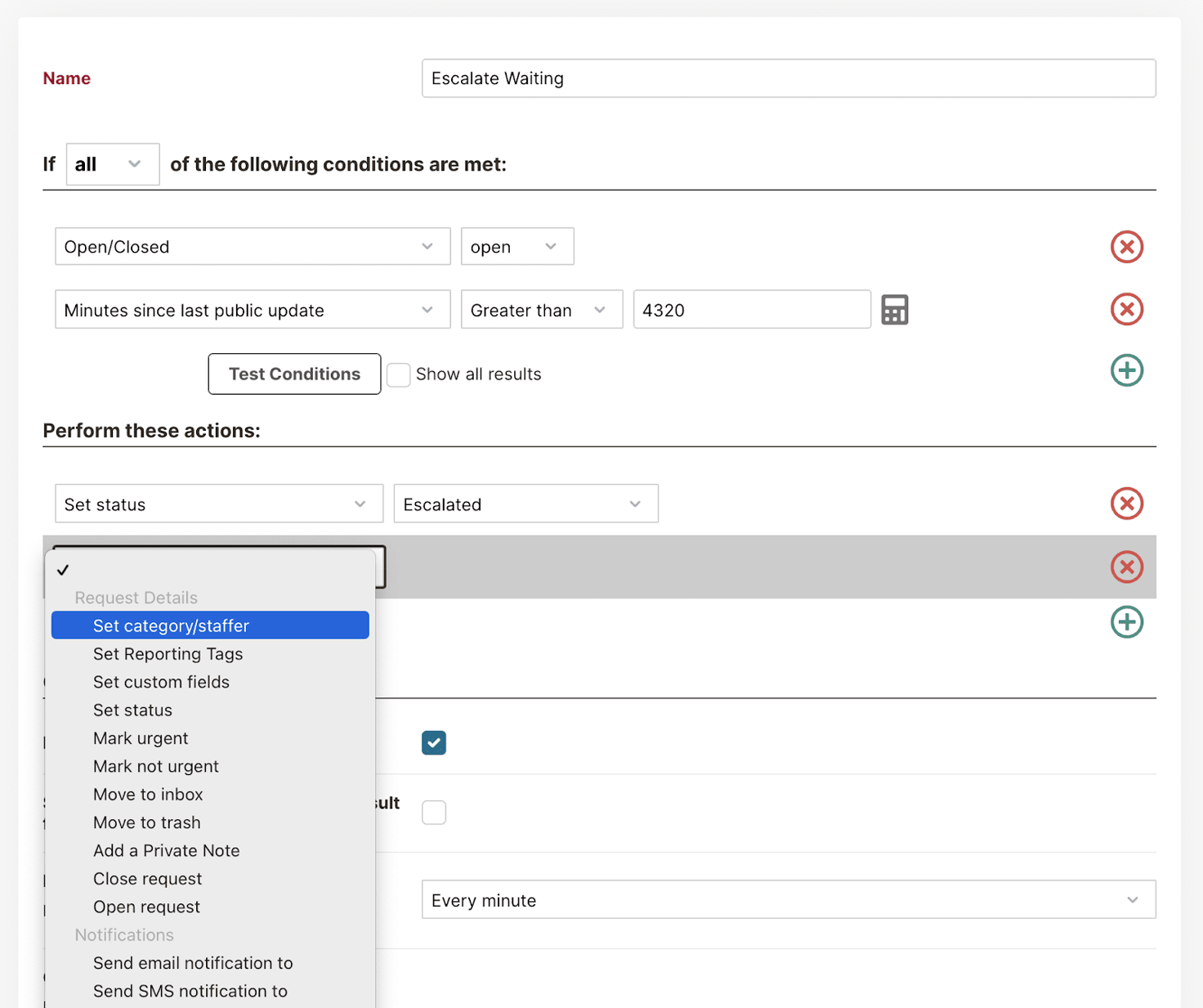 Automation rules and triggers let you automate repetitive tasks — preventing tickets from slipping through the cracks and making it so that you can spend your time on more important work.
You can use automation rules for use cases like automated ticket routing, reminders for SLAs, and escalation of tickets, in case the ticket hasn't been responded to. Beyond these use cases, too, you can use them for whatever helps your teams and their workflow.
For example, the IT support team from your office deals with Windows laptop issues for employees. So with HelpSpot, you can set up a trigger to detect words like "laptop" and "Windows", and automatically route the issue to the right agent, which will save them time from having to search through the inbox and find a specific ticket.
5. Monitor Team Performance & Ticket Resolutions with Detailed Analytics
HelpSpot has a built-in reporting tool that lets you view analytics on team members' workload and understand your support operations. It lets you answer questions like:
"Are my support teams able to handle the workload?"
"Are my agents performing up to the mark — do they need more support or training to provide a better customer experience?"
This is done by tracking metrics like:
The number of internal notes each agent sends.
The number of tickets each agent resolves.
Average number of resolutions.
Average ticket response time.
Our customer service reporting tool is customizable, so you can track different metrics and view data over different time frames.
Also, you can set up business hours so that reports are only based on the time period your team uses the service desk. For example, if your business hours end on Friday at 6 P.M. and customer inquiries aren't answered till Monday at 9 A.M., it won't affect your reports.
In addition, if you use your own reporting tool or software, HelpSpot can integrate with the database (SQL server) to generate reports.
6. Customize HelpSpot for Your Tech Stack & Team Size
We've designed HelpSpot with an open API and Zapier connection so that teams can connect to any other tools they use — such as live chat, phone systems, web forms, bug trackers — and push information between systems.
HelpSpot also integrates with Office 365 — which means that teams with shared inboxes can connect their email accounts and transition to HelpSpot quickly.
In addition, our helpdesk offers Live Lookup that requires a small amount of coding but gives you full control over your data. Live Lookup syncs with any CRM or external database (like Microsoft Central Exchange) relevant to the support team. It displays real-time data from these external systems so that the most updated customer information and custom field data are available in reports.
HelpSpot's pricing is simple and straightforward. You pay for the number of seats you require, and every agent gets access to the same set of features. When you hire one more agent, you simply pay for that extra user. Plus, there are no hidden or surprise charges when you want to customize HelpSpot's help desk system. And all this comes with free customer support.
HelpSpot's help desk for Windows can be up and running in an afternoon, and it requires no training, so teams can be productive on day one. Sign up for a free 21-day trial to download HelpSpot and get started.
4 Other Self-Hosted Help Desk Software for Windows
In addition to HelpSpot, there are a few other self-hosted help desk tools that you can take into consideration. However, we should note that even though some brands still offer self-hosted help desk tools, not all brands still support those products.
For example, Spiceworks offers a self-hosted help desk tool that you can download and use, but they don't update it or provide product support for it. So it's best to ask questions before downloading to make sure that you will have assistance if you need it.
Now, before we talk about alternative self-hosted help desk options, let's talk about Microsoft's service desk software, Dynamics 365:
Microsoft offers its own on-premise and cloud help desk software solution, Dynamics 365, which offers features like:
Access to a knowledge base for end-users.
Knowledge management and sharing through community portals.
Automatic assignment of tickets to support agents.
Cross-team collaboration tools (like Microsoft Teams) for team management.
Customers often appreciate its omnichannel and CRM capabilities, but it has a steep learning curve and needs a lot of training to use it fully, according to some users. Users recommend its help desk platform for large companies due to its confusing interface, features, and difficult configurations, which can be overkill for small businesses.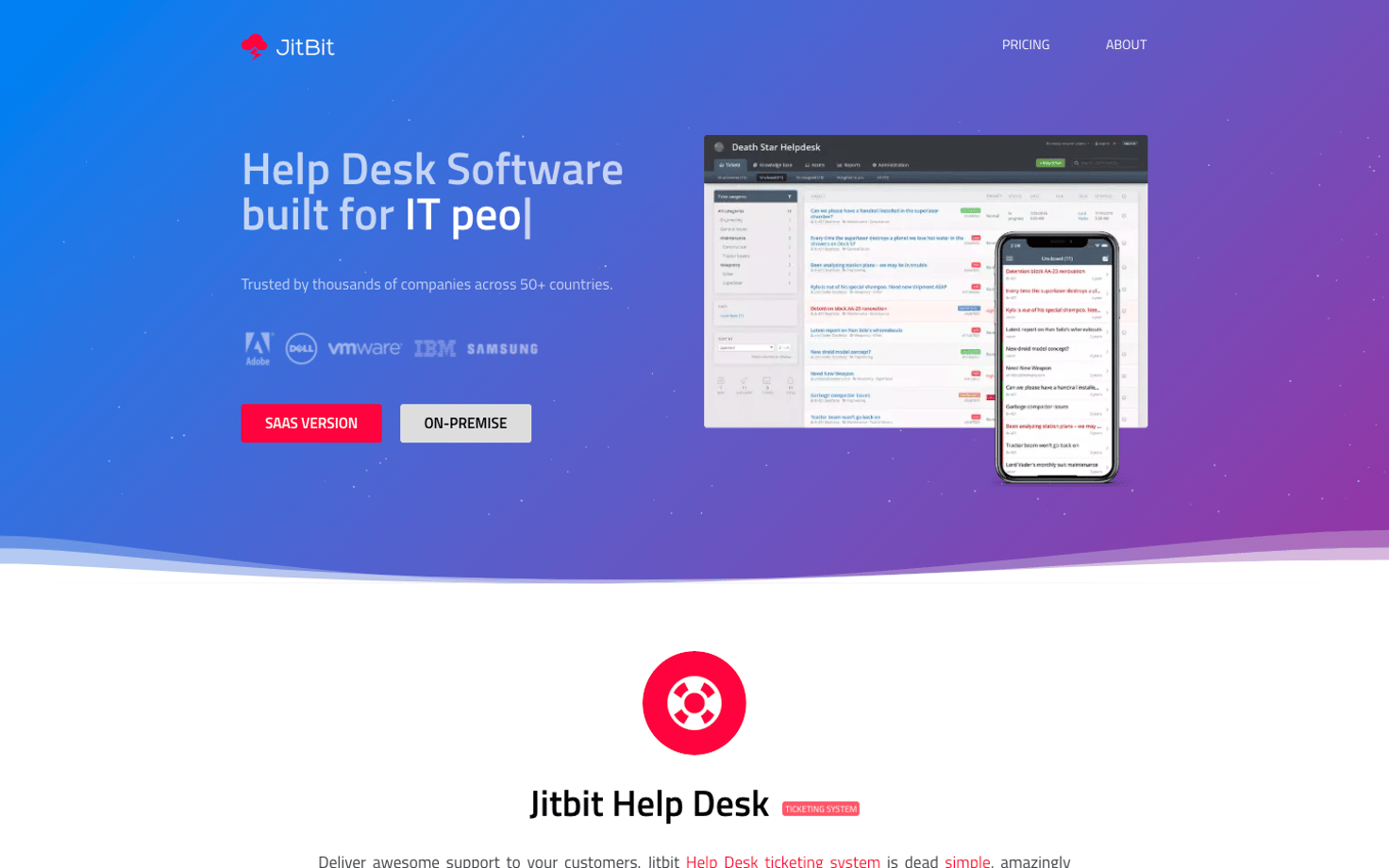 JitBit Helpdesk is an on-premise and self-hosted help desk ticketing system that offers:
Simple and user-friendly UI.
Streamlined support ticket assignments and management.
Knowledge-base modules.
Integrations with Slack, GitHub, etc.
It's recommended for companies of any size because of its simplicity: It has a robust feature set that requires minimal training, plus the features are relatively easy to learn, so teams can get started and learn the software as they go.
However, some reviewers suggest that they have a bland UI/UX and the reporting feature could be more robust. JitBit limits the number of reports that can be generated, limits customization options, and there's no visual dashboard view to see ticket counts or other information. Customers have to add dashboards via API to view data.
Though Kayako has a self-hosted version, it brands its on-premise ticketing system as Kayako Classic. Suited for all industry types, its help desk management software is a good option for teams who want to transition from using a shared inbox, unify communication from various channels (like social media widgets, phone calls, emails, etc.), and understand how their customers are engaging with the brand.
Kayako's support software has tools for managing email communications, better team collaboration, social media integrations, and multi-channel support. It offers a secure knowledge base that can house internal policies and other support documents for agents for quick reference.
A few reviews share that customization and reporting options are minimal, ticket auditing can be more comprehensive, and bugs within their email management features are prevalent — like not being able to view the full email thread and not being able to bold or italicize the font.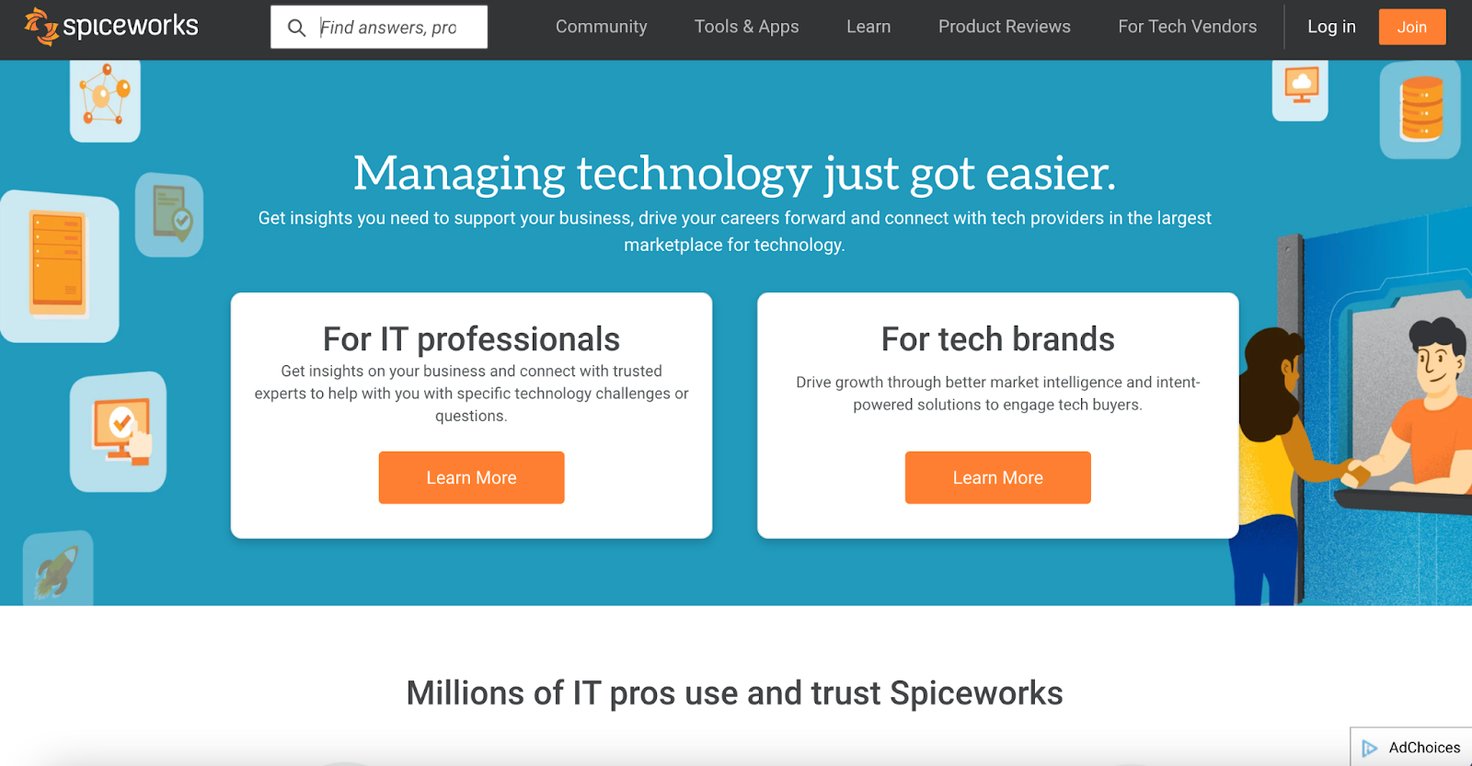 Spiceworks brands itself as an IT help desk for IT professionals and network management. It also offers IT asset and inventory management, incident management, and project management solutions.
Though it comes with core email management features, some end-users share that the interface could be modernized. In addition, reviews also mention that its ticket management comes with some glitches.
Spiceworks is a free help desk software, so it's a good option for nonprofits and small businesses that don't want to spend on help desk software.
Note: Spiceworks' self-hosted help desk is available for download, but it's no longer supported by their team. Spiceworks won't provide any updates or troubleshooting technical help if your team runs into glitches.
A subset of Zoho Desk, ManageEngine is ITIL-ready and has advanced IT service management (ITSM) capabilities. It's feature-rich and offers capabilities like automation of frequently needed tasks, integrations, and tracking the movement of ticket requests. Users often recommend ManageEngine as a good option for IT teams who want to resolve IT ticket requests quickly.
Some users share that the UI is a bit outdated, support for upgrades isn't great, and functionalities for asset management are minimal.
Start Using HelpSpot's Help Desk for Windows Today
At HelpSpot, we work hard to create an email management software that works well for teams of any size — with useful collaborative features to keep your team aligned while avoiding miscommunications.
HelpSpot integrates with other tools and communication channels via open API and Zapier connection; you can access everything from one place.
With the on-premise solution, there's some time required to set up the code, system, and functionalities, but after that, your teams don't have to invest hours learning how to use HelpSpot. Instead, they can start off with little to no training.
If you have any questions, our customer support team is always here to answer them and help you transition comfortably during the onboarding process.
To learn more about HelpSpot and how it can easily be set up and installed for Windows at your organization, start your free 21-day trial by signing up here.