A global support desk can help your team assist customers across the world and collaborate remotely without wasting time or doubling up on work — all while staying in perfect compliance with the local laws and regulations of each country.
Our global support desk solution, HelpSpot, offers features to help you do just that, including:
Built-in GDPR tools such as the ability to easily export, delete, and edit personal data.
Multi-brand support features such as unlimited mailboxes, self-service portals, and customization.
Multi-lingual support features such as the ability to accept any language's characters and add language packs.
Collaboration tools such as internal notes, collision detection, and automatic ticket assignment or escalation.
Reporting tools such as a customizable dashboard and open-source API.
In this post, we'll review each of these features in detail.
Start a free 21-day trial of HelpSpot to support your end users around the globe and improve team efficiency.
#1: Flexible Hosting Options for Complete Control Over All Data
Every country has specific laws and regulations about how personal data is collected and stored, and some countries are more stringent than others. If you're in a security sensitive industry (e.g., healthcare), you'll have additional regulations to consider (e.g., HIPAA).
Oftentimes the easiest (or only way) to adhere to these regulations is to store all personal information on private servers. This means you'll need a self-hosted or on-premise help desk solution. Additionally, if you have a presence in the European Union (EU), you'll need support desk software with General Data Protection Regulations (GDPR) tools. However, very few help desk software offer on-prem solutions and even fewer offer GDPR features as part of their on-prem software.
HelpSpot is one of the few global service desk solutions that comes in both cloud-based versions — with hosting options for both the US and EU — and on-premise solutions with GDPR features for both. (More on HelpSpot's GDPR tools in the next section.)
With HelpSpot, you can have a combination of cloud-based and on-premise service desks (depending on the requirements of each location) and have them all inter-connected for easy collaboration and management. And we offer updates and support for all versions of our help desk — even our on-premise solution — so you can access the latest features on all instances of HelpSpot and rely on our team for help during set up.
Other benefits of HelpSpot's on-premise software include:
Custom queries, triggers, ticket fields and more. You'll have full access to the HelpSpot SQL database which allows your information technology (IT) team to customize the software.
Mobile app available on iOS and Android devices. Most help desk and IT service desk software don't offer mobile apps or only offer limited functionality on their mobile app. So, HelpSpot's mobile help desk app that includes all features is a rarity.
Read more: How to Choose Self-Hosted Help Desk Software (Plus Our Top Choices)
#2: Built-In GDPR and Security Tools for Easy Compliance
Many aspects of GDPR are about giving customers control over their information and ensuring companies are taking adequate precautions to protect that information. Part of this is being able to export, edit, and delete personal information of EU residents upon request. GDPR also includes regulations around how your internal team gains access to the database and who in your company has access to specific information.
Here's how HelpSpot's GDPR and security tools help you comply with each of these areas.
Exporting Data
Simply enter a customer's email address into HelpSpot and all data associated with that email will be downloaded in a zip file. Then, you can share that zip file with the customer.
Deleting Data
Each ticket, request note/message, file attachment, and customer is given a unique identification number. You can use this ID to locate and delete all relevant data. You can also enter an email address to search for and delete everything associated with that email address.
The customer ID represents all email addresses and phone numbers associated with that customer. So, all of this will be deleted simultaneously if you delete the customer ID. This saves time because you don't have to delete each one individually.
Editing Data
As mentioned above, each customer is given a unique identification number. You can use this number to look up the customer's information and update their contact info. You can even connect to your CRM via our Live Lookup. This pulls customer data from outside software directly into HelpSpot in real-time.
Read more: What to Look for in a GDPR Help Desk | HelpSpot
Built-in, Single Sign-on or Black Box Authentication
We provide a built-in authentication system where every agent and user has their own login credentials. You can also choose single sign-on support and connect it to any SAML-based authentication system (such as Microsoft 365 and Azure). You can even use Black Box Authentication to authenticate against any source.
Permission Groups
Permission groups let you restrict access to certain tickets or features of the help desk software. For example, managers may be able to edit support docs while other team members can't.
Another example would be if a team member specializes in IT service management (ITSM), they would only have access to tickets that fall under that category.
You can also use permission groups to add features such as filters to certain inboxes without changing the inbox for other teams. For example, the team lead may be able to see response times for each ticket while other users wouldn't be able to.
Permission groups are particularly helpful when you're managing multiple brands from one HelpSpot instance, which brings us to our next topic.
#3: Multi-Brand Support Features for Every Customer Interaction
Many help desk software that advertise multi-brand support only offer support for multiple mailboxes (e.g., techsupport@, info@, etc.). While this is helpful for many organizations because it lets you divvy up requests by organization, location, or department, it isn't truly multi-brand support because you can't create corresponding knowledge bases and self-service portals (more on these below) or visually customize the appearance of each email response/message, support doc, and customer portal.
Without these abilities, the customer experience tends to feel generic and confusing since the support for each of your brands looks and feels the same.
HelpSpot offers true multi-brand support by letting you customize and manage unlimited email addresses, internal knowledge bases, and customer facing self-service portals from one place. And, each one can be uniquely designed down to the pixel.
For example, your U.S.-based customers could see one version of your support services while customers from Europe would see a different version. Even though each one is seeing a different support portal, all tickets from either instance will be sent to your help desk. From there, you can add automatic filters, permission groups, and more to organize tickets by department, agent, etc.
Here's how it works in detail.
Shared Inbox Organization
All new tickets get sent to one central inbox. From there, managers can assign tickets to agents or agents can take ownership of the ticket. These tickets will then be moved to a private inbox where each agent can view just the tickets they're responsible for.
Any replies to these tickets will automatically appear in the agent's queue. This helps keep the central inbox organized and free of clutter. If the ticket needs to be passed on to someone else, the agent has the option to reassign the ticket. Agents can also send a ticket back to the central inbox for someone else to pick up if they're unable to respond in a timely manner.
You can also set up automatic assignment rules to help distribute the load and organize workflow. Tickets can automatically be assigned in a round-robin fashion (to the agent with the least amount of tickets), randomly, or by category.
When automatically assigning tickets by category, you choose what your categories will be and who will receive tickets in that category. For example, if a customer chooses 'new patient' as the category of their ticket, those can automatically be assigned to whoever handles onboarding new patients.
You can also automate other actions to help your team stay organized such as:
Escalating a ticket after 24 hours.
Closing a ticket after three days without a response.
Assigning a category if a message includes a certain phrase.
And much more
Read more: The #1 Best Way to Manage a Shared Inbox in 2022
Internal Knowledge Base
Internal knowledge bases help agents answer questions faster. A knowledge base is where you can store all documentation for frequently asked questions, SLA and policy information, etc. This helps agents save time and respond faster. They can easily find and attach help docs in replies (rather than typing out all of that information each time) and they can use it to brush up on topics (instead of asking another agent).
For example, if there are a lot of questions around returns in one month, they can quickly review the company's return policies and be ready for those questions.
HelpSpot's knowledge base is set up in a user-friendly book format with chapters and section headers for each topic. Unlike most knowledge bases that rely heavily on the search bar, the book format makes it easy to scan the table of contents to find the information you need.
Customer-Facing Self-Service Portals
Most help desks don't offer the ability to create and manage separate self-service portals — meaning, you can only provide one set of documentation that is standard across all brands.
Typically, this leads to a greater number of support requests because you'll have to decide between (a) including all relevant information for every brand in one set of documentation or (b) limiting the documentation to only the information that's relevant to every brand.
If you choose option (a), then customers will have to wade through more information (and possibly give up trying to find it). If you choose option (b), customers simply won't be able to find the answers to their questions. Either way, you'll likely end up with more support requests for your team to manage.
Additionally, customers from different brands may question whether or not they're in the right place since it doesn't look the same as the rest of the brand they're familiar with (which could result in even more ticket requests).
However, with HelpSpot, you can create and manage unique self-service portals for each brand. Just like the internal knowledge base, self service portals are in book format for easy, intuitive organization.
Customer portals are also convenient because end-users can submit tickets to your team directly from your website or check request status, which reduces the number of emails your team receives.
Read more: HelpSpot's Customer Portal Solution & Help Desk (+ 3 Other Options)
#4: Multi-Lingual Support Features for a Higher Customer Satisfaction
When you provide a service in another country, the customers will likely expect to communicate with your support team in their own language — especially if your website, app, ads, etc. have been translated to their preferred language. Even if your team can communicate in multiple languages, many support desk software will display error codes for characters and symbols. This may make it impossible to communicate in Arabic, for example.
With HelpSpot, all characters and symbols (e.g., emojis or chinese characters) will appear correctly in the ticket. This is because HelpSpot can decode UTF-8, the most common character encoder on the World Wide Web. Then, your IT team can make language packs so that you can reply in any language, too.
#5: Collaboration Tools to Save Time and Effort
HelpSpot's internal notes are a great way to loop in other team members (from any location) when you need help on a ticket. You can tag other agents from within the ticket and mark the note as private so that the customer won't be able to see it.
The complete ticket history is saved and available for anyone to see within the ticket itself. This makes it easy for a coworker to quickly get caught up on the situation so they can offer assistance.
HelpSpot also has a collision detection feature which shows you who's working on what in real-time, which prevents duplicate work and makes it easier to collaborate remotely.
#6: Reporting Tools to Answer Any Question
HelpSpot offers a customizable reporting dashboard that lets you manage and track agents and customer requests across all brands and locations. We also offer an open-source API so you can pull data from other support systems (e.g., call center or chatbot systems) and evaluate all aspects of your support from one place.
HelpSpot provides default templates for common reports such as Requests Over Time or average Resolution Time. Each one can be fully customized with filters, custom fields, and tags. Our reports automatically pull data in real-time, but you can also choose a custom timeframe. You can zoom out and view KPIs across all brands, departments, and locations or zoom in and view one agent's performance over the course of a specific week.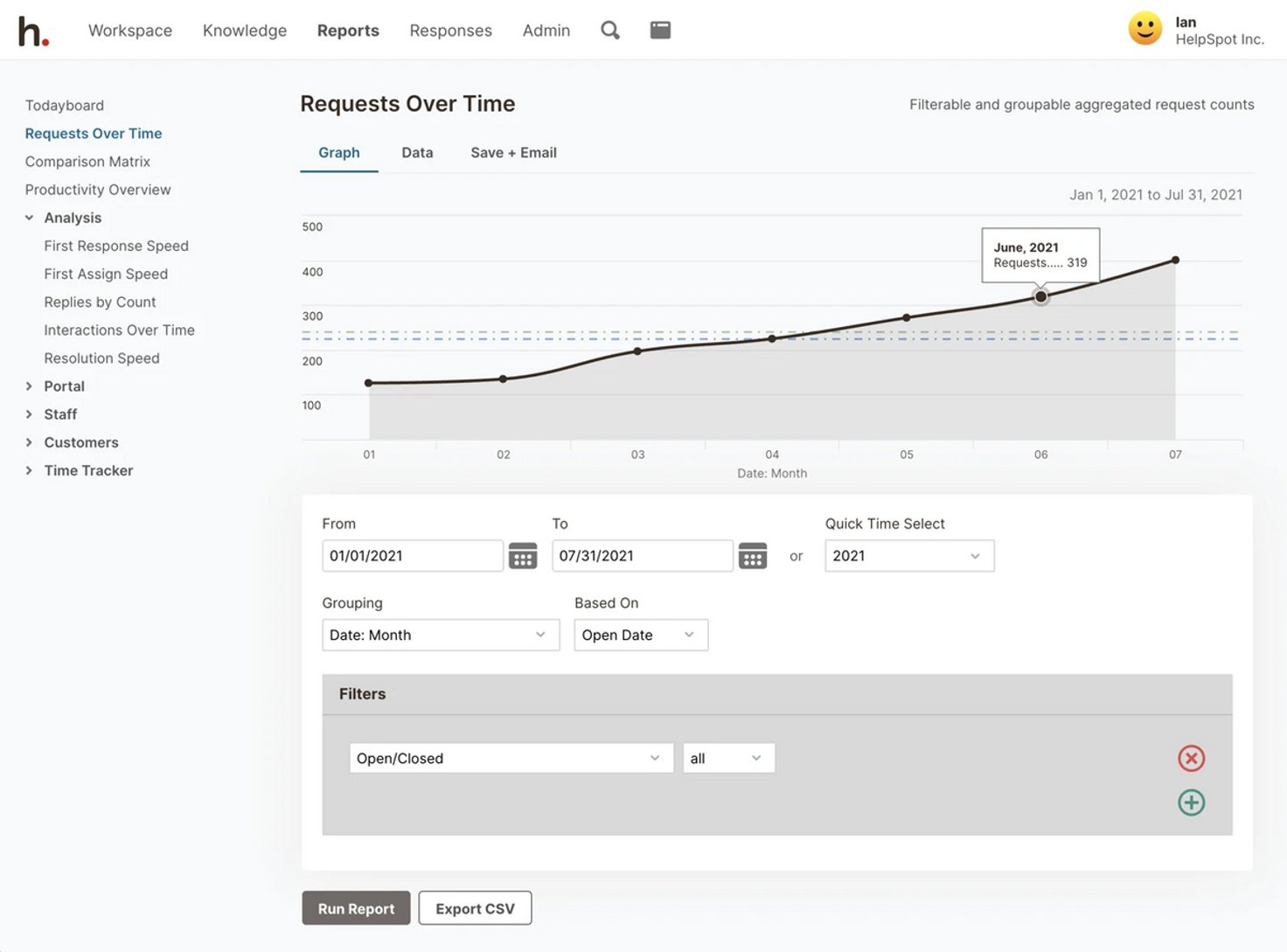 Any report can be viewed as a graph/chart or raw data. You can also save reports to 'My Reports' where you can access it at any time without having to recreate the report.
Finally, there are several options for sharing these reports. You can download or export any report as a one time instance or schedule reports to be emailed to anyone on a regular basis. We provide free unlimited report sharing so you can send reports without extra fees. You can even push HelpSpot data out to any other business intelligence tools you're using.
Read more: Help Desk Reporting: Key Support Metrics and How to Use Them
Try HelpSpot Global Help Desk Software for Free
HelpSpot is one of the few global help desk services that offers on-premise, cloud-based hosting in the United States and Europe, and mobile options, all with built-in GDPR tools and multi-brand support.
Unlike many tools that charge you extra for each feature, we include all features in one price and only base pricing on the number of agents on your team. You'll have access to everything you need, including the ability to:
Stay organized while using a shared inbox.
Create separate support portals.
Accept and deliver messages in multiple languages.
Collaborate without duplicating work or wasting time.
Create any report.
It only takes a few hours to set up and train employees with HelpSpot, so there's very little transitional downtime.
If our global support desk solution sounds like the right fit for your organization, get started with a free 21-day trial of HelpSpot.