Help desk software with a built-in customer portal solution, like HelpSpot, offers a number of benefits. For example, you can:
Store knowledge base articles (e.g., troubleshooting docs, faqs, etc.) for your agents and publish resources on your website for customers.
Create a platform for customers so they can submit their tickets and check on ticket status without contacting your team.
Get reporting data on what customers are looking for and where your agents need support.
Track, organize, and assign requests to agents and also let agents view the current requests they are working on so no emails fall through the cracks.
Let agents collaborate within tickets and eliminate the need to chat on multiple platforms.
This article covers HelpSpot's customer portal solution, its features, and how you can set it up. We'll also talk about HelpSpot's email management tools to centralize incoming tickets and assign requests to staff. At the end, we'll review three other types of client portal solutions.
HelpSpot's self-service portal enables customers to find their answers to common questions, submit tickets, and check ticket status. To see how our platform can ease the burden on your support agents, sign up for a free 21-day trial.
HelpSpot's Customer Portal Solution: Features & How It Works
HelpSpot's customer service portals let users:
Reference resources and FAQs from your help desk knowledge base to answer common questions on their own.
Submit support tickets to your team.
Check the status of support requests.
Here's how these help desk features work.
First, HelpSpot's internal knowledge base lets you create and store helpful articles and troubleshooting info in your help desk. Then, agents can refer to these articles while resolving complex issues and even attach them to their email replies.
You can learn more about adding knowledge books here.
Additionally, you can publish knowledge base articles on self-service portals so customers can find these resources on your website without contacting your team for help.
Adding resources to your portal — as opposed to only offering a contact form — improves the customer experience because users can find answers to questions quickly instead of waiting to hear back from your team. (Even fast replies don't beat instant answers.) Another perk? Making these resources accessible to customers also reduces the number of emails your staff receives about common issues.
Then, you can add a contact form to your customer service portal so users can easily get a hold of your team when they need more support. The form is available in portals by default, so you don't have to do any set-up for these, but we give you options to:
Add custom fields to pull specific data from users.
Use dynamic question display (where form questions will change depending on the category or request type) to accommodate different user issues.
Allow end-users to attach PDFs, images, and other relevant files to tickets.
These forms save your customers from having to look up your contact email. They also allow you to gather important information from customers without a ton of emailing back and forth.
Once a customer form is submitted, it appears as a new ticket in the shared inbox. Customers can also check the progress of the submitted request via the "Check on a Request" option. This way, customers can log in and check on requests without sending follow-ups to your team.
You can also create community forums so customers can post their questions and get answers from other users of your product. These offer a number of benefits: for starters, it eases the burden on your team because users can answer each other's questions and reference past forum articles, but it also allows you to gain valuable feedback from end-users because you can see what issues they're having, how they're solving them, and what they're saying about your product.
HelpSpot's customer portal is easy-to-set-up, and we offer multi-brand support so you can create customized portals for different brands. We'll explain the setup and talk about how these features help customer support teams below.
Read more: 5 Top Help Desk Knowledge Base Software: Buyer's Guide
How to Set Up Customer Portals in HelpSpot
There's no real "setup" for our customer portal solution because our secure client portals are pre-built for you — you can manage the customer portal from the Admin tab on your help desk. You can also add secondary portals if you manage support requests for more than one brand and want these portals living on different sites (have different branding, different contact forms, different knowledge base resources, etc.).
In the settings, you can give the customer portal a name, change the portal URL, customize the customer contact form, and add knowledge books.
HelpSpot is one of the few help desks that let you add custom HTML and CSS if you want to personalize the portal's appearance. This flexibility lets you fully match your brand identity and keep designs consistent. Most help desk brands can let you change the logo or URL of the support portal, but nothing more than that.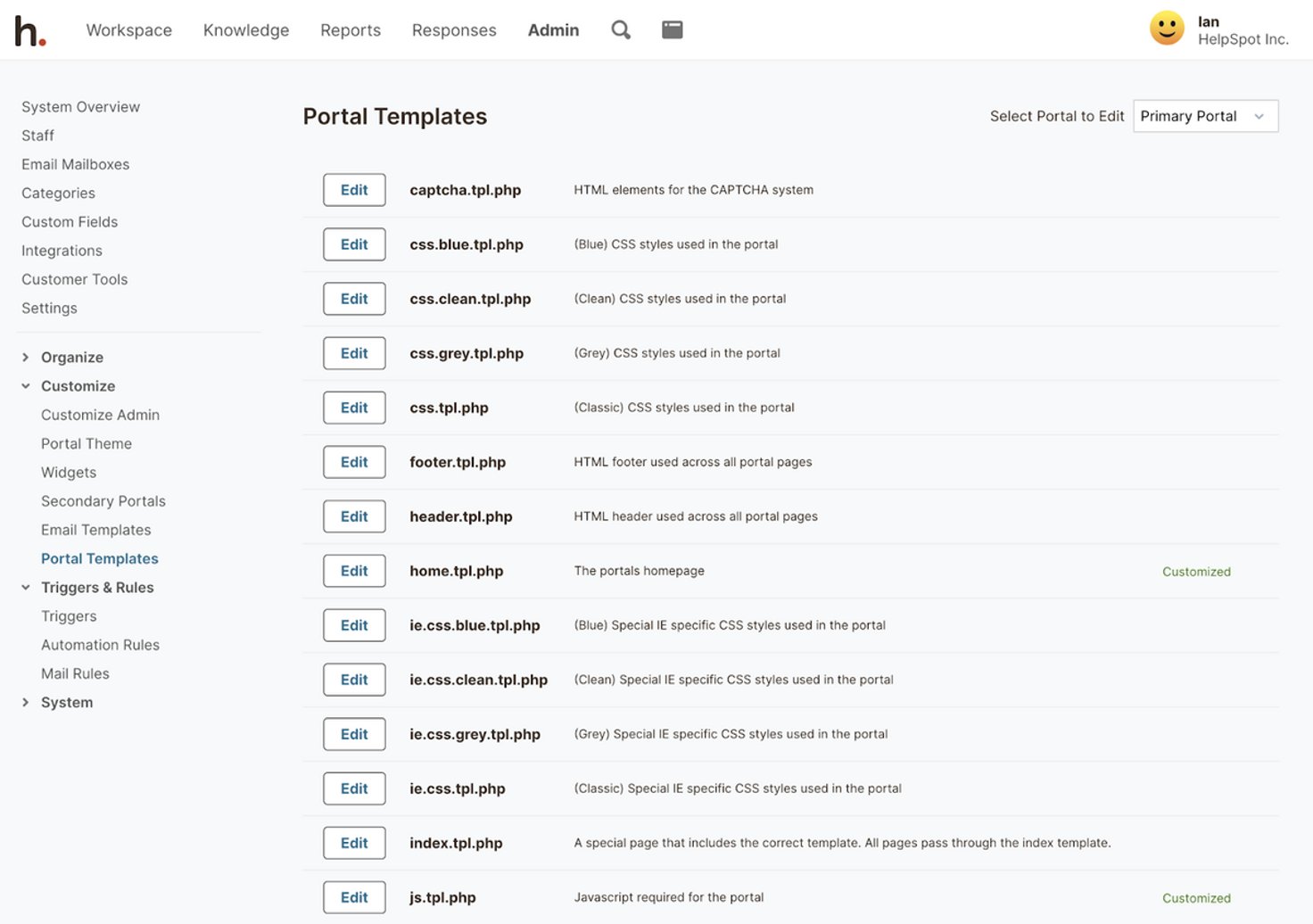 Of course, our customer support team is available to help with setup if you have questions.
Extra Benefits of HelpSpot Customer Portals: Fast Search, Reporting Data, & Online Findability
HelpSpot's robust search feature scans your entire knowledge base to pull all relevant resources for customers so they can quickly and easily find the right documents to answer their questions.
Our help desk reporting feature tracks what customers search in the portal so you can pull data on the types of issues they're having. (It also shows you what searches display zero results so you can see what you need to add to your knowledge base.) We also offer an option at the end of each article so customers can mark whether or not it resolved their issue; this helps you gauge the helpfulness of your resources and pinpoint areas where you can add more value for customers.
Plus, creating a strong knowledge base in your self-service portal improves your brand's online visibility and makes it easier for customers to find you when they have an issue. How? When you publish articles on public portals, they get indexed on Google and other search engines. So, when customers type in phrases like [Your Product Refunds] or [Your Product Name Cancellation Policy], they get directed to your web portal.
HelpSpot's Email Management Features to Organize, Assign, and Track Requests
HelpSpot is one of the easiest help desk systems to implement because onboarding takes less than a day, our features require no training, and we provide essential team inbox management tools to help your teams clearly work through support requests. These include:
Agent queues so staff can assign themselves requests.
Collaborative tools so agents can resolve tickets together (without leaving the help desk).
Automation rules to simplify repeat tasks.
A customizable reporting dashboard so you can gather ticket data and look at performance metrics.
Our help desk ticketing system comes in two versions: cloud-based and on-prem. We offer iOS and Android mobile apps for both versions so support teams can access HelpSpot from their mobile devices.
Also, HelpSpot's pricing is simple and based on a pay-per-agent system: $11 per agent per month — all features included. Our straightforward pricing makes us a good help desk for small businesses, and it lets you easily adjust your help desk as your team grows and business needs change. Plus, there's no extra cost for customization or support.
In the next sections, let's look at how you can organize, assign, and track emails with HelpSpot.
Team Inbox & Agent Queues: Organize and Assign New Tickets
You can connect to as many email accounts as you want while setting up HelpSpot. All new emails are routed to the central inbox to give a unified view of requests, or you can use the multi-brand support feature to segment tickets by brand or department.
Agents can quickly scan the shared inbox and assign themselves (or other team members) tickets. Assigned tickets move to the assigned agent's queue so staff can easily see what they are working on and which requests need replies.
Pro Tip: You can use HelpSpot's automation rules and triggers to automate ticket routing and manage escalations. For example, say you have a specific agent (or agents) that handles all customer order status requests, you can set up a trigger to detect the word "order" or "tracking number" in a request, and automatically route it to those agents' queues. Or, you can set a trigger to prioritize tickets that have sat without a response so you can get back to all of your customers in a timely fashion.
Email Templates & Collaboration Tools: Improve Agent Productivity
With email templates, agents can pull canned responses in their email replies and speed up response times. Templates eliminate the need to write every email from scratch, help agents avoid typos and grammatical errors, and promote consistency in your customer communications.
HelpSpot also provides a number of tools that streamline agent communication. Private notes work like in-app messaging — agents can leave notes in tickets and tag other agents in requests for feedback. That way, other agents can open tickets and get an understanding of what's going on and what steps have already been taken to resolve the request.
Collision detection sends a real-time notification if more than one agent is replying to a ticket and avoids duplicate responses.
Read more: Best Email Help Desk Software & Ticketing Systems
Reporting Tools: Use Insights to Improve Customer Service
Aside from monitoring the activity in your customer service portals, HelpSpot's help desk reporting tool lets you track:
Ticket volume, like how many tickets you receive and respond to.
Agent performance, like ticket response times and resolution speeds.
Specific data about customer tickets, like the type of issue or product affected, via custom fields information.
Customer satisfaction scores.
Our reports are fully customizable so you can analyze metrics for various timeframes, departments, and request types, and even look at performance metrics for individual agents. For example, you can view data on the busiest hour of the day, or how many tickets a specific department received last month.
Then you can download and share reports or schedule reports to automatically send (to yourself and other staff) at a set frequency.
Note: HelpSpot has a Zapier connection and open-source API so you can connect our help desk system with other tools in your workflows to, A) consolidate external data in HelpSpot reports, or B) push help desk data to outside reporting tools.
Read more: The Complete Guide to Customer Service Reporting
Start a free trial of HelpSpot to connect your inboxes and see how our customer portal solution works.
Three Alternative Customer Portal Solutions
There are many "types" of customer portal solutions. While we believe HelpSpot offers the best customer portal + help desk to manage email support requests, other portal solutions work in combination with project management software or have secure file sharing features to help you accomplish other tasks.
We talk about three other customer portal software providers below:
Onehub is a secure file-sharing platform that lets you create customizable client portals to send and receive files with others online. It's a good option for small teams or start-ups that experience challenges sending files via email and want a more organized platform to keep track of online sharing and user permissions.
While users appreciate Onehub's affordability — with pricing options starting at $12.50 per user per month — they dislike that Onehub has limited integrations with third-party applications and no offline availability.
SuiteDash is an all-in-one client management software solution recommended for teams that need a secure way to distribute files and other brand assets to customers. (For example, designers or marketing agencies that create brand collateral for digital and print projects.) You can create dedicated portals for each client, then drop brand content into these portals as it's finalized and approved for distribution. End-users can log in to these portals any time they need and access files.
SuiteDash also has a built-in CRM and project management tools, with features to improve task management, document sharing, billing, and email marketing. Positive reviews of SuiteDash mention that you can customize portals to reflect your brand design and connect SuiteDash with other tools in your operations. However, some say that the UI feels outdated, the platform can be slow-loading, and the advanced features have a steep learning curve.
Huddle is a document collaboration platform where you can share files and set strict permissions to control and limit access to files. The document-sharing features let you track changes to files, manage approvals, and maintain version control. Online reviews of Huddle praise the content management functionality, but some users note that the interface feels cluttered and the features are hard to navigate.
Huddle is GDPR-compliant, has multi-factor authentication, and provides 128/256-bit data encryption (to keep confidential information private) — that's why Huddle often appeals to large enterprise teams and government organizations.
Read more: What to Look for in a GDPR Help Desk
Try HelpSpot's Customer Portal Solution & Help Desk for Free
HelpSpot's help desk + client portal software lets end-users access helpful knowledge base articles (without contacting your team), submit new support tickets, and check request status on their own — and all data is linked back to your help desk where you can manage and report on customer requests.
Start a 21-day free trial of HelpSpot to test our customer portal features and see how our email management tools work.