Teams that want a simple help desk software to organize support tickets often find themselves:
Paying for (and working around) advanced features they don't need or use.
Upgrading the entire platform (and paying more) to get features or add new users.
Wasting time and delaying launch to do dedicated software training.
Making mistakes like overlooking a ticket because their help desk has too many features.
To help avoid all that, this article reviews seven of the simplest help desk software solutions, looking at factors like ease of use, training time, set-up, and pricing:
If you're looking for simple help desk software with easy-to-use features and stable pricing, try HelpSpot's free 21-day trial.
1. HelpSpot: Simple and Affordable Help Desk for Cloud, On-Prem, & Mobile
HelpSpot is a simple solution for teams that want powerful ticket management. Most teams can launch and start using HelpSpot on the same day.
With HelpSpot, you get:
A centralized inbox, agent queues, and custom views.
Easy ticket organization and clean ticket interface.
Email templates, canned replies, and automation.
Intuitive customer portals and help desk knowledge base.
A predictable fixed rate, based on the number of seats, and access to the entire feature set.
Below we look at each feature, setup, and pricing in more detail.
Centralized Inbox & Agent Queues
Your central inbox is a single view of all your incoming support tickets; you can connect one or more email accounts to centralize requests. HelpSpot also has a Zapier connection and API so you can connect to other communication channels and organize requests in the help desk.
From the central inbox, agents can see who's already assigned a ticket or assign a new ticket to themselves, removing any confusion about who's working on what.
Once a ticket is assigned to an agent, it moves from the shared inbox to the support agent's "My Queue" — a straightforward workspace where agents can see all of their active tickets.
You can use filters to create custom views of the central inbox and easily sort tickets by team inbox, ticket priority, or other custom fields.
You can also create dedicated team inboxes, which is great if you manage support requests for more than one brand or want to segment requests by department (like your IT or HR department).
Easy Ticket Organization & Clean Ticket Interface
From HelpSpot's ticket interface, your agents can:
See the complete ticket history, including every internal and external message, update, or change logged; this makes it easy for agents to loop in a teammate without having to send an entire update.
Use collaboration tools, like private notes, to message teammates directly on a ticket. Team members are notified when they're mentioned on a private note.
See if other agents are viewing or responding to tickets in real-time; this collision detection makes it easier for agents to collaborate remotely and prevents duplicate work.
Email Templates & Canned Replies
HelpSpot's email templates and saved responses improve email response times by letting agents quickly reply to common customer requests. You can even use automation rules to send canned replies; for example, you can create triggers to send password reset emails and field other simple support requests.
Pro Tip: You can use automation rules to simplify other workflows, like ticket escalations, SLA reminders, and ticket routing.
Intuitive Customer Portals & Help Desk Knowledge Base
With HelpSpot, you can set up dedicated customer-facing support portals so users can:
Submit tickets to your support teams through the website contact form. You can customize contact forms to collect important request details upfront (eliminating the need to go back and forth with customers) and resolve tickets faster.
Check ticket status when they want an update on their support request.
Access FAQs and troubleshooting guides so customers can resolve issues on their own instead of submitting requests to agents.
HelpSpot also has a help desk knowledge base where you can store resources (like the FAQ and troubleshooting guides we mentioned above) to help agents answer customer questions and resolve support tickets. Agents can reference these when responding to requests or embed articles directly into customer responses.
You can learn more about our self-service portals and help desk knowledge base in our guide: Best Help Desk Knowledge Base Software.
Fixed and Affordable Pricing with Unlimited Tickets
Most help desk companies use a tiered pricing plan, where key features are only available with more expensive packages. Plus, most help desk brands showcase hundreds of features on the pricing page, making it tricky to ensure you're getting what you need in the package you choose. This can lead to surprises down the road and force you into upgrading.
In contrast, HelpSpot's pricing is fixed to the number of seats your team needs, and you get access to all of HelpSpot's features.
A Simple Help Desk with Everything You Need (& Nothing You Don't)
Every part of HelpSpot, from our email management features to our pricing structure, was designed to be straightforward.
HelpSpot's SaaS setup is simple enough to create your instance and add users instantly. Or, you can download HelpSpot on-premise to run help desk software on private servers and maintain full control over data. Start a free 21-day trial.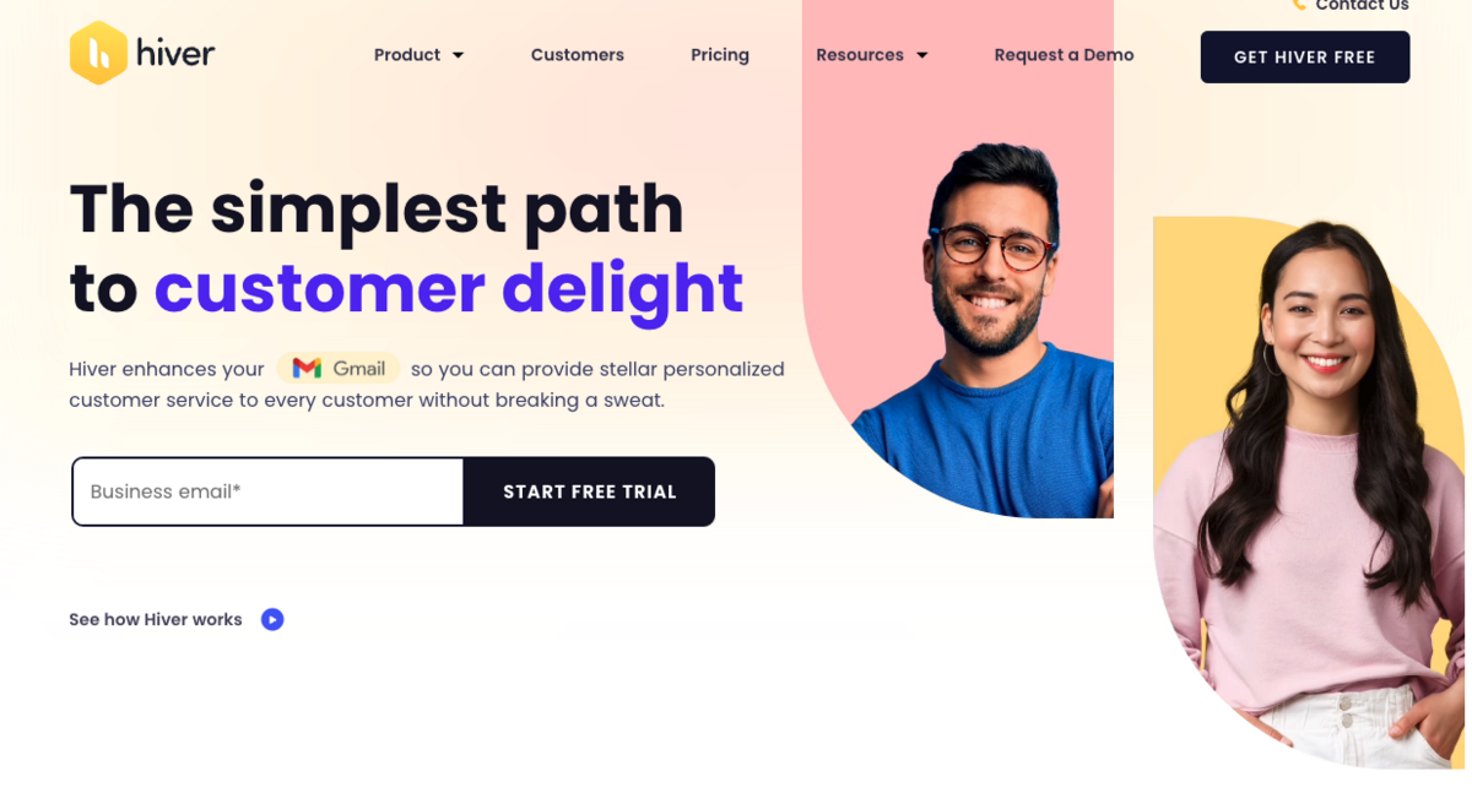 As a Gmail extension, Hiver provides help desk functionality directly in your email inbox for your emails like @support or @sales.
Hiver works well for small client services or service teams that want some advanced help desk functionality but would prefer to continue managing customer requests from their email inboxes. Hiver lets you:
Assign emails to agents.
Organize customer tickets with tags.
See user activity to avoid duplicate email replies.
Send customer satisfaction surveys.
Hiver is intuitively designed and fast to set up, but customers found that collaborating with teammates can be difficult because you can't assign requests to more than one person.
They offer a free help desk software with limited features for teams that just want a few bells and whistles; but reviews note the price increase between the free plan and paid packages — sometimes as much as 60% — to be a downside. (At that rate, it makes more sense to purchase a dedicated help desk software.)
Read More: 8 Best Hiver Alternatives
HappyFox is a cloud-based ticket management system with:
Multi-channel support for email, web, phone, and social media.
Online chatbot.
Help desk knowledge base.
Task management features.
HappyFox is a good help desk for smaller teams like startups, but reviews reported frustrations with implementation and say the reporting feature is a little limited.
HappyFox is a practical ticketing software to process your support requests and streamline workflows — but like other software on this list, setup is time-consuming and the price exponentially increases with each upgrade.
You can also read more about HappyFox here: HappyFox Alternatives & Competitors.
Kayako is a user-friendly help desk with a help center to process customer issues, a customer-journey visualization tool, live chat, and integrations to enable omnichannel support.
Overall, reviews say Kayako is an intuitive help desk platform with easy ticketing features and a smooth end-user experience. However, some reviews mention that the help desk reporting dashboard requires technical knowledge to create reports and view key metrics. Reviews also note occasional bugs and say the software can be slow-loading.
Kayako has raised its prices recently, but they're still a budget-friendly option for small businesses.
You can learn more about Kayako here: Kayako Alternatives: 5 Best Help Desk Software for Customer Support.
Freshdesk is a customer service software that has a robust feature set including ticketing, automated responses, team inboxes, collaboration tools, a call center, employee and customer forums, and IT support. Notably, Freshdesk offers a unique gamification feature that rewards reps with badges when they complete tickets.
Freshdesk's long list of features comes with a price. It's one of the most expensive options on the market, and users need to upgrade packages any time they want to add agents or unlock features.
Customer reviews say Freshdesk's customer experience team offers little guidance on configuring the platform, but it's a solid help desk for enterprise companies with a big budget and the know-how to set up on their own.
It's also worth mentioning that Freshdesk offers an IT service management (ITSM) help desk called Freshservice. The service desk has more features for IT teams, including incident and asset management.
Read More: Freshdesk Alternatives: 9 Help Desk Software for Support Teams
Zoho Desk is a robust help desk ticketing system for customer support and IT teams, with features including online live chat, customizable dashboards, and a centralized inbox. But Zoho Desk is still a simple help desk option because they earn high user ratings for ease of use.
Zoho Desk can integrate with any software via API, and they offer iOS and Android mobile apps for field agents.
Zoho Desk offers dozens of help desk tools, and while it is more affordable than platforms like Freshdesk, they divvy out features so you still have to pay for a top-tier plan to access basic tools like collision detection. Plus, reviews say that choosing the right package can be challenging and set-up requires some technical support.
Zoho Desk operates within the Zoho ecosystem of other sales and marketing tools, making it popular for teams looking for these solutions. However, a long learning curve may bog down a small business looking to transition smoothly.
Read more about Zoho Desk in our other guide: Zoho Desk Alternatives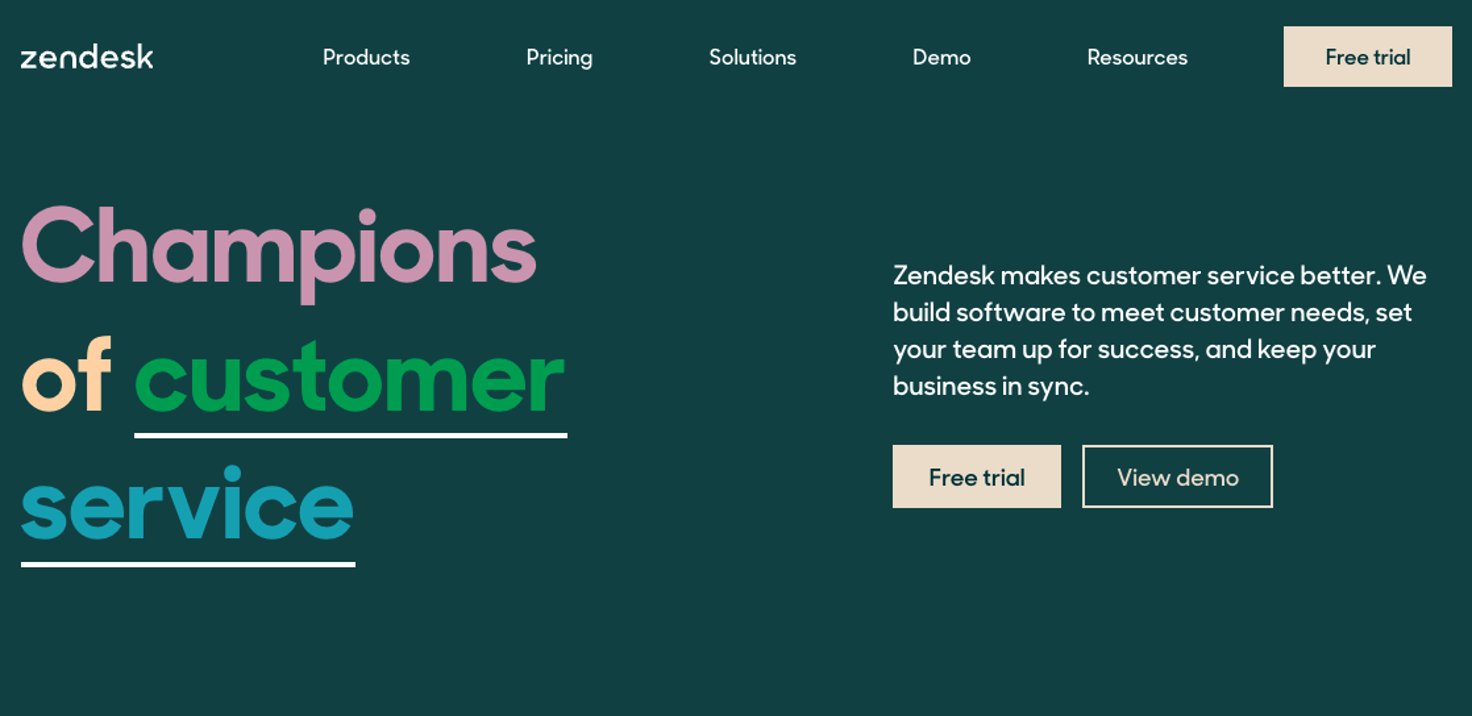 Zendesk is one of the largest help desk solutions available; they provide a software solution for customer support teams, but they also offer IT help desk features and a CRM solution to track sales leads.
Customer reviews of Zendesk say the unified ticket inbox, agent workspace, reports, and collaboration tools are easy to understand and use. However, some reviews note that Zendesk's feature set can be overwhelming, and setting up integrations can be frustrating if you don't have support from their team.
Zendesk is a good option for enterprise customer service teams that need advanced help desk features and integrations with other business applications, but it's typically too much for smaller teams that just need better email management.
Read More: Zendesk Alternatives: 6 of the Best Help Desk Competitors
Start a Free Trial of HelpSpot to See Our Simple (But Powerful) Help Desk Features
When evaluating help desks for their simplicity, there are three main things to consider:
How does a company price its help desk? Be wary of a tiered pricing structure, and see if you will need to upgrade in the future to add users.
What does the setup look like? Is it easy to get started or does the platform require a lot of technical knowledge? Does their customer experience team provide support?
How much training will the platform require? Can agents get started quickly without sacrificing team performance or customer satisfaction?
HelpSpot keeps it simple: from predictable pricing, easy setup, and intuitive features that you can use immediately. Get started with a free 21-day trial.