When shopping for online service desk software, consider these five questions:
What does your IT support team's workload look like? How many requests do you receive each day? Are you managing multiple team inboxes?
Do you need a mobile help desk to support agents who are working remotely or out in the field?
What integrations do you need? For example, do you use asset management software or a project management tool that you want to connect to your help desk?
What security features are you looking for? Do you need data management features, or data to be stored in a specific global region (to meet GDPR compliance requirements)?
Do pricing options work with your budget and allow your team to grow within the software?
In this post, we'll look at our online service desk, HelpSpot, and explain how IT teams can use our software solution to convert incoming emails into tickets, collaborate with team members on support requests, and simplify workflows to resolve tickets faster. At the end, we'll review four other online service desk software.
HelpSpot's online service desk allows IT support teams to organize, assign, and respond to emails from a central dashboard. To get started, sign up for a free 21-day trial.
HelpSpot: A Simple Online Service Desk for IT Teams
HelpSpot is a help desk ticketing system for teams that want a simple, flexible request management solution. Not only do we work with IT teams, but we also cater to eCommerce and retail businesses, HR teams, financial institutions, schools and universities, and more.
Our software has easy-to-use email management features that centralize, organize, and track support requests from start to finish. Collaboration features such as internal notes and collision detection help agents work together without confusion, while integrations (via API and Zapier) support user workflows by connecting to your other software tools.
HelpSpot also offers:
Quick set-up: Users can be up and running in a few hours with our cloud-based service desk. Our HelpSpot team manages backups and updates so you're always running the latest version of HelpSpot (and won't need to worry about maintenance).
Easy onboarding process: The user-friendly interface is simple to learn so agents can get to grips with the software quickly. This streamlines team adoption and makes it easy to add new agents.
Security: We use Amazon Web Services (AWS), known as the world's most sophisticated cloud platform. We have SAML authentication and permissions within HelpSpot to ensure your data is secure.
Mobile access: HelpSpot offers mobile apps for iOS and Android so your IT agents can access support tickets from any device. Our secure mobile hub enables agents to collaborate on service requests in real-time from wherever they're working.
Straightforward pricing: Our pricing model is simple — choose your package based on the number of seats you need (and upgrade any time). Every agent has access to HelpSpot's full feature set, and we don't charge extra for support, mobile apps, or updates.
Let's take a closer look at HelpSpot's key features.
Cloud-Based Hosting (for US & EU) & Security
HelpSpot Cloud servers are hosted on Amazon's Web Services (AWS), a platform with a worldwide reputation for strict security. We offer cloud-based hosting in the US and EU (with GDPR help desk features), so you can choose where you want to host your help desk.
You can learn more about EU hosting here.
In addition to our secure AWS hosting, HelpSpot cloud users have full DDoS cyber attack protection via our partner, Cloudflare. Other HelpSpot security features include:
SSL security
TLS encryption for email connections
Data encryption-at-rest
We also have a built-in authentication system that gives each user a unique username and password. Plus, you can use our Black Box API to authenticate against other services you use.
Once you log in, you're directed to the main HelpSpot dashboard where you can see all the newest requests. There are a few ways you can organize incoming requests — we'll discuss how this works next.
Centralize, Organize & Categorize Tickets
IT departments spend a great deal of time working on requests from coworkers and support tickets from customers. This involves digging around inboxes, figuring out which tickets come from which users, and who should handle each request — all of which can result in mistakes and impact the customer experience. HelpSpot's features address these problems, ensuring all requests are routed to the right team member.
Shared Inbox
HelpSpot's inbox unifies all IT inquiries. You can link multiple email accounts (such as IT@, support@, and help@), and centralize requests. Every request can be viewed from one team inbox so nothing is overlooked.
If you manage requests from other channels (e.g., chatbots, SMS, or phone systems), you can connect these communication channels and view ticket data in HelpSpot. Tickets remain static but you can use the insights in your reporting and oversee all support issues in one place.
Read more: The Best Team Inbox Management Solution
Segment Requests
You can use HelpSpot's multi-brand features to create dedicated inboxes for different user groups and assign support agents to the right dashboards for their roles. For example, you can have one dashboard to manage internal IT requests and another for support tickets from customers. This saves time rooting around the inbox or asking other team members which tickets to take.
You can also learn more about organizing requests by brand, department, or user group in our other guide: Multi-Brand Help Desk: Manage All of Your Brands with HelpSpot
Categories & Custom Fields
You can take organization a step further with categories and custom fields.
Use categories to create groups — such as "network issue," "password reset," "wifi connectivity," etc. — and organize tickets by request type.
Use custom fields to track more detailed information about requests (and filter requests by specific criteria). For example, within the category "hardware issues," you could track the affected device type, serial number, device condition, etc.
Then, you can use this data to easily search requests, improve reporting insights, and dig into details about the types of requests your team receives.

Agent Queues
Agents and managers can browse service requests in the central inbox and assign tickets to the correct team member. From here, HelpSpot will move the ticket to the agent's queue, where users can see which tickets they're assigned to and work through requests.
Once tickets are assigned to a team member, all follow-ups are routed back to the same agent queue. Everyone is clear on ticket status, who's working on what, and no tickets are overlooked.
Agents can batch replies to similar requests together, merge queries from the same person, and assign tickets to other team members so responses can be turned around quickly.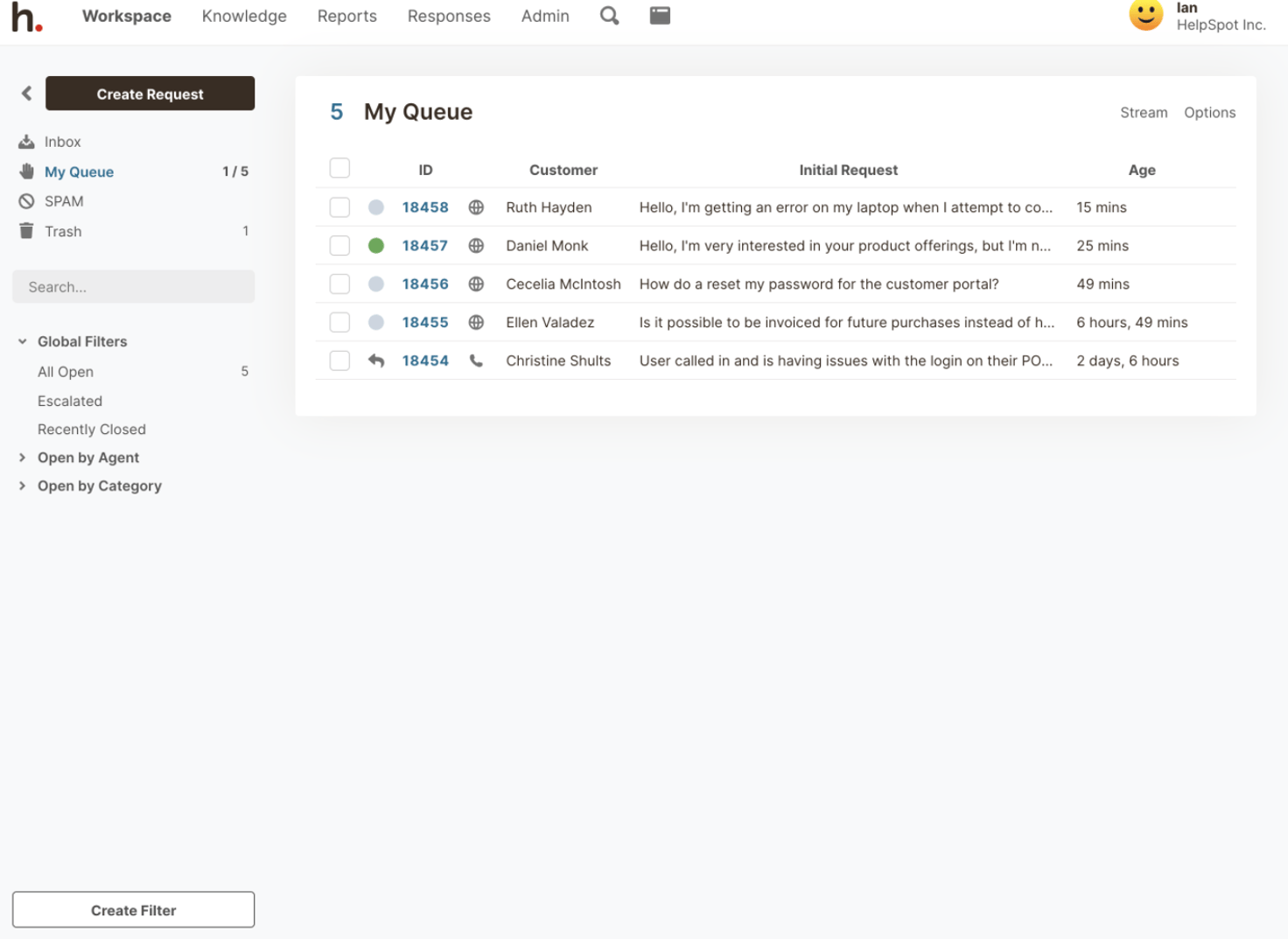 Collaborate to Avoid Duplication
Many IT teams use external messaging apps (e.g. Slack) to collaborate on service requests. This means jumping in and out of different systems and potentially overlooking, or even losing, critical request details.
HelpSpot lets multiple agents work inside the same ticket at once, and has features like internal notes and collision detection so agents can work together more productively.
Internal Notes
Team members can leave comments within tickets via HelpSpot's internal notes. HelpSpot stores all notes in the ticket UI, so anyone who joins the ticket can instantly catch up on its status.
You can also tag team members and departments within tickets. For example, say you have a ticket about a broken laptop that needs to be replaced. You can tag the procurement department in the ticket so they can take the next step (i.e. purchase a new device), and they can tag you back when the laptop has been ordered or received.
Collision Detection
HelpSpot sends real-time notifications when multiple agents are working on the same ticket. These alerts show other agents if team members are viewing or responding to requests so they can avoid confusion and duplicate replies.
Standardize and Automate Responses to Save Time
Customers and co-workers expect fast response times from IT help desks, especially when it comes to urgent matters like password reset requests, network problems, or server issues. HelpSpot has several features that help relieve agent workloads and speed up responses.
Canned Responses
You can create a library of email templates for common request types and instantly drop replies into tickets. You can use templates to create canned responses, or you can personalize templates before sending. We also have a custom signatures feature so you can add a human touch to replies.
Using templates means you can ensure replies are consistent, up-to-date, and free of typos or grammatical errors.
Knowledge Base
Within HelpSpot, you can create a knowledge base where you can store important support guides (e.g. FAQs on how to set up a device, documentation on policies and procedures), and organize resources by topic, so agents can easily find detailed information about how to address different types of support requests.
Agents can refer to the help desk knowledge base when responding to queries, or attach resources in their email replies. Having shareable knowledge base resources saves agents from having to type out detailed responses from scratch — and they're particularly helpful for more complex IT requests that require meticulous troubleshooting.
Note: If you use multi-brand support to create dedicated inboxes, you can also set up corresponding knowledge bases (and portals – see below) for each inbox you manage. This makes it easy to organize knowledge base information by team if you have separate resources, procedures, or policies.
Self-Serve Portals
You can also create self-service portals on your website so users can find answers to common questions and access troubleshooting information without having to contact your IT staff. You can choose which resources to share publicly and which to keep private, and as we mentioned above, you can create multiple portals if you manage more than one inbox in HelpSpot.
HelpSpot also allows end users to submit tickets and check request status on self-service portals.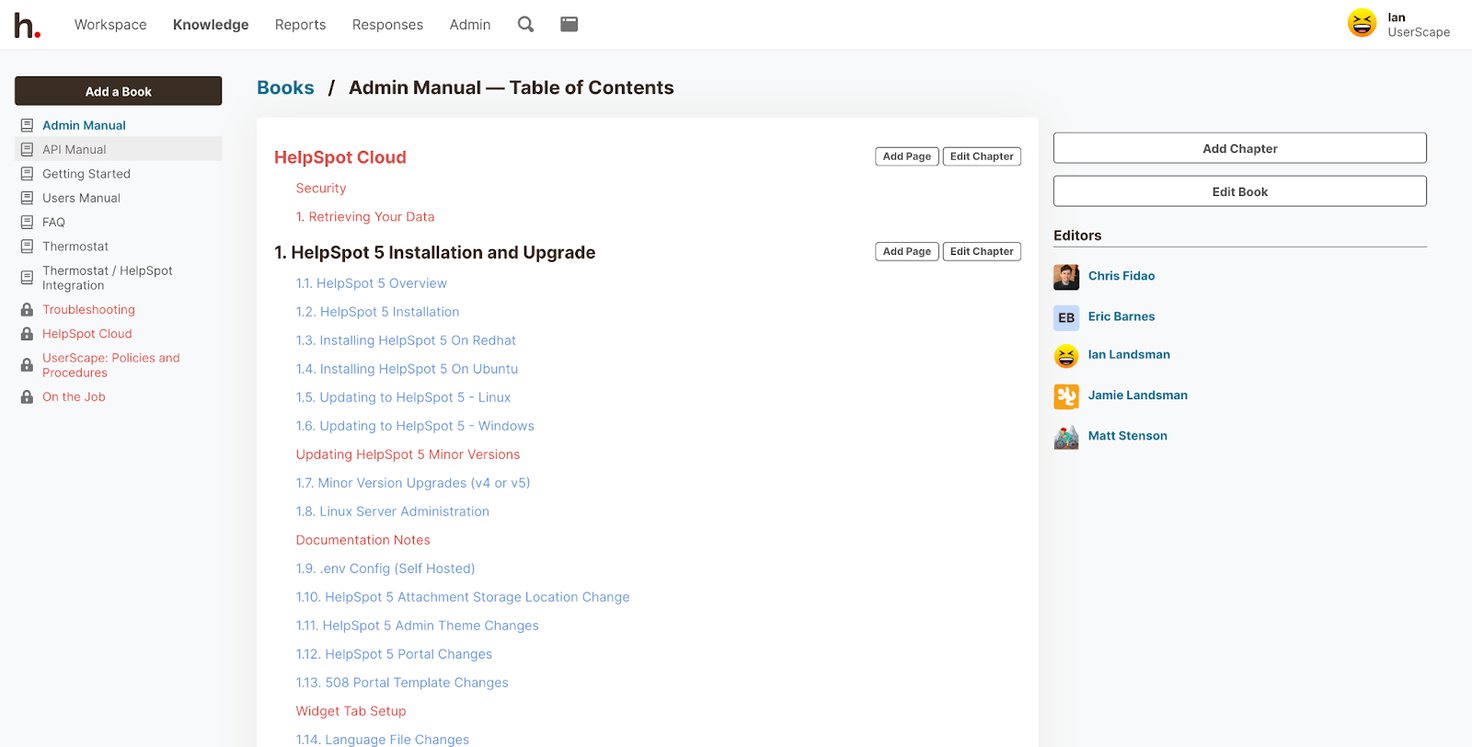 For example, let's say you manage support requests for a SaaS company and receive a lot of questions about a specific software feature. You could publish feature guides on your portal so users can learn the ins and outs of your software. (Then, if they still have questions, they can get in touch with your team by submitting a ticket.)
Read more: HelpSpot's Customer Portal Solution & Help Desk (+ 3 Other Options)
Automation Rules & Triggers
HelpSpot's automation features allow IT teams to create "if/then" rules to automate repetitive functions, like ticket routing, prioritizing escalations, and SLA management. Then, teams can cross these to-do's off their list and spend time on more productive tasks (like actually responding to requests).
For example, you could create a rule that states if any ticket contains phrases like "network down" or "lost connectivity," then it is to be routed to the agent who deals with network issues. Or, you can use automation rules to resolve requests if tickets don't show any new activity after a certain number of days.
You can also set reminders for recurring tasks such as asset servicing or license renewals so they are never missed.
Create Performance Reports
HelpSpot also has a native reporting dashboard so you can monitor what's going on in your IT help desk. You can track agent workload and performance by looking at metrics like number of new tickets, number of replies, and number of tickets resolved.
But, as we talked about with custom fields, you can also use the reporting dashboard to dig into specifics about support requests and gather insights on the type of issues users experience. Do you receive a high volume of requests about a specific software or product? Do you experience a higher volume of requests during specific times of the year? Are you experiencing an influx of a certain request type?
You can use filters to explore and analyze data sets, such as internal queries or customer requests. Our reporting templates are pre-defined but fully customizable so you can dig into data by team, agent, and time frame.
You can use this data — insights on team performance and customer issues — to offer better support to both your agents and end-users. If you notice agents are tasked with managing a higher volume of requests than normal, you can hire more staff. If you see agents take longer to respond to a specific request type, you can offer more training or knowledge base resources on the topic. If you pick up on patterns across customer requests, you can add resources on your site for users to access on their own.
Strategic improvements can boost customer satisfaction and reduce the burden on your agents.
Read more: The Complete Guide to Customer Service Reporting
Integrate to Streamline Workflows
HelpSpot supports integrations via Zapier and API, so you can sync your help desk with other software in your operations. For example, you can connect with other IT tools, like asset management software, to push data between systems and aggregate reporting data. Or, as we mentioned earlier, you can also connect other communication channels (e.g. chatbots or phone systems) if you want to monitor those tickets in HelpSpot.
HelpSpot also has Live Lookup which lets you access and view data from your CRM while working on requests in HelpSpot.
Getting Started
HelpSpot offers flexible set-up options, integrations with other IT software, and agent-based pricing, so we can accommodate a wider variety of business needs. Small IT teams that need straightforward email management can get started with HelpSpot in a day. But teams can also build out our software, connect with other tools in their workflows, and tailor HelpSpot to meet their unique requirements.
Our platform is highly scalable so you can update your help desk as your business evolves.
HelpSpot's online service desk software lets you centralize and manage customer tickets, integrate with other external tools in your tech stack, and simplify your IT team's support processes. Start a free 21-day trial to see how our features improve ticket and team management.
4 Alternative Online Service Desk Solutions
HelpSpot is a simple, intuitive email management system that caters to a variety of team needs. But we've also included four other IT help desk solutions in our guide so you can explore other top-rated options.

Freshservice
Freshservice is a cloud-based IT ticket management software from Freshworks. It includes help desk features like a central inbox, reporting dashboards, and SLA management, but it also offers ITSM tools like network monitoring, asset management, and project management for backroom IT operations.
Online reviewers say that Freshservice's user interface is modern and easy to navigate — once you learn the ropes. Reviewers also mention the initial setup can be complicated and the help desk software has a slight learning curve.
Freshservice offers four pricing packages with a variety of add-on features and services. However, even the entry-level package starts at $19 per agent per month, so this option is more expensive than other alternatives.
Note: Freshworks also offers a help desk platform for customer service teams — Freshdesk — with ticket and team management features (like shared inbox, collision detection, and canned responses). You can read more about it in our Freshdesk Alternatives Guide.
Jira Service Management
Jira Service Management is an advanced IT service management (ITSM) solution. It's a popular choice for IT teams because it has dozens of features, including change management, incident management, and asset management to support IT processes. It also comes with mobile apps for remote workers and field agents.
Jira Service Management Cloud operates on AWS hosting, and Jira provides frequent software updates so you have access to the latest features and functionality. (They charge extra to access some add-ons and security features, though.) You can integrate Jira with other software in your workflows with the Jira REST API, but this tool comes at an additional cost.
Jira is a robust (and expensive) solution that primarily appeals to teams that 1) are already using Jira apps because it has strong integrations with their other tools, and 2) need a variety of additional IT tools to support their operations.
For example, if you are already using a separate bug tracker or DevOps software, you might want to use a different help desk that'll sync with the tools you're already using.
But, while Jira performs well within the Jira environment, it lacks integrations with other tools, and it may be too feature-heavy and complicated to learn for small teams.
Read more: Jira Service Desk Alternatives for On-Premise Users (5 Tools to Try)
LiveAgent
LiveAgent is a help desk for service teams that want to incorporate chatbot software into their support operations. LiveAgent offers a super fast live chat feature that allows IT teams to quickly receive and respond to requests in a messenger-style format. They can easily respond to coworkers and offer more "human" experiences to customers.
In addition to the live chat feature, LiveAgent has robust help desk functionality (over 130 features and 200 integrations) so you can manage tickets from several support channels, assign tickets to agents, and track the support process.
For large teams, LiveAgent's robust feature set is a benefit, but some small businesses may find the platform overwhelming.
LiveAgent offers mobile apps for Android or iOS, and they offer international data management for teams operating in Europe.
Given the complexity of the platform, LiveAgent is a little pricey, so if you don't want or need everything LiveAgent offers, it may not be the right choice for you.
Read more: LiveAgent Alternatives: 6 Best Help Desks for Customer Support
Zoho Desk
Zoho Desk is a popular cloud-based help desk tool for IT teams that are looking for a solution with built-in live chat and other omnichannel support features.
This help desk provides an instant messenger and phone system (Telefony) and allows you to connect with social media platforms and email accounts to centralize tickets from all sources. It also has an AI bot that can automate help desk tasks and respond to customer messages for you.
Zoho Desk comes with iOS and Android mobile apps so IT support agents can respond to tickets in the field. However, user reviews suggest Zoho's navigation and dashboard are complex, and teams need to spend a lot of time learning the software.
Zoho Desk offers several help desk packages to cater to different user needs. The standard package comes with basic help desk features (like ticket management and agent queues) and a handful of extras (like knowledge management and reporting) and costs $14 per agent per month.
But it's worth noting: most advanced features (like collision detection and automation) are only available only in Pro and Enterprise plans, so IT teams may have to invest in the more expensive packages to access all of the features they need.
Read more: Zoho Desk Alternatives | Top 8 Help Desks for Customer Service
Start a Free Trial of HelpSpot's Online Service Desk Software
HelpSpot is a flexible online service desk software for IT teams wanting to centralize, organize, and track support requests from start to finish. Collaboration features and built-in reporting allow your IT team to manage tickets more efficiently and upgrade support processes, while HelpSpot's integrations let you connect with other tools in your tech stack to streamline all of your user workflows.
HelpSpot is quick to set up, easy to use, and secure — sign up for a free 21-day trial to see if we're the best help desk software for your IT teams.