When shopping for Solarwinds alternatives, think about the features and functionality you'd like to replace. In other words — what type of Solarwinds alternative do you need? Do you need a dedicated tool like a help desk system or network monitoring software to replace one aspect of Solarwinds? Or do you want a more robust IT solution that encompasses many tools?
At this stage, IT teams typically consider a ticket management system or IT service management (ITSM) software.
Ticket management systems: Software tools that organize new customer inquiries into simple and actionable tickets. These ticketing systems are best for teams that field high volumes of IT requests from multiple user groups. An example of a ticketing system is HelpSpot, which works for IT teams that want an email to ticket system to provide support.
ITSM systems: Robust solutions that centralize the entire operations of an IT team. These systems let IT teams organize support requests, but they also have IT tools like network monitoring, asset management, incident management, project management, and more. Examples of these tools are ManageEngine and Freshservice.
In this article, we review seven of the top IT tools you can use to replace Solarwinds. Let's get started.
Best Solarwinds Alternatives
HelpSpot is a customizable help desk solution that lets you manage support requests and integrate with your IT tech stack. Begin a 21-day free trial to get started with our ticketing system.
1. HelpSpot: Simple Ticket Management for IT Teams
HelpSpot is a ticket management system designed for teams that use email to receive and respond to IT requests. HelpSpot connects to an unlimited number of email accounts (like support@company.com and help@company.com) so you can centralize requests and manage all IT support from one platform.
In addition to core ticket management features, HelpSpot also offers a reporting dashboard so you can monitor support processes and agent workloads. And our API lets you connect HelpSpot with any tool in your IT operations and sync data between systems.
Here's a quick demo of HelpSpot's features:
Instant Organization and Multi-Brand Support
HelpSpot's shared inbox makes it easy for agents to see all incoming IT requests. You can create filters to segment requests based on inbox, category, agent, priority, etc. For example, you can create filters to view all new tickets that mention "network devices" or "hardware issues," or you can quickly sort tickets to see escalations.
Note: Although HelpSpot does not provide native asset management features, many IT teams use custom fields to store and track detailed request information in the help desk. You can use these to track device IDs or IP addresses, specify software or hardware issues, and more.
If you manage IT support for both coworkers and customers, you can use multi-brand support to set up dedicated inboxes for each user group. As the name implies, you can use this feature to segment support requests by brand, or you can set up mailboxes to separate tickets by department or location.
For example, in a small business setting where you have multiple departments working in the help desk system, you could use multi-brand support to separate IT requests from HR tickets. Or, in an enterprise setting, you could separate support requests by region (so your west coast team receives requests from west coast users, and vice versa). Plus, HelpSpot lets you set up a dedicated knowledge base and customer portals for each inbox you create (more on this below).
Read more: Multi-Brand Help Desk: Manage All of Your Brands with HelpSpot
Agent Queues and Intuitive Ticket Interface
Agents can easily assign tickets to themselves or others by selecting tickets from the inbox and adding them to their queue. There are also options to automate ticket assignment so new requests are automatically routed to the right agents. Once tickets are assigned, they disappear from the central inbox so other users aren't working around them, and all responses to the ticket are routed back to the assigned agent so the support experience is smooth and consistent.
Within the ticket interface, agents can access advanced features like email templates and private notes to simplify their workflows.
Here's how these work:
Email templates save agents from writing out replies to every ticket. Just search for the template that fits the request and drop it in your response. Setting up a library of saved responses lets agents work through requests more efficiently and improves response times.
Private notes let agents comment about requests within the ticket — instead of jumping to an outside messaging app. Then the entire comment history is stored in the ticket for future reference.
Collision detection enables clear collaboration because it sends agents real-time notifications when other team members are viewing or responding to the ticket they're working on. This way, agents don't send duplicate replies or step on each others' toes.
Pinned notes let you save the most important ticket details at the top of the comment thread so other IT agents can easily get the gist without reading the entire back and forth.
Read more: The Best Team Inbox Management Solution

Clear and Accessible IT Knowledge Base
Our help desk also has an intuitive knowledge base so you can create and store important documents and FAQ-type resources for your IT agents. You can get as detailed as you wish in your knowledge base — it's organized in a clear book/chapter format so you can expand and update your knowledge base with ease.
Building out a help desk knowledge base lets agents access information on your IT processes without asking others for help or slowing down the workflow. Agents can find answers to questions themselves and even drop knowledge base documents in their email replies to ensure they're relaying the best step-by-steps for other users.
You also have the option of publishing knowledge base resources on your customer portals…
Modern Self-Service Portals for All Customers
Self-service portals live on your website and are 100% customizable so you can add branding elements and have complete control over the page design. Customer portals are convenient for end-users and IT staff alike because they:
Serve as a hub for knowledge base documentation, so customers can find answers to common IT issues without contacting your team — reducing the number of tickets your team receives
Host custom contact forms so end users can easily get in touch when they do need help (and you can collect all of the necessary details to simplify the support process right off the bat)
Let users check on ticket (request) status without asking your team for an update
Remember, if you use multi-brand support to create multiple team inboxes, you can also set up dedicated knowledge bases and customer portals for each inbox you manage.
Instant Custom Reporting
HelpSpot's reporting tool gives you an in-depth look at your IT support processes. For example, with help desk reporting metrics, you can better understand the user experience, team workflows, agent workloads, and individual agent performance.
We create ticket volume and speed reports so you can easily check KPIs like number of responses, number of resolved tickets, average response times, and resolution times. But each report is customizable so you can graph data over different timelines or zoom in on specific agents' performance. You can also save custom reports for easy access in the future.
You can export reports to Excel or schedule them to send on a recurring basis. If you want to consolidate data in a different reporting tool, HelpSpot's open API lets you integrate with our SQL database and connect with your own data center.
Simple Setup for On-Premise & Cloud-Based
HelpSpot's ticketing system is available for both cloud-based and on-premise users. So if you need to run help desk software on private servers, you can opt for our self-hosted help desk.
Set up is quick and easy (especially for anybody with an IT background): We provide download links for Microsoft Windows and Linux operating systems, then our installer walks you through the steps — you can be up and running in an afternoon. And rest assured, we still update our on-premise help desk with new features and provide full support if you need help with installation or set up. Plus, HelpSpot's mobile apps are compatible with both versions of our help desk system, so you can run the on-premise version of our software and still take advantage of our mobile help desk.
HelpSpot has simple, straightforward pricing — choose your plan based on number of seats and adjust any time you need. Every agent has full access to HelpSpot features, and we don't charge extra for support or integrations.
Start a 21-day free trial to see if we're the right help desk for your IT teams!

2. Kayako
Kayako is another ticket management system IT teams can use to process support requests. Kayako lets agents field tickets from multiple channels, and many teams like Kayako for the extra social media integrations: It comes with out-of-the-box integrations with Facebook and Twitter, so if your IT team fields a lot of requests from social media, you should take a strong look at Kayako.
Similar to HelpSpot, Kayako has ticket and team collaboration features like shared inboxes, agent queues, customer portals, and reporting. And as a dedicated ticketing system, Kayako works best for teams who need a Solarwinds alternative for request management.
Kayako is only available for cloud-based users, and they offer a variety of help desk packages for different business sizes. Just take note that features differ between packages, and you may need to choose a more expensive package to unlock all of the features you need.
Read more: Kayako Alternatives: 5 Best Help Desks for Customer Support
3. ManageEngine
Unlike HelpSpot and Kayako, ManageEngine is a dedicated ITSM platform for teams that want a single tool to manage their entire IT infrastructure. ManageEngine's ServiceDesk Plus provides:
Incident management
Release management
IT asset management
Network monitoring tools
Help desk features
Note: ManageEngine also provides end-point management and network performance monitoring through two add-on products — EndPoint Plus and OpManager.
Although ManageEngine has a lot of IT functionality, reviews of the software mention a long learning curve and frustrations at paying for unused features — this solution may feel like too much for some teams.
ManageEngine works best as an "all-in-one IT software," so if you don't need network monitoring software or ManageEngine's other extras, you may want to choose a simpler option.
Read more: 7 Best ManageEngine ServiceDesk Plus Alternatives & Competitors

4. Freshservice
Freshservice is an ITSM solution with a variety of solutions to aid in IT operations. It provides help desk essentials like shared inboxes, collaborative features, and customer portals to manage support requests, but it also has IT extras like incident management, asset management, project management, and a synchronized network monitoring platform.
This ITSM software is a popular solution for small teams because they have a free plan that supports up to three agents. However, most teams upgrade out of the free plan quickly, and paid packages can get costly, so it's best to look at Freshdesk's entire offerings before making a decision.
All in all, Freshservice is a good choice for teams that need ticket management features to handle a high volume of user support requests and IT functionality to streamline internal operations because it has advanced features in both categories.

5. LogicMonitor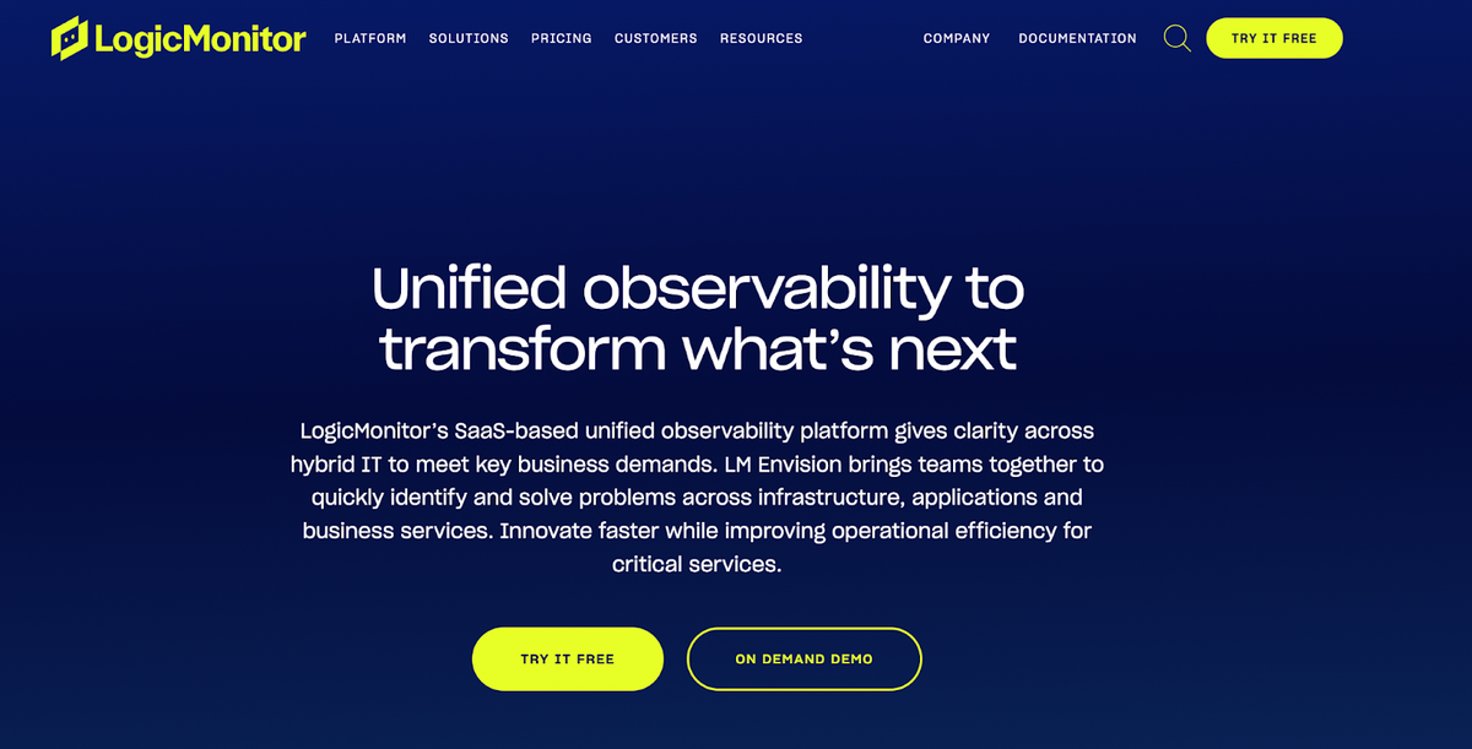 LogicMonitor is a SaaS-based solution that monitors your entire IT ecosystem for performance issues and vulnerabilities: They offer database monitoring, server monitoring, website monitoring, infrastructure monitoring, network monitoring tools, and more. LogicMonitor also comes with log analytics and out-of-the-box integrations to the most common IT ops platforms.
LogicMonitor can replace many of Solarwinds' IT functionalities, but it does not include a native help desk, so you'll need to integrate with a separate ticket management system if you need both sides.
Due to the complexity of the software (and price), LogicMonitor is best for medium to large enterprise businesses that have the need for LogicMonitor's robust features and the know-how to integrate with their current tech stack.
6. Auvik
Auvik offers cloud-based network management with extra modules including IT asset management, infrastructure monitoring, and application performance monitoring. Notably, Auvik also offers a traffic analysis dashboard that gives you a clear view of every device and user on your network so you can gauge bandwidth and dig into network flows.
Similar to LogicMonitor, Auvik is great for teams looking for a network monitoring alternative to Solarwinds — it does not have ticket management features. However, it does integrate with other applications if you have help desk software you want to connect.
Reviews for Auvik praise the modern features and use of ease, however, some users note the high price tag. Generally, this solution is recommended for enterprise teams that require in-depth network monitoring and have a need for Auvik's other advanced IT tools.
It's worth noting that Auvik has a network of managed service providers (MSPs) — which means they can help set up the software, perform maintenance, and assist when you have questions or experience glitches — and this can be crucial for scaling companies that don't have the immediate resources to implement a tool like Auvik.
7. Nagios
Nagios is one of the only free and open-source IT infrastructure monitoring systems available. Nagios offers application monitoring, server monitoring, log monitoring, and operating systems monitoring for teams running Windows and Linux.
Nagios best fits into your tech stack if you need an IT monitoring solution to integrate with your current tech stack. You can connect it with outside ticketing systems or other ITSM software to complement their features. Plus, since Nagios is free, you can add IT infrastructure monitoring to your tech stack without spending a dime.
Find the right Solarwinds alternative for your teams? You can get started with HelpSpot (cloud-based, on-premise, or mobile apps) for free — sign up for a 21-day trial to connect your inboxes, add agents, and see our help desk features in action.