Most businesses use a tool like Gmail or Outlook to send and receive emails from customers. Although these shared inboxes work for small teams, they become more challenging to use as you scale. For example, you can't:
See which agent is working on which email, and this leads to missed tickets, duplicate responses, and delayed replies (and unhappy customers).
Check customer data within the email, so you have to jump to the CRM or ask another employee to update you.
Gather data and analytics to report on incoming emails, team performance, or agent workload.
An email to ticket system solves these problems because it:
Converts incoming email requests into tickets, organizes tickets in a central inbox, and has features to assign tickets to team members.
Connects with CRM systems and other tools in your daily operations to push data between systems.
Comes with built-in reporting so you can monitor performance metrics to get insights into agent workload and customer needs.
Our help desk software, HelpSpot, has core email management features like a shared team inbox and agent queues to simplify agent workflows and enable better team collaboration. We also offer extras like internal notes, collision detection, email templates, and a knowledge base that let agents exchange messages within tickets, prevent duplicate responses, and respond to customers faster without errors.
In this post, we'll walk through the core features of our email help desk software and review four other email-to-ticket help desk options, including Zendesk, Freshdesk, Zoho Desk, and Hiver.
HelpSpot's email management features let teams organize incoming tickets in a single shared dashboard and assign emails to other agents, so no requests fall through the cracks. Sign up for a free 21-day trial to learn more about our help desk features and see how HelpSpot can support your team's workflows.
HelpSpot's Email to Ticket System For Customer Support Teams
HelpSpot is a good choice for teams coming from platforms like Gmail or Outlook features because we are primarily an email help desk software.
What's that mean? We prioritize the essential features to manage emails — like an organized shared inbox and agent queues — so you can quickly transition from your current systems without a learning curve. We skip the extras like chatbots and omnichannel support features that are often included in customer service software (like Zendesk and some of the names below), so you aren't paying and working around features you don't need.
Our help desk is also highly customizable, so you can integrate it with other tools in your daily operations, including CRM systems or reporting tools, and easily access data from those systems. Plus, our help desk software can work for all team sizes because we operate on a pay-per-agent pricing model — $11 per agent per month. You only pay for seats and every staff member has access to the same suite of features.
In the sections below, we talk more about HelpSpot's help desk software.
Easy-To-Navigate Interface | Onboard Agents Faster
Multiple agents using a shared inbox with the same password invites security risks. To resolve this, every agent in HelpSpot gets their own login credentials and a personal dashboard.
Once you sign in, you can clearly see all incoming tickets with details like customer name, ticket category, ticket status, and who the ticket is assigned to. With the search bar on the left, agents can find any emails using filters, tags, and categories. Agents can navigate to other pages and advanced features from the top and left-side menus (e.g., knowledge base) so they have all the information to respond to customers in the best possible way.
Note: Our built-in authentication system keeps security threats at bay, but if you don't want to use the built-in system, you can adopt single-sign-on support with SAML authentication.
Central Inbox | Organize and Filter Tickets
HelpSpot's central inbox converts all incoming support emails into tickets. You can link as many email accounts as you want (e.g.,info@, support@, billing@) and group all emails in a shared inbox for a unified view.
You can organize emails by type with categories and then use custom fields to track more detailed information within tickets. Then, filters let you sort tickets by category and custom field information so you can find requests quickly.
For example, if you offer IT support to a healthcare facility, you can create categories based on 'hardware' and 'software' issues. Then, you can add custom fields to add which department emails are coming from. Finally, with filters, you can find any combination of emails (e.g., software problems from the billing center).
HelpSpot also offers multi-brand support so organizations with multiple brands or locations can connect all of the email accounts they manage and create individual dashboards for each brand to separate requests. (Some teams even use multi-brand support to separate email requests by department — for example, HR and IT.)
Our multi-brand support feature also allows you to set up dedicated knowledge bases and self-service portals for each brand (more on those below). Plus, each mailbox is fully customizable, so you can align your portals with the relevant brand's identity and use custom filters to sort tickets quickly.
Read More: The Best Team Inbox Management Solution
Agent Queues | Assign Tickets to Agents
From the team inbox, staff can scan incoming emails and assign themselves requests. HelpSpot transfers tickets to the assigned agent's personal queue so staff members can easily see their active requests and respond to new emails. This way, every team member knows who is working on which ticket and emails aren't (accidentally) overlooked.
Within the agent queues, users can:
Merge multiple tickets related to the same issue. For example, if a customer sends two emails related to the same request, you can select both and merge them into one.
Reassign tickets to other agents who are better equipped to resolve the customer issue.
Send batch responses to recurring or common service requests.
Private Notes & Collision Detection | Enable Collaboration in the Help Desk
HelpSpot offers internal notes and collision detection so agents can collaborate on email requests and see when other agents are working on the same ticket as them.
Internal notes let agents leave comments for one another within help desk tickets so they can resolve requests together. For example, the member of the sales or support team can leave notes on a refund issue and tag the purchasing department for help. In addition, HelpSpot saves all notes in ticket history so agents can get updated on the ticket status and refer to past customer information any time they want.
Conflict detection sends a real-time notification to show you if another agent is viewing, editing, or responding to the ticket you're working on so you can avoid repeat work and duplicate replies.
Templates, Knowledge Base & Self-Service Portals | Give Customers Quick Answers
For repeat requests — like bug fixes or password resets — HelpSpot lets you create email templates with canned replies so that agents don't have to type every response over (and over) again manually. Templates help avoid typos, speed up response times, and standardize responses. These also help you shave downtime when onboarding new staff members, as agents can pull in pre-approved replies to requests instead of learning the details of how to respond to each query.
HelpSpot's native knowledge base lets you create a collection of helpful articles, how-to's, FAQs, and step-by-step guides within HelpSpot. As a result, agents can quickly locate solutions to customer issues without asking another team member for help. Agents can also attach these articles to email replies and resolve complex issues without spending a long time typing out troubleshooting instructions.
Read More: 5 Top Help Desk Knowledge Base Software: 2022 Buyer's Guide
You can publish knowledge base articles on public-facing self-service portals so users can find important materials or answers to commonly-asked questions on your website. Self-service portals help customers tackle support problems on their own and directly reduce the number of emails you receive.
HelpSpot also tracks all the searches customers made in your self-service portals. Searches that yield no results help you understand which information you need to add to your knowledge base.
Automation Rules & Triggers | Train HelpSpot to Perform Repetitive Tasks
HelpSpot's automation rules and triggers let you create "if/then" rules to train our software to complete repetitive tasks for you. You can then automate tasks like SLA management, escalation management, and ticket routing. For example, you can set a trigger to automatically assign all emails with the subject line 'invoice' to the finance head.
Reporting Tools | Monitor Emails & Agent Performance
HelpSpot's built-in reporting shows you at-a-glance reports like how many requests agents receive in a day, average response time, and ticket resolution time. Data on these metrics help you gauge agent workload, monitor team performance, and better understand customer needs.
Our reports are fully customizable, so you can track data over different timeframes or segment results by the department. So, for example, if customers complain about delayed order status updates, reporting data can help you decide if you need to add more agents or if you just need to create more templates so agents can send those updates faster.
We also offer unlimited report sharing, and you can set reports to be automatically sent out to key stakeholders and team members so that everyone is looking at the same metrics.
Read More: The Complete Guide to Customer Service Reporting
Customize HelpSpot for Your Team Size & Business Needs
HelpSpot's open-source APIs and Zapier connection let you sync chatbots, phone systems, social media widgets, and any other tools your teams use with our email management system. These integrations let you view and track support tickets from other systems in a centralized dashboard and consolidate external data for reporting. In addition, Live Lookup connects to any CRM or external database so that you always get real-time customer information and custom field data in your reports.
Our pay-per-agent pricing structure is simple so HelpSpot works as a cost-effective option for all team sizes. You only pay for the seats you need ($11 per seat per month) and every agent has access to the same features. Both versions of our help desk are priced the same, and we don't charge extra for integrations, mobile apps, or support.
Sign up for a free 21-day trial to connect your email accounts and benefit from HelpSpot's features to organize incoming customer emails in a single dashboard and improve ticket management.
Four Alternative Email Ticketing Systems
In addition to HelpSpot, there are four other email to ticket systems that you can consider. Below, we cover some of their key features and who they are typically recommended for.
Zendesk, a cloud-based service desk, organizes and unifies new tickets from email, live chat, messaging platforms like WhatsApp, and social media platforms like Twitter within a single workplace.
This help desk is a good option for teams that provide omnichannel support (i.e, handle requests from email and phone systems, chatbots, etc.). That said, teams who want to track just email requests can find these features overwhelming and hard to learn. Some users share that it has a steep learning curve, and their support team is slow to respond to requests.
Key features:
Live chat so agents can talk to customers directly on the website, offer instant resolutions, and improve customer experiences.
AI chatbot (AnswerBot) to handle repetitive customer requests with automated answers.
Advanced routing and automation.
Built-in integrations with Google Analytics and Salesforce.
Zendesk offers a full fleet of help desk features, making it one of the most expensive options: Its basic plan starts from $49 per agent per month. But most advanced features are only available in the upgraded plans. It's recommended mostly for enterprise customer service teams that require these additional help desk tools and have resources to manage onboarding/training.
Read More: Zendesk Alternatives: 6 of the Best Help Desk Competitors
Freshdesk is an omnichannel support platform recommended for field service users like plumbers, electricians, and HVAC businesses because it has features to support "on-the-go" agents and keep technicians on the same page as in-office staff. For example, with their mobile app, technicians can clock in without coming to the office, schedule customer appointments, and create new tasks.
Although Freshdesk has a modern interface and user-friendly features, some of its more technical tools require training to understand and use, and some reviews of Freshdesk mention difficult implementation and slow responses from the customer support team. Teams that don't have the resources or time for employee training can take advantage of Freshdesk's online tutorials (available via Freshworks Academy). These ease the burden on customer service managers and allow for faster adoption. But note, this extra onboarding help comes with a cost.
Key features:
Knowledge base and a self-service portal to store important resources.
Private notes that help agents collaborate on email requests.
Customizable reports to track agent metrics and customer satisfaction.
Gamification to increase agent productivity.
Like Zendesk, most of Freshdesk's advanced features are locked in the higher pricing plans — so you end up paying for features you don't need.
Read More: Freshdesk Alternatives: 9 Help Desk Software for Support Teams
Zoho Desk offers omnichannel support for organizing and prioritizing tickets from email inbox, web forms, telephone, social media, and live chat. It's a popular help desk for customer service teams and is also advertised for telecom, SaaS, insurance, and education industries.
Key features:
AI chatbots and AI assistant Zia that can answer simple questions.
A built-in call center that lets you make and receive phone calls within the help desk.
On-premise and cloud-based options (and iOS and Android mobile apps for both).
Reporting tools to keep track of support agents' performances.
A major knock users have against Zoho's help desk ticketing system is the difficulty in adopting the software. Due to this, it's best suited for mid-size teams or enterprises that can invest extra time in agent onboarding. Users also share that customizations can be tricky to incorporate, and the setup requires technical support.
Read More: Zoho Desk Alternatives | Top 8 Help Desks for Customer Service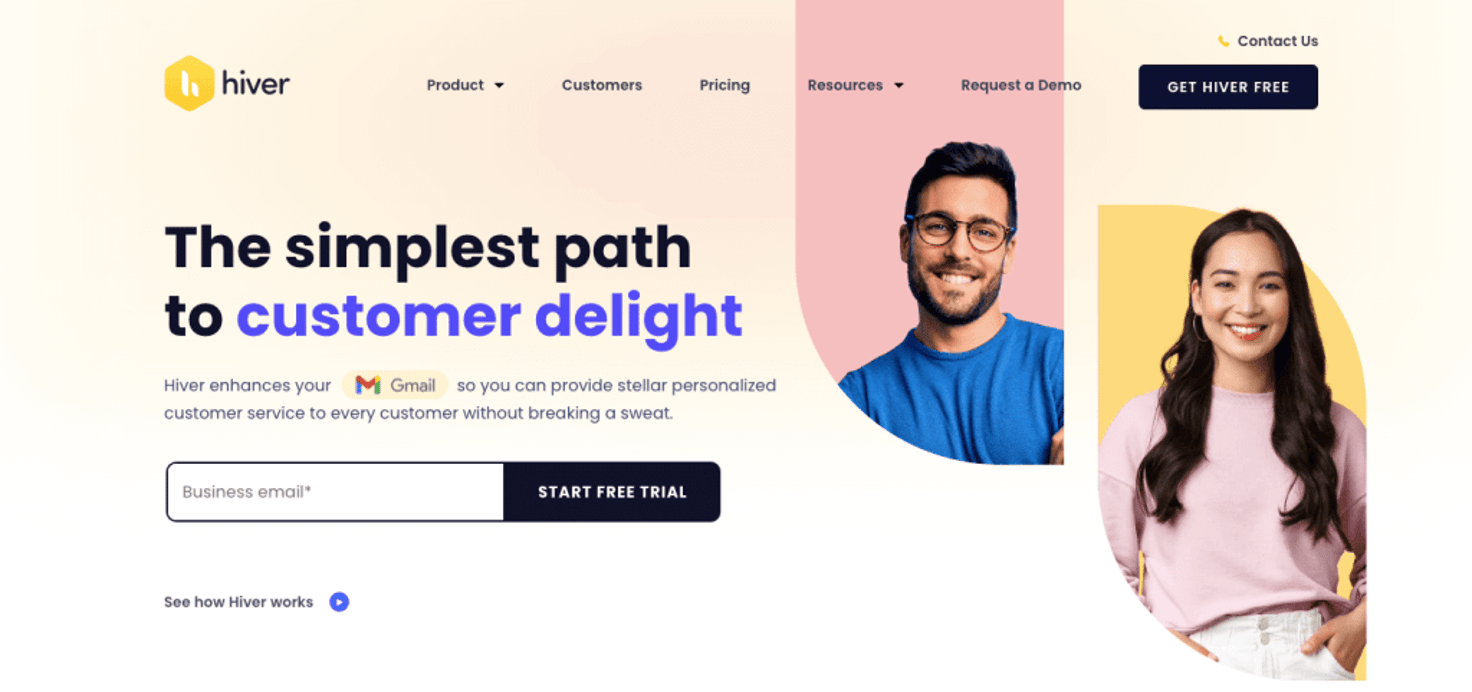 Hiver is an email ticketing software best suited for teams that don't feel ready for full-fledged help desk software or just want a few extra tools to manage customer requests in Gmail. It's important to note that Hiver is not true help desk software, but just an extension of Gmail.
Key features:
Email assignment features to assign support requests to specific agents.
Internal notes and collision detection to streamline communication.
Reports and analytics on help desk staff performances.
Customer service teams praise Hiver for its ease of use, internal notes functionality, and customizable email templates.
Some reviews, however, criticize Hiver for its lack of knowledge base features and integrations, and slow and laggy interface. Reviews also mention that one of the most valuable features, the reporting dashboard, is locked in the most expensive package ($59 per agent per month); at that rate, you're better off investing in a dedicated help desk.
Read More: 8 Best Hiver Alternatives for Customer Support Teams
Try HelpSpot's Email to Ticket System For Free
HelpSpot's email management software is designed for teams who want to:
Organize, track, and manage all incoming emails and customer conversations from a central inbox.
Ease the burden on your agents and help staff respond to emails more easily with automation, email templates, and knowledge base articles.
Integrate with any external software with our open-sourced APIs to pull data from other software your agents use and consolidate data for reporting.
In addition, HelpSpot's ticketing tool can be set up in an afternoon, so agents can start using the software on day one. Unlike other help desk software with tiered pricing plans, our pricing is straightforward—you just pay for seats, and you can add or remove seats as you need. Every agent has access to the same features.
We offer a free 21-day trial for cloud-based and self-hosted versions, so you can test our help desk risk-free before purchasing. We also provide iOS and Android mobile apps for both on-prem and cloud versions so that you can use HelpSpot on the go. Once you sign up, you can link your email accounts, add agents, and start testing our features.
HelpSpot's ticketing solution allows agents to organize all customer emails in one place, easily manage the tickets they're responsible for, and work through requests faster. Start a free 21-day trial to see how HelpSpot's email management platform works.