It's difficult to find help desk software for Linux for a few reasons:
On-premise software is generally unavailable. There is some cloud-based help desk software that advertises itself as help desk software for Linux, but you can't actually download and run their software on private servers — you can just open the internet from a machine running Linux and use the help desk software.
Many on-premise help desk tools are difficult to set up and maintain, are no longer supported, or are outdated. Even if you can find a self-hosted help desk software that works with Linux systems, it may not have the features you need or connect with other tools in your workflows, and it may be challenging to use.
To put it simply: Finding a service desk that is on-premise, compatible with Linux systems, and customizable to connect with other applications in your tech stack is like finding a needle in a haystack.
So to help you find the right solution, we put together a list of 4 help desk tools that work with Linux — starting with HelpSpot's on-premise help desk software for Linux.
Want to see how our on-premise help desk ticketing system can give you the security and flexibility you need to improve your support and increase productivity risk-free? Start a free 21-day trial of HelpSpot.
HelpSpot: A Fully Customizable, Self-Hosted Help Desk for Linux
HelpSpot is one of the most popular help desk solutions for Linux users:
We're one of the only help desk brands with a fully-supported on-premise help desk.
Our self-hosted help desk is compatible with Linux and we provide a Linux installer to make adoption as simple as possible.
HelpSpot is fully customizable via open-source API and Zapier connection so you can connect it with any tool in your tech stack to simplify workflows.
Our on-premise ticketing software gives you greater control over the installation, data storage, and security protocols. You can:
Use your own servers or private cloud. This is vital for organizations that require a self-hosted help desk solution — like healthcare organizations that must maintain HIPAA compliance or heavily-regulated financial institutions. HelpSpot's on-premise software provides the flexibility and functionality companies need to remain compliant (at no additional cost).
Connect to internal systems not exposed over the internet. Cloud-based help desks require an internet connection to run with other apps in your tech stack. HelpSpot's self-hosted software, on the other hand, can integrate with any solution in your stack — such as active directory software, project management tools, or bug tracking systems — on or offline.
Have full access to your database and reporting systems. Control how and what data is reported on and stored. Our open-sourced solution allows you to create custom fields to segment data, and customize reporting to track any metrics you want; giving you a complete overview and control of your database while making it easy to find any metric you need.
Let's take a closer look at how HelpSpot's help desk features can support your team's email management.
1. Quick and Easy Setup and Installation Process
For companies working with Linux, installing a help desk on private servers ordinarily requires a lot of time and labor from your internal IT teams. However, HelpSpot requires no additional loaders and simplifies the intricacies of installation with a download link that guides you through each step.
In addition, we offer specific instructions (written and video) for the different flavors of Linux HelpSpot connects — Red Hat & Ubuntu. Be sure to refer to the Linux server requirements page to make sure you're ready to download and get started.
HelpSpot also offers Live Lookup that syncs with any CRM or external database (like Oracle) relevant to the support team. A small amount of coding is required, but Live Lookup will give you complete control of your customer data. The data will be displayed in real-time — making the most updated customer information and custom field data instantly available in reports.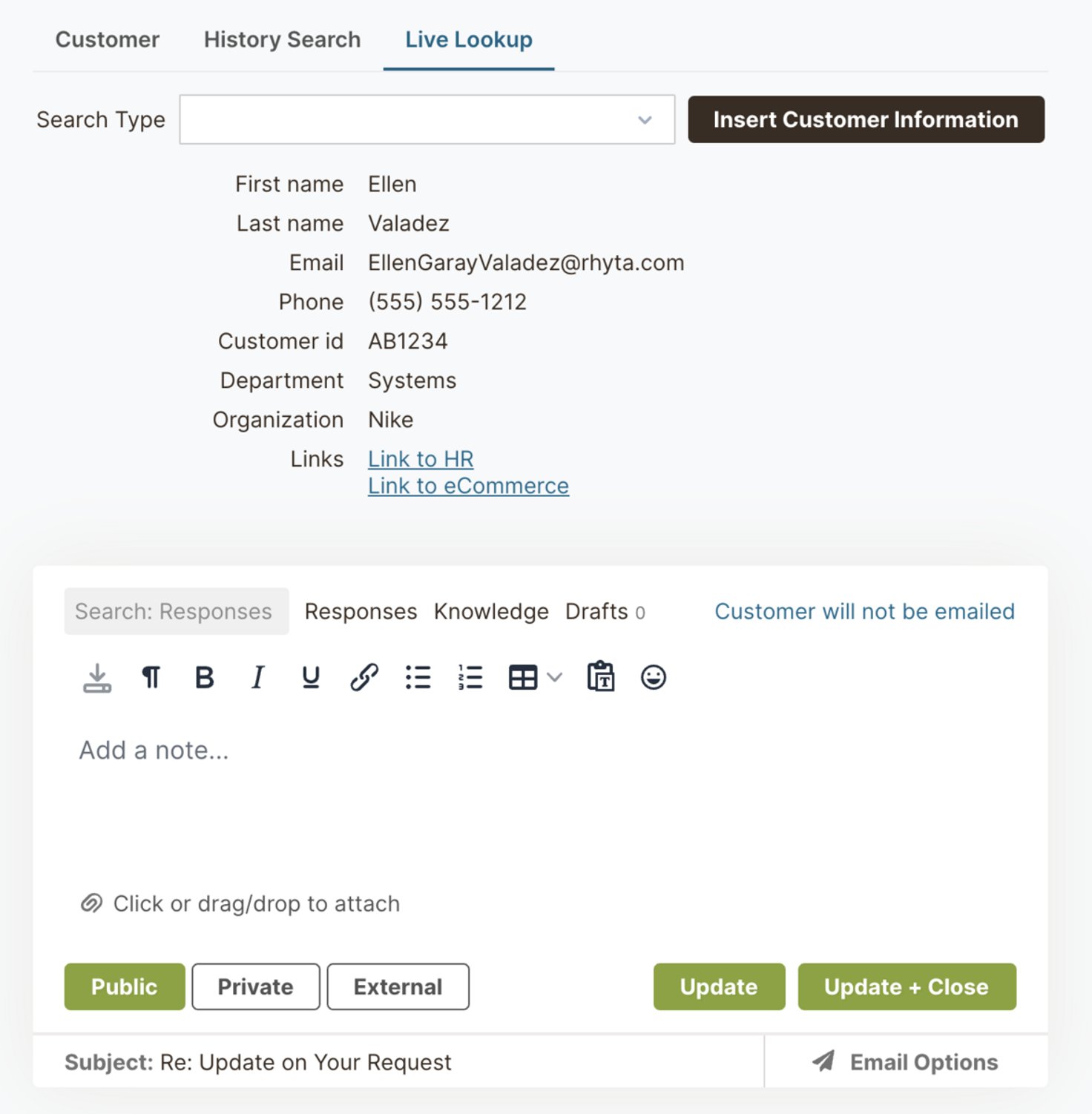 Additionally, unlike other self-hosted help desks, installation of HelpSpot on private servers is simple and, in many cases, takes less than an hour. But, rest assured knowing HelpSpot's support team is always available to answer any of your setup or installation questions.
2. Security Components to Keep Data Safe
Teams that use a shared standard email inbox (like Gmail or Microsoft Outlook) are forced to share a single password, leaving them more vulnerable to hacks and compromised customer data. HelpSpot eliminates these security risks by providing each agent with a unique login credential.
Each account comes with built-in authentication. However, teams looking for an even greater customized data security can install our Black Box Authentication that authenticates against any source.
Teams that don't want to use HelpSpot's built-in authentication can opt for single sign-on and connect it to a SAML authentication solution like Office365/Azure or Google Suites.
HelpSpot teams can also create custom permission groups to set access restrictions for certain tickets and filter them by department or end-user.
For example, let's say you are a manager for a company's HR department, and a majority of the emails your team receives include sensitive employee data. With permission groups, you can set restrictions to allow only members of your team to receive/view tickets addressed to HR.
3. Email Management Features to Get You Organized
HelpSpot was created to simplify ticket management. That is why we designed our email management software to function like other commonly used email platforms (like Gmail and Outlook); but with more advanced features to help you stay organized, facilitate team collaboration and improve overall customer satisfaction.
Our centralized inbox gives you a unified view of all your ticket requests on a clean and straightforward interface. The inbox looks like a standard Gmail or Outlook inbox — making it easy to adopt for new users with minimal training required.
Also, HelpSpot's multi-brand support lets you segment all of your connected email inboxes to create dedicated portals for each department in your company — whether you're a small business with two emails or a multi-locational healthcare organization with hundreds of email mailboxes.
Each mailbox is fully customizable. So, teams can fully align their portal with their brand/department, use custom filters to better sort tickets, and quickly track important data with custom fields. Moreover, each team has the ability to create their own knowledge book/self-service portal on their portal. (More on these below.)
Let's consider an IT team that works at a multi-departmental B2C business and receives numerous internal and external service requests daily. Their team can utilize HelpSpot's multi-brand support to segment customer tickets from internal tickets, and then separate internal tickets by department with custom filters. They can also categorize key metrics and information regarding these requests by resolution speeds, issue, priority, or any other criteria using custom fields.
Read More: Multi-Brand Help Desk: Manage All of Your Brands with HelpSpot
From the team inbox, agents can assign emails to other agents or themselves. Assigned tickets disappear from the central inbox and appear in the assigned agent's queue.
Agent queues are beneficial because:
They eliminate confusion by clarifying who is working on what ticket and which tickets are yet to be assigned.
They allow one agent to be responsible for a ticket throughout the entire resolution process.
Agents can also re-assign emails to other team members if they feel that the agent's experience and skillset can better assist the client's needs. Any re-assigned tickets are automatically moved from the original agent's queue to the newly assigned agent's queue.
Collaboration Tools to Facilitate Communication & Avoid Duplicate Replies
Agents can communicate about requests — to provide insight or assist another agent — directly within the ticket using our internal notes. So, suppose a customer support agent receives a request regarding a technical issue with a product. In that case, the agent can tag a member of the IT department to provide notes directly on the ticket to help resolve the customer's issue.
HelpSpot's internal notes save you time and eliminate the need to communicate on third-party applications — like email, Slack, Microsoft Teams — that inadvertently encourage departmental silos, lead to lost information, and heighten security risks.
Collision detection provides real-time notifications to let agents know when another agent is viewing or responding to the ticket they are viewing. That way, agents don't waste time and energy creating duplicate responses to the same ticket.
4. Customizable & Automated Tools to Minimize Agent Workloads
HelpSpot tools — like email templates, knowledge base, and automated tools — alleviate workloads by simplifying or performing many of the repetitive tasks that support teams regularly handle.
Our email templates:
Let agents create a library of saved and canned email replies that they can quickly pull, customize (if needed), and send.
Save agents time by not having to write emails from scratch — speeding response times and allowing them to field more tickets.
Create standardized responses that reduce spelling and grammatical errors.
Tickets can be customized to promote your brand or department, and agents can add custom email signatures to give their email a personal touch.
Read More: Best Email Help Desk Software & Ticketing Systems in 2022
You can also support agents and speed up resolution times by storing important articles and FAQs in your help desk knowledge base. Then, agents can quickly locate solutions to requests without having to reach out to members of their team or employees in other departments for assistance.
Teams can also publish knowledge base resources to customer-facing self-service portals so end-users can access relative articles and FAQs without submitting tickets. For example, SaaS companies can use these customer portals to provide FAQs on setup, installation, or troubleshooting their software solution — drastically reducing the workload of support teams.
Automation rules and triggers further increase ticket speed and improve uniform service by automatically performing many of the repetitive tasks that support teams deal with daily, such as ticket assignment or managing service level agreements (SLAs).
For example, let's say a company's IT support team offers support for any Linux OS or laptop issues for employees. With HelpSpot, you can set up a trigger to detect words and phrases like "Linux," "laptop," "open-source software," or "operating system," and automatically route those tickets to the appropriate agent — avoiding any need to search the inbox and assign tickets. You can also use these rules to prioritize escalations, ensuring that those tickets are addressed quickly.
5. In-Depth Reporting & CSATs to Improve Overall Customer Support
We also provide features that measure the effectiveness of your operations and give you the tools to improve your support processes.
HelpSpot's built-in reporting gives you a broad overview of your support operations by providing real-time reporting on key metrics like ticket speeds, volume reports, speed to first response, and more — allowing you to easily monitor team workloads and agent performance, and better understand your customers' needs.
HelpSpot's metrics track:
Request response and resolution speed
Ticket volumes and trends
Interactions overtime
HelpSpot's help desk reporting tool is also completely customizable, so you can use filters to categorize and group any data as precisely as you want. For example, say you want to determine resolution speeds for IT support tickets compared to HR tickets. Our custom filters let you segment the different resolution metrics by department, agent, day, or any other criteria you want, allowing you to drill down to the precise metrics you need quickly.
The Comparison Matrix lets you cross analyze any data: It has an easy-to-follow format that lets you effortlessly pinpoint patterns and themes in your reports, making key metrics jump off the screen.
HelpSpot also offers unlimited free report sharing, and you can set reports to automatically send to other team members and stakeholders, ensuring all of your decision-makers are always in the know.
Affordable Pricing & Scalability to Expand & Grow
HelpSpot provides all users the same key features to improve email and team management, regardless if you're running the cloud-based or self-hosted version of our software. We also provide iOS and Android mobile apps for both versions of our help desk so you can access tickets on the go. All in all, the only difference between our cloud-based help desk and HelpSpot's on-premise software is that on-premise is downloaded and runs on Linux operating systems.
We also offer the same pay-per-agent pricing model for both software, with no additional fees or hidden add-ons. Our affordable pricing and multi-brand client support allow us to work with clients of any size — our largest client operating 500+ departments, with 500+ mailboxes — and gives you the financial flexibility and scalability to continue growing.
3 Other Service Desks for Linux
In case you didn't find what you were looking for with HelpSpot, we cover three other help desk tools that work with Linux.
Kayako is a good help desk for teams transitioning from using a shared email inbox because it equips users with a host of collaborative and automated tools that organize email communications and improve customer support.
Support teams looking for a more in-depth view of how their customers interact with their brand will benefit from Kayako's multi-channel support — with features like live chat and social media integrations.
However, Kayako's self-hosted help desk software is no longer supported by Kayako. After discontinuing self-hosting for some years, Kayako decided to bring its on-premise version back at the end of 2020. So although Kayko's self-hosted was made available for use again, and technically works with Linux operating systems, Kayako announced the software would no longer be updated or supported by the Kayako team. With that, we don't recommend Kayako unless you have the IT resources to troubleshoot if you experience technical problems.
osTicket's self-hosted help desk ticketing system offers many of the same features as Kayako and HelpSpot, but users note that its features are not very advanced and often prone to glitches. In addition, osTicket's interface has been described on reviews as clunky and outdated.
That being said, osTicket is a free help desk option for users that don't want to budget for a support ticket system. However, osTicket's free help desk software does not come with updates or assistance with maintenance. This means your internal IT department will be responsible for any troubleshooting of the application, and the osTicket self-hosted software will not evolve in any way. (Note: osTicket's more advanced, paid packages are cloud-based only.)
Read More: 10 Best Service Desk Software in 2022 (Based on Reviews)
ManageEngine, by Zoho, is an IT help desk that offers a self-hosted solution for Linux — it's very customizable, and it has an extensive knowledge base, self-service portal, and robust built-in reporting. It also offers extras for IT users, such as issue tracking, incident management, and an IT asset management system.
However, as an IT service management software (ITSM), ManageEngine's standard package lacks many of the features other support desks like HelpSpot and osTicket offer that organize emails and improve customer relationships.
Users are critical of ManageEngine's less-intuitive interface and lack of configuration support — which does not come standard with its self-hosted software. Many reviews also criticize ManageEngine's tiered pricing model, which requires them to pay extra for unnecessary add-ons in order to receive ticketing management features and client support.
Download HelpSpot's Free Trial to Get Started
For teams looking to integrate a help desk into their Linux OS, we recommend trying HelpSpot's free 21-day trial:
HelpSpot's on-premise software lets you run our solution on your own servers and gives you complete control of your data storage.
Our easy setup and step-by-step installation guides make installing HelpSpot on your Linux OS a breeze — with available support at no additional cost.
Our multi-brand support and affordable pricing ($11/agent/month) give you the power to scale and grow your business exponentially.
Additionally, HelpSpot will simplify and improve your email management with features like:
A unified central inbox for enhanced ticket oversight.
Our open-sourced, fully customizable platform lets you track and categorize data however you want.
Automation tools and knowledge base to lessen employee workloads and speed ticket resolutions.
HelpSpot was designed to be simple and easy to adopt, but also fully customizable and scalable to fit any needs your team needs.
Download your free demo of HelpSpot to test our email management features and see how you can tailor the platform to support your business needs.