Accounting teams and firms benefit from email help desk software because it lets staff easily organize support requests — you can view all incoming emails in a shared inbox, and then everybody can assign tickets to themselves. But a lot of help desk software is packed with features accounting teams don't need, like social media widgets, phone systems, and chatbots, and this leaves you working around (and paying for) extras that your staff doesn't use.
That's why we recommend accounting teams look for help desk software that prioritizes essential email management features to help your staff:
Communicate on requests without jumping to external messaging channels like Slack or Microsoft Teams.
Automate repetitive and tedious tasks like creating canned responses for frequently sent emails.
Send faster replies to vendors and customers by pulling templates and other support resources in emails.
Set permissions for access and keep customer data private
Our email help desk software, HelpSpot, is perfect for accounting teams and businesses because we give you all the core features to organize, manage, and resolve email requests, like (1) a central inbox to unify emails, (2) agent queues to assign tickets, and (3) collaborative features to streamline team communication.
In this post, we'll walk you through HelpSpot's help desk software for accounting teams and explain how our features can help improve your support processes. In the end, we'll also review five other accounting help desk software.
HelpSpot's email management features help accounting teams organize incoming emails in a single dashboard and facilitate better agent collaboration. Sign up for a free 21-day trial of HelpSpot to see how it can support your teams' workflows.

HelpSpot's Help Desk Features for Accounting Teams
We designed HelpSpot's email help desk software with a clean dashboard and intuitive features so you can easily transition from your current shared inbox and learn our platform without training.
HelpSpot only has the core features to organize and manage incoming emails, but our help desk is fully customizable so you can connect it with other tools in your tech stack. HelpSpot's integrations let you centralize tickets from other sources and push data between systems. For example, our open-source APIs lets you connect to financial reporting tools or invoice management apps like Freshbooks, Coupa, and Xero.
We also offer extras like knowledge base, automation, and multi-brand support to help staff resolve tickets and complete tasks more efficiently.
We offer both cloud-based and on-premise versions of HelpSpot so we can accommodate teams that need to run self-hosted help desk software on private servers. Regardless of which version you choose, you have access to the same features and HelpSpot's mobile app (for iOS and Android). We also provide support for both versions of our software so we can help you get set up or answer questions along the way.
In the next sections, we talk about HelpSpot's shared inbox and how it works so you can see the ins and outs of our platform before starting a trial.
Organize, Filter, & Assign Email Requests: Central Inbox & Agent Queues
You can link as many email accounts as you like when setting up HelpSpot. We even offer multi-brand support so you can create dedicated inboxes, knowledge bases, and self-service portals if you manage emails for multiple brands or want to segment requests by department.
Then you can organize all your incoming requests in one shared inbox. HelpSpot's central inbox gives a unified view of when the ticket was created, by whom, and to whom it was assigned, so your team doesn't accidentally overlook any request.
From the team inbox, you can assign tickets to staff members. Once assigned, tickets populate in the appropriate team member's queue, so it's clear who is working on each request.
Read More: The #1 Best Way to Manage a Shared Inbox in 2022
Facilitate Teamwork & Agent Collaboration: Notes & Collision Detection
HelpSpot makes it easy for staff to collaborate on email requests with internal notes and collision detection.
Internal notes work like commenting: Employees can leave comments for each other on tickets and work through requests together, without leaving HelpSpot. All notes are saved in the ticket history so other employees can reference past conversations.
Collision detection sends real-time notifications to alert you if another team member is working on the same ticket you have open. That way, teams don't waste time sending duplicate replies.
Help Agents Work More Productively: Templates, Knowledge Base & Self-Service Portals
You can also create saved responses, knowledge bases, and self-service portals to ease some of the burden on your staff and help them respond to support requests faster.
Email Template: With HelpSpot, you can build a library of email templates and saved responses to insert pre-approved replies for repeat requests. You can also create custom signatures to add a personal touch to the emails.
Knowledge Base: HelpSpot's help desk knowledge base lets you create a library of valuable troubleshooting articles and FAQs. Employees can easily pull this documentation into their email replies. Your staff can then respond to complex questions faster and find resolutions without asking others for help.
For example, you can create in-depth troubleshooting documents on accounting procedures and policies. Employees can then directly refer to the articles while answering queries.
Self-Service Portals: You can publish knowledge base articles to a customer-facing self-service portal so anybody who visits your website can find answers to FAQs and resolve issues without contacting your staff for help.
HelpSpot tracks what your user base is searching for so you can see which resources are most helpful. We even collect data to show you which user searches generated zero results so you can create relevant articles for those topics.
Save Time on Repetitive Tasks: Automation Rules & Triggers
You can leverage HelpSpot's automation rules and triggers to automate repetitive tasks such as ticket routing, escalations, and SLA management. Once you set rules and triggers, you can customize them for your team's workflows in any way you choose.
For example, you can set up a trigger to detect specific words, like "invoice," and automatically assign all invoice-related tickets to that department. Alternatively, you could set rules to automatically escalate tickets if they've gone a certain number of hours without a reply; this is useful for accounts payable teams that need to respond to payment requests.
Measure Workloads and Efficiency: Help Desk Reporting
HelpSpot's real-time reporting tool helps measure important performance metrics so you can understand more about staff workloads, agent processes, and customer needs. You can easily access at-a-glance reports like:
Requests over time
Ticket assignment time
Ticket response time
Ticket resolution time
Every report in HelpSpot is customizable, so you can look at metrics over different timeframes or segment data by department. For instance, an accounting firm can isolate reports by department — such as invoice, legal, treasury, and even sales, HR, and operations — to get detailed insight into each group's performance.
In addition, help desk reporting helps you understand where your team needs support. For example, if you notice that the resolution speed of your employees is slow, you may want to add more staff, create new email templates, provide additional training, or publish extra knowledge base resources for teams to reference when addressing emails.
Read More: The Complete Guide to Customer Service Reporting
Once reports are created, you can export and send them to all relevant team members and stakeholders. You can even schedule reports to be automatically sent at any frequency, keeping all parties in the loop.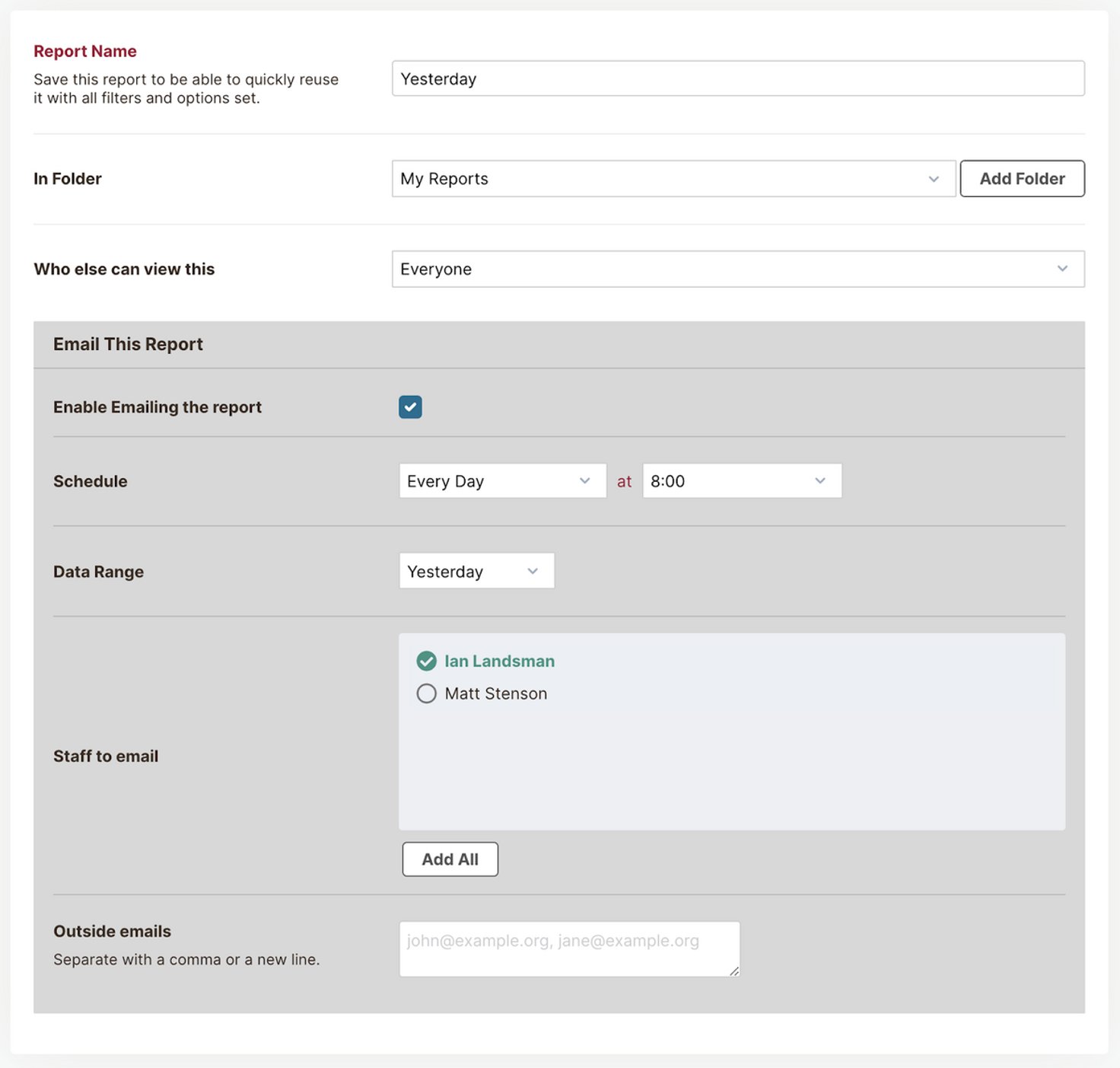 Secure Critical Help Desk Data: Built-In Authentication
HelpSpot eliminates the need for shared passwords by providing each of your staff with a unique login and password. You can also enable single sign-on (SSO) for your team by connecting to any SAML-based authentication service.
User permission groups let you control what each user can access and do in your help desk, allowing you to keep critical company information safe. For example, you can create an "Account Reconciliation" group and assign certain tickets, reports, and responses to select CPAs in your firm.
Tailor HelpSpot for Your Team Workflows: Integrations & Pricing
Our help desk ticketing system is customizable via open-source API and Zapier connection so you can connect it with any other software you use in your workflows and sync data between systems.
We also have Live Lookup that connects with your CRM and pulls valuable customer contact information into your help desk.
HelpSpot offers pay-per-agent pricing so we can accommodate all team sizes. We charge $11 per agent per month, and all users have access to the same set of features. There are no extra charges for add-ons, customizations, or customer support.
HelpSpot's ticketing system allows you to manage support emails and keep staff working together smoothly. You can try our email management features and explore our customization options by starting a 21-day free trial.
Five Other Help Desk Software for Accounting
Now that we've covered HelpSpot's email management features, let's review five other help desk systems you might see while you shop.
1. HappyFox: HappyFox offers an omnichannel help desk for accounting teams that provide support via email, phone, and social media. It also has a live chat tool so agents can chat with customers directly from the help desk. HappyFox is best suited for large accounting organizations with bigger budgets, as even their standard package costs $49 per agent/month. HappyFox is also recommended by enterprise teams because it has extras like asset management tools and native integrations with other accounting software.
Read More: HappyFox Alternatives & Competitors: Find the Best Help Desk
2. ManageEngine: Although ManageEngine appears on several "best help desk for accounting" lists, it is largely an IT service desk. Users recommend it for its extensive knowledge base feature, powerful in-built reporting tools, and customizability options. However, many reviewers note ManageEngine's clunky interface and are unhappy with their tiered pricing models because they have to pay extra for add-ons and support.
3. Freshdesk: Freshdesk is a popular cloud-based help desk for customer service teams. It offers essential features to organize, assign, and manage tickets; comes with advanced features like automation and collision detection; integrates with other support channels like SMS, chatbots, and social media. Like most other help desk software, Freshdesk provides different help desk packages, and some of the options can be too expensive for smaller businesses that just need email management features.
4. LiveAgent: LiveAgent is a popular help desk software for accounting businesses that want to offer chat support because it has a built-in Live Chat feature where customers and agents can communicate directly online. In addition to its chatbot feature, LiveAgent provides the essentials to manage a shared inbox, assign tickets to staff, and track support requests. However, some users say LiveAgent's dashboard is too cluttered and it can be challenging to onboard new employees.
5. Zendesk: Zendesk is a robust help desk software that's recommended for teams who want to offer multi-channel support via email, social media, and phone. Users highlight its quick and precise search functionality. However, reviewers criticize Zendesk for its complicated interface; most teams need a lot of training to get started, and since there are continuous updates to the platform, you have to be able to learn on the fly. In addition, Zendesk's more popular features are only available in higher pricing plans, so many small businesses are priced out of Zendesk's help desk. Overall, this help desk works for enterprise accounting firms that have larger budgets.
Start a Free Trial of HelpSpot's Accounting Help Desk
HelpSpot is one of the best help desk software for accounting teams because we prioritize essential email management features and design our dashboard to be reminiscent of the shared inboxes like Google and Outlook that many teams are moving away from. You can learn to use HelpSpot in an afternoon, and customize the platform any which way to support more complex workflows. Plus, our team offers support through onboarding to make the transition even easier.
Not to mention, pricing is transparent: You only pay for the agents you need — there are no hidden fees or add-on costs. We can support small accounting businesses with a few employees, or enterprise firms with dozens of email accounts and agents.
Start a free trial of HelpSpot to test our ticket management, reporting, and collaborative features and see how we can tailor our help desk to support your specific business needs.