If your support team isn't already using help desk software to manage team emails, we first recommend upgrading so you have advanced organizational tools that enable team members to collaborate effectively and respond to requests quickly. You won't get features like ticket assignment, canned responses, and custom reporting from a generic email provider, but these are standard in a help desk solution.
Our post walks through seven shared mailbox best practices to help you reap the benefits of using help desk software. We recommend you:
Throughout our post, we explain how our help desk solution, HelpSpot, lets you accomplish all of this (and more).
HelpSpot makes managing a shared inbox simple by allowing support teams to organize, assign, and respond to emails from a central dashboard. To get started, sign up for a free 21-day trial.
1. Centralize Emails and Organize Them by Brand, Department, or Request Type
While generic emails like Gmail and Outlook can be used as shared inbox tools, they weren't designed for that. So, if you have multiple people, an entire team, or several teams working out of a generic mailbox, you're going to run into problems pretty quickly. Yes, you can set up a folder structure (or, in the case of Gmail, use labels) to group emails together, but these functions are limited, and shared inboxes soon become chaotic.
HelpSpot has been designed to look and work a lot like a simple email account. It's easy to set up, intuitive to use, and there's next to no training required, so your team can be up and running straight away. But HelpSpot goes above and beyond managing shared email.
Our software converts incoming emails into support tickets and stores new tickets in a central hub. So, when you open HelpSpot's general inbox you can see all your team's emails in one place, giving you a unified view and the confidence that nothing is missing.
There's no limit on how many email accounts you can link to HelpSpot — you can manage one inbox or hundreds.
If you manage emails for more than one brand or department, you should use HelpSpot's multi-brand features to create dedicated inboxes for each user group — for example, you could have one inbox for internal emails and another for customer emails. This saves you from managing all requests from one main dashboard, or using multiple email accounts and hopping between them. You can also create templates and knowledge resources for each team inbox — more on those below.
Then, within inboxes, you should organize team emails with categories and filters. You can create groups such as, "customer support," "IT issue," "sales team," etc. Then, you can segment requests by type and easily view tickets pertinent to different support issues. We suggest you also use filters to segment requests by status (priority tickets vs. newest requests) so you can identify the most urgent tickets and respond promptly.
HelpSpot operates just like a desktop email client by pulling in and sending out emails using the IMAP and SMTP protocols through your mail server. This ensures your support emails are never lost or filtered as spam.
Read more: Multi-Brand Help Desk: Manage All of Your Brands with HelpSpot
Everybody loves the simplicity of HelpSpot. The overall layout and functionality is great, plus, with every HelpSpot upgrade, there's always at least one new feature our team finds valuable. HelpSpot just makes sense.

— John Kenyon, BGW Group
2. Provide Accountability by Assigning Emails to Specific Team Members
When you're using a generic mailbox as your team inbox, it's not always clear who's accountable for what. Confusion over who's responsible for sending an email response means requests are answered slowly, more than once, or worse, not at all.
From HelpSpot's general inbox, managers can assign specific emails to team members, and agents can scan requests and assign tickets to themselves. Using the categories feature we mentioned earlier, we recommend you also set rules to automatically assign new tickets (more on automation below).
HelpSpot will move assigned tickets to the agent's queue where the agent can prioritize requests without having to wade through a sea of emails.
All unassigned tickets remain in the central inbox so you can always see the request status and prevent missed emails.
Tickets are automatically routed back to the agents they're originally assigned to. So, an agent will work through the entire resolution of a ticket, which provides a better customer experience. And, if other team members or departments need to contribute, it's best practice for an agent to tag them and collaborate within the ticket. (Then all ticket details are stored in one place.)
HelpSpot has helped us organize our calls and be more efficient in solving the problems of our users.

— Janet Ayles, Peace Library System
3. Leave Updates for Team Members Directly within Requests to Track All Data in the Help Desk
When you're using a generic shared inbox, communicating with team members usually means you need to jump out of the email inbox and into other software (such as Slack or Microsoft Teams). Or, you have to forward emails around and try to keep it all straight. This is not only time-consuming, but it leads to disorganization and makes it hard to keep all request details in one place. Plus, when you have agents jumping between multiple tools, it's hard to effectively collaborate – agents have to ask each other for updates and details can be overlooked.
To enable smooth team collaboration, we recommend you use HelpSpot's two specific tools that generic inboxes don't have:
Collision Detection: This lets you know if another agent is viewing or replying to the same ticket you're active in by displaying a real-time status bar. Then, it's easy to see who's working on requests with you, and helps agents avoid duplicate work.
Internal Notes: This lets you leave comments for other team members directly in tickets, so you can easily chat back and forth with team members, or provide notes for other agents before handing off tickets. Then, any agent or manager who references the ticket can see what's already been done and understand what actions, if any, still need to be taken.
HelpSpot has allowed our technology team of 6 to serve a community of 450 faculty, students, and staff and to ensure that no one's technology questions or problems would go unanswered. It keeps us on top of issues and organized.

— Peter Hoopes, St. Andrew's School
4. Create Templates, Canned Replies, and a Knowledge Base to Provide Agents with Helpful Resources
With generic email accounts, you can set up auto-responders and copy and paste text from previous emails. But this functionality is limited, and many agents waste time typing every email reply from scratch, risking mistakes and inconsistencies.
But with HelpSpot, you can store saved responses and knowledge base articles that help agents send consistent and fast responses.
Teams should use email templates for common questions so information is always accurate and up-to-date. These can be dropped into replies and personalized or used as canned responses. It's also easy to attach files to canned responses if you want to send extra resources to end users.


Then, we suggest building out a knowledge base with important docs (e.g. troubleshooting info and FAQs) so agents can draw on these resources when they have questions; they won't have to ask others for help, and they can easily send them out via email replies.


We recommend you also create a self-service portal on your website so that customers can access basic knowledge information directly. Knowledge base resources are displayed in a book format with a table of contents that's easily scannable. Users can scan the list and access the information they need. Then, if they can't find the answer to their question, they can submit tickets directly through the portal.
If you have resources for different groups, you should organize your saved responses, knowledge bases, and self-service portals by brand or department so you keep all the relevant information together. These features mean your team is spending less time composing replies. They also reduce follow-up questions so your team can spend time on other tasks.
Read more: 5 Top Help Desk Knowledge Base Software: Buyer's Guide
After struggling with email clients to handle our support, HelpSpot has been an absolute godsend!

— Ben Richardson, Campaign Monitor
5. Set Automation Rules to Streamline Repetitive Tasks and Reduce Agent Workload
Aside from automating email replies, such as "out of office" messages, and moving specific emails into folders, automation features are limited if you're using a generic mailbox. This is where a help desk like HelpSpot can do much of the heavy lifting for you.
HelpSpot's automation functions let you set up rules and trigger words that help streamline repetitive tasks and reduce workloads.
We suggest you use "if/then" rules to automate tasks like ticket routing and escalations. For example, you could use a trigger word such as "network failure" so that a request is automatically escalated to a manager.
Imagine how this might be managed with a generic email — the email would come in, potentially be missed altogether, or sit in a messy inbox waiting for someone to notice it. Meanwhile, an unhappy customer is waiting for a response. With HelpSpot, the email is instantly categorized and automatically assigned to a manager who can deal with the issue.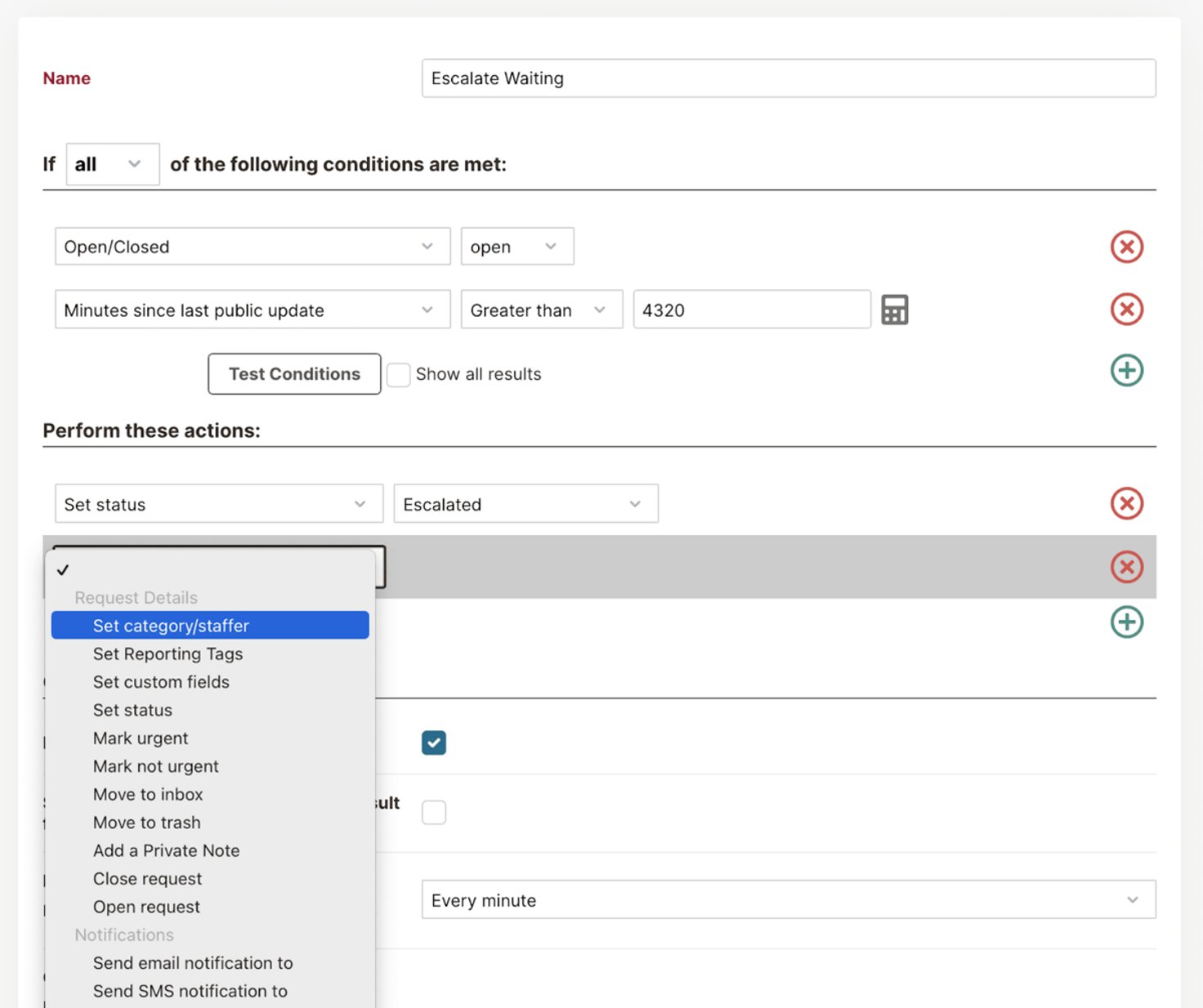 Using automation and trigger words in this way takes out the uncertainty of who's dealing with what, reduces response times, and streamlines everybody's workflow.
HelpSpot has been a huge time saver for our IT department, but after moving our HR and Servicing departments onto it as well, they have reported improved response times and have gotten much better customer satisfaction reports because of it.

— Zach Crockett, Mid America Mortgage
6. Create Custom Help Desk Reports to Leverage Performance Insights and Increase Customer Satisfaction
No generic email provides you with reporting insights on your team's performance. To produce any kind of report you would need to extract data points from your mailbox and spend a ton of time pulling those into Excel. It's simply not feasible unless you use a separate tool or have more powerful shared inbox software like a help desk.
With HelpSpot you can easily monitor the types of requests your team is receiving. HelpSpot's built-in reporting automatically tracks essential metrics such as the number of email requests received per day, the number of resolved requests per agent, average response time, etc.
We recommend you watch trends by category to dig into particular data sets and use our pre-defined templates to filter metrics by teams, agents, and time frames. Use HelpSpot's Comparison Matrix to identify patterns in help desk reports and easily pick up on trends (with both customer issues and agent performance).
It's best practice to automate report distribution so key stakeholders have the information they need at the right time. Our reports can be distributed to managers, department heads, or other team members automatically via email, daily, weekly or monthly.
Read more: Help Desk Reporting: Key Support Metrics and How to Use Them
HelpSpot has made my staff much more efficient and effective. We can easily handle and measure the thousands of tickets we receive each week, and automate processes that don't need a human. I highly recommend it.

— Bill Brown, Need a Nerd
7. Protect Important Data with Authentication and Permission Groups
Sharing passwords is a significant bugbear of customer support teams using shared inboxes. It only takes one security breach (e.g., a user is hacked, or an ex-employee still has access to sensitive data), for the whole system to be at risk.
HelpSpot's robust security features include a built-in authentication system (plus 2FA). Each user has a unique username and password and no login info or passwords are shared.
In addition, we recommend you use HelpSpot's permission groups to add specific agents to inboxes and limit what actions can be taken in the help desk. For example, a manager could have editing permission in a knowledge base, while an agent has user access only. This defines who's responsible for certain tasks and keeps ticket access super-secure.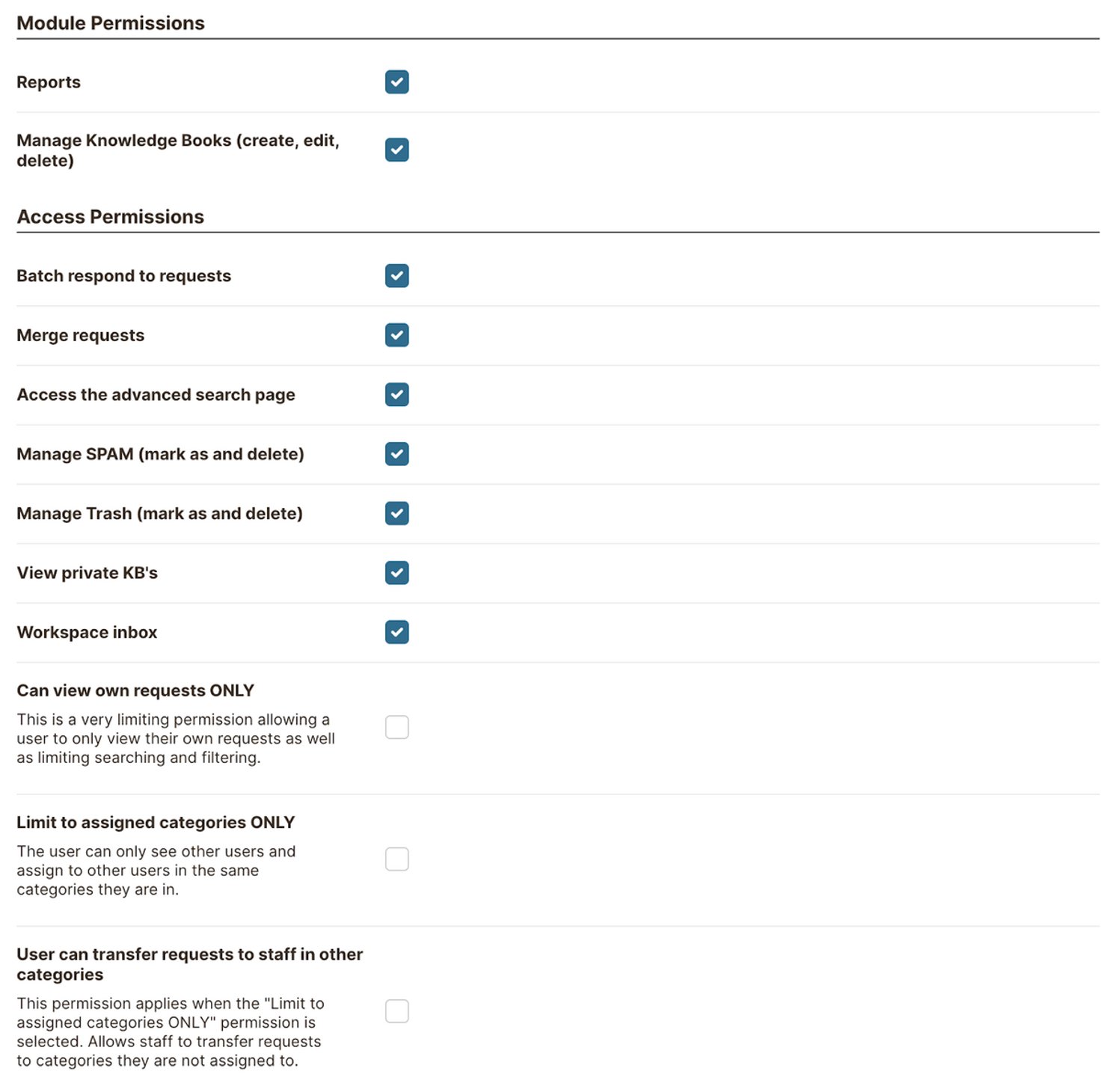 After using HelpSpot for the past 5 years, it's hard to imagine life using a standard email client. HelpSpot helps us to keep around 50,000 vehicles, trailers, and other assets on the road worldwide. HelpSpot does what normal email can't!

— Louwrens van Deventer, Freeway Fleet Systems
Want to Try HelpSpot for Your Email Management?
If you're managing requests using a generic inbox that was designed for one person, you're likely wasting time organizing emails, miscommunicating, and not delivering the best customer service. Upgrading to help desk software like HelpSpot is the first best step to give you the organization tools that let your team collaborate effectively and respond to requests quickly.
HelpSpot's feature set includes automatic ticket routing, canned responses, and custom reporting. These tools (and others) allow teams to organize emails centrally and track support requests through to resolution swiftly and securely.
HelpSpot's help desk is available on-premise or cloud-based (with US or EU hosting). We also provide iOS and Android mobile apps for those who work remotely.
Our pricing is straightforward and the same across all versions of our help desk solution. It's based on the number of agents — every package includes all of our features, and access to our support team, with no hidden costs.
To learn more about how HelpSpot can help streamline your inbox management, sign up for a free 21-day trial.