Zendesk (like most help desk software) only offers a cloud-based help desk, so teams that need on-premise hosting — such as businesses that want better control over data storage or need to meet GDPR compliance requirements — have to find an alternative help desk solution.
But finding self-hosted help desk software is a challenge. Most brands that used to offer on-premise versions of their help desk have discontinued those offerings. (Or, if they're still available, they're not supported by the help desk provider.)
That's why we offer both cloud-based and on-premise versions of our help desk, HelpSpot, and provide updates and full support regardless of the deployment option you choose. Both versions come with all the same tools and features, and our on-premise software addresses many of the common drawbacks that may come with using a self-hosted solution.
For example, we make set-up easier with step-by-step instructions and installers for Windows and Linux, and we provide iOS and Android help desk apps so you can access email requests from anywhere and support mobile teams.
In this post, we explain how HelpSpot's on-premise help desk works and talk about how to get set-up. At the end, we review four other on-premise alternatives to Zendesk.
HelpSpot offers a flexible self-hosted help desk software that you can 1) run on any private server, 2) sync with other software via API, and 3) customize to your business needs and team size. Download a free trial of our on-premise help desk to get started.
HelpSpot: The Best On-Premise Zendesk Alternative
HelpSpot is an email help desk, so we work best for teams that primarily manage customer requests via email. We offer features like a central shared inbox, agent queues, email templates, reporting, and more so you can organize incoming emails, assign them to staff members, and respond to requests more efficiently.
HelpSpot also has an open-source API and integrates with other software through Zapier, so you can connect it with other platforms and centralize tickets from other sources (i.e., phone systems, chat, web forms).
We don't pack our software with a lot of extras beyond the core email management tools — for example, customer support software like Zendesk has a really data-dense interface that requires training to navigate — so onboarding and learning our help desk doesn't take long. Most teams can download and start using HelpSpot in an afternoon.
Download + Set-Up HelpSpot On-Premise
HelpSpot on-premise is fast and easy to install because we provide download links (for Windows and Linux) that guide you through each step of the installation process. You can also visit the server requirements page to ensure you're ready to download and get started.
Our self-hosted help desk software lets you:
Run your help desk software on private servers — this is what lets HelpSpot work for businesses in heavily regulated industries (like healthcare or education) because it can run behind your firewall, either online or offline.
Have full access and control over data storage.
Manage software updates.
Connect to other software you use in your daily operations. Note: HelpSpot also offers Live Lookup that syncs with any CRM or external database (like Salesforce or HubSpot) relevant to your support team. Live Lookup displays all of your customer data in real-time — making the most updated customer information and custom field data instantly available in reports.
Remember, HelpSpot mobile apps also work for our on-premise software solution, so you can download those from the Apple or Google Play app stores, login, and access help desk tickets from your mobile device.
Built-In Authentication System & Permission Groups
Every HelpSpot user is granted a unique login and password. We also have a built-in authentication system that is actively tested with Office365/Azure and Google Suites. However, if you need single sign-on (SSO) support, you can HelpSpot connect with other SAML-based authentication systems. HelpSpot also supports Black Box Authentication, so you can add custom code and authenticate against other sources.
Note: Single Sign-On means you log in once and use the same login for different solutions. SAML authentication verifies the user's identity and credentials (with two-factor authentication, password, captcha, etc.) and communicates with the service provider what level of access can be given to the user who has logged in.
To further ensure data security, teams can set restrictions for certain tickets and filter emails by department using permission groups. For example, an eCommerce business could use permissions to route all emails that contain the word "invoice" to the finance team so that members of the customer service staff aren't viewing private or sensitive email correspondences.
Central Inbox & Multi-Brand Support
HelpSpot's shared inbox displays all of your incoming tickets on a single dashboard so agents can quickly prioritize and assign tickets that still need attention.
Our centralized inbox lets you connect all your mailboxes on one platform, giving you a unified view of your entire ticketing management system. We even offer multi-brand support so you can segment email requests by brand and create a dedicated knowledge base and self-service portal for every brand you manage. You can also customize these inboxes and portals with brand elements to align with your business or department.
Within each mailbox, you can create email categories and custom fields to segment emails by type and store important data about requests. Then, teams can use filters to sort emails and find requests related to their area of expertise. For example, a healthcare organization can use filters to view tickets by department (e.g., human resources, patient support, billing, IT, etc.) and store information like "facility visited" or "date of appointment" in custom fields.
Read more: Multi-Brand Help Desk: Manage All of Your Brands with HelpSpot
Agent Queues & Ticket Assignment
Agents can quickly scan the team inbox and assign themselves tickets. Assigned tickets are automatically transferred in the "My Queue" of the appropriate agent — letting them quickly view tickets they are working on, or that still need attention.
Collaboration Tools for Teams
HelpSpot also has collaborative tools like team commenting and email templates to improve team communication and speed up workflows.
Internal notes let agents talk directly within support requests. Any notes added are automatically stored on that ticket for future reference. So, suppose you decide to transfer an email to an agent in another department that can provide more insight into the request. All you have to do is tag them on the ticket using internal notes, and any notes made on the ticket will be readily available to that agent — saving you time and eliminating the need to communicate on third-party channels like email or Slack.
Collision detection provides real-time notifications that let agents know when anyone else is viewing/responding to the same ticket, eliminating duplicate responses.
Email templates save agents from having to rewrite the same responses to recurring emails (ex. Order requests or password resets). You can save pre-approved email templates in HelpSpot and agents can pull them into replies, speeding up response times and allowing agents to answer more requests.
Beyond the basic notes and templating features, HelpSpot also has a built-in help desk knowledge base and self-service feature. The knowledge base lets you store important documentation like troubleshooting information and FAQs for quick reference. HelpSpot's knowledge base follows a book/chapter format so it's easy to add and retrieve resources. Then, agents can check these resources when responding to requests, or they can drop them into replies to send thorough information without spending a lot of time writing.
You can also publish knowledge base articles to a customer-facing self-service portal. Then, customers can access these resources on your website and find answers to questions without submitting request tickets. This lets customers find answers to questions faster and reduces employee workload — it makes everybody happy.
Automation Rules & Triggers
Automation rules and triggers let you train HelpSpot to automatically perform repetitive tasks that support agents regularly deal with, like assigning tickets and managing SLAs. These can very helpful for startups or small businesses with smaller teams and fewer resources, as it allows them to respond to requests quickly and provide a uniform service for their customers.
HelpSpot's automation rules and triggers can also be invaluable for companies within heavily regulated industries. By creating triggers that detect certain words or phrases in emails (like "compliance," "regulatory standards," or "HIPAA") and automation rules that automatically escalate those tickets to the appropriate staff member, departments can ensure they are constantly up-to-speed with compliance changes.
Help Desk Reporting Dashboard
Not only does HelpSpot provide you with tools that instantly improve your customer support and simplify your email management, but we also provide built-in reporting functionality so you can monitor support operations and improve the customer experience.
Help desk reporting lets you see key metrics like how many emails your team receives in a day, how many email replies your team (and each agent) send out, how long it takes to resolve a request, and so on. You can customize reports over different timeframes, too, and see data during different times.
Our real-time metrics track:
Ticket volumes and trends
Email response times and resolution speeds
Interactions per ticket
Interactions over time
And more
HelpSpot also offers NPS and CSAT surveys through our integration with Thermostat so you can monitor customer satisfaction.
Read more: #1 Customer Service Tracker
HelpSpot is one of the most flexible help desk solutions because we offer pay-per-agent pricing and support customization through Zapier and APIs. We offer full support for our on-premise software and include all of the same perks (like features and mobile apps) for our self-hosted users. Download a free trial and get started with HelpSpot on-premise today. Of course, you can always reach out to our team if you have questions.
Other Zendesk On-Premise Alternatives Ranked
HelpSpot is one of the best Zendesk alternatives for on-premise users because we offer full support and updates for our self-hosted help desk. However, there are a few other brands that offer on-premise solutions, too. Just beware, as not all of these brands still support their software.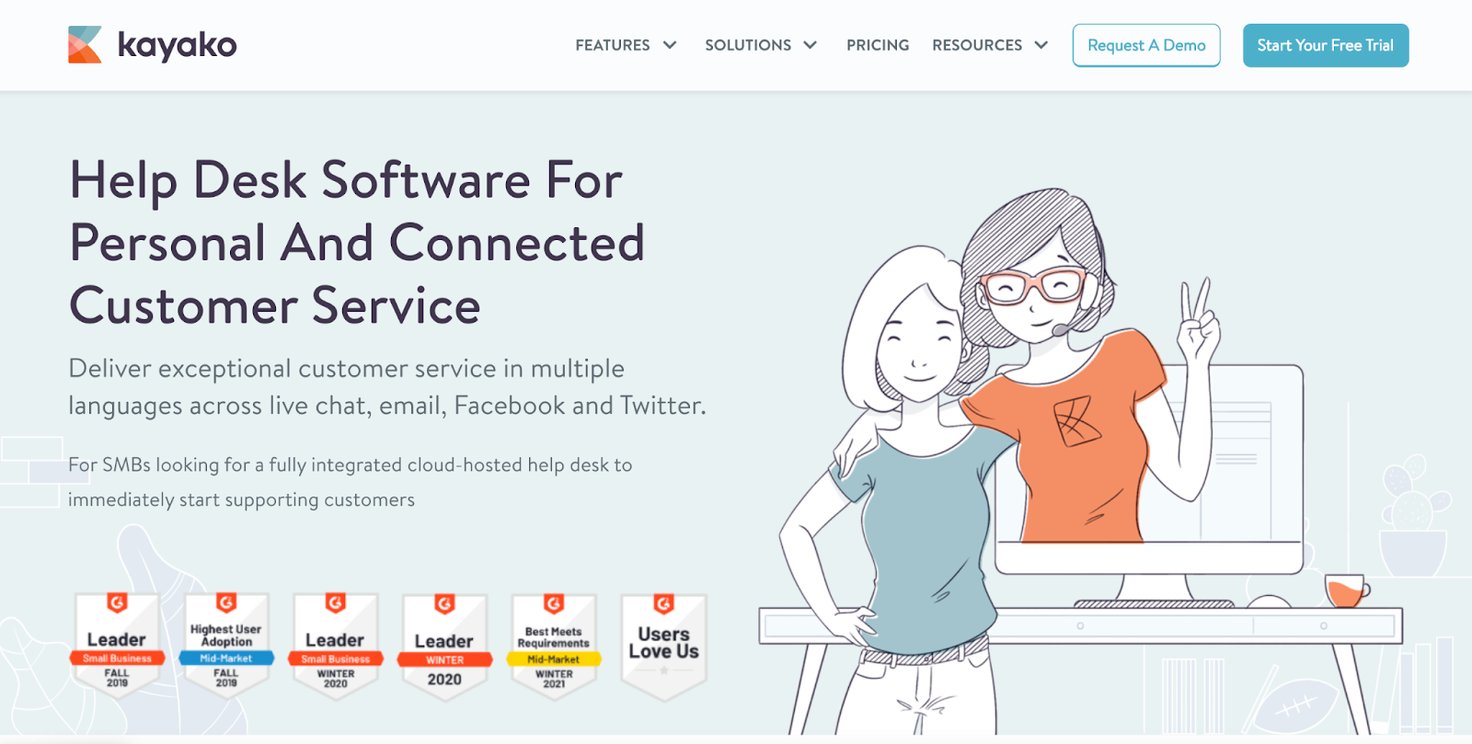 Kayako is a good self-hosted help desk alternative because the on-premise software has many of the same multi-channel support features and collaborative tools as Zendesk's cloud-based service desk. For example, Kayako provides live chat, social media integrations, chatbots, and other popular widgets that allow support teams to have a more in-depth view of how their customers interact with their brand.
Unfortunately, Kayako's self-hosted help desk software is no longer supported by Kayako. After discontinuing self-hosting for some years, Kayako decided to bring its on-premise version back at the end of 2020. So although Kayko's self-hosted was made available for use again, Kayako announced the software would no longer be updated or supported by the Kayako team. With that, we don't recommend Kayako unless you have the IT resources to troubleshoot if you experience technical problems.
osTicket's self-hosted help desk ticketing system offers many of the same features as Kayako and HelpSpot, but users note that its features are not very advanced and often prone to glitches. In addition, osTicket's interface has been described on reviews as clunky and outdated.
That being said, osTicket is a free help desk option for users that don't want to budget for a support ticket system. However, osTicket's free help desk software does not come with updates or assistance with maintenance. This means your internal IT department will be responsible for any troubleshooting of the application, and the osTicket self-hosted software will not evolve in any way. (Note: osTicket's more advanced, paid packages are cloud-based only.)
ManageEngine, by Zoho, is an IT help desk that offers a self-hosted solution — it's very customizable, and it has an extensive knowledge base, self-service portal, and robust built-in reporting. It also offers extras for IT users, such as issue tracking, incident management, and an IT asset management system.
However, as an IT service management software (ITSM), ManageEngine is not an ideal on-premise alternative for Zendesk because it's primarily for IT teams. It does offer basic features to organize emails and improve customer relationships, but it also has a lot more — teams that don't need these extras can use a different help desk (this saves money and prevents you from wasting time learning features you will never use).
Users are critical of ManageEngine's less-intuitive interface and lack of configuration support, which does not come standard with its self-hosted software. Many reviews also criticize ManageEngine's tiered pricing model that requires them to pay extra for unnecessary add-ons to receive ticket management features and client support.
Spiceworks' on-premise software, Legacy Desktop, was another popular alternative to Zendesk because it supported omnichannel ticket management and was free (supported by ads). Customers liked the simplicity of the software and reviews mentioned its ease of use and feature-rich dashboard (which seemed to be a hit or miss for users). That said, Spiceworks was intended for the IT audience and had extras like asset tracking that others found difficult to leverage.
Unfortunately, as of December, 2021, Spiceworks is no longer maintained or supported by Spiceworks, unavailable for download, and eventually will be EOL (end-of-life) by the company. Meaning, it is no longer a viable option for support teams looking for on-premise software.
Read more: #1 Spiceworks On-Premise Alternative: HelpSpot Self-Hosted
Download a Free Trial of HelpSpot's On-Premise Help Desk
HelpSpot offers a fully supported self-hosted help desk for users who need an on-premise Zendesk alternative. Our on-premise software works on both Windows and Linux operating systems and allows you to run your help desk on any server. You can customize HelpSpot for your team size and integrate our ticketing system with any other tool in your tech stack to sync systems and consolidate data.
Best of all? Our help desk software is one of the easiest to implement and learn. Installation takes less than a day, and our help desk requires no training. Teams can begin using the software and be productive on day one.
Download your free trial of HelpSpot on-premise to connect your email accounts, add users, and get started.