Whether you're upgrading a legacy help desk or moving away from processing customer inquiries via a shared email account, a cloud-based help desk offers three major benefits:
Streamlined ticket management through an intuitive dashboard, where you can see all your tickets and easily take action.


High-level data security and server reliability when you move to a modern cloud infrastructure, like AWS.


Hours of saved time by automating repetitive tasks like agent assignment and offloading the responsibility to upkeep servers.
The key is to choose a help desk solution that best fits your team's current operations, complies with your industry's data laws, and is aligned with your business goals.
In this article, we review the 10 best help desks broken down with recommendations for different types of teams (like customer support and IT) and various industries (healthcare or education).
We start with a review of HelpSpot, our help desk that we built to simplify email management and scale with you as you grow on our cloud-based infrastructure.
Skip ahead to the section that interests you most:
If you're ready to transition to a secure and reliable cloud-based help desk and simplify your email operations, get started today with a 21-day free trial of HelpSpot.
HelpSpot: Best SaaS Help Desk for Email Management
HelpSpot's help desk software offers a range of benefits to easily move away from using a shared inbox or self-hosted help desk:
Easy-to-use ticketing features, like a central inbox, agent queues, and automatic ticket routing, that streamline your whole support process.


Extras like built-in reporting, self-service portals, and agent collaboration tools to provide a great customer experience.


Everything included in one affordable price.
Plus, your help desk is hosted on an isolated cloud server that's specific to you, so it's fast, secure, and reliable. You can host HelpSpot in the US or EU and receive access to a suite of GDPR tools so you have everything to comply with GDPR requirements. It's backed by our modern cloud infrastructure that uses industry leading Amazon Web Services (AWS) for data storage and data security.
In addition, we offer mobile apps for iOS and Android so we can support remote agents or teams that are on-the-go without compromising data security.
Complete SaaS Help Desk
Because HelpSpot Cloud hosts your help desk on a dedicated server, it can easily scale with you as you grow. For reference, the largest HelpSpot instances have a snappy interface and store over 3,000,000 tickets, 50,000,000 emails, and support thousands of agents.
Plus, it's completely IT optional. You can set it up in a matter of minutes and we oversee all new software releases (so you're always using the latest features). HelpSpot Cloud offers all the benefits of our help desk without the headache of managing your own servers.
Modern Cloud Infrastructure & Help Desk Security
HelpSpot's cloud infrastructure is hosted on Amazon Web Services (AWS) and uses AWS security groups and firewalls to block unsafe traffic. All your data is backed up by both Amazon and HelpSpot for the previous two weeks, should you ever need to restore it.
Our cloud infrastructure also leverages Cloudflare to provide domain security and SSL certificates, which encrypts any information exchange between a visitor and your website.
You can create permission groups to manage users' access to features and customer data. For example, you can create a role for "support agents" who receive access to ticketing features but not sensitive data found in the reporting module. Plus, authentication protocols keep your help desk secure by verifying user login with optional two-factor authentication.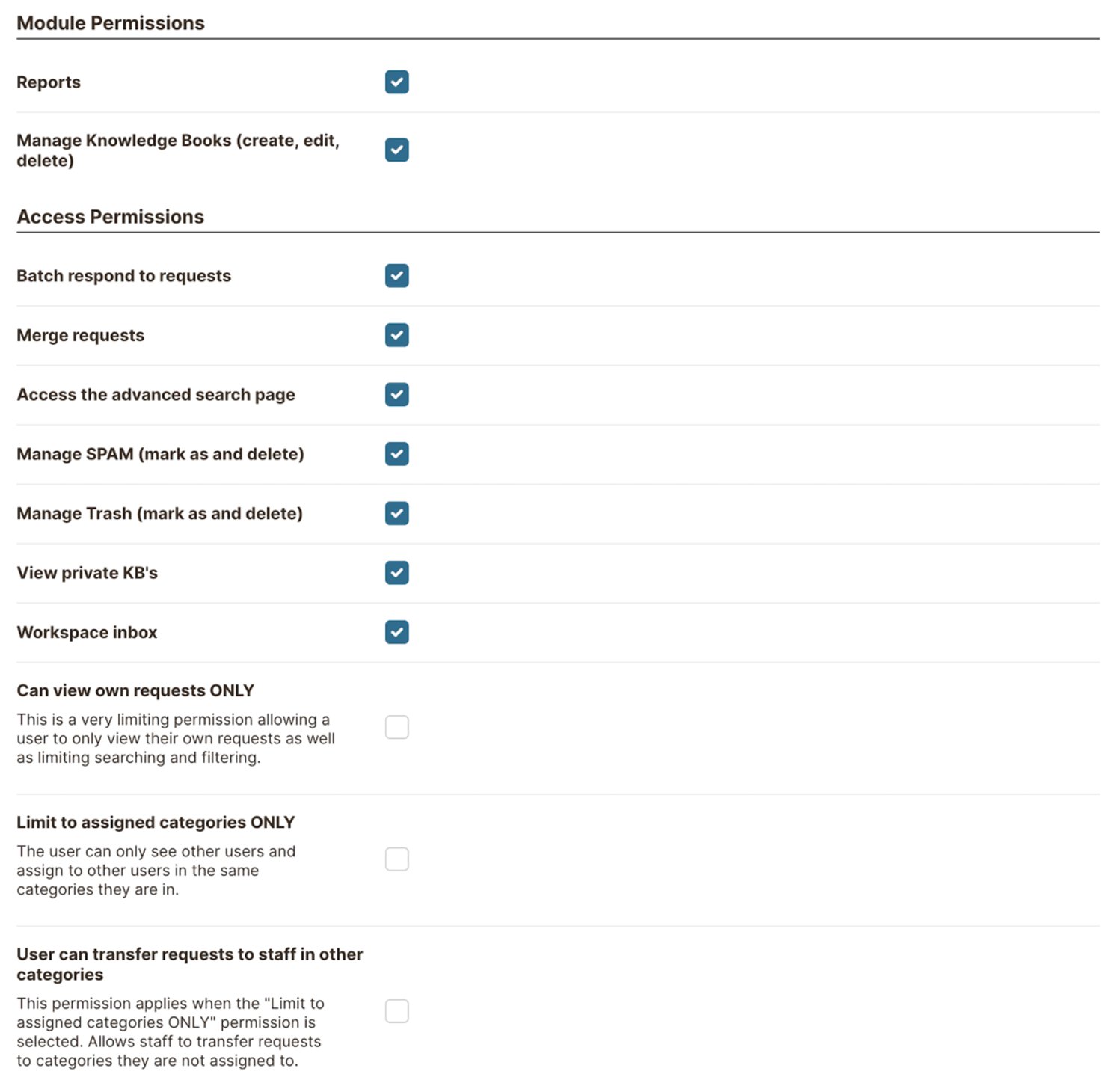 Clear Ticket Organization and Straightforward Team Workflows
HelpSpot's central inbox, agent queues, and collaboration tools come together to create a seamless workflow to process tickets effectively. The central inbox consolidates email requests from any number of email accounts into one place, so you never overlook a ticket. You can use multi-brand support to set up dedicated mailboxes for multiple company brands or internal departments to provide customized support and greater ticket organization. (Learn more about multi-brand support.)
When you receive a request, you can use automation and filters to delegate agent assignment so it's clear who's responsible for a new ticket. Once it's assigned, it's moved to the appropriate Agent Queue and they can use multiple tools designed to help them process tickets quickly via the ticket interface:
Private notes to collaborate on the ticket instead of a third-party tool like Slack.


Canned responses and email templates to immediately respond to common requests.


Collision detection to avoid duplicate work with real-time notifications showing when someone else is viewing or responding to a ticket.
Intuitive Customer Self-Service Portals
HelpSpot's self-service portals empower your customer to solve issues on their own and reduce your total ticket volume by:
Serving as a hub for public knowledge base articles and FAQs, making it easy for customers to find answers to common questions without contacting you.


Allowing customers to fill out a custom contact form when submitting tickets to your team; custom forms enable you to collect extra details about requests so you can quickly resolve tickets and reduce unnecessary back-and-forth.


Providing users a login to check the status of tickets (instead of creating a new ticket to check on an existing request).


Tracking user engagement with your self-service portal, like what help articles your users search for, so you can make data-driven improvements.
Note: Customer portals work in tandem with multi-brand support; they're 100% customizable so you can add branding elements that fit your products, brands, or a specific department.
Out of the Box Reporting & Data Protection
Our help desk reporting tool provides a look at your entire support operations and hosts all your company data on the world's most secure AWS infrastructure. You can see a comprehensive view of your team's performance, agent work-loads, and individual agent performance, so you can leverage insights to make decisions about hiring or improve your business processes.
Plus, we automatically generate reports for ticket volumes and average speeds, so you can easily see KPIs like number of tickets, average response time, and average time to resolution. You can compare each metric side by side in a comparison matrix, save custom reports, export data to Excel, or schedule them to send on a recurring basis.
Read more: Help Desk Reporting: Key Support Metrics and How to Use Them
Is HelpSpot the Right Help Desk for You?
It's frustrating to use multiple email accounts to talk to end-users. HelpSpot's cloud help desk lets a team streamline their email operations and organize support tickets, all on a secure and reliable platform for an affordable price.
Sign-up for a 21-day free trial to see how HelpSpot can simplify your support operations on a secure cloud infrastructure.
Best SaaS Help Desks for Customer Support Teams
Below we review the top three help desks for customer support teams.
For a full breakdown of more customer support software, see our customer support software buying guide.
Freshdesk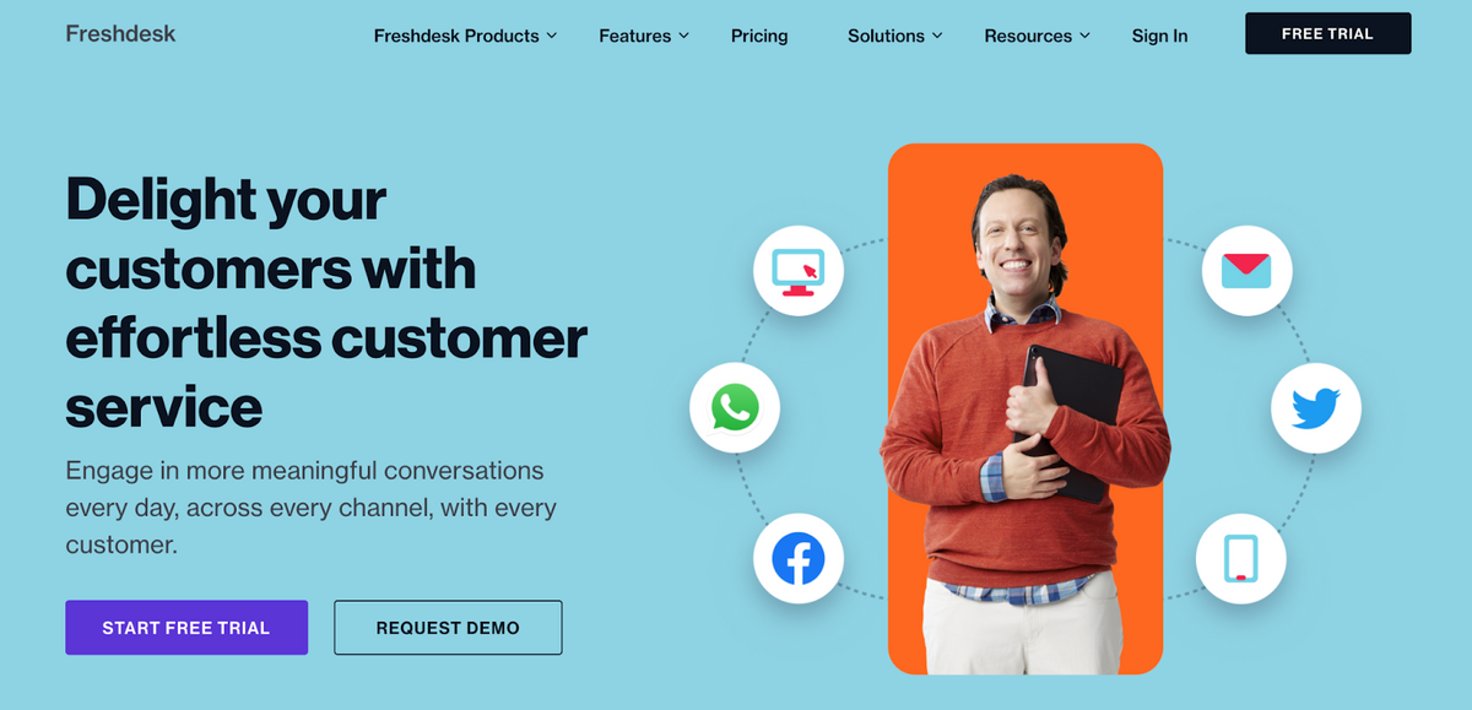 Freshdesk is a cloud-based help desk system with advanced features that appeal to mid and enterprise sized customer support teams. Freshdesk's SaaS platform comes with a ticketing system, automation rules, a reporting tool, and multi-channel integrations like call center support, a chatbot, and social media widgets (so it's recommended for support teams that manage customer interactions from a variety of communication channels).
They offer a free plan that includes their ticketing system and knowledge base features, but this help desk becomes much more expensive if you want access to automation, reporting, SLA management, or round-robin ticket assignment. All things considered, we recommend Freshdesk for larger businesses that have a bigger budget and bandwidth to manage onboarding and set up.
Read more: Freshdesk Alternatives: 9 Help Desk Software for Support Teams
HappyFox
HappyFox is an advanced SaaS help desk for medium and large sized organizations. Their web-based help desk includes a ticketing system, automation rules, a knowledge base, an AI assistant, social media widgets, task management, and a live chat. Customer reviews revealed some dissatisfaction with their email management and reporting tool for lacking performance metrics, but overall, users recommended the platform.
Notably, their larger software packages include features for IT and HR operations, so HappyFox can also be a good option for these user groups. (However, if you don't need these features, you can end up paying for functionality you don't use.) Generally speaking, HappyFox is best for enterprise teams that can benefit from HappyFox's wide feature set, but we don't recommend it for small businesses or teams that don't need a full-scale support software.
Read more: HappyFox Alternatives & Competitors: Find the Best Help Desk

Zoho Desk
Zoho Desk is a customer support tool with advanced help desk features like customer sentiment analysis, an AI chatbot named Zia, and omni-channel integrations. In customer reviews, Zoho Desk was well regarded for its intuitive and modern features, but some users don't like the fact that Zoho Desk requires you to work out of your web browser (as they don't offer a desktop app).
One of the standout features of Zoho Desk is its ability to integrate with other Zoho apps (like Zoho CRM), as well as third-party tools such as Salesforce and Google Calendar. Zoho Desk typically appeals to medium sized businesses due to its advanced functionally and competitive pricing, especially if your organization is using another Zoho product.
Read more: Zoho Desk Alternatives | Top 8 Help Desks for Customer Service
Best SaaS Help Desks for IT Support Teams
Below we review three SaaS help desks for IT teams:
For more details see our buying guide to the best help desks for IT teams.
Freshservice
Freshservice is a cloud-based help desk and ITSM platform for IT teams. Since it's in the same suite of products as Freshdesk (mentioned above), one of its standout features is the integration between the two, allowing businesses to provide a unified support experience across agents and departments.
Freshservice offers a range of features to help IT teams manage and resolve support tickets, including asset management, a knowledge base, and a built-in service catalog. Freshservice is specifically recommended for IT teams that overlap with customer support because they have access to both help desk and ITSM features, like change management and release. However, some users may find the pricing for Freshservice to be on the higher end compared to similar products on the market.
Read more: Best Online Service Desk Software 2023 | HelpSpot
Jira Service Desk
Jira Service Desk is a SaaS help desk software and IT Devops platform with many helpful features to manage customer issues: a central inbox, self-service portal, asset management, and automation. Most notably, Jira Service Desk integrates with Jira's parent software, a project management tool for software development teams. Connecting the two platforms allows IT teams to seamlessly track and manage support tickets within the same tool they use for managing development projects.
Overall, Jira Service Desk is a solid choice for IT teams that work closely with a software engineering department or work in software development themselves.
Read more: Jira Service Desk Alternatives for On-Premise Users (5 Tools to Try)
ManageEngine
ManageEngine offers a cloud-based IT service management platform with plenty of features to help IT teams manage workloads: ticketing, asset management, self-service portals, and SLA management.
Compared to other IT help desks, ManageEngine has a competitive pricing model and offers options to suit different budgets. Their IT help desk has a free version for teams with fewer than five users, so ManageEngine is particularly well suited for small and medium-sized businesses that need a cost-effective solution to manage their IT support.
Read more: 7 Best ManageEngine ServiceDesk Plus Alternatives & Competitors
Other Top-Rated SaaS Help Desks: Honorable Mentions for HR, Sales, and Schools
Below we review the best help desks for three different types of teams: sales, HR and schools.
HubSpot: Best Help Desk for Sales Teams
Hubspot is a leading sales and marketing platform that also offers a free cloud-based help desk tool. Their standout help desk features are ticketing, a customer feedback feature, automation, knowledge base management, and reporting.
Noteworthy for sales teams, their help desk integrates with the rest of the Hubspot suite, so staff members can easily access customer information to manage sales pipeline or make upsales. Overall, Hubspot's help desk can be a good option for small or medium sized companies that manage sales and customer support as one, especially because the help desk is free (but more costly to integrate with their CRM or email marketing tool).
Read more: 10 Best eCommerce Help Desk Software | HelpSpot
LiveAgent: Best Help Desk for HR
LiveAgent offers a cloud-based help desk for HR departments to manage applicants, capture leads, and communicate with prospective hires. Their notable features for HR teams are a real-time live chat to talk with job applicants and a lead form to collect contact information from interested candidates before they complete an entire application.
In terms of pricing, they offer a free version with limited access to their help desk, as well as paid plans that provide access to ticketing, video calling, and lead generation forms. LiveAgent should be considered for HR teams that want to streamline their recruitment process and provide better support to job candidates at an affordable price.
Read more: LiveAgent Alternatives: 6 Best Help Desks for Customer Support
Help Scout: Best Help Desk for Schools
Help Scout's help desk can be a good option for schools and universities because they have essential help desk features (like a shared inbox, knowledge base, and saved replies) but the platform is easy to adopt and learn, so busy employees can make the transition to Help Scout without much trouble. User reviews say the platform has a very minimal learning curve, and Help Scout support is around if you need help during adoption.
Help Scout's pricing starts at $20 per user per month, so it's a relatively affordable option compared to similar products. Overall, Help Scout is a good option for schools who want a user-friendly help desk that they can implement across multiple departments.
Read more: Help Scout Alternatives: 6 Best Help Desks for Support Teams
Finding the Best SaaS Help Desk Tool for Your Team
There are so many types of SaaS customer support software out there, so when comparing solutions, consider:
Your team's operational needs. Which product features are must-haves and which are unnecessary for your team? Do you need things like social media integrations or multi-brand support?


Company size and budget. Does your team have the time to learn a complex feature set and implement a large software solution? What's your budget and is the software scalable to support you as your business grows (and you need to upgrade packages)?


Industry influence and team needs. Do you need sales integrations, IT operations features, or HR features?
HelpSpot is the best SaaS help desk for team members using a shared email inbox because it has intuitive features to streamline the entire support process and enable organization-wide collaboration, without a bunch of extra bells and whistles or complicated pricing.
Try a free 21-day trial of HelpSpot and be up and running with our secure cloud-based help desk in a matter of minutes.
Related read: Best Online Help Desk Software in 2023 | HelpSpot